Views: 368
Welcome to Dubai,Dubai Exposed: Surprising Facts You Didn't Know About The Oasis City / Exclusive Lifestyle News / funfactsfordays.com / Jennifer Bar,Tony Bar, Sedat Karagoz / Istanbul,New York Travel,Tourism News Office / Janbolat Khanat / Almaty Travel,Tourism News Office
Welcome to Dubai, the city that offers everything a tourist could want. It is truly remarkable, with everything from luxurious 7-star hotels and cutting-edge architecture to fascinating historical sites and breathtaking artificial islands.
But Dubai isn't just about glitz and glamor. It also boasts rich heritage tourist attractions and mouthwatering cuisines that will transport you to another world.

And let's not forget the fantastic shopping malls and colossal amusement parks rivaling Disneyland. This emirate offers a mix of wealth, culture, and excitement that will leave you speechless. After viewing these pictures, we are convinced you will be inspired to book a trip to Dubai and go on a once-in-a-lifetime adventure.
Next: Dubai was once a small village in the middle of a desert.
From Desert to Global City in 50 Years
In just 50 years, Dubai has transformed from a small fishing village in the middle of a massive desert into a bustling urban center. The city, established in the 18th century, was home to a few hundred people at most and had few growth opportunities.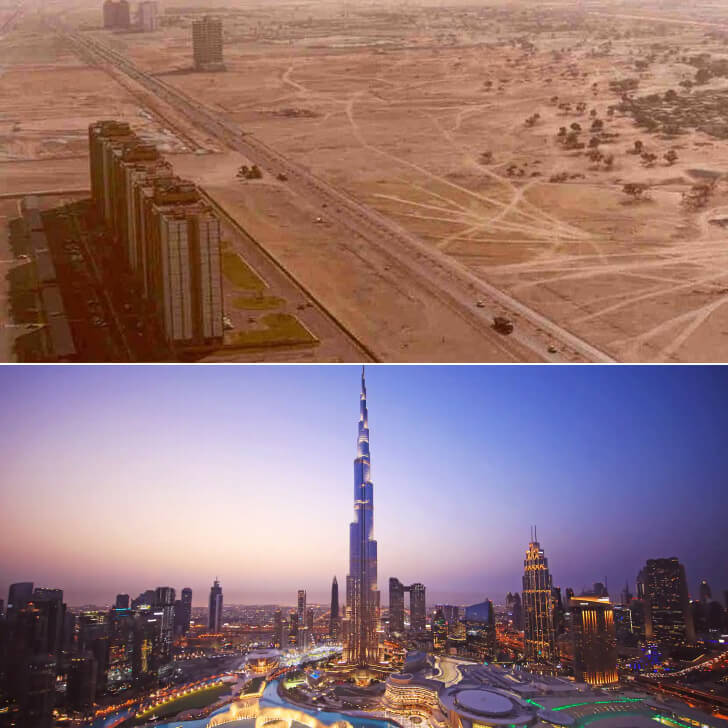 However, the discovery of oil off the coast changed everything. The emirate became a prosperous metropolis almost overnight as businesspeople rushed there. The Gulf War slowed the city's progress, but it eventually recovered and grew into the vibrant city that Dubai is today.
Next: These ATMs dispense authentic gold bars.
Dazzling Gold Vending Machines
Regarding vending machines, Dubai does not settle on the ordinary. The city's gold vending machines are going to wow you! These appliances allow you to buy 24-karat gold bars using cash or a trusted credit card.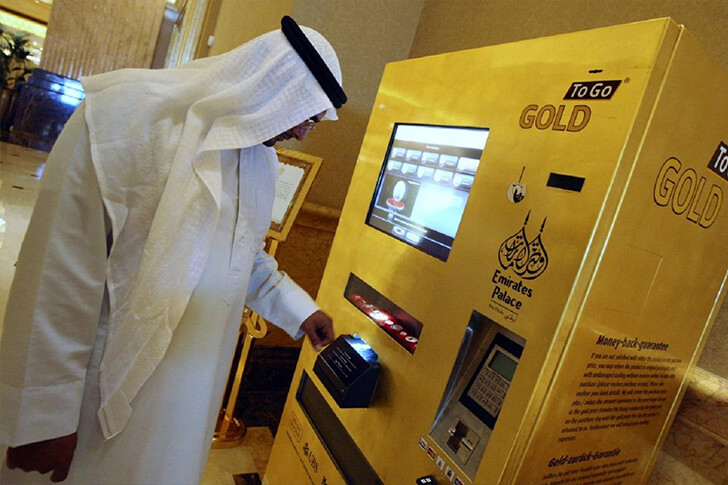 The prices are updated every ten minutes to keep up with the constantly fluctuating gold market. Due to the high demand, these gold ATMs require refilling twice per week. It's like having a golden genie granting your wishes right at your fingertips!
Next: In Dubai, the weekend is longer than two days.
Weekends in Dubai Are Different
Weekends in Dubai aren't on Saturdays and Sundays as they are everywhere else. The city took a bold move in January 2022 to align its weekends with global financial markets.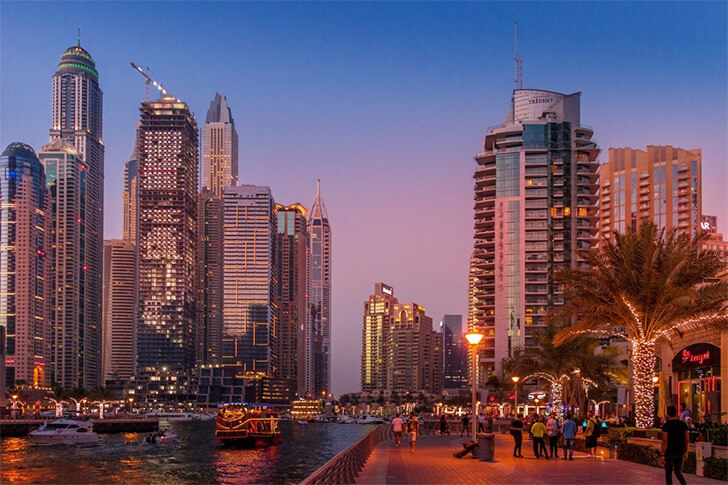 The business week begins on Monday and ends on Thursday, with normal business hours being 7:30 am to 3:30 pm. Their workdays end at noon on Fridays, and their weekends go all the way to Monday morning. This unique timetable gives residents and visitors more time to soak in the exciting lifestyle of Dubai.
Next: People buy license plates worth over $14 million.
License Plates Are Status Symbols
In Dubai, even license plates have become symbols of prestige and social standing. These coveted plates are sold for exorbitant sums, with prices exceeding $14 million.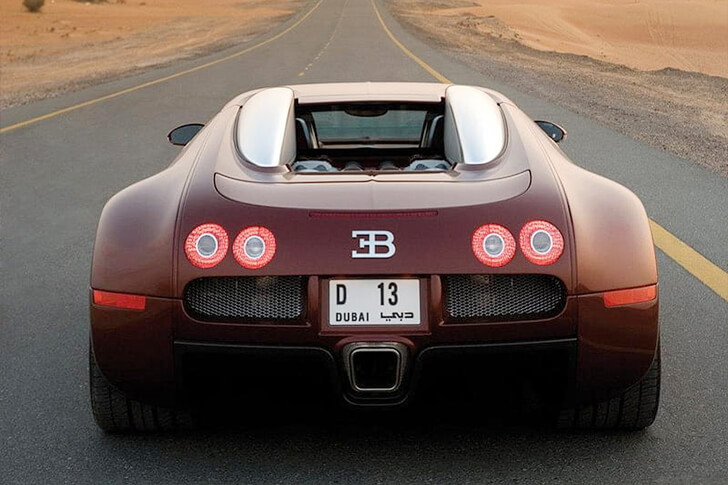 The fewer digits a license plate has, the more valuable it is, making single-digit plates the most desirable. People want these rare plates because they show social and financial status. Dubai's love of luxury and attention to detail goes down to the tiniest things, showing how much the city cares about wealth and personal branding.
Next: Robots ride camels in the desert race.
Robot Riders in Camel Racing
Who knew that camel racing would evolve into such a high-tech spectacle? In Dubai, remote-controlled robots have replaced human jockeys, thus rewriting the regulations. This change was motivated by a desire to prevent the exploitation of children.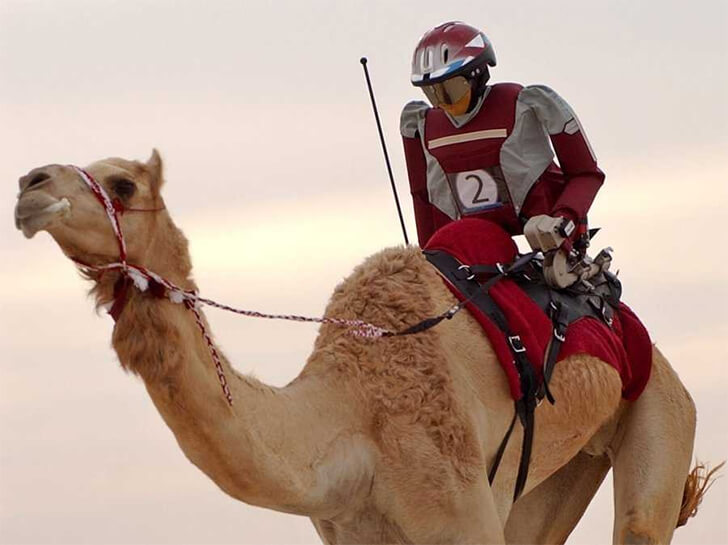 Both Qatar and the UAE have banned human jockeys to protect the safety of young riders. Not to worry, though, since the races are just as exciting as ever, thanks to the robots steering the camels to victory. You won't find a better combination of tradition and innovation anywhere else.
Next: Dubai police have sports cars that only millionaires can afford.
Dubai's Elite Police Force
Dubai is known for its lavish lifestyle, so it should be no surprise that even the police force there shares this outlook. The city goes above and above to show its police force how much it is appreciated.
Just look at their police cars, outfitted with top-of-the-line models like Aston Martins, Ferraris, and Lamborghinis, each for $1.7 million. But don't let the flash of these high-performance automobiles deceive you. The penalties for breaching Dubai's strict regulations are high, so it's preferable to play by the rules.
Next: You can earn gold for losing weight.
Your Weight in Gold
Getting rid of excess weight has benefits beyond only health and wellness in Dubai. It turns into a chance to get a shiny prize. The government has a unique incentive scheme in which residents may earn 0,07 ounces of gold for every 8.8 pounds they shed.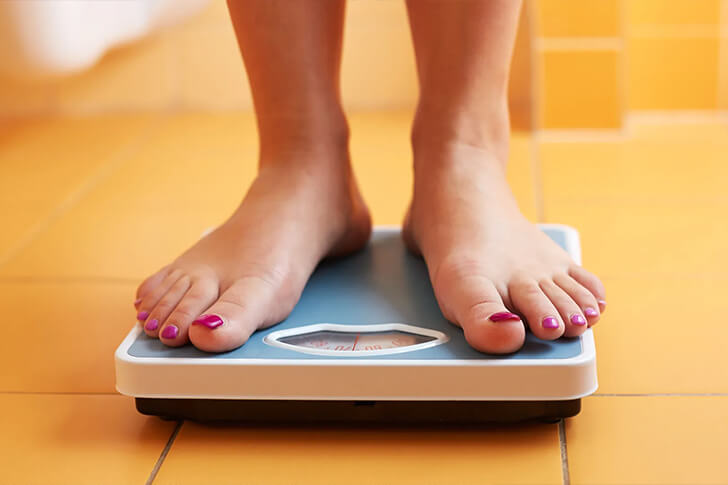 It is a motivating initiative encouraging individuals to begin their fitness endeavors with additional inspiration. You may transform your weight reduction journey into a golden success if you accept the challenge, reach your goals, and persevere.
Next: A shopping mall spanning over 50 million square feet.
Shop Till You Drop
Dubai is renowned for breaking barriers, and its newest project, The Mall of the World, is nothing less than stunning. The concept behind the project is to create a massive indoor complex that encompasses not only retail spaces but also various entertainment, leisure, and residential components.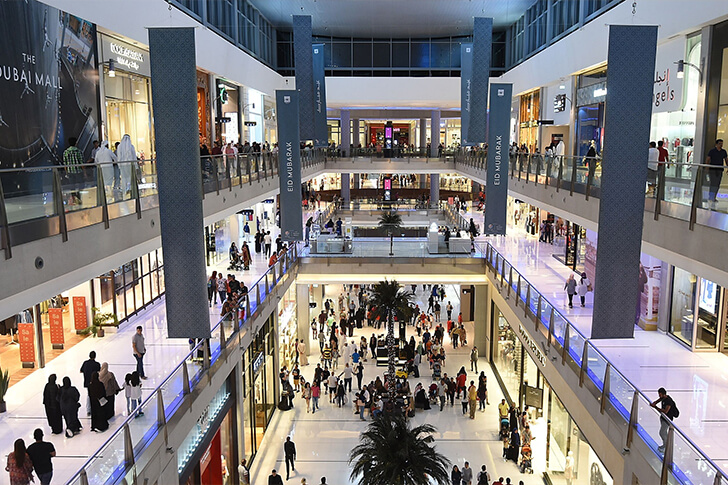 This enormous shopping eutopia, at a whopping 50 million square feet, will fulfill every shopaholic's wildest aspirations with its staggering 20,000 hotel rooms and parking for more than 50,000 automobiles. Shopping here is an experience unlike any other.
Next: More than 85% of people in Dubai are foreigners.
Dubai: Where Cultures Come Together
Dubai is where many cultures and traditions coexist harmoniously. Only 17% of the population are native-born Emiratis; the rest are mostly foreign workers from Pakistan, India, and Bangladesh. This multi-ethnic blend enhances the city's overall character.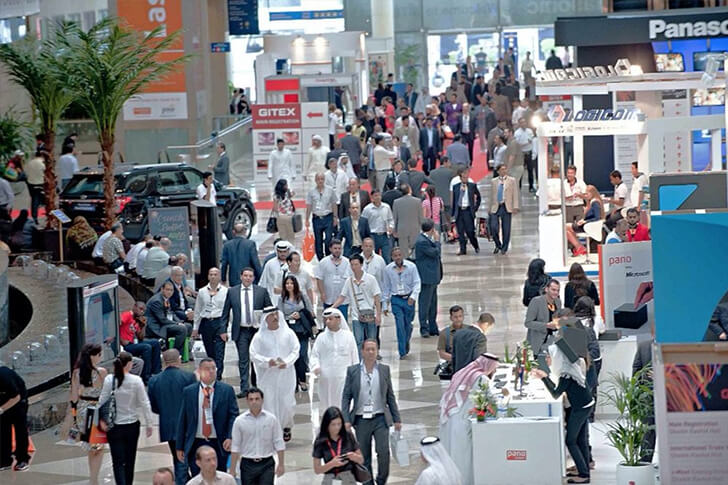 The disparity in wealth, however, is also brought into sharp focus. While some people lead luxurious lives, others struggle in less privileged circumstances. Dubai is a city where dreams are pursued, but its history is marked by success and failure.
Next: There's a dinosaur inside a shopping mall.
Dubai Dino: A Dinosaur in a Mall
The Dubai Dino will take you on a trip through time. The Dubai Mall is home to a Diplodocus Longus fossil that dates back 155 million years. This fantastic fossil is a marvel of paleontological findings.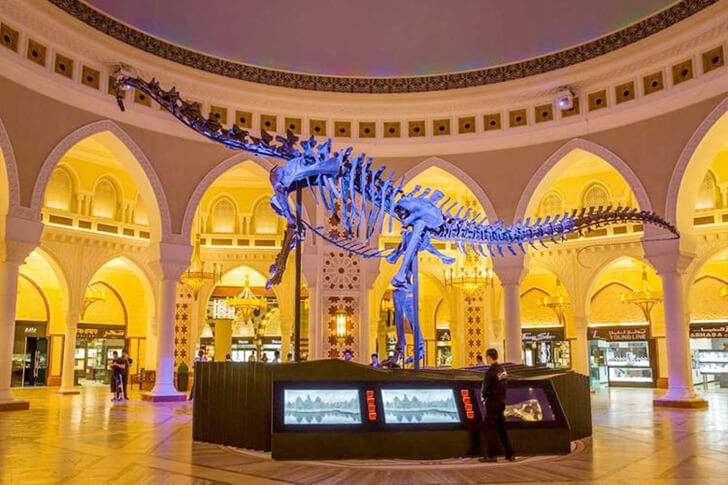 Now permanently displayed in Dubai's Mall, it reminds us of the ancient wonders that once populated our planet. With nearly all of its bones intact, it provides a rare opportunity to observe the magnificence of a primordial colossus up close.
Next: You can be jailed or deported for falling into debt.
Debt-Free City: Spend Wisely or Face the Music
In Dubai, the motto is simple: no debt, no problem! Residents are urged to live within their means under the city's unique "zero debt tolerance" policy. There are severe repercussions for falling into debt, including possible jail time and even deportation.
Dubai provides a multitude of attractions and experiences, but it also emphasizes the importance of financial responsibility. So, enjoy Dubai's luxurious lifestyle, but keep your expenses in control to prevent a one-way ticket out of this wonderful city.
Next: Dubai knows how to stay cool in the scorching heat of the desert.
Beating the Desert Heat in Style
Imagine living in a sweltering desert where temperatures often exceed 120 degrees Fahrenheit. It sounds unbearable, but Dubai has a nifty trick up its sleeve. The engineering miracles of the city include vertical conditioning systems that convert buildings into refreshing havens.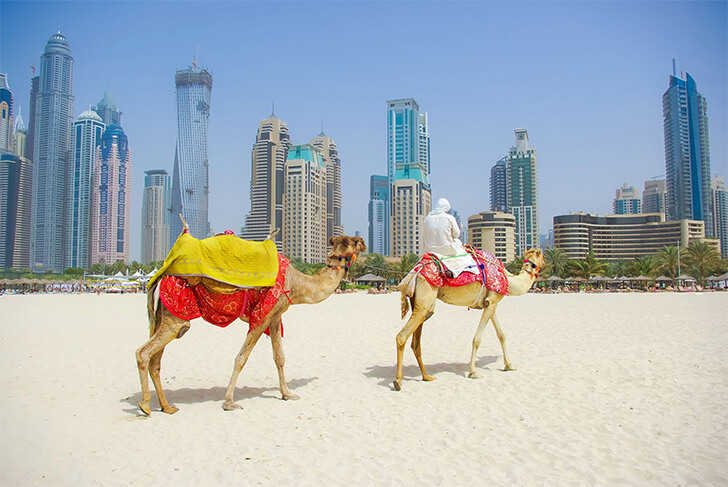 These innovative measures can relieve those who live there from the extreme heat and sandstorms thanks to these innovative measures. Dubai is so good at keeping cool that even life in the desert is a breeze.
Next: A 5.55-acre ski park inside a shopping mall.
Epic Indoor Ski Park
This one may leave you in disbelief. The Middle East's largest indoor ski park is inside the Dubai Mall. With a total area of 5.5 acres, this winter paradise resembles a little ski resort.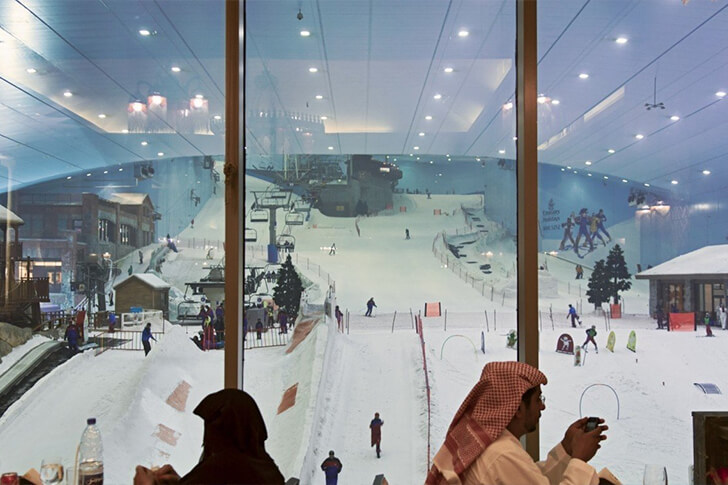 Hold on for a 278-foot-high indoor mountain featuring five different slopes, including the thrilling 1312-foot-long black diamond run. So whether you're a beginner or a seasoned pro on skis or snowboards, you're in for an exciting time at Dubai's indoor ski slope.
Next: A historic town from the 19th century lies in the heart of the emirate.
Celebrating Global Beauty: Dubai's Multicultural Elegance
Dubai, a cosmopolitan oasis nestled in the heart of the Arabian desert, not only dazzles with its towering skyscrapers and opulent lifestyle but also shines as a melting pot of beauty from every corner of the world.
This vibrant city has emerged as a haven for individuals seeking not only prosperity but also a harmonious blend of cultures, reflected prominently in its diverse and strikingly beautiful female population.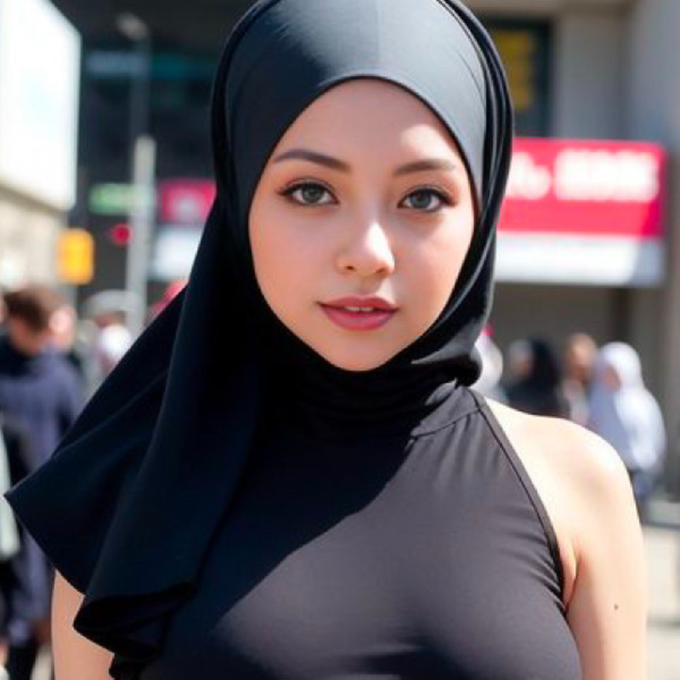 The allure of Dubai's beauty is not limited to any specific standard; instead, it thrives on embracing a rich tapestry of ethnicities, backgrounds, and traditions.
From the elegant grace of Emirati women adorned in their traditional attire to the modern chic of expatriates hailing from Europe, Asia, Africa, and beyond, Dubai's streets reflect a global mosaic of beauty that harmonizes different perceptions and definitions of attractiveness.
The city's cosmopolitan nature has fostered an environment where beauty is appreciated in all its multifaceted forms, making it a place where women can freely express their unique styles and cultures without inhibition. This celebration of diverse beauty adds an extra layer of charm to Dubai's international reputation, making it not only a global business hub but also a crossroads of elegance and allure.
An Ancient Village in the Middle of Dubai
Bastakia Quarter, located in Bur Dubai, is the city's oldest standing residential and heritage destination, and it's well worth seeing. This ancient town, established by Persian merchants in the late 19th century, is a fascinating window into the city's historical past.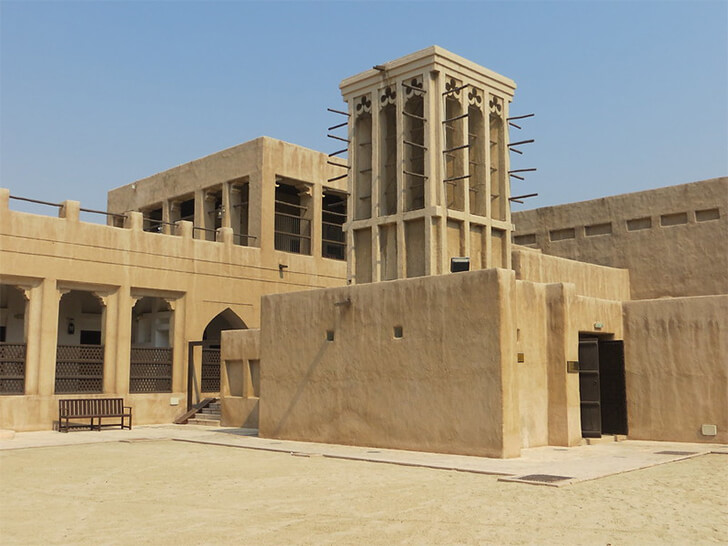 This well-preserved district's historic wind towers and intriguing architecture create a magical atmosphere. The Bastakia Quarter is evidence of Dubai's efforts to preserve its cultural history and modern attractions.
Next: Dubai is one of the safest cities on the planet.
The Incredible Zero Crime Rate
Dubai takes crime seriously, With a meager crime rate of 0%. How do they accomplish this? Even though foreigners populate the city, those who break the law face severe repercussions.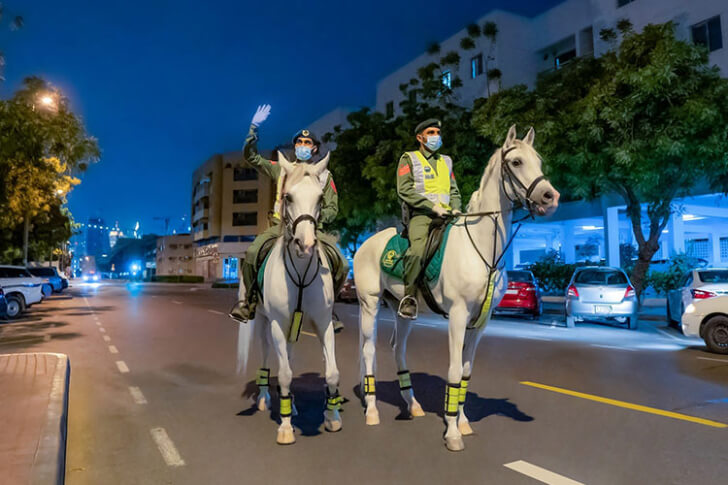 People in Dubai can live, work, and travel without fear because of the highly effective police force and cutting-edge monitoring technology that the city employs. The government's proactive approach to crime prevention and community engagement activities are major factors in the city's extraordinarily high crime-free rate.
Next: A place where you can play tennis at 1,000 feet in the air.
Tennis in the Clouds
What if you could play tennis at the very top of the world? The Burj Al-Arab Hotel features the highest tennis court in the world. A match is held at 1,000 feet in the air, providing an added dose of excitement.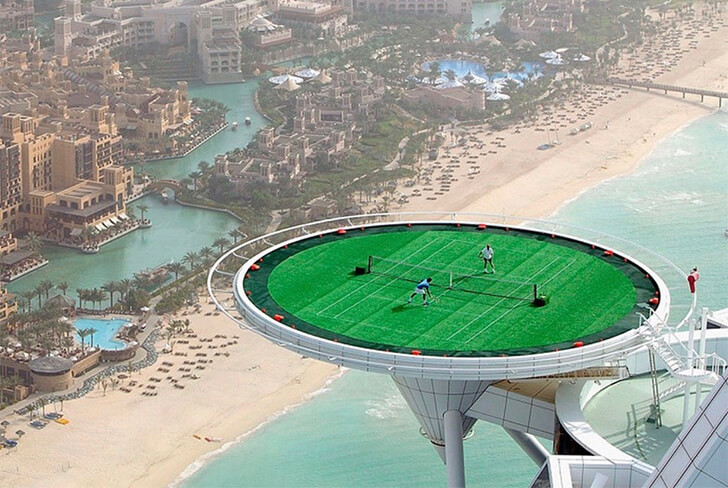 Because of the breathtaking scenery and the ever-present danger of players teetering on the brink, this game will have you on the edge of your seat. So grab your racket and get ready for an epic sky tennis match!
Next: This Dubai citizen was deported for being too handsome.
The Handsome Deportation
Imagine being deported from a country for being too good-looking. Omar Borkan Al Gala, a model from Dubai, experienced this exact thing at the Janadriyah Festival in Saudi Arabia. Women were instantly drawn to his charisma and asked him for autographs.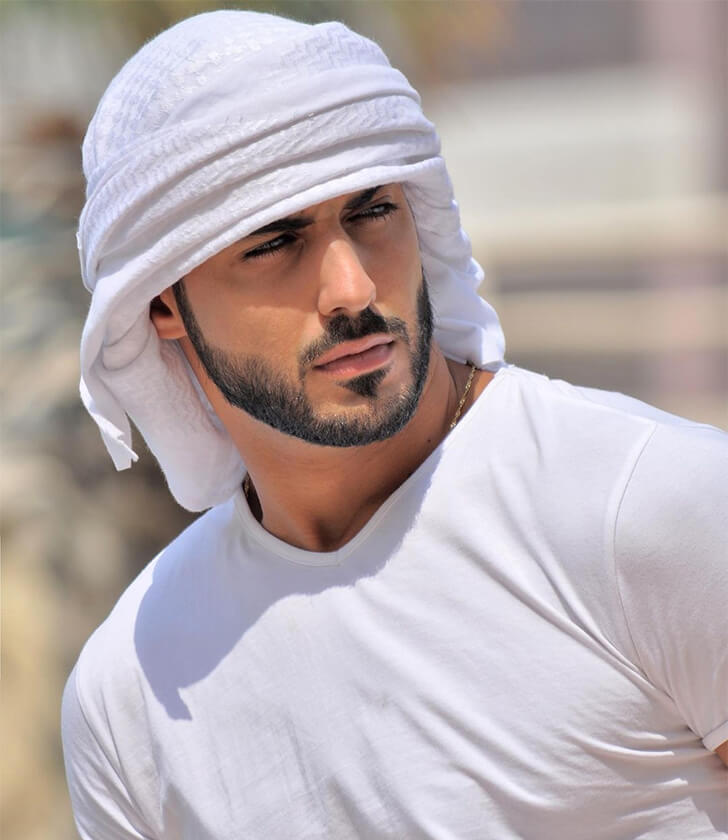 However, as the number of women who fancied him grew, officials stepped in and immediately deported him. The story went viral in less than 48 hours, and Al Gala's Facebook page garnered 800,000 likes while he remained silent.
Next: Make sure to have a map to avoid getting lost!
Quirky Addressing System
In Dubai, the standard form of the street address does not apply. Due to its explosive development, Dubai has yet to have a unified addressing structure. Residents can instead use the postal label to provide directions, including writing down or drawing a map.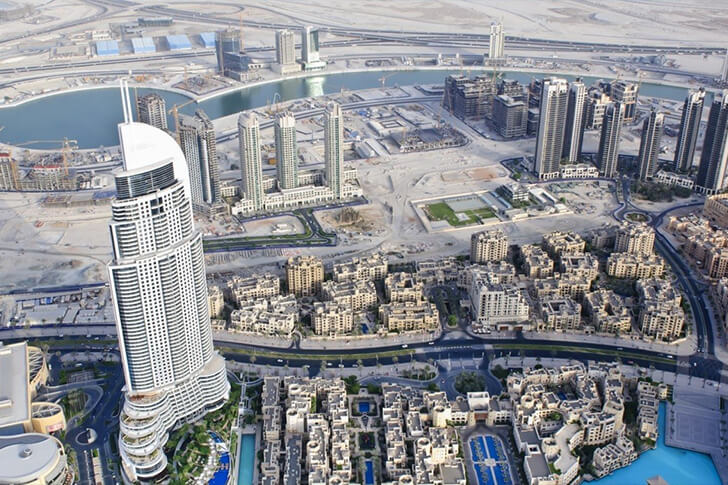 So, if you're planning to visit this vibrant city, make sure to carry a map with you for some proper guidance. You may find some treasures while wandering unfamiliar streets!
Next: You can sunbathe in both a bikini and an abaya
Cultural Diversity
Dubai, a city with Muslim values, embraces cultural diversity while maintaining its traditions. It's not unusual to see a fascinating collision of cultures, as seen in this photo of a sunbather in a bikini and one in a traditional abaya.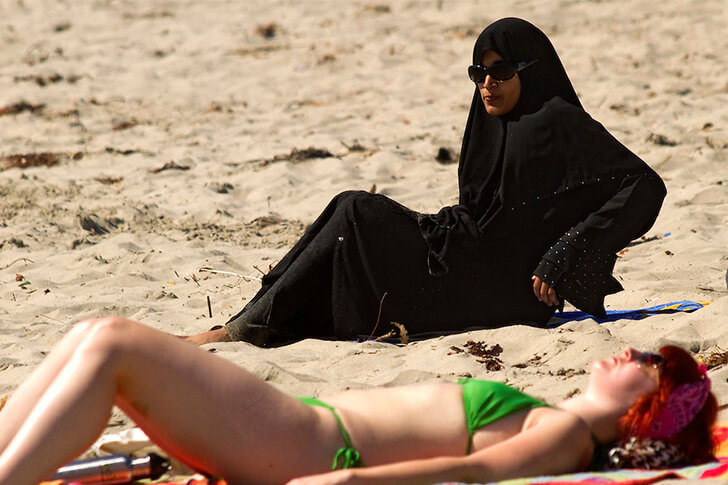 It promotes modest dress out of deference to local customs, but it also values its citizens' and tourists' free speech and cultural diversity of its citizens and tourists. Dubai is a thriving urban center where people of various backgrounds and traditions live peacefully, each contributing to a distinctive flavor.
Next: Each bus stop has a small air-conditioned cabin for passengers.
Mini Air-Conditioned Bus Stations
Dubai knows how to keep its people cool despite the heat. Forget about the boring bus stations you've seen in other countries. In the city, each bus stop is a little air-conditioned structure that shields passengers from the sweltering heat.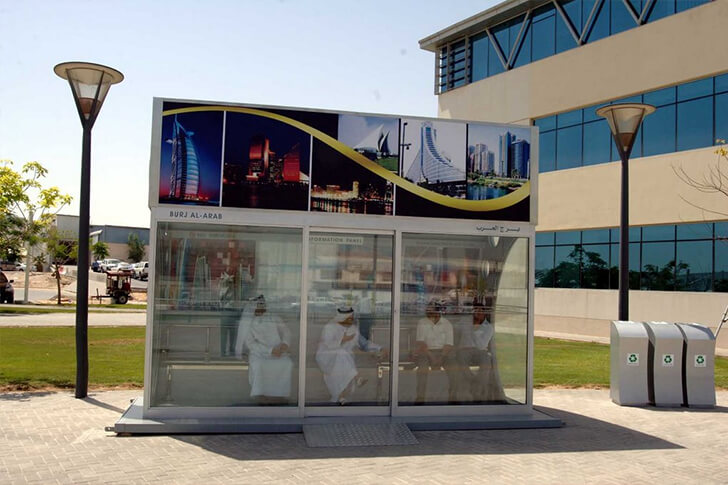 This brilliant solution guarantees that venturing into the desert heat won't leave you saturated in sweat. So, while you're waiting for the bus, take refuge in one of these mini-buildings and enjoy the cooling breeze. Dubai has mastered a novel approach to public transportation.
Next: City streets are graveyards for super luxurious cars.
Imagine Abandoning a Once-prized Possession
The streets of Dubai are full of abandoned luxury cars from prominent manufacturers like Ferrari, BMW, and Mercedes. It's a sight that will make car lovers drool and scratch their heads in wonder.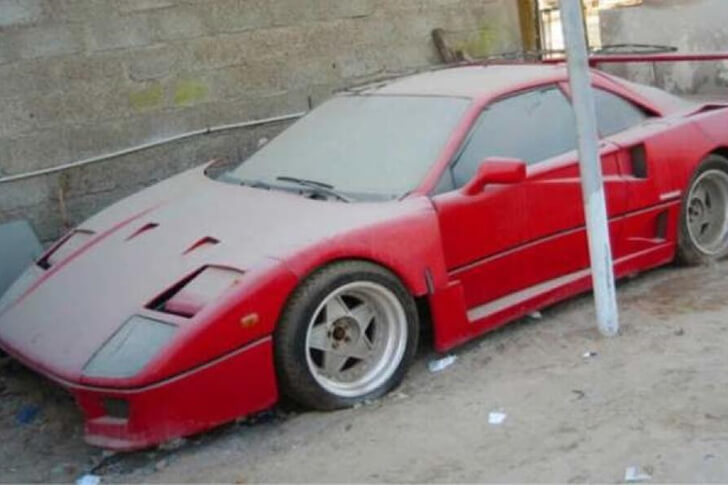 The reason behind this automotive heartbreak lies in the Sharia law. If a person fails to make their car payments, they risk going to prison. As a result, many individuals choose to flee, abandoning their once-prized possessions. An incredible, yet ultimately sad, graveyard for luxurious cars.
Next: A secret relationship before marriage can get you in trouble.
Premarital Intimacy Is Forbidden
Dubai has its own set of restrictions regarding relationships. The city has made having intimate relations before marriage a crime punishable by fines, jail time, or even deportation. Displays of love in public, including holding hands, are discouraged.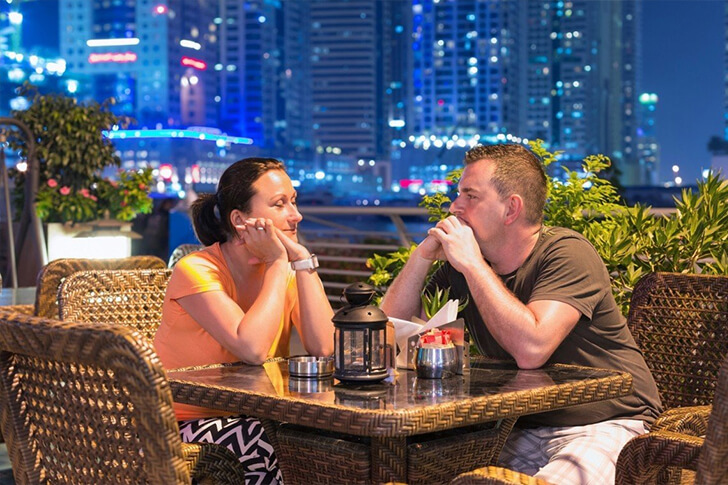 Tourists are not exempt from these rules and might get in trouble if their intimate activities are exposed. Surprisingly, the law does not always protect victims; sometimes, women who report violations face jail time. Love in Dubai is certainly complicated!
Next: Dubai constructed 300 artificial islands.
Man-Made Islands
Get ready to explore an artificial marvel: Dubai's World Islands. These 300 small islands make a rough world map, each representing a country, location, or area. It's like going around the world without leaving the city!
The islands were constructed about 2.4 miles off the coast of Dubai using sand excavated from the region's relatively shallow coastal waters. This breathtakingly large-scale endeavor exemplifies Dubai's infinite creativity and aspiration to welcome the world to its doorstep.
Next: The emirate's economy was once dependent on pearl harvesting.
The Pearling History of Dubai
The pearl industry was formerly an economic backbone before the city grew into today's modern metropolis. The prosperous pearl business was Dubai's only source of income throughout the 19th and early 20th centuries.
However, the tumult of World War I, the catastrophic impact of the Great Depression, and the arrival of cultivated pearls from Japan ended this pearl age. The pearl trade in Dubai may be a thing of the past, but the city's ability to adapt and thrive despite this is a legacy that will live on.
Next: A theme park twice as big as Disney World
Dubailand: The Ultimate Theme Park Experience
Dubai's goal has always been to be number one, but they're taking it to a whole new level with Dubailand. Imagine a theme park that is twice as big as Disney World and has a mind-boggling number of things to do.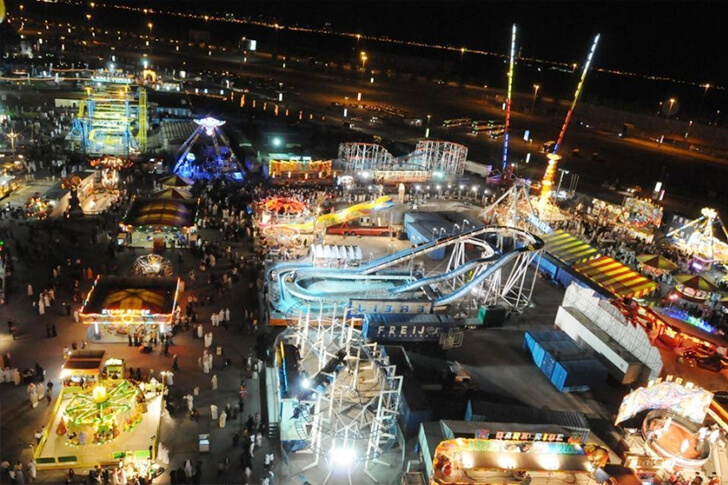 It's no surprise that they anticipate a staggering 20,000 visits every day. Whether you're a child at heart searching for beautiful fairy tales or an adrenaline junkie searching for heart-stopping roller coasters, Dubailand will take you on an unforgettable trip.
Next: The world's largest gold market, where gold is everywhere.
The Glittering Gold Market
Dubai is a place of unparalleled richness and abundance. This luxurious city is home to the world's largest gold market, a glittering labyrinth of sheer luxury.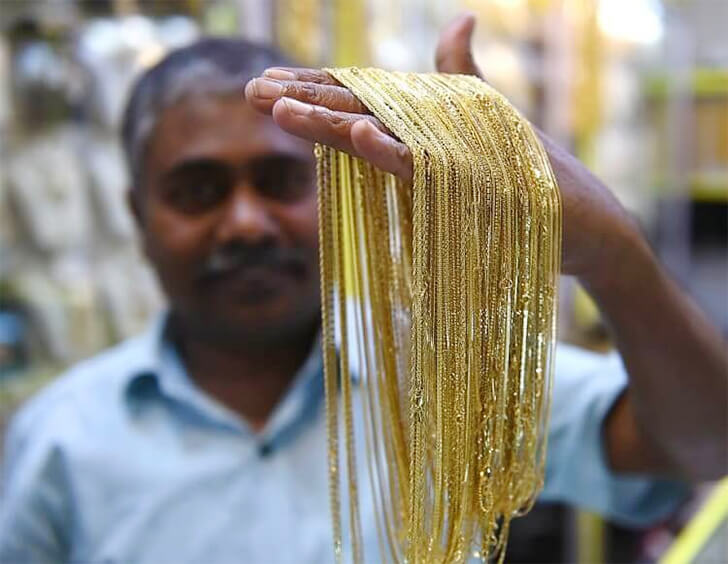 The locals have perfected the art of goldwork to the point that the precious metal is used to decorate virtually every conceivable object. However, such glitzy luxury doesn't come cheap. Dubai is a gold mine but one of the world's most expensive cities. So bring your wallet and get ready to be impressed!
Next: A special female police force
Women in Law Enforcement
To further its efforts toward gender equality, Dubai has formed a distinct police force comprised entirely of women. These remarkable cops deal with many issues in the city, including fraud, theft, and women's concerns.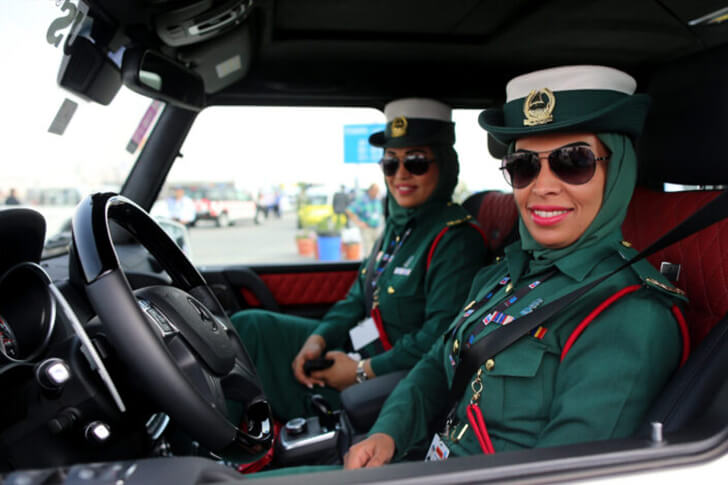 These officers were selected from a pool of female cops with a background in law enforcement and are well-versed in dealing with criminals and protecting key personalities. To effectively communicate with the diverse community they serve, Arabic and English fluency is required. The female police force contributes greatly to making Dubai more secure and welcoming.
Next: The city wants to be the best at everything.
Dubai: The Pursuit of Excellence
Dubai's ambitions are limitless, and the city always strives to top the charts. The emirate is constantly pushing itself, as seen by the many record-breaking structures, such as the Burj Al-Arab, widely regarded as the best hotel in the world, and the Burj Khalifa, the tallest building.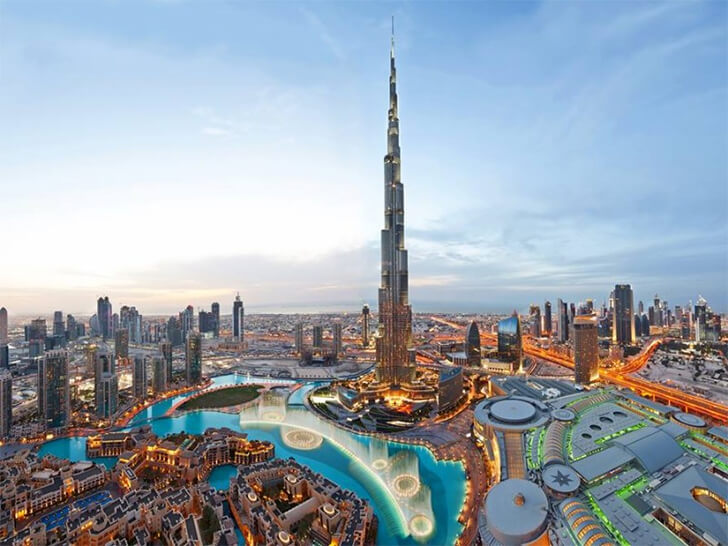 The city has attractions, such as the biggest aquarium and ski park, making it stand out. Dubai is a world leader in innovation, luxury, and unique experiences because of its unbreakable spirit and tireless pursuit of greatness.
Next: An aquarium with 33,000 marine animals inside a shopping mall
World's Largest Indoor Aquarium
Imagine a vast shopping mall that can accommodate one of the largest aquariums in the world in its underground parking lot. Well, that's precisely what you'll find in Dubai Mall. Spanning a colossal 277.74 acres, Dubai Aquarium is an underwater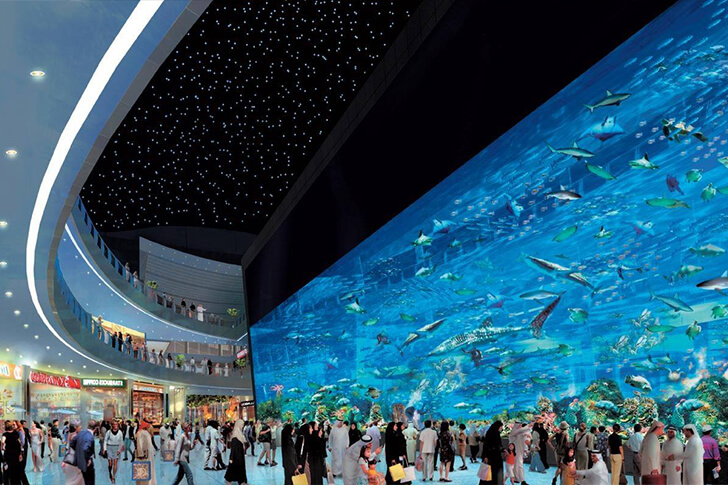 paradise packed with over 33,000 aquatic creatures of almost 140 species.
Moreover, you can try shark cage diving if you're feeling adventurous! For a unique perspective, take a thrilling ride on a glass-bottom boat and marvel at the mesmerizing marine life beneath your feet.
Next: Locals are big fans of unusual pets.
The Exotic Pet Obsession
An unusual habit has emerged among Dubai's population: keeping exotic animals as pets. Many more people are interested in these uncommon animals despite the dangers and legal consequences. Exotic creatures carry a hefty price tag and are frequently obtained illegally.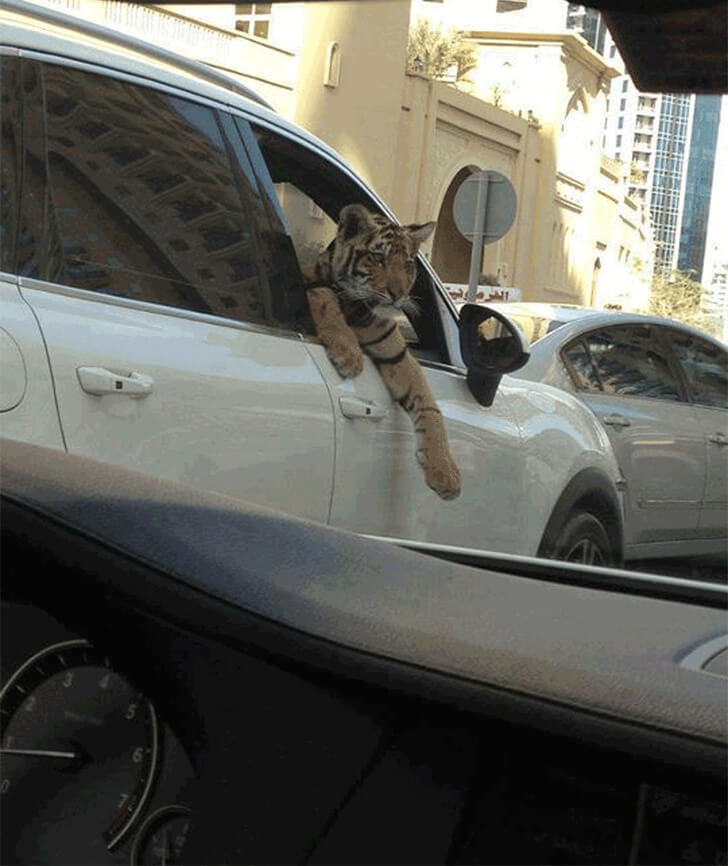 Unfortunately, these creatures are taken from their native environments and sold and trafficked online. While the desire to have a one-of-a-kind possession is understandable, it is more important to prioritize animal welfare and support campaigns that conserve animals rather than perpetuate this risky trend.
Next: Dubai has become a global fashion hub.
Dubai's Fashion Oasis
Move over, Paris, Milan, and New York! This emirate is developing a name for itself in the world of style. A vibrant mix of local and foreign designers, luxurious shops, and fashion events have made it a global fashion destination.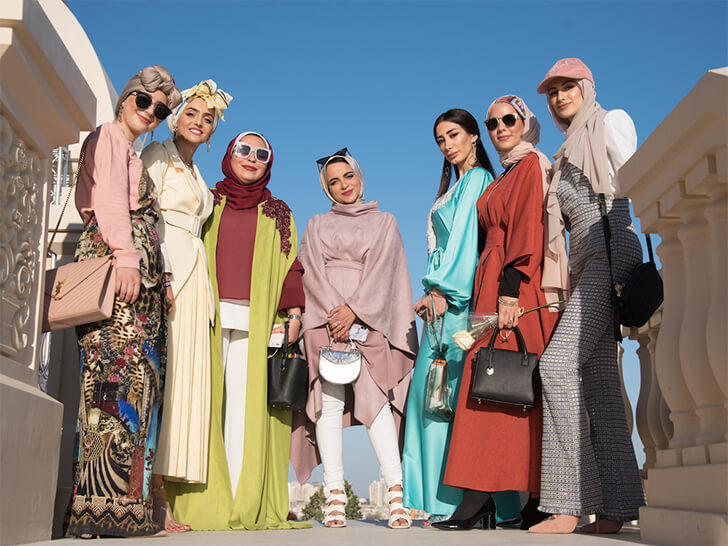 Dubai Design District, Arab Fashion Week, and Dubai Fashion Week have all emerged as important stages for established and up-and-coming designers. With its blend of cultural diversity, luxurious shopping destinations, and creative energy, the city continues to establish itself as a prominent force in the global fashion industry.
Next: It was once home to almost 25% of the world's cranes!
A City of Cranes
With one-fourth of the world's cranes in Dubai, its skyline is proof of its tremendous growth. Due to its thriving construction and real estate industries, it has an estimated fleet of 30,000 cranes. In 2017, the city spent a record-breaking $12.88 billion on infrastructure, the highest globally.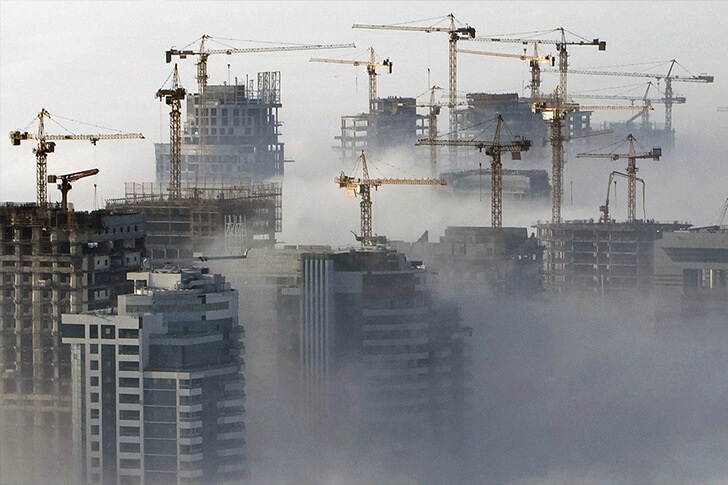 This immense undertaking generates a continuous demand for construction apparatus, vehicles, and equipment, fueling the emirate's phenomenal development. With its many tall buildings, Dubai's skyline is a striking representation of its aspirations and commitment to growth.
Next: The most expensive cupcake in the world.
Cupcake of Gold
Even cupcakes in Dubai have a touch of grandeur about them. Enter "The Golden Phoenix," a delectable delight that holds the title for the world's most expensive cupcake. This edible masterpiece is worth more than 1,000 dollars since it is made with the best Italian chocolate, aromatic Ugandan vanilla beans, and a dusting of 23-karat gold.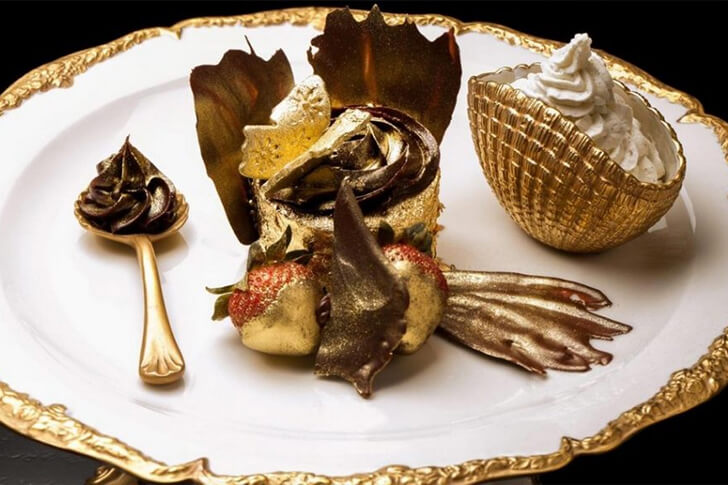 Trying this extravagant dessert is a great way to discover Dubai's taste for luxury and making the exceptional mundane. Be careful, though, because once you try this tasty miracle, regular cupcakes may never be the same again!
Next: UAE's second-biggest oil producer.
Astonishing Oil Production
Dubai's rapid development can be attributed to its status as an oil production powerhouse. The city, being the second-largest oil producer in the UAE, produces between 50,000 and 70,000 barrels of oil daily.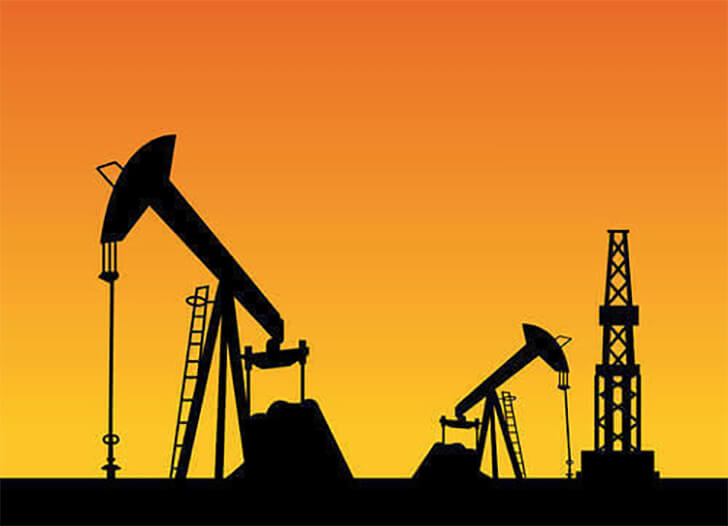 To put it in perspective, this amount of oil is enough to fill four Olympic-sized pools. In 1991, Dubai even produced 400,000 barrels a day at its peak. Today, owing to flourishing industries like commerce and tourism, the oil sector can rest a little easier.
Next: Dubai has the best liquor in the world, but it's not for Muslims!
No Booze for Muslims
It's worth noting that consuming alcohol is strictly illegal for Muslims in Dubai. However, there is a silver lining for non-Muslims. Non-Muslim visitors and locals can drink alcohol at hotels, restaurants, and pubs that have obtained the proper liquor licenses.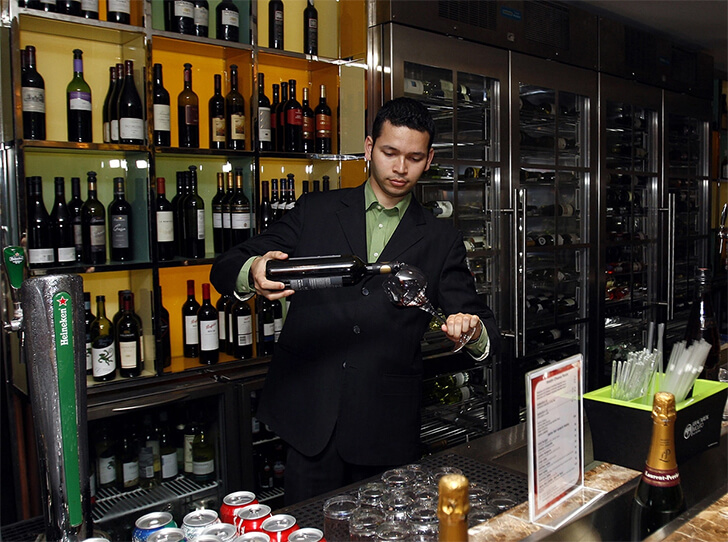 But be careful! Drinking in public places, including beaches, is a big no-no and could land you in trouble. Dubai is home to some of the world's best booze, but you'll need a valid ID to buy it from a store.
Next: The city of marvelous skyscrapers.
The Extravaganza of Skyscrapers
In 1991, Dubai was home to just one skyscraper. Now, in the present day, the city is home to more than 400 buildings of impressive height. The World Trade Center used to be an isolated behemoth, but now it is part of a breathtaking skyline.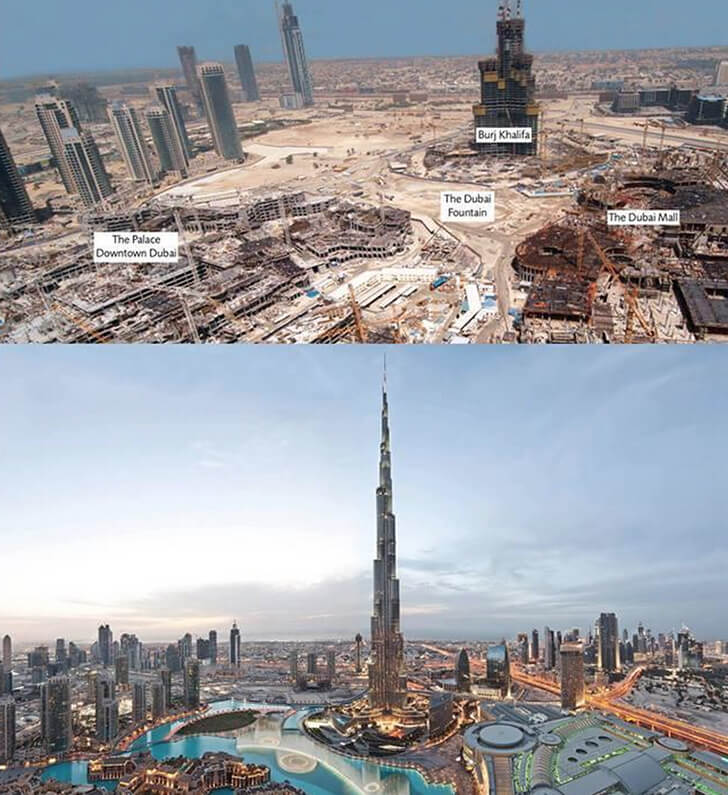 One of the best examples of Dubai's architectural prowess is Sheikh Zayed Road, often known as Skyscraper Avenue. And the crown jewel? The Burj Khalifa, the tallest building in the world, is an instantly recognizable landmark that elevates the city's skyline.
Next: Pet endangered desert tortoises.
Desert Tortoises Stacked
The endangered desert tortoises are difficult to notice and are known for their hostility toward humans. But as we've seen, the residents of Dubai are big fans of unusual pets, such as tigers, cheetahs, and even reptiles!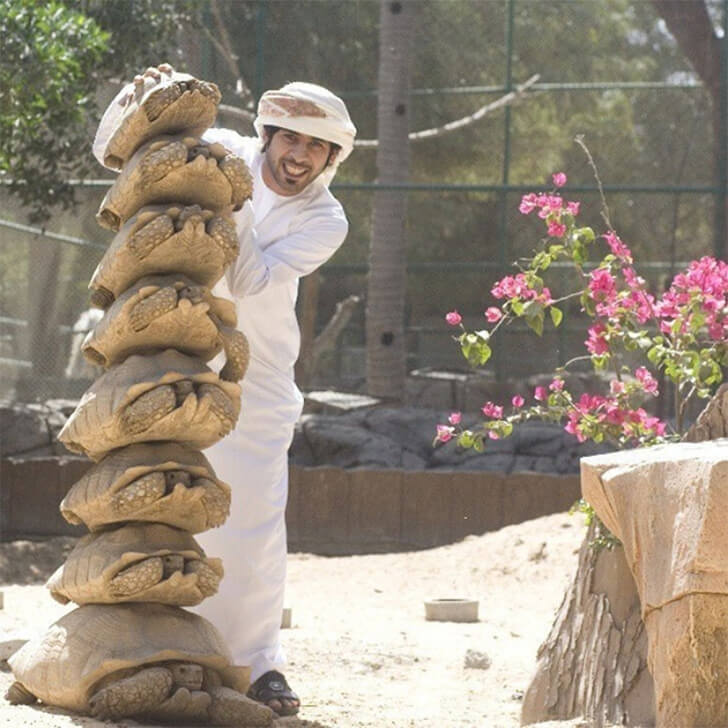 Take a look at this guy displaying his riches. He has eight of these desert tortoises, which is quite a collection. He went so far as to stack hard-bodied creatures to get the perfect shot.
Next: Dubai imported sand from another part of the world to make artificial islands
An Island Made of Australian Sand
Dubai embarked on a mind-boggling effort to build artificial islands in the Persian Gulf, with the island of Palm Jumeirah becoming the city's eighth wonder. Dubai even imported sand from Australia to construct these breathtaking islands.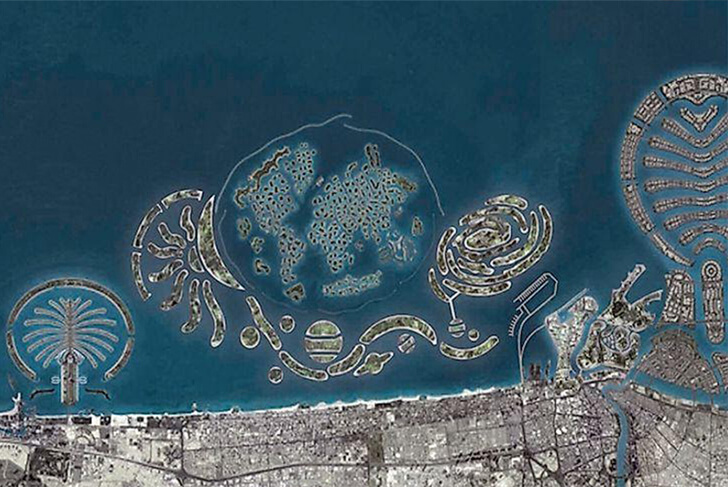 With approximately 30 five-star hotels and resorts, Palm Jumeirah has become a popular vacation destination. Charter a yacht or a speedboat from a private tour company to get a feel for these stunning islands. Also, watch out for the upcoming islands of Jebel Ali and Deira.
Next: Dubai Airport contributes 16 times more to the city's economy than the oil sector.
Dubai Airport Is Its Economic Engine
The airport in Dubai is unlike any other in the world. It's a major player, adding $22 billion to the city's economy. Surprisingly oil's impact on Dubai's economy is meager at just 2%, while the airport takes center stage at an astounding 33%.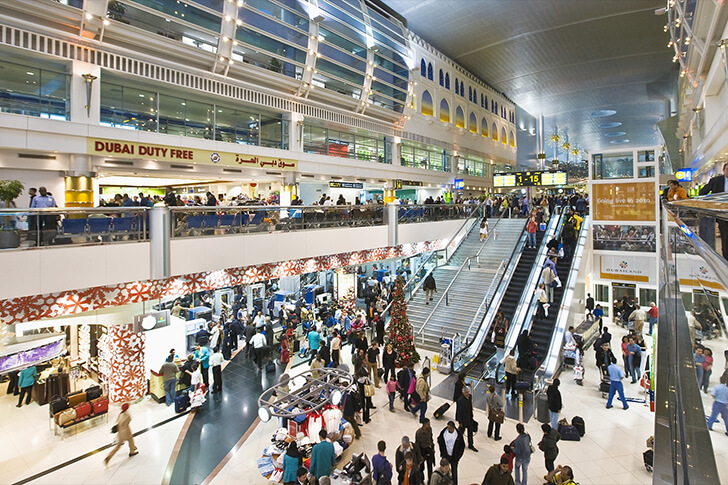 The airport is a crucial lifeblood of the city's economy, helping to support over 400,000 jobs and having a staff of over 90,000. So, stop and admire this thriving aviation masterpiece the next time you fly.
Next: Kim Kardashian had an unforgettable visit to the emirate.
A Favorite Destination for Celebrities
Dubai has become a magnet for celebrities drawn there by its amazing attractions. Kim Kardashian was one such well-known guest. She hosted a makeup masterclass in the emirate with her fellow "Keeping Up with the Kardashians" cast members.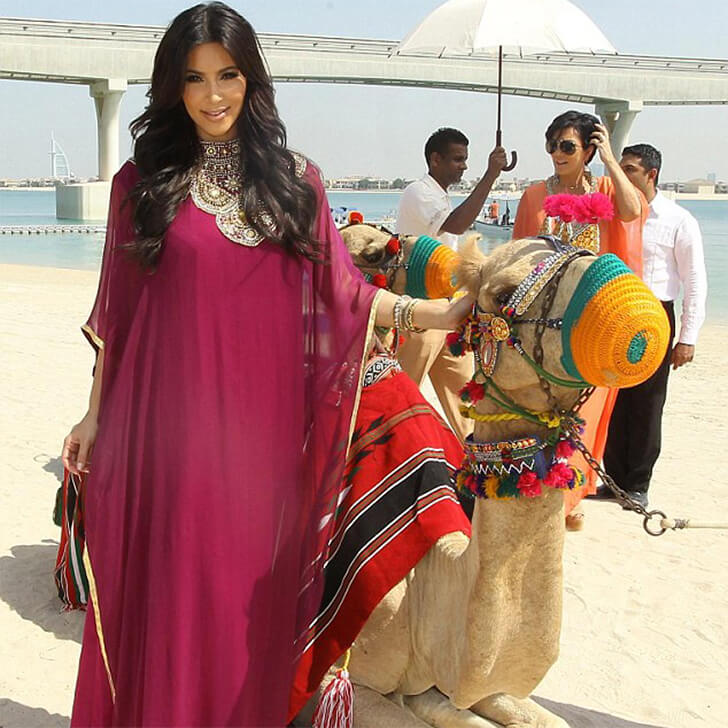 Kim, however, did not stop there. She toured the desert, numerous malls, and even a facility for children with special needs. Dubai's allure extends to Hollywood's elite, making it a star-studded destination with an unforgettable impact.
Next: Dubai's master plan for the ever-growing traffic issue.
Double-Decker Roads
Dubai's roadways confronted a unique challenge amid rapid urbanization. Picture this: back in 1968, a mere 13 cars were roaming the streets. Now in the present day, Dubai's roads are groaning under the weight of the insatiable traffic.
Dubai devised a clever solution to this problem by constructing double-decker highways. These sky-high roads are an impressive sight and a welcome relief from the traffic jams below. Remember to look up, or you'll miss the architectural beauty directly over your head!
Next: Gold leaf that can cover 46,265 Mona Lisa paintings
Gold Luxury at Burj Al-Arab
Dubai spares no expense regarding luxury, and this is nowhere more apparent than at the Burj Al-Arab, the hotel par excellence. This extravagant hotel features a staggering 0.44 acres of pure gold leaf, enough to cover an astounding 46,265 Mona Lisa paintings!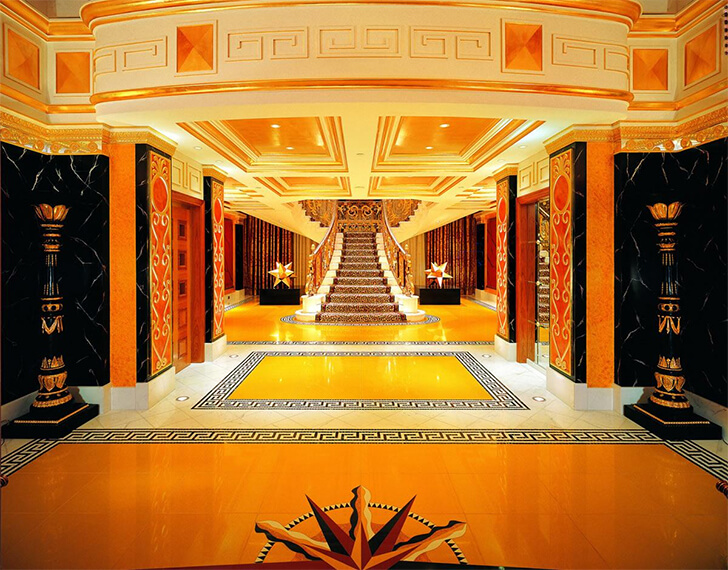 Almost 40% of the hotel is dedicated solely to showcasing its grandeur. At a starting rate of $20K per night, the Royal Suite gives guests a taste of the lavish lifestyle that most of us can only imagine.
Next: Camels are essential to Dubai.
Camels Abound in Dubai
Camels in Dubai are more than a symbol of the desert. These magnificent animals are vital to the functioning of the urban environment. Several activities and foods are associated with camels—from camel racing to camel milk to camel meat.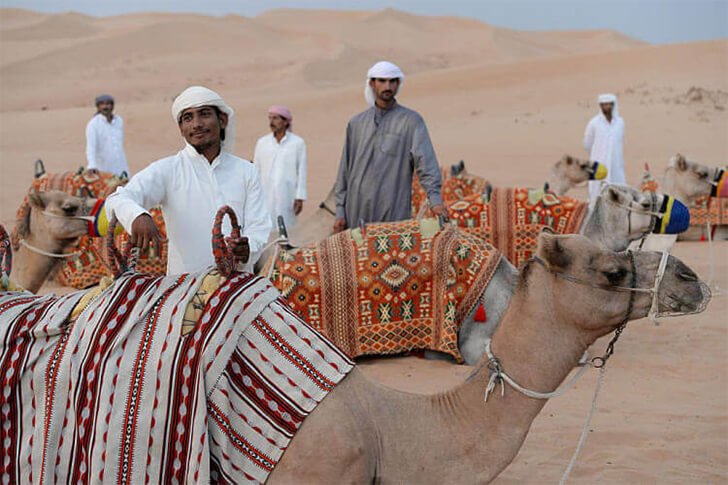 Camel milk chocolate is an interesting and exotic souvenir! And for those who really want to live like a Bedouin in the great sandy expanse outside the hustle and bustle of the city, a camel desert safari is an experience they will never forget.
Next: Malls offer free food during the holy month.
Free Food for the Needy
During Ramadan, Dubai's shopping centers transform into shining examples of the city's philanthropic character. It's incredible to see meals given out for free to the homeless and the unemployed. This act of compassion could serve as a model for many cities around the globe.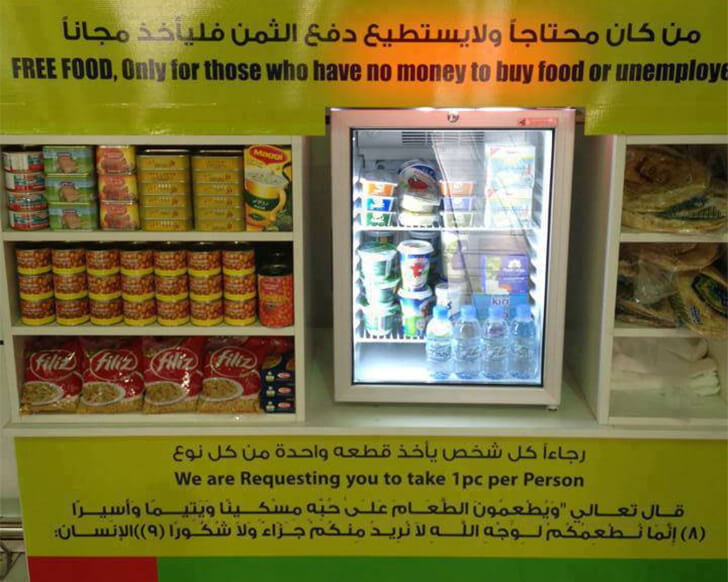 The manager of one of the shopping malls said, "We provide everything, from labneh to fresh yogurt, cool drinks, and even Arabic bread." It's lovely to witness how the people of Dubai look out for one another, bringing smiles to so many faces.
Next: Traffic jams are not frustrating for car lovers in Dubai.
Luxurious Traffic Scenes
Due to the city's rapid population growth, traffic congestion is a fact of life in Dubai. Being trapped in traffic is annoying, but at least you can look at the expensive automobiles passing you by.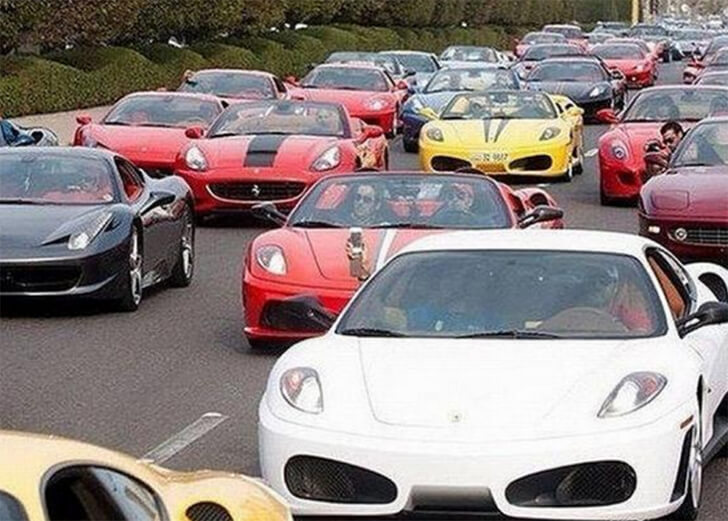 There is a lavish automotive parade going on in the streets, with everything from elegant sports cars to exquisite supercars. As Dubai continues to expand, the government is constructing double-decker highways and enhancing the metro system to alleviate traffic congestion.
Next: In Dubai, anything can be made of gold, even your car
Gold on Everything
Dreams have no limits in Dubai. Want to enjoy an extravagant lifestyle? Well, anything can be bathed in gold in this city—including your car! Worry not if your big mansion, magnificent yacht, and assortment of exotic animals fail to awe and amaze you.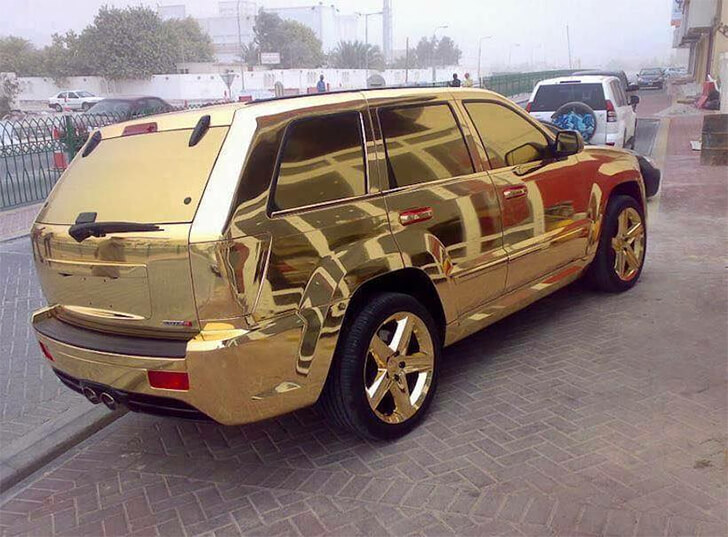 Simply spray-paint your car with gold and see the shocked reactions of people walking by. Sure, the shiny car might blind a few naive drivers, but hey, if you want to show off your wealth, why not do it in the shiniest way possible?
Next: You would want to spend an entire day in this bathroom.
Luxurious Public Bathrooms
Using a public bathroom is generally a stressful and unpleasant experience, but not in Dubai. You won't believe how stunning the public restrooms in this city are. It is a heaven of porcelain and luxury, complete with a rainfall shower and a jacuzzi.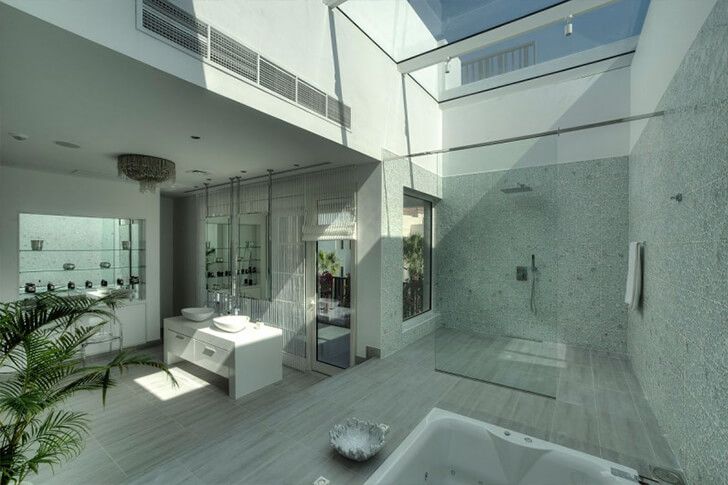 Anyone would want to spend the entire day indulging in such luxury—finally, a place where you can answer the call of nature in elegance and comfort. So, when you're in Dubai, say farewell to yuck and welcome extravagance!
Next: Dubai has exclusive beaches, and they are not for everyone.
Separate Beaches for Women and Families
Regarding ethnic and religious observances, Dubai's beaches are just as considerate as the rest of the city. You and your family may relax in peace on the sands of these exclusive beaches. These peaceful havens are perfect for those who want to escape.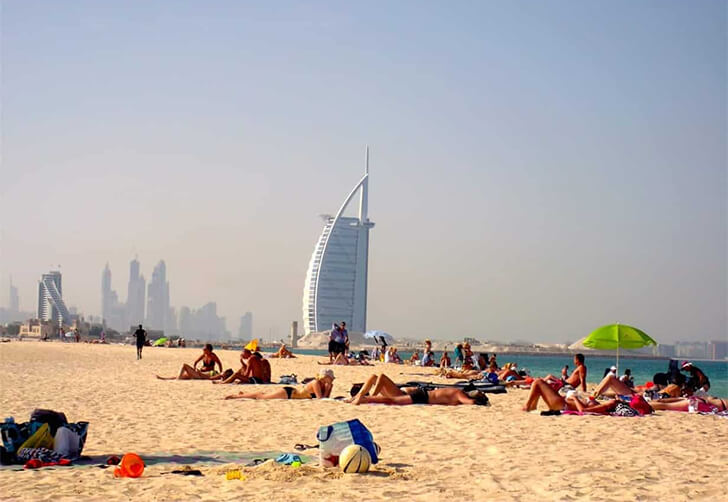 Women are allowed to stroll carefree without fear of harassment. Families can relax and have fun together without the annoyances of smoking and blasting music. It's a considerate way to ensure everyone can enjoy the sun without getting in anyone else's way.
Next: When it comes to love, Dubai is different from the West.
PDA: Public Display of "Almost" Affection
While Dubai appreciates some Western customs, the public display of affection differs from the West. While it is generally acceptable to display affection within the confines of privacy, public displays that go too far are discouraged.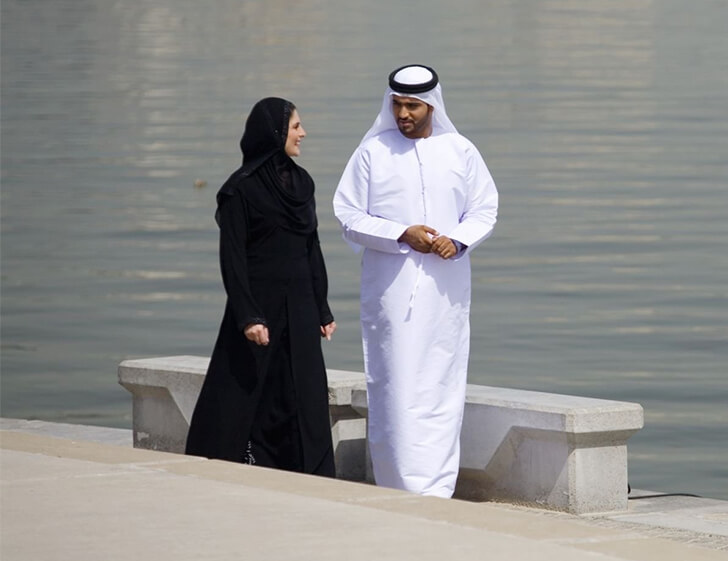 Public places are not the places for passionate displays of affection like kissing and hugging. Individuals in Dubai must uphold the community's standards of humility and respect. It is recommended that both visitors and locals observe local customs and express their love and affection in private settings.
Next: Dubai's heat makes you appreciate air conditioning.
The Hottest City
Dubai summers are so hot that they test people to their tolerance limits. This city is known as one of the hottest on earth. January is milder than the rest of the year, with average daytime highs of 75 degrees Fahrenheit, while summers are unbearable.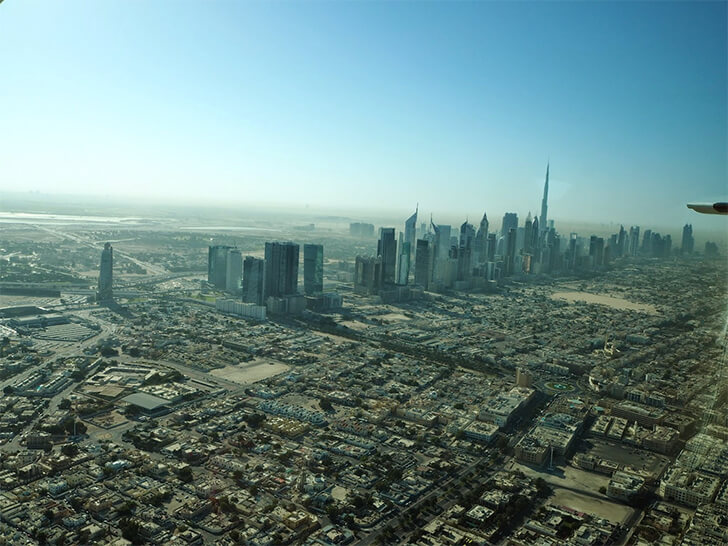 Temperatures throughout the day typically reach a scorching 106 degrees Fahrenheit, so prepare accordingly. It's weather that makes you cherish air conditioning and drinks that are cold as ice. The people of Dubai certainly have some fashionable ways of keeping cool.
Next: Dubai has the tallest building on the planet.
Home to the World's Tallest Building
The Burj Khalifa is the undisputed king of buildings. At an amazing height of 2,716 feet, this architectural wonder rises above the clouds. It's the same as stacking three Eiffel Towers on top of each other!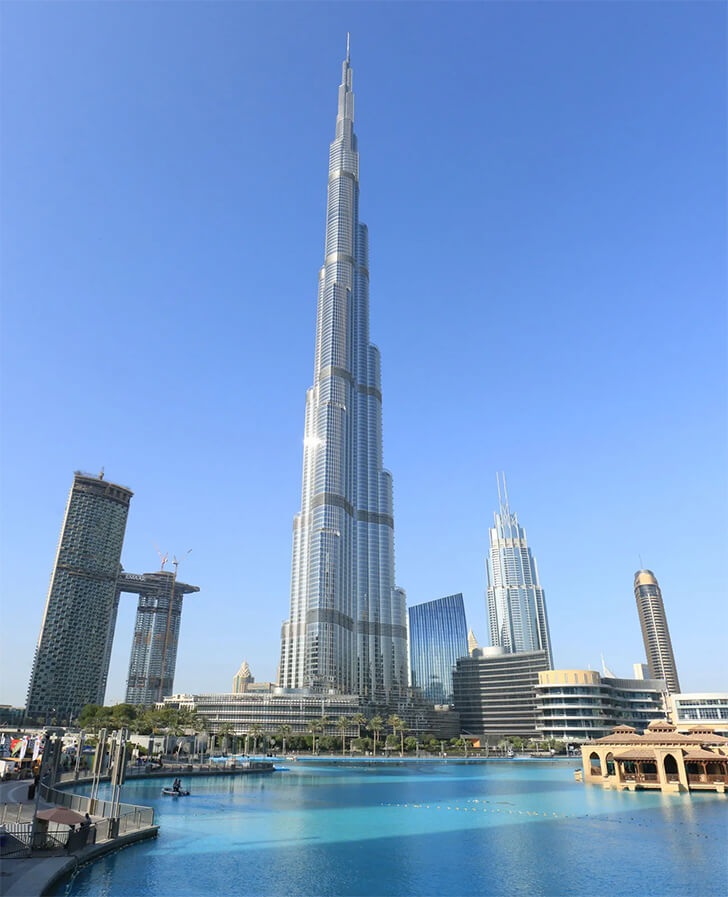 It takes a dedicated crew of 36 people three months to keep the glass exterior clean and shining. The Burj Khalifa is the world's tallest building, with the most stories and an incredible outdoor viewing deck.
Next: A mall that has something for everyone.
The Marvelous Dubai Mall
The Dubai Mall, one of the world's largest malls, will provide you with an unforgettable shopping experience. With a total area of 2,965 acres, this shopping wonderland will satisfy even the most avid shopper.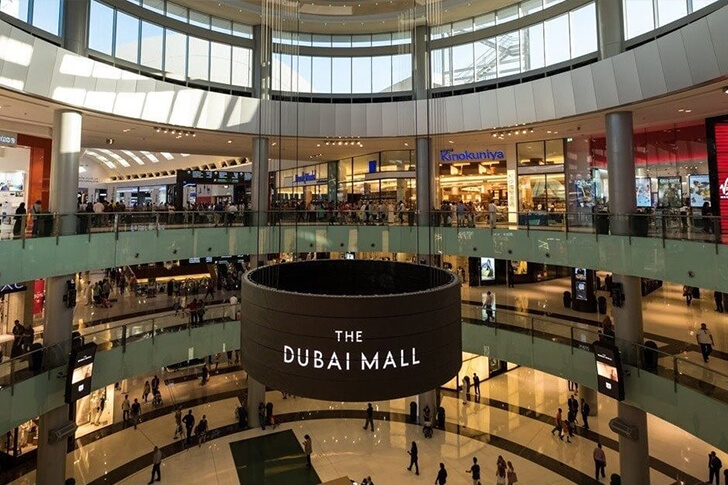 It is a paradise for all tastes and desires, with over 1200 shops, 26 movie theaters, and a tempting selection of 120 cafes and restaurants. The Dubai Mall is a one-stop shop for all your shopping and dining needs. In this mall, you can shop until you drop.
Next: Dubai has the biggest photo frame in the world.
Dubai Frame: A Window to the Past and Present
Take a look at the Dubai Frame, the largest photo frame in the world. It is a spectacular feat of architecture, rising to a height of 492 feet. This towering monument has quickly become one of the city's most popular tourist destinations.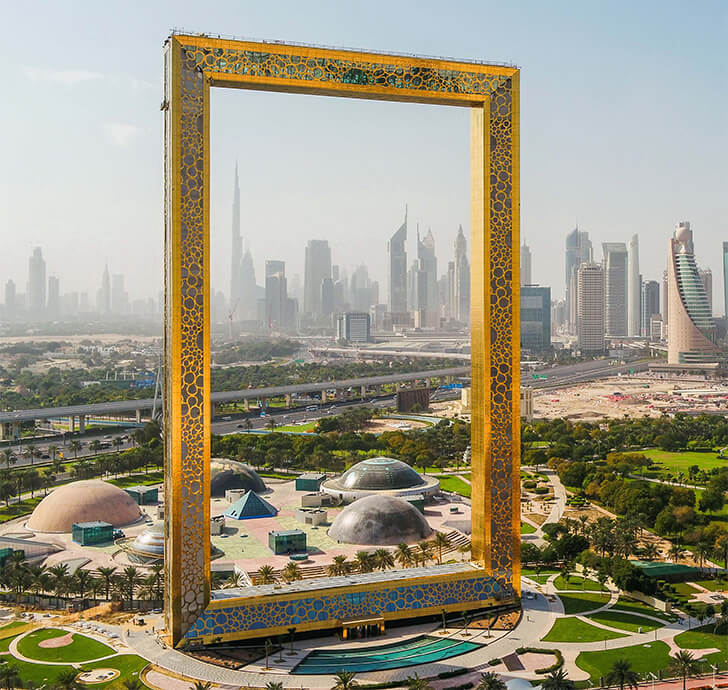 Step inside this massive picture frame to see a panorama of old and new Dubai. It offers an enthralling look into the city's rich history and makeover. In this magnificent frame, capture the memories and gaze at the awe-inspiring merging of the past and the present.
Next: Dubai made a 3-mile-long gold chain.
The Longest Gold Chain in the World
The Dubai Celebration Chain is a stunning example of the emirate's passion for extravagance. The Dubai Gold and Jewellery Group (DGJG) produced this gigantic gold chain, which is 3 miles long and weighs 529 pounds. The chain's 22-karat gold construction makes it an exquisite work of art.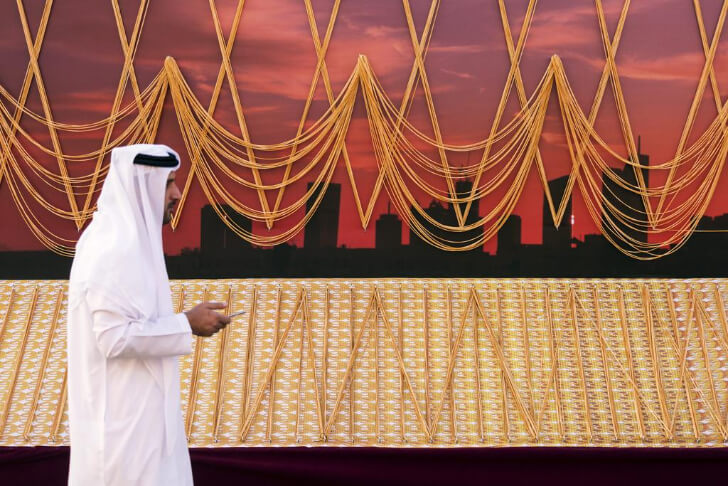 It represents the city's dedication to perfection and fondness for the magnificent. It was created over 45 days by a team of 100 experienced artisans. It was designed to commemorate the 20th anniversary of the Dubai Shopping Festival (DSF).
Next: This is the largest flower garden in the world.
Dubai Miracle Garden
The Dubai Miracle Garden is the biggest floral garden in the world, and it is a sight to behold. Be enchanted as you go through colorful mazes of flowering plants.

This incredible floral masterpiece covers over 780,000 square feet and features over 50 million flowers. In addition, the garden has the most extensive floral work ever created, a beautiful floral replica of a life-size Emirates A380. Relax under fragrant shade, watch the peaceful waterfalls, and enjoy nature's creation's blissful beauty.
Welcome to Dubai,Dubai Exposed: Surprising Facts You Didn't Know About The Oasis City / Exclusive Lifestyle News / funfactsfordays.com / Jennifer Bar,Tony Bar, Sedat Karagoz / Istanbul,New York Travel,Tourism News Office / Janbolat Khanat / Almaty Travel,Tourism News Office
Pop your email address below to be notified of new posts by email. You can unsubscribed at any time, although I hope you won't!



Dear Guest,
Thank You For Contacting wmwnewsturkey Media Group – A World Away From Your Everyday.
We Value Your e-mail Communication And We Will Respond To Your Request Within 24 hours.
Regards,
SEDAT KARAGÖZ
General Manager and Senior Vice President, Operations | WMWNEWSTURKEY ISTANBUL,NEW YORK,ALMATY
+90 0541 732 90 64
sedatkaragoz@wmwnewsturkey.com