Views: 456
Travel Exclusive News / Book For The Views Alone: The New Hyatt Regency London Albert Embankment / By Clint Henderson / thepointsguy.com / Sedat Karagoz / Istanbul,New York Travel,Tourism News Office / Janbolat Khanat Almaty Travel,Tourism News Office

This post contains references to products from one or more of our advertisers. We may receive compensation when you click on links to those products. Terms apply to the offers listed on this page. For an explanation of our Advertising Policy, visit this page.
The Hyatt Regency London Albert Embankment is one of the newest Hyatt hotels in London.
This intimate hotel can be a good value with cash or World of Hyatt points in a city that can be notoriously expensive for hotels.
World of Hyatt points availability is scarce and there are limited on-site higher-end amenities.
As one of the most exciting cities in the world, London has no shortage of excellent hotels. In fact, you can look no further than our own comprehensive list of the best London hotels for every type of traveler.
There are currently eight hotels in the World of Hyatt program to choose from within London, but we were especially interested in a new arrival in the city's Hyatt ecosystem — the Hyatt Regency London Albert Embankment.
While the hotel isn't brand new (it opened in 2019 as a Crowne Plaza), it still feels fresh, partly thanks to its rebrand as a Hyatt.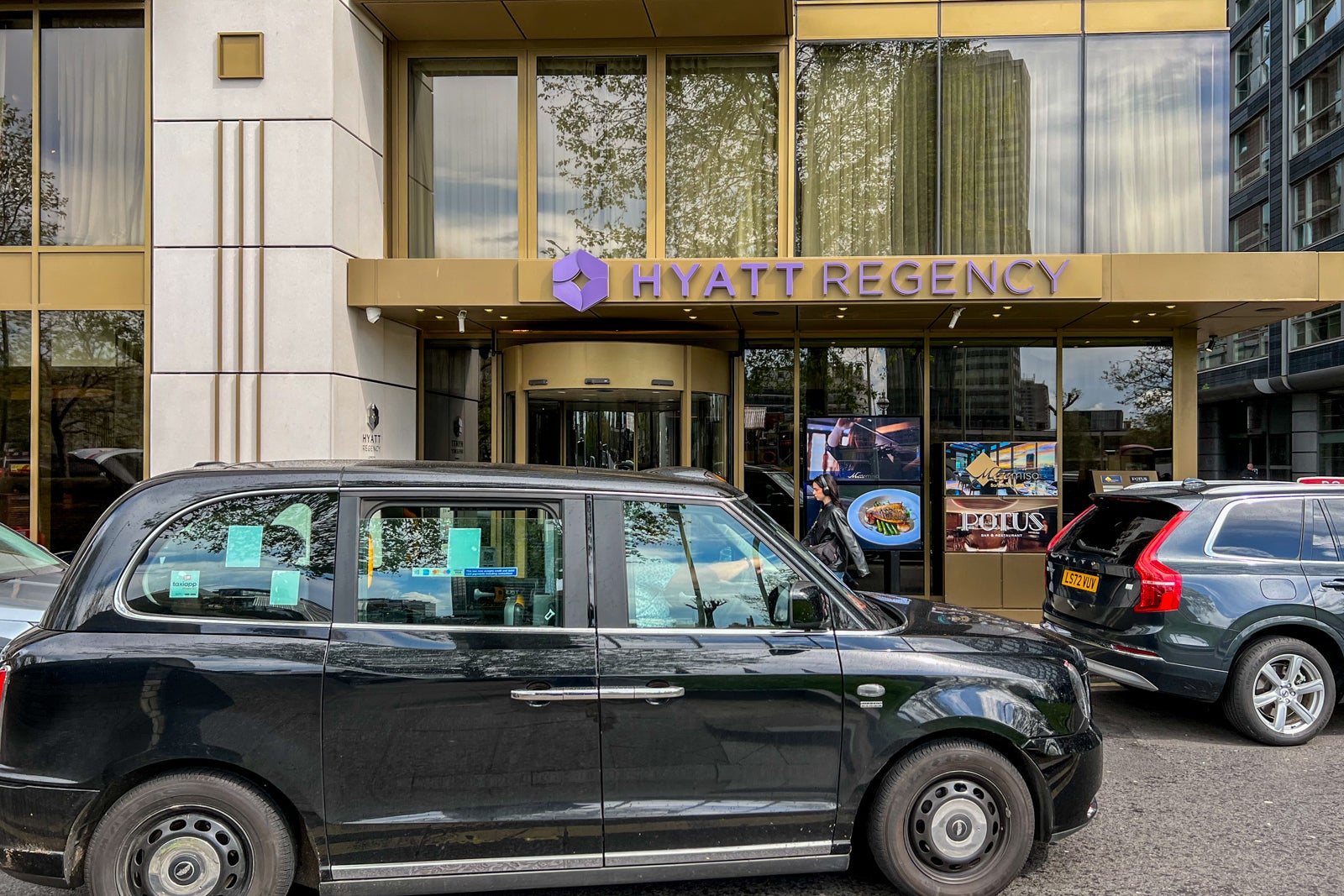 Here is what it's like staying at the newest addition to Hyatt's London footprint and why you might want to consider a stay or skip it
Well-priced for a London hotel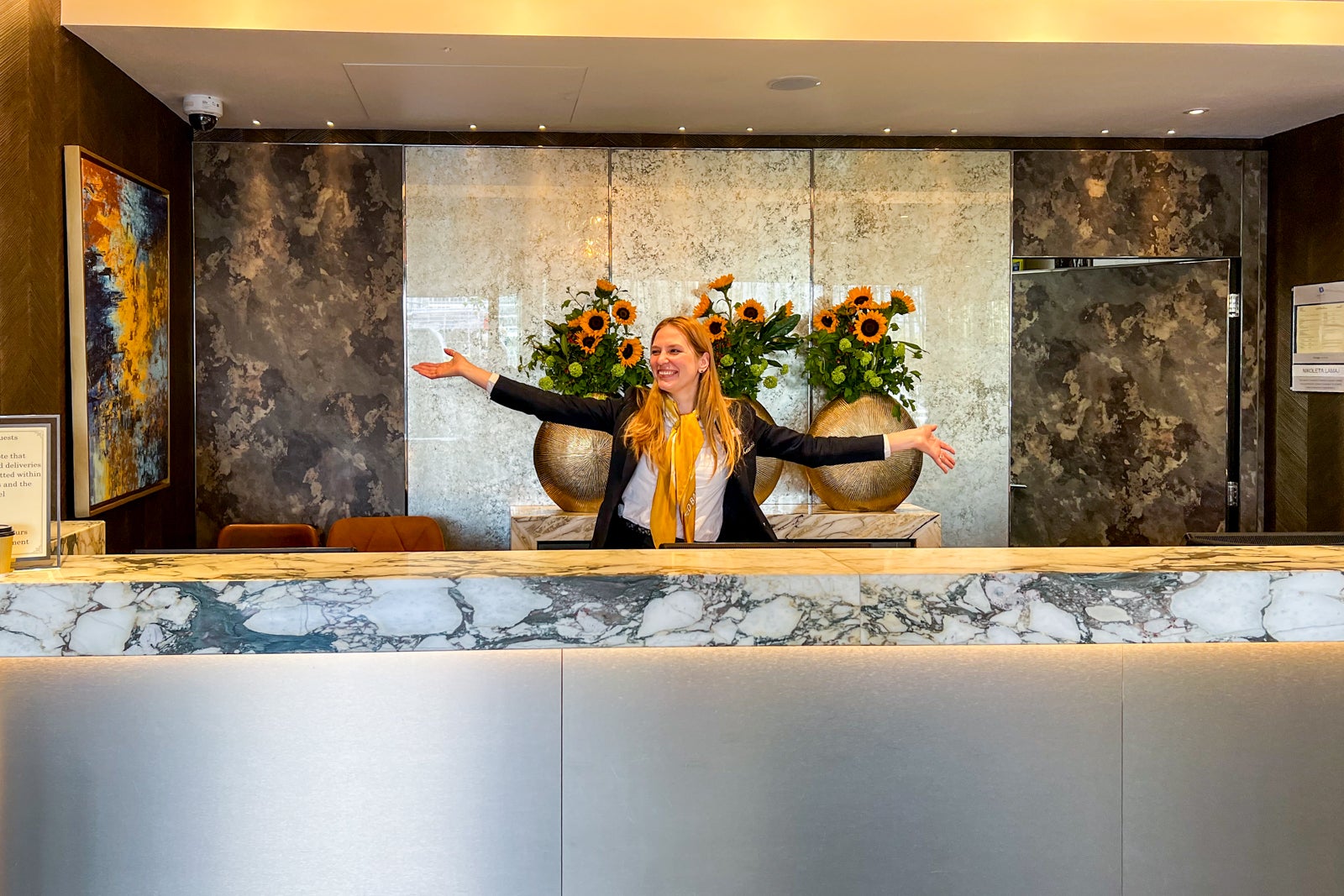 London hotels are notoriously expensive, but The Hyatt Regency London Albert Embankment is an exception to this general rule. Though it wasn't cheap by any definition, we did score a room for 243 British pounds (about $310) when rooms at comparable hotels were running closer to $500. That rate included some $52 in taxes and fees, which can sneak up on you in London.
Related: 7 London hotels used by actual royalty
I earned a total of 2,097 World of Hyatt points, including a 20% bonus since I have Explorist status. Those points are worth about $36, according to TPG's latest valuations. Because I charged the purchase to my World of Hyatt Credit Card, I earned another 1,289 World of Hyatt points with credit card spend. Chase awards me four bonus points per dollar earned on Hyatt purchases. According to TPG valuations, that's worth another $21.91.
Prices hover around $300 to $350, with standard awards pricing between 17,000 and 23,000 World of Hyatt points per night since it's a Category 5 hotel.
Related: Credit card showdown: World of Hyatt card vs. World of Hyatt Business card
Central location, but outside tourist zones
As the name would suggest, the hotel is right along the Albert Embankment. It's just down from Lambeth Bridge in a rapidly developing area of London. That places it about a mile from the U.S. Embassy and close enough to Westminster that you could take one of London's walking paths for a 20-minute stroll to see Big Ben.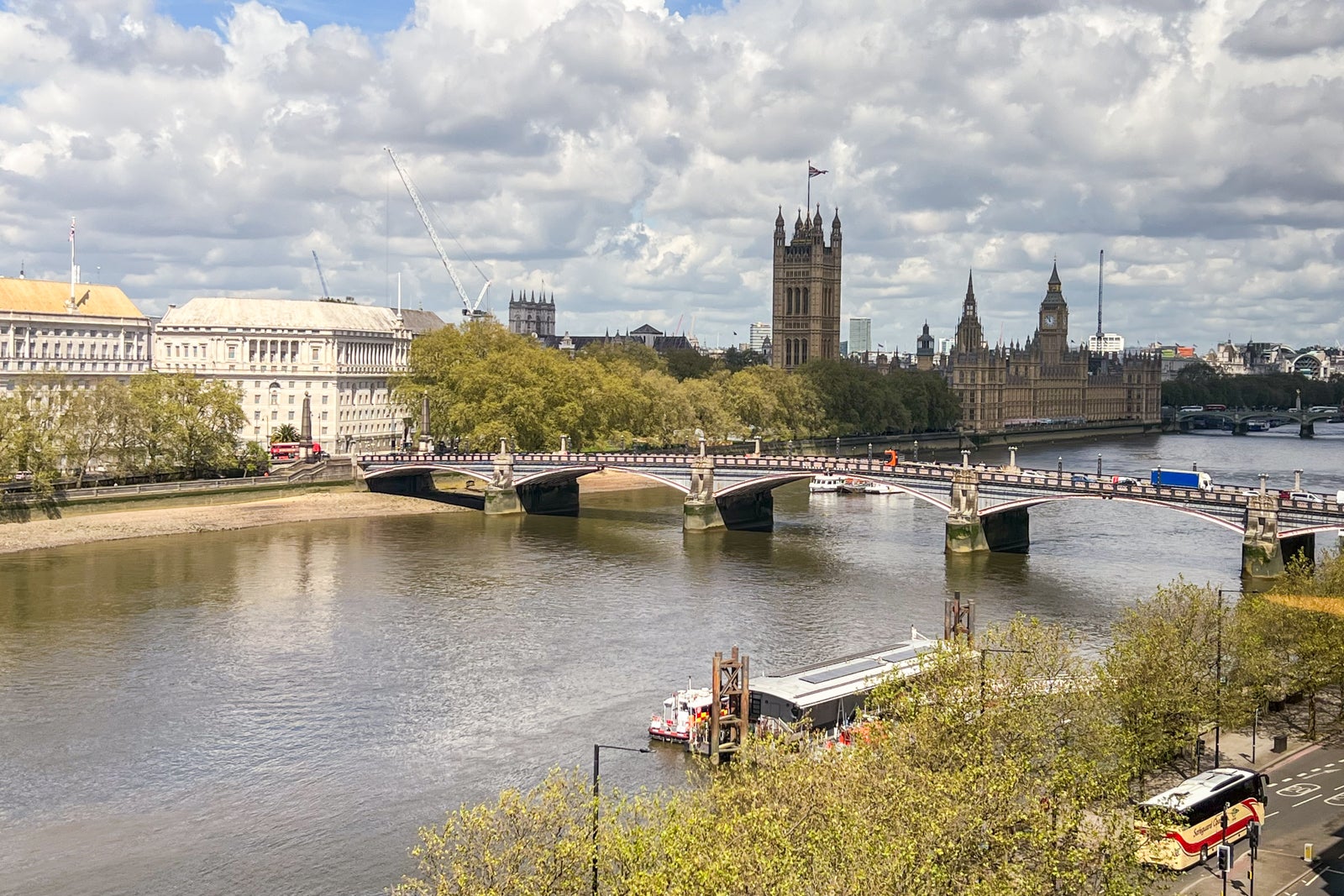 This isn't a touristy part of London, though, so you won't be jockeying your way through crowds. However, it is close enough to get to most key London attractions without too much hassle. It's just a 10-minute walk to the Vauxhall train station, where you can catch a train to Victoria Station and connect almost anywhere in London via the Tube.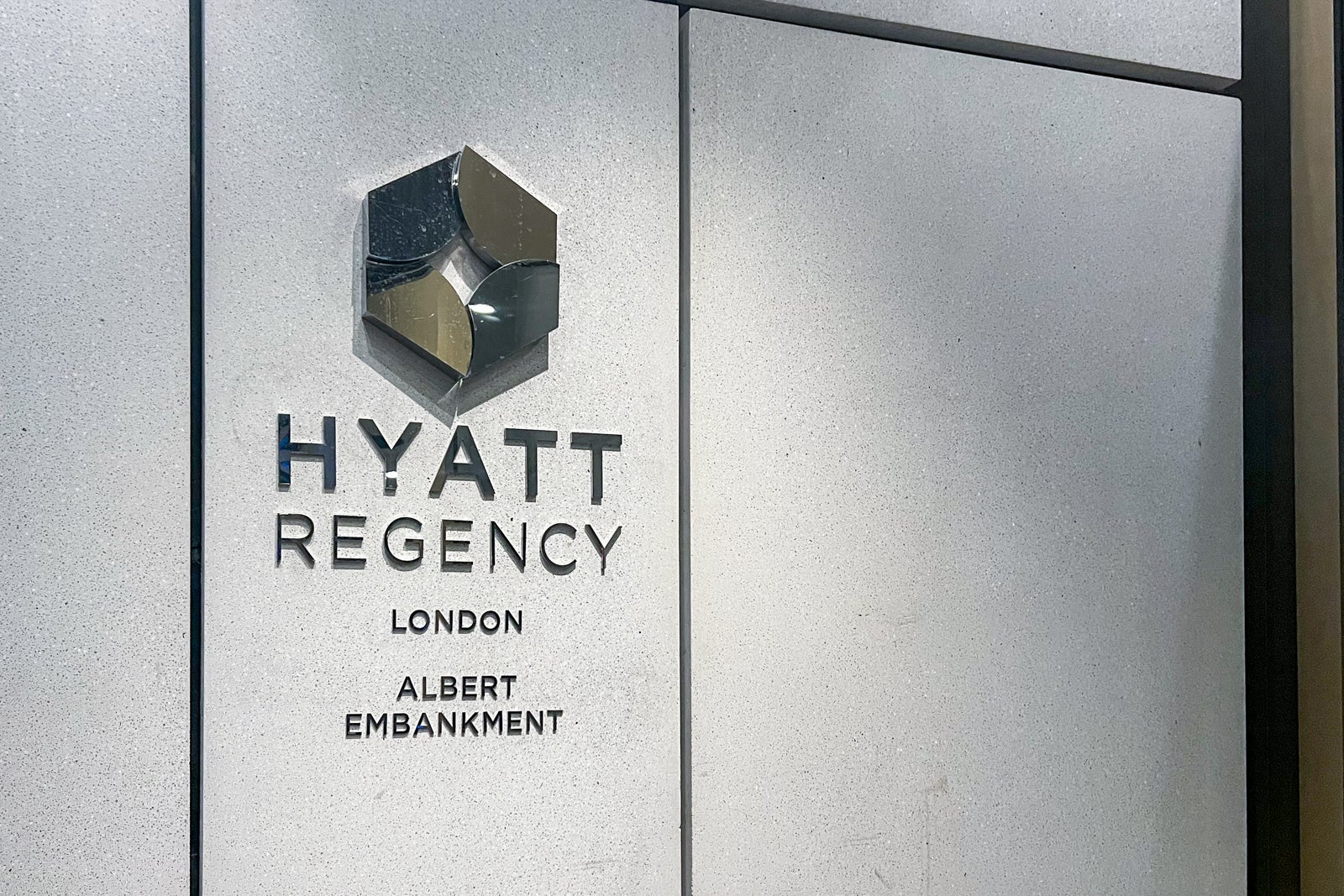 The Embankment tube station, despite what its name suggests, is at least a 20-minute walk away, though.
Download the TPG App today!
Maximize your spending, earn rewards faster, and easily track all of your points and all of your miles all in one place.
Beautiful new facility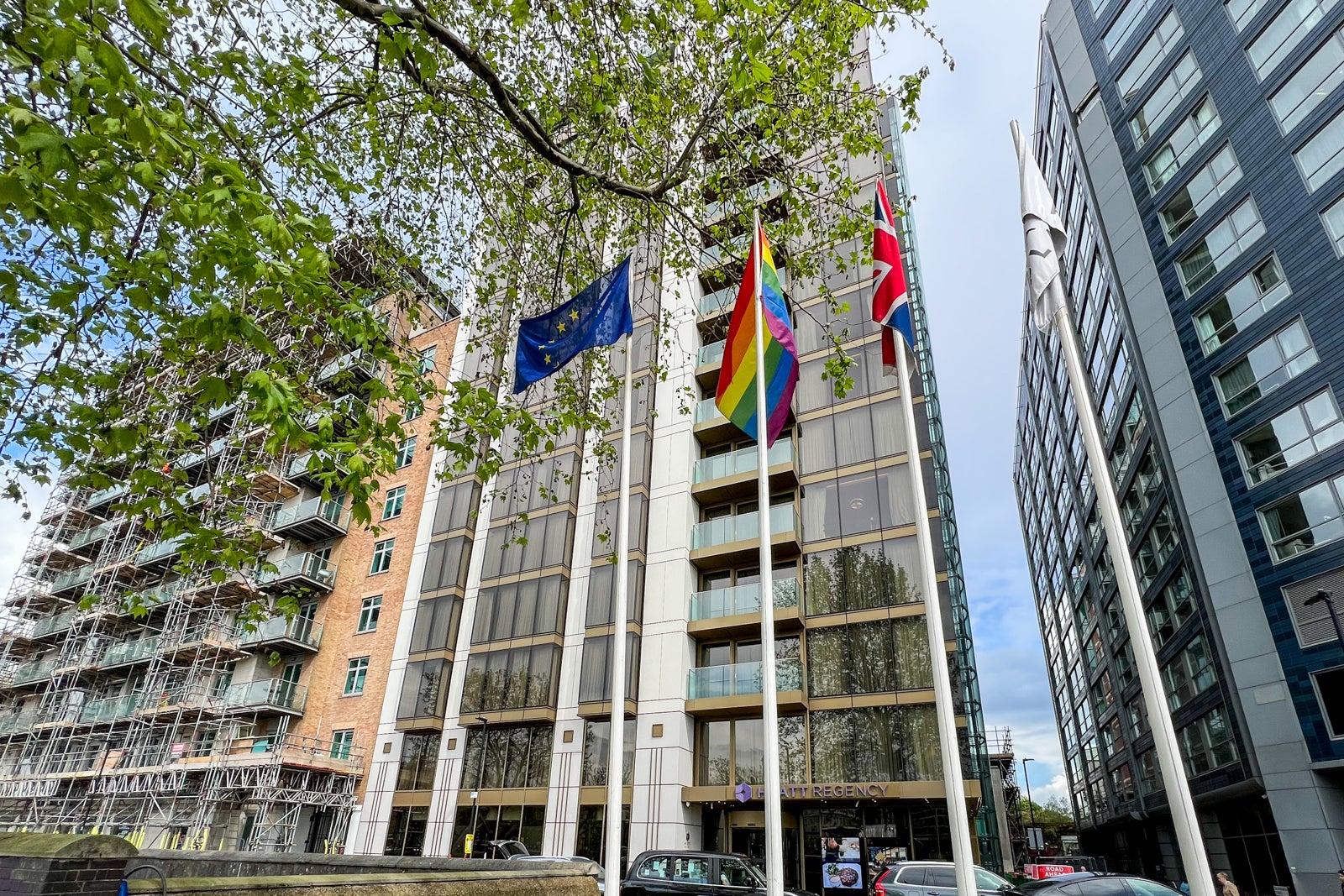 In a newly constructed tower, the Hyatt Regency London Embankment features 142 accommodations, including three one-bedroom suites. The lobby is small but welcoming, with a contemporary glass chandelier and a small seating area.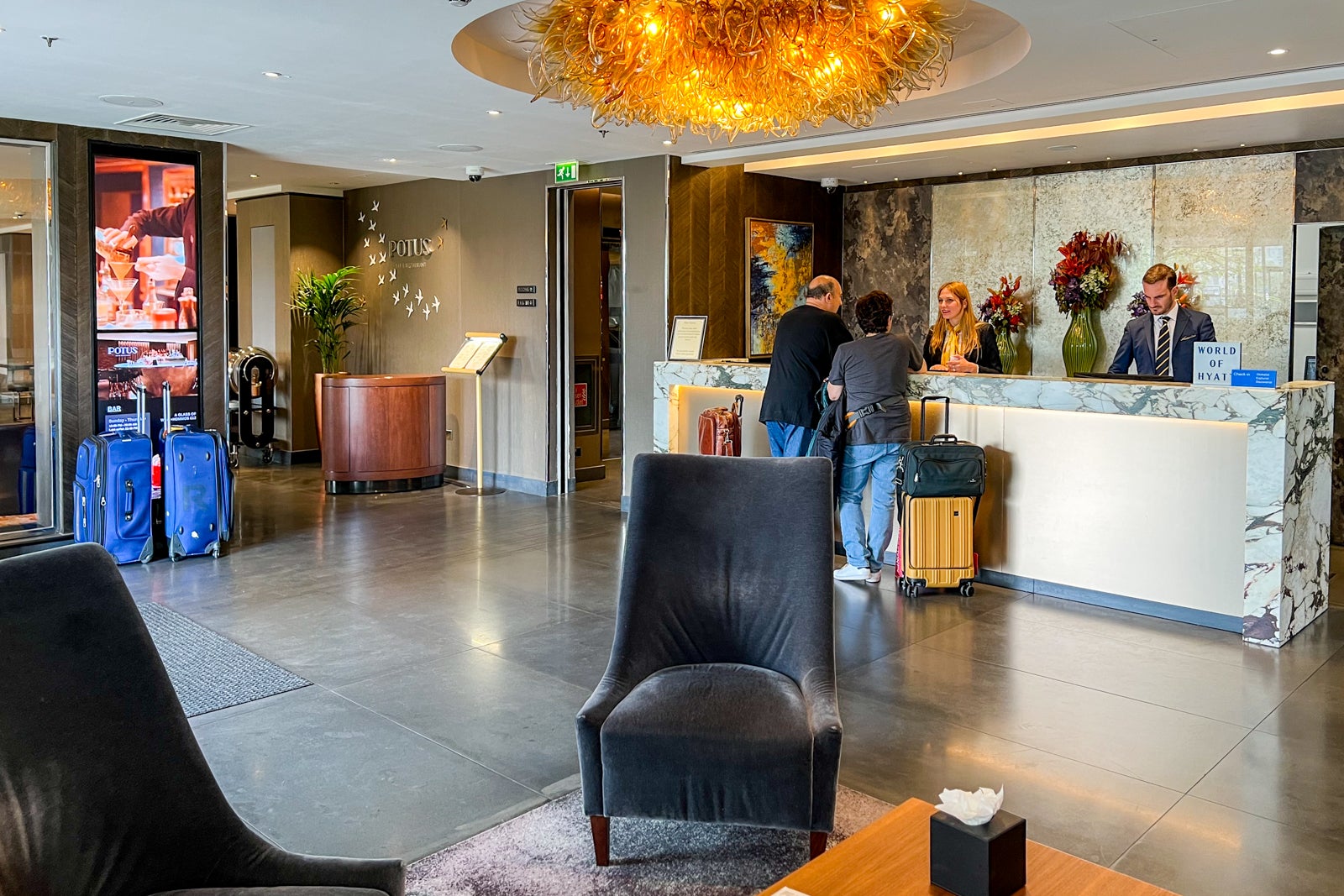 There was never much of a line for the front desk, which was usually staffed by one or two friendly employees.
The gym in the basement is small but has lots of new equipment. There is a variety of weight benches and workout machines, including a good selection of Technogym machines.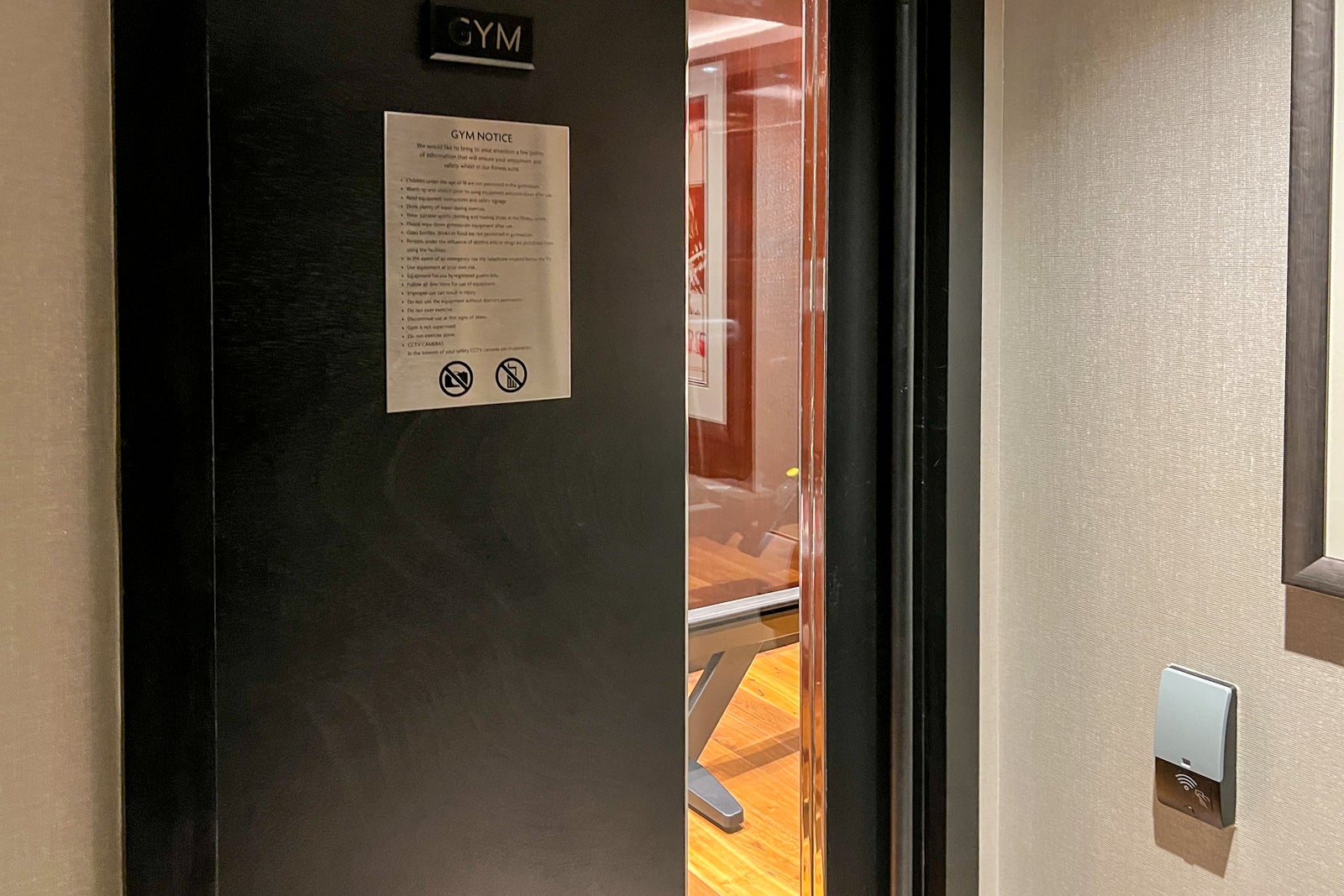 There is no Hyatt lounge for World of Hyatt Globalists to enjoy, but the hotel told me that top elites are invited to have free bites and drinks at a happy hour from 5-7 p.m. in the main restaurant
Lovely but limited food and cocktail options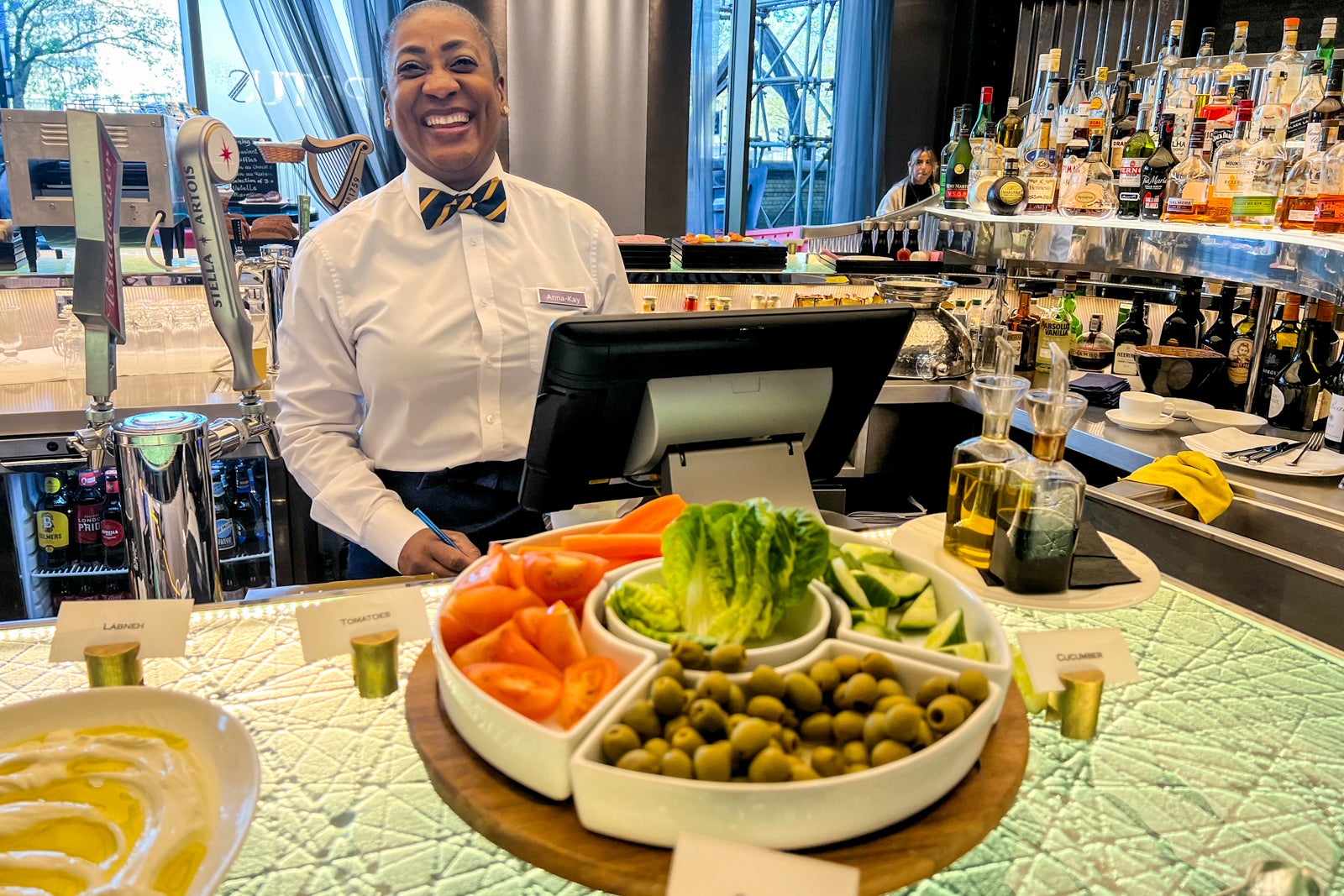 If you want something to eat without venturing out, there are two on-property restaurants. POTUS (as in President of the United States) just off the lobby is an ode to the U.S. Embassy, which is not too far from the hotel, and is filled with pictures of former U.S. presidents. Mezemiso is on the 15-floor rooftop and features an enticing mix of Lebanese and Japanese dishes.
POTUS
POTUS bar and restaurant is on the main level right next to the lobby and serves breakfast, lunch and dinner. I found the service to be friendly and fast, and the food was delicious.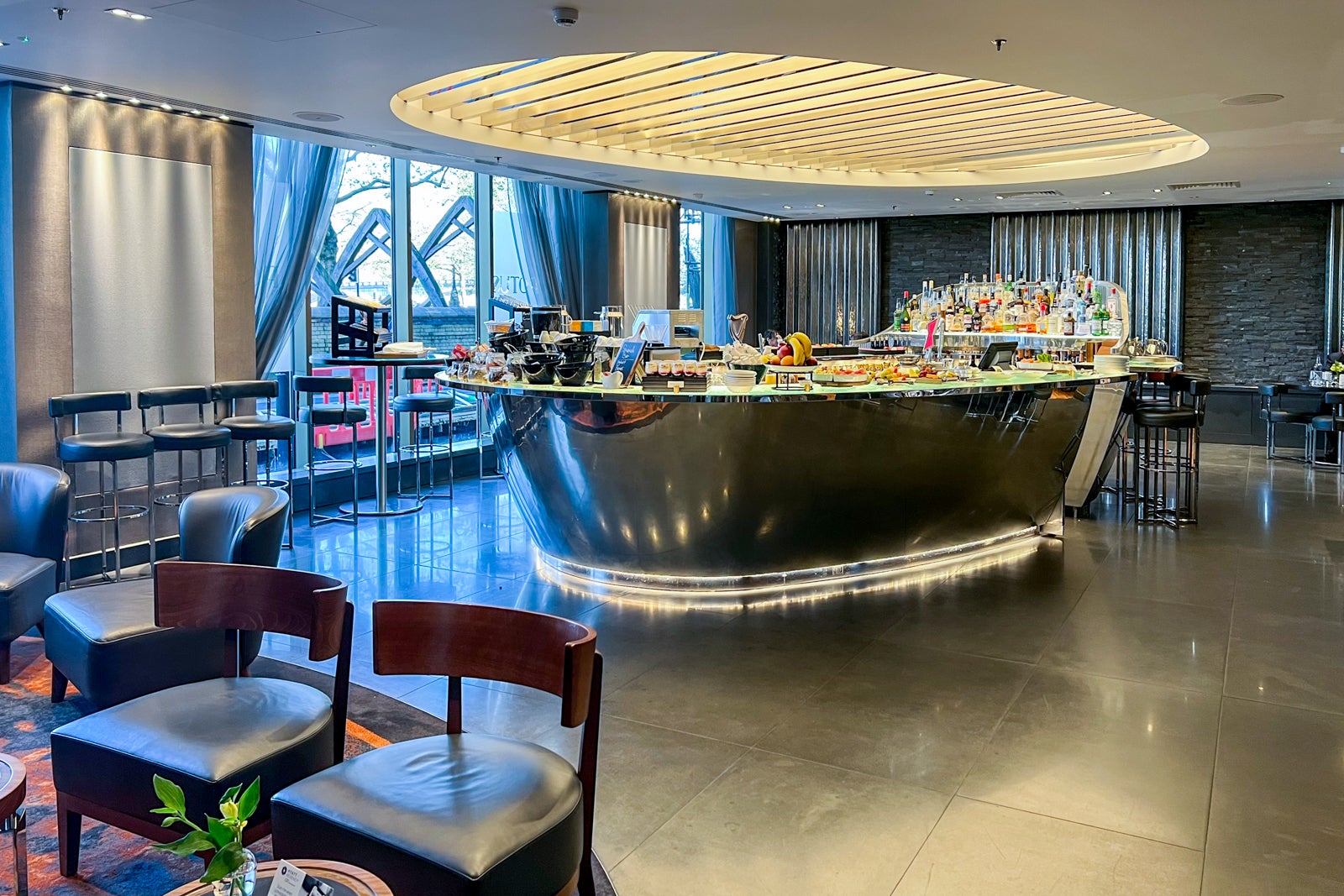 I had the buffet breakfast ($32) and enjoyed hot dishes like eggs, bacon and hashbrowns. I also tried a croissant, fresh fruit and a bit of yogurt, which all hit the spot.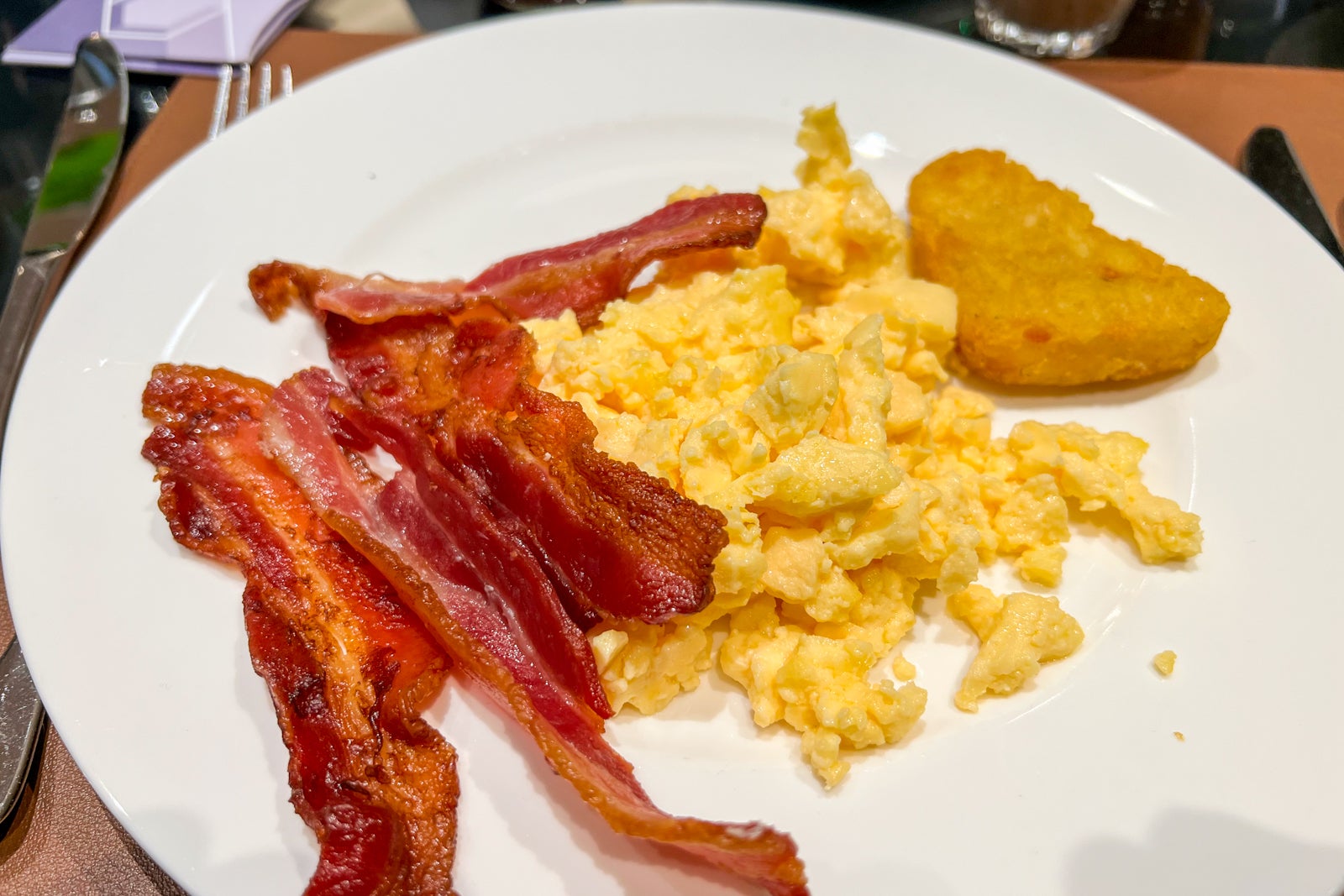 You'll find warm wood and tile flooring, a variety of comfortable chairs and a portfolio of fascinating black-and-white photos of famous political figures.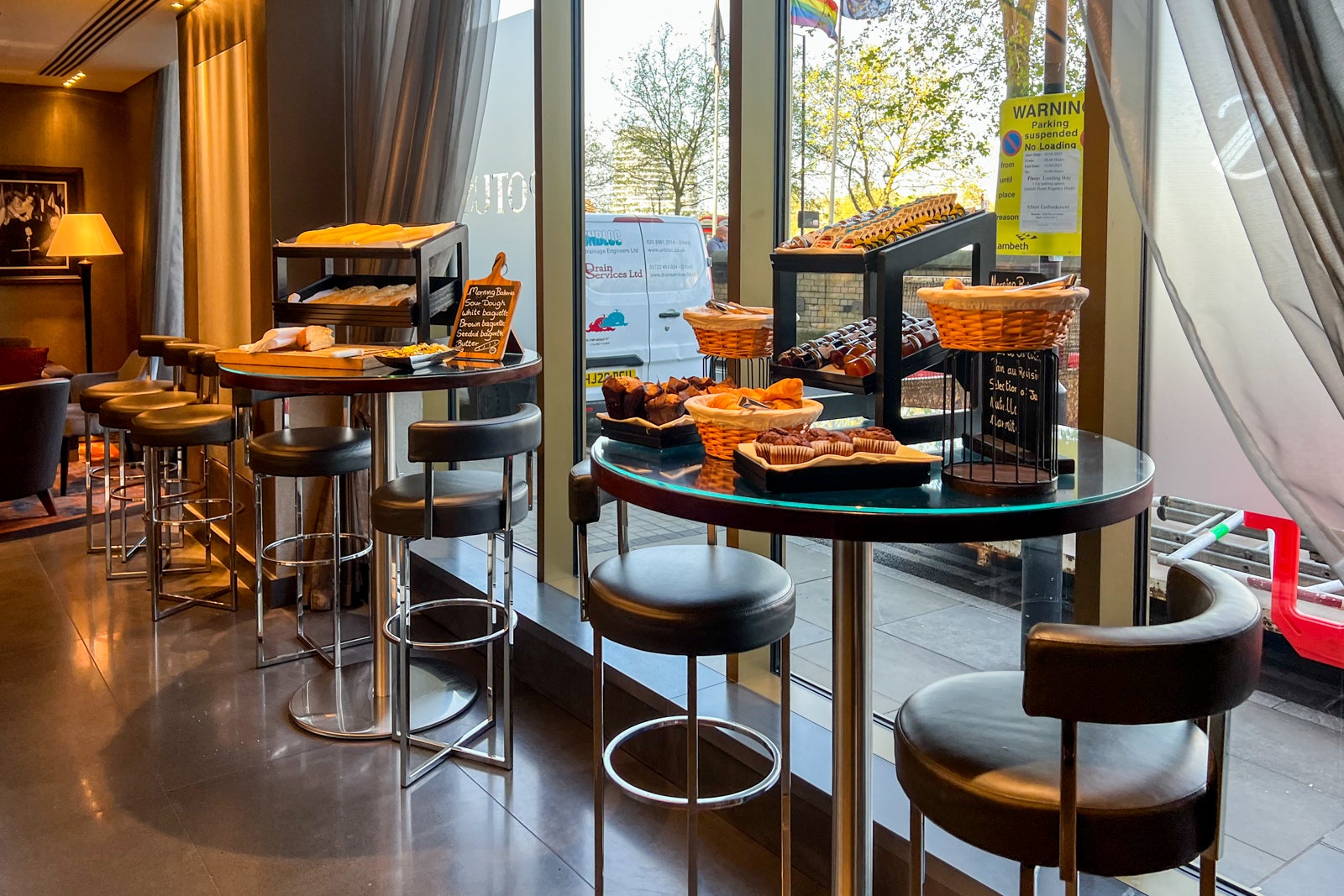 The oval-shaped bar is set up with breakfast items in the morning, but it becomes an intimate watering hole at night.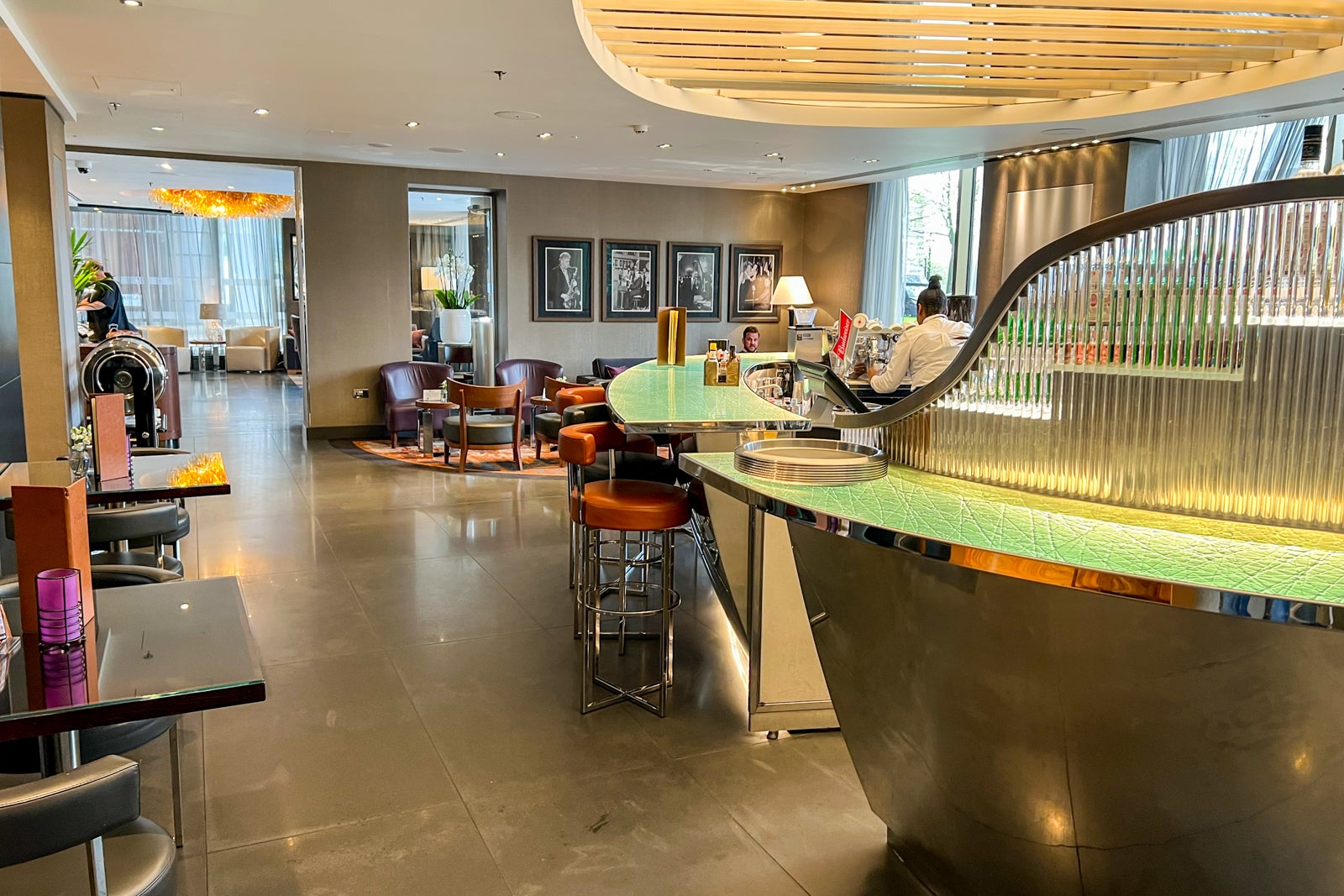 Mezemiso
Hyatt's rooftop restaurant (reached via a separate glass elevator), cocktail bar, smoking lounge and shisha terrace, Mezemiso, serves Lebanese-Japanese fusion fare with panoramic views thrown in for good measure. Specialties include fried chicken karaage with egg noodles ($32) and kofta kebabs with mixed vegetables and Lebanese bread ($31).
In case you are wondering what a shisha terrace is, it's a place for smoking. You've likely heard of a hookah lounge, and this is the same idea. The hotel also refers to it as a cigar terrace.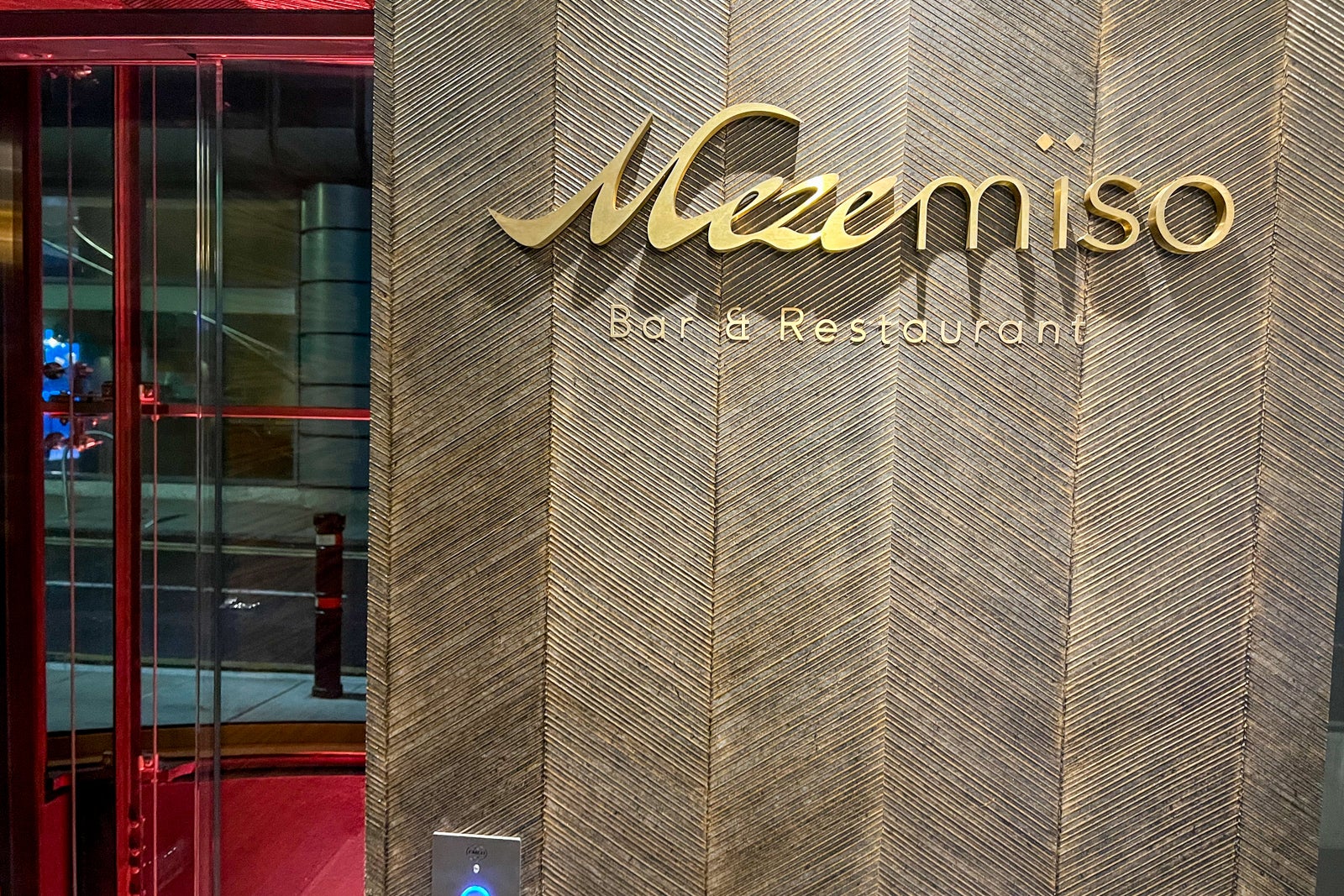 I didn't get a chance to dine here during my short stay, but I did get a dessert of pistachio baklava with layers of filo pastry filled with pistachio and syrup ($12). It was delicious but didn't photograph well.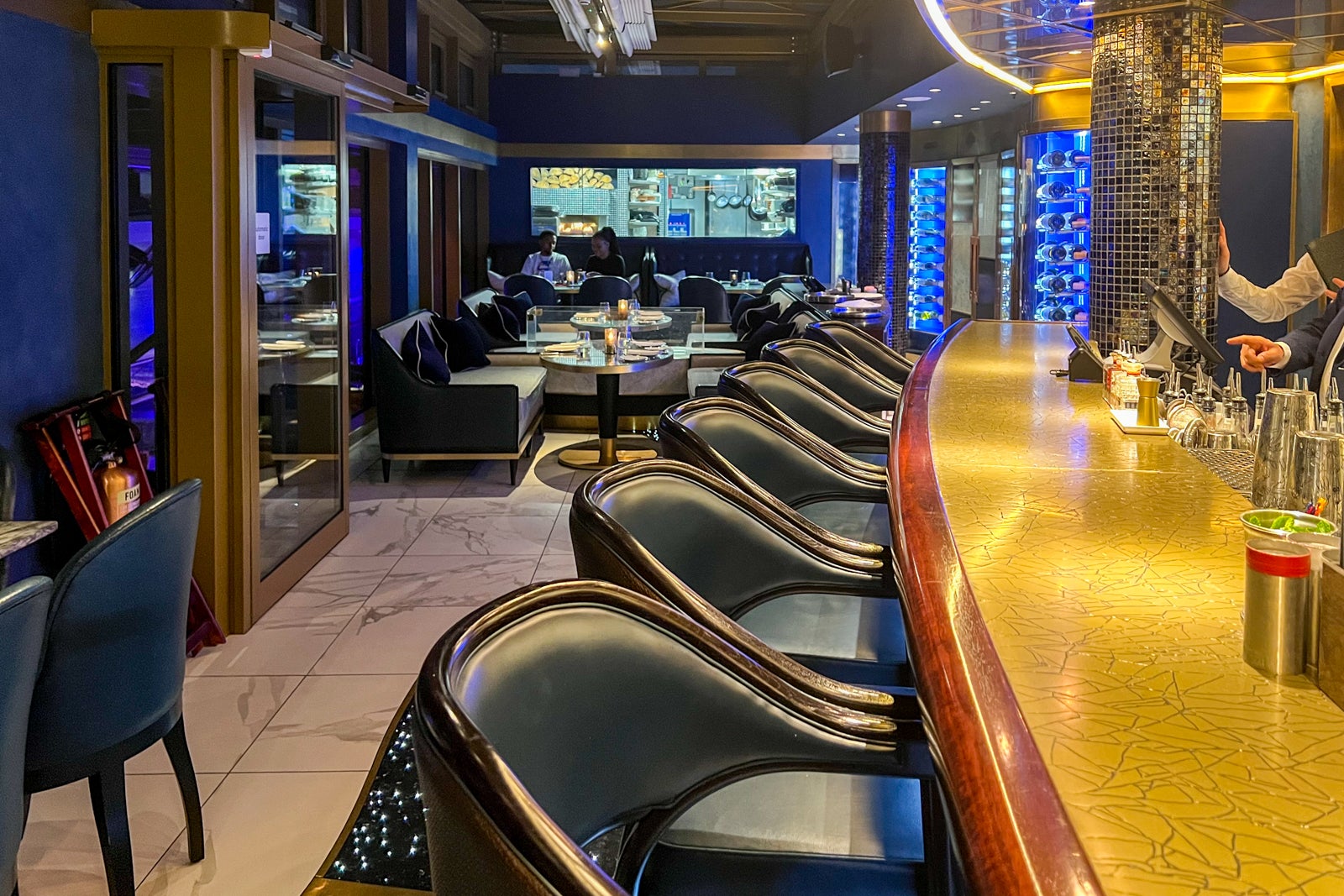 The bar is open seven days a week until 1:00 a.m. and you get great floor-to-ceiling views of the Thames below.
New rooms that are large and light
My room facing the Thames was light-filled and comfortable with million-dollar views of Big Ben and the Houses of Parliament.
New construction means there's very little noise from the city thanks to nearly-soundproof windows. The blackout curtains worked wonders for a quick jet-lag recovery nap after an overnight flight. The rooms were decent-sized by American standards but on the larger size for the U.K. and Europe.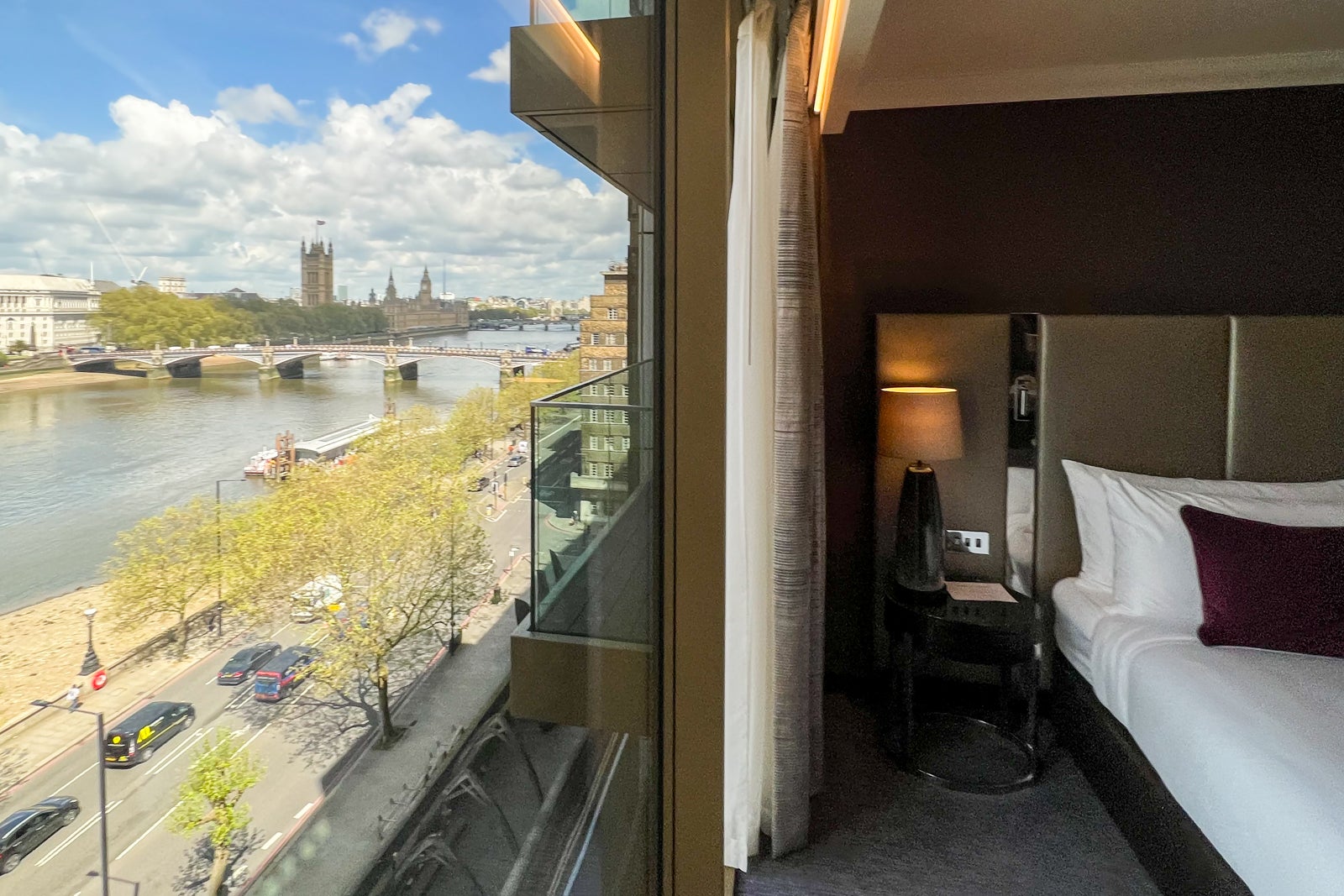 My room had a king-size bed, a desk area to work at, and my favorite – a Nespresso coffee machine.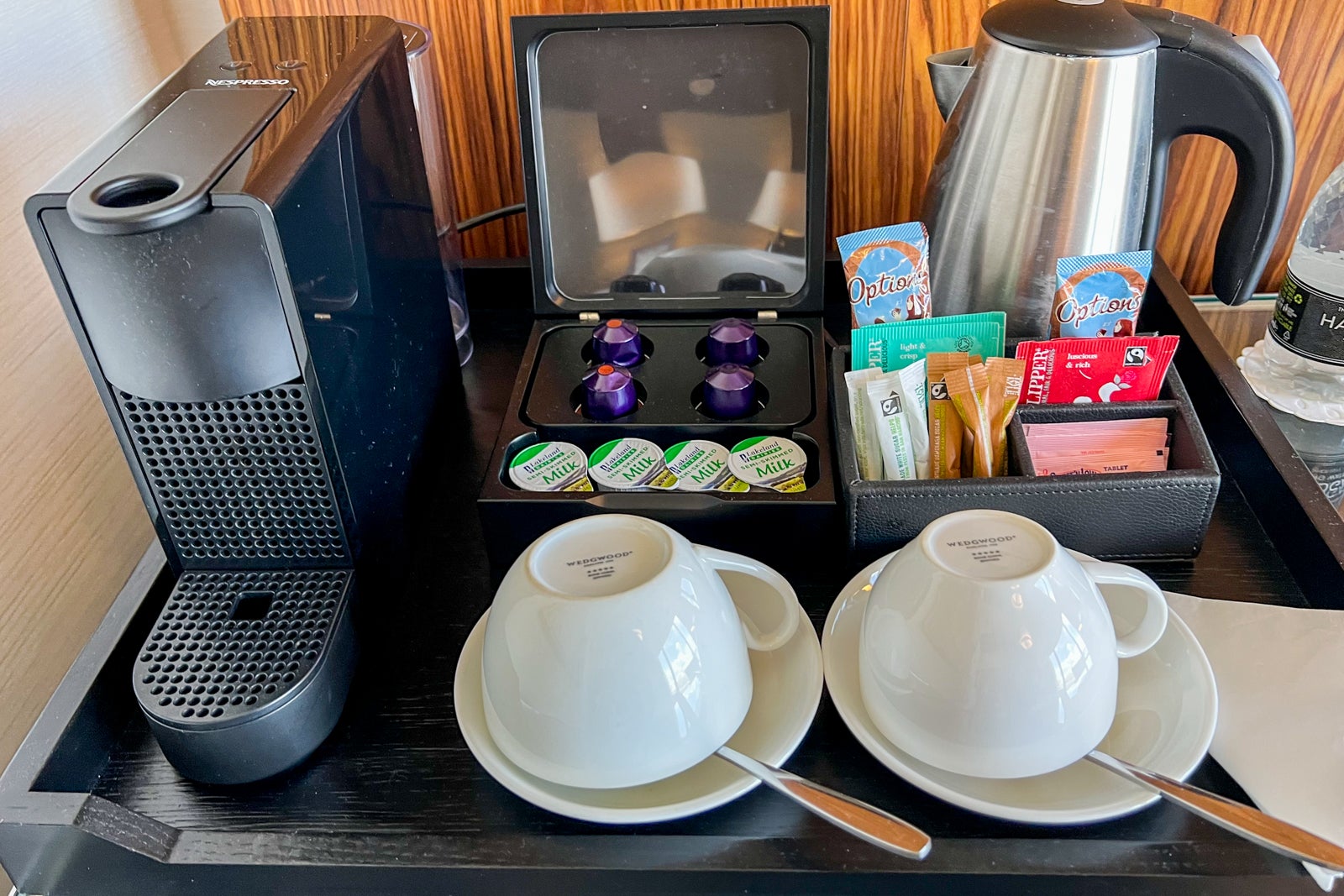 The bed was comfortable, with lots of pillows, and left enough space to move around the room comfortably. The desk was great for working though it was a bit cluttered with tea- and coffee-making equipment.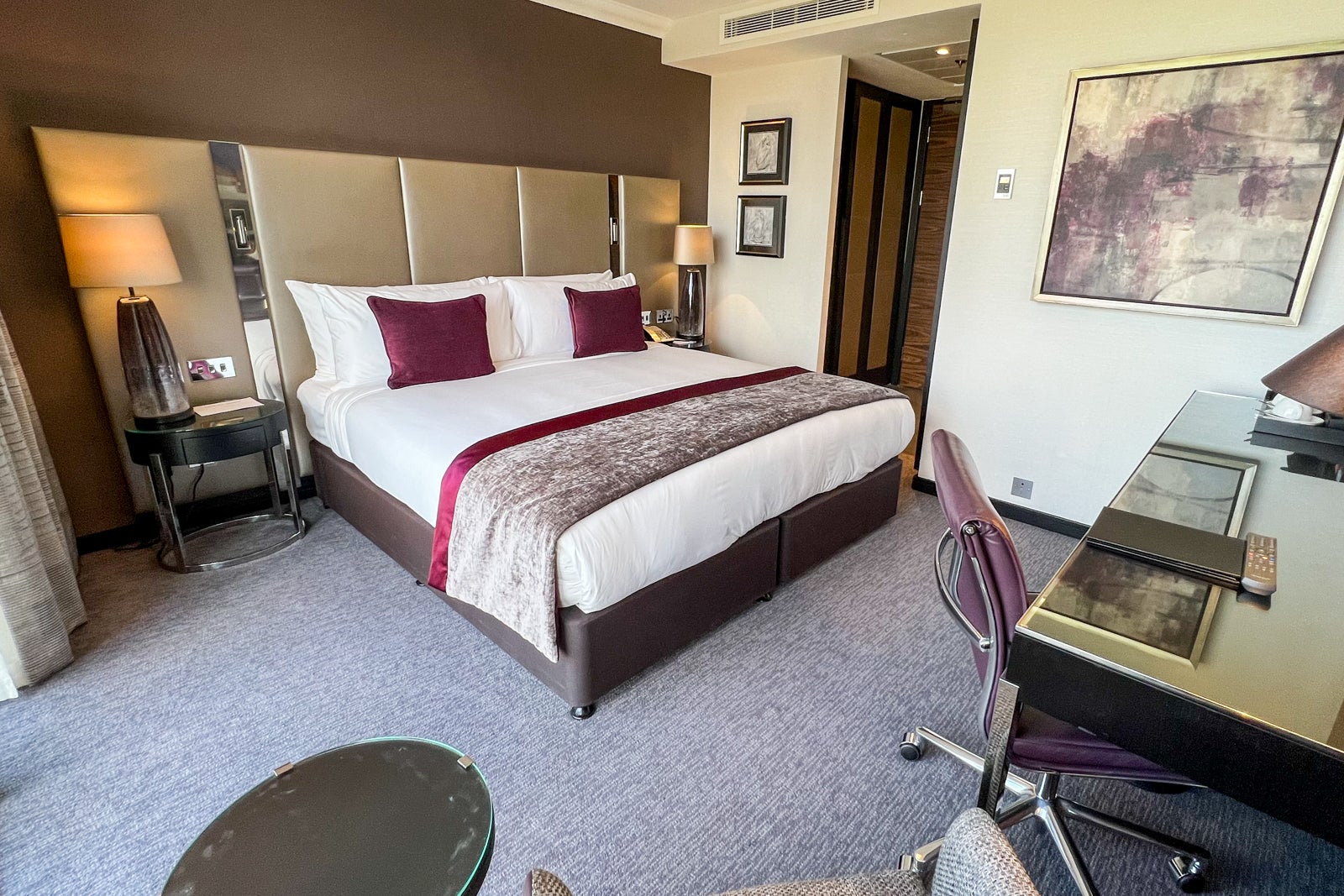 The bathroom was tiled in a variety of neutral hues and had a walk-in shower, a separate bath and a Toto Washlet toilet seat with a heated seat and an impressive range of washing options. Fluffy bathrobes completed the bathroom setup.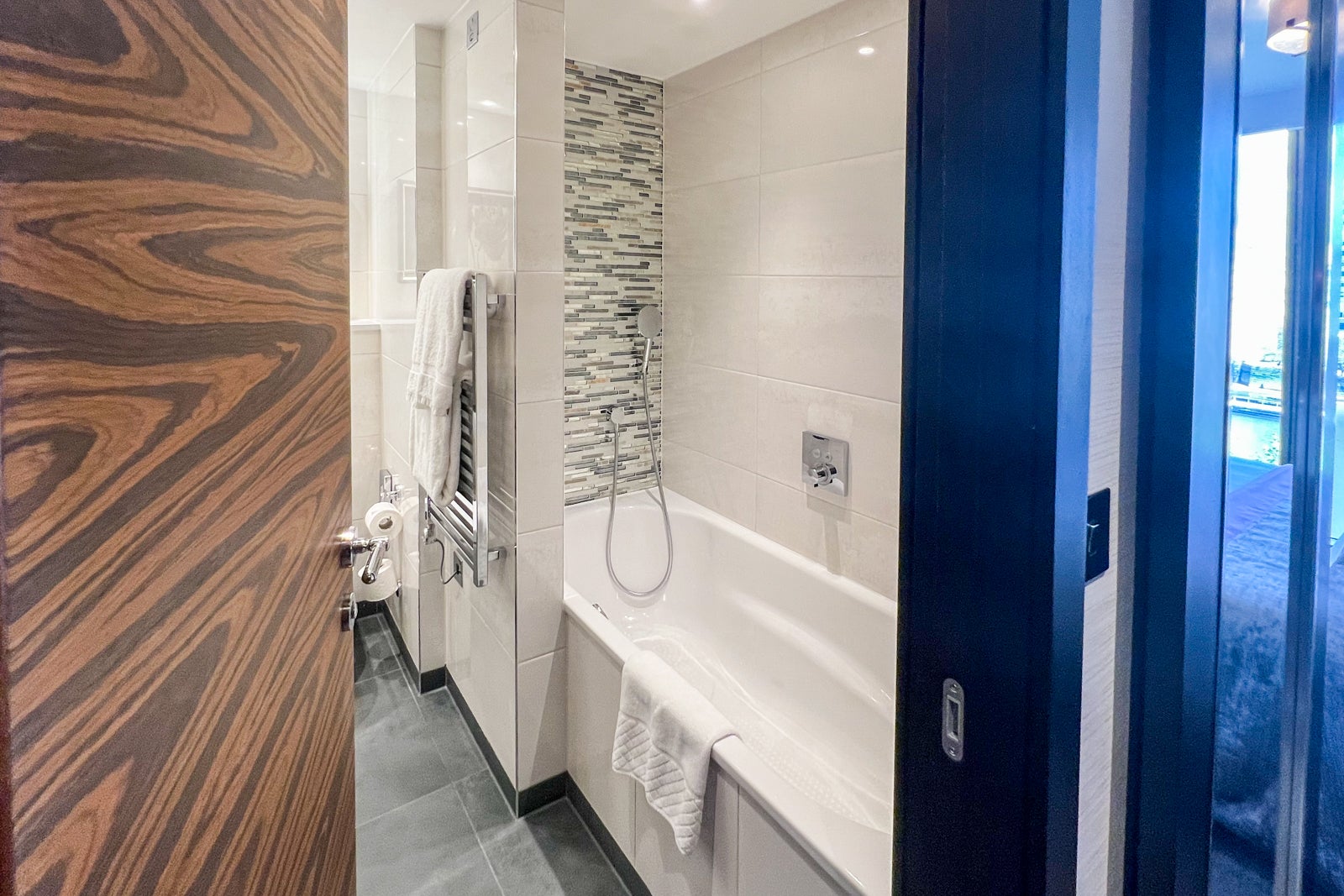 All rooms feature free Wi-Fi, 40-inch smart TVs enabled with Chromecast, hair dryers, minifridges, irons, ironing boards and plenty of power sockets with USB ports. There was a good variety of snacks and spirits for purchase available as well.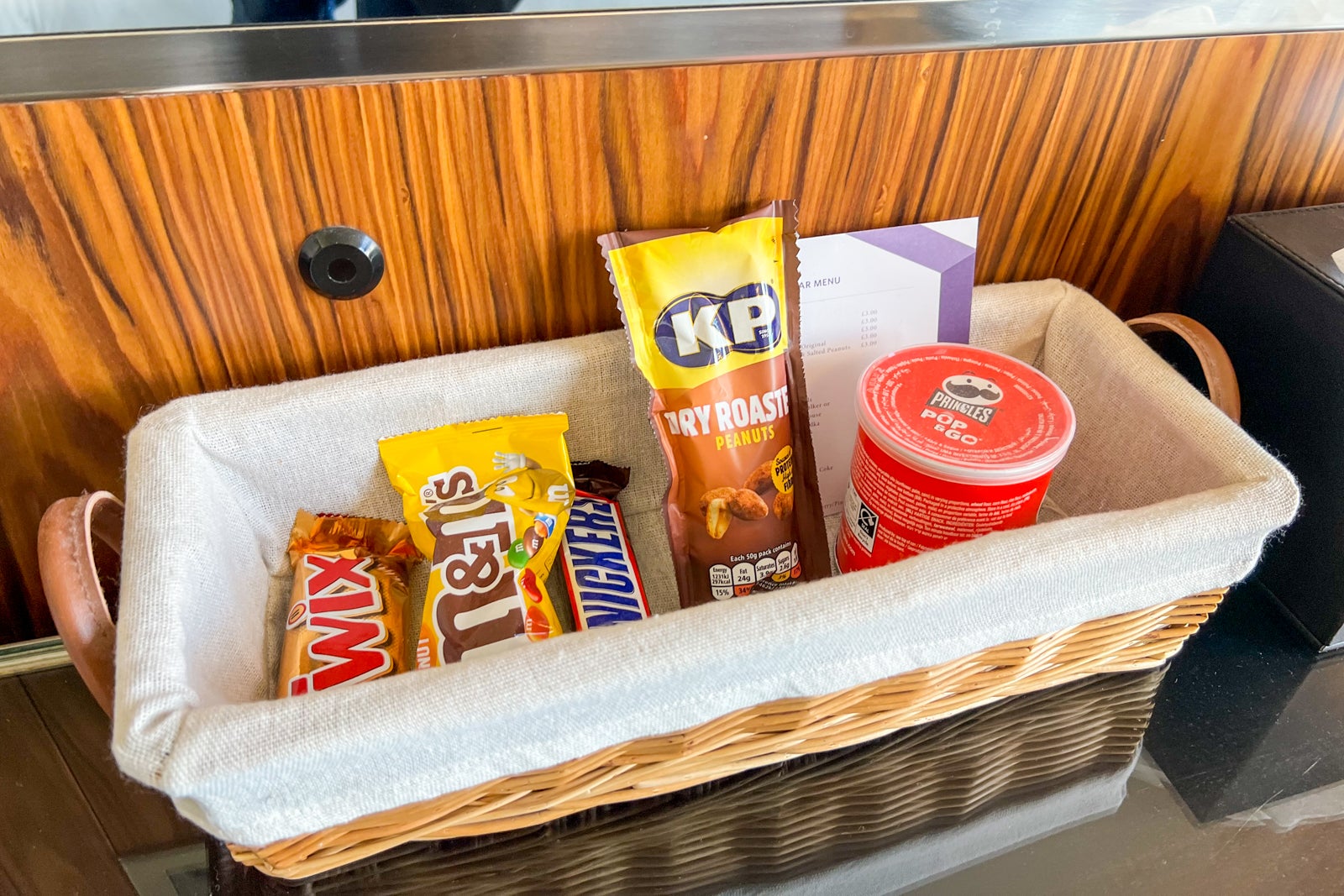 Some King Deluxe rooms at the hotel have a small balcony, though mine did not. Also, note that not all the rooms have views of the Thames, so be sure to clarify that with the hotel before or during check-in if that's important to you.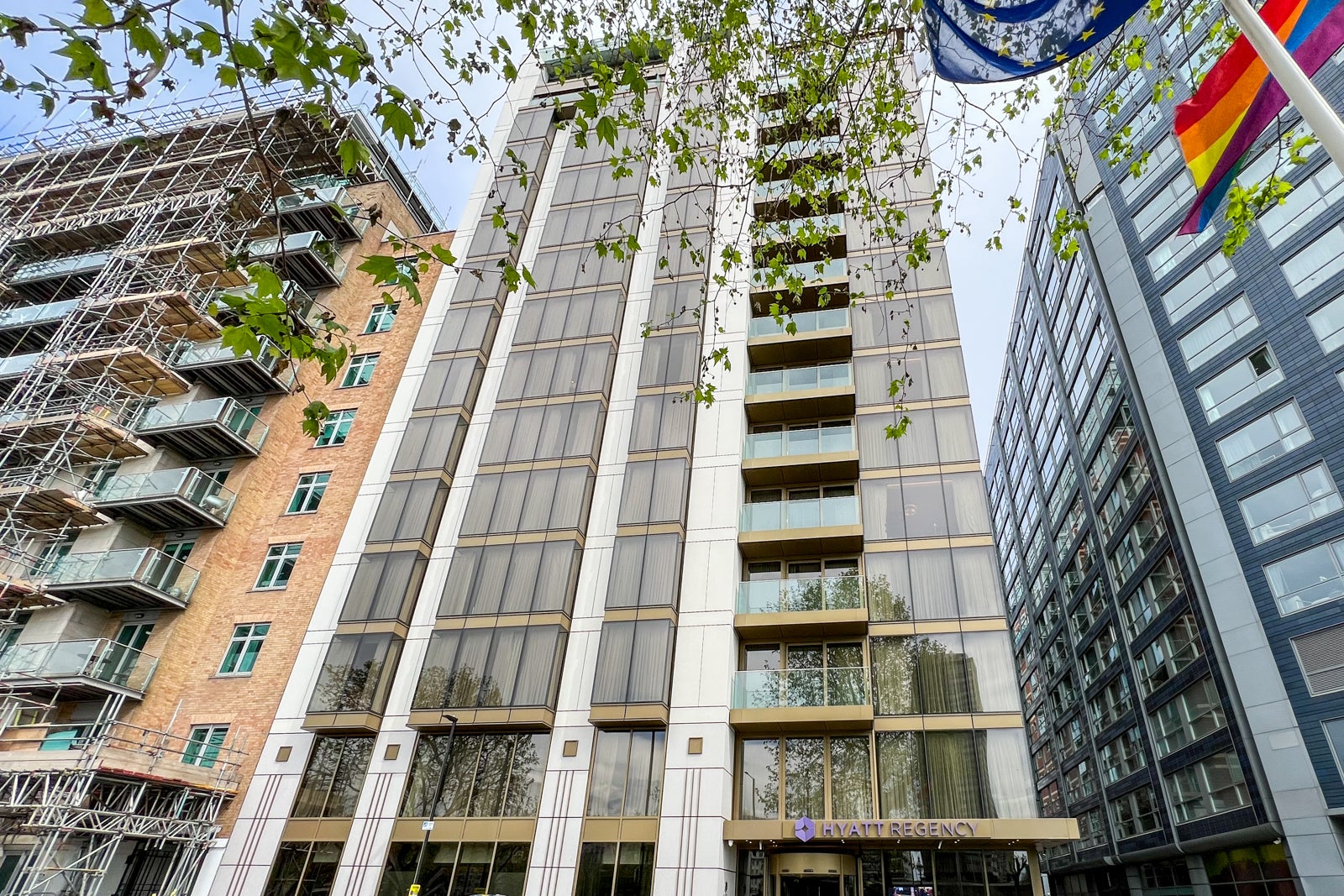 Accessibility
The Hyatt Regency London Albert Embankment could be a good option for those with accessibility issues. The new construction means it's got wider doorways and hallways than many of the older hotels in London.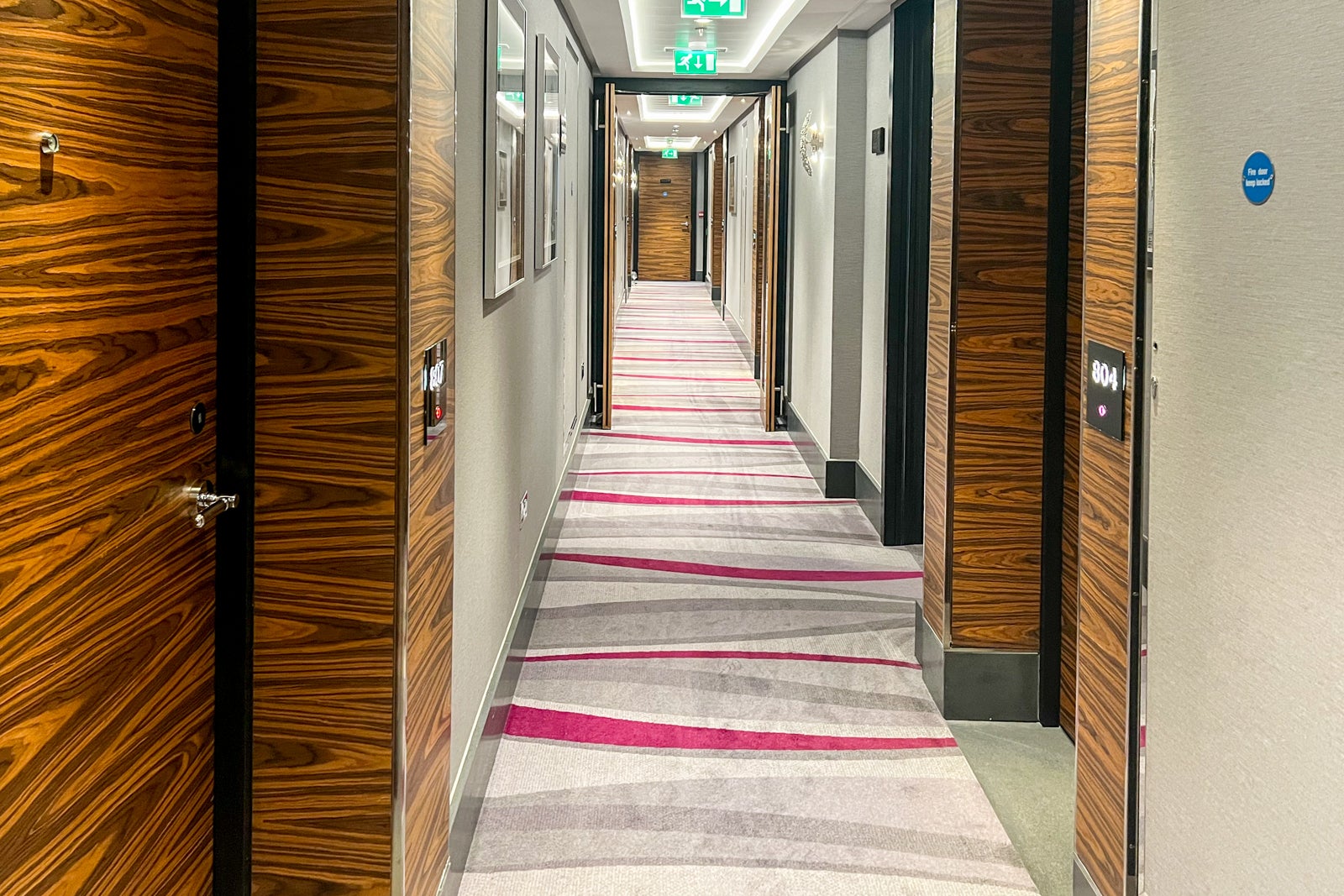 The hotel has six rooms that are considered accessible accommodations with specially designed features, including walk-in showers and pull-cords in the room in case of falls that will trigger an alarm with the front desk to send assistance. There is also a large elevator to accommodate wheelchairs or other mobility assistance devices. The elevator to the Mezemiso restaurant, separated from the main hotel lobby, is small, however, so that could be a problem for guests in a wheelchair.
There were no stairs or abrupt layout changes that I encountered during my stay, and the floors are each on a single level.
Why you might want to skip the Hyatt Regency London Albert Embankment
No hotel is the right choice for everyone. A few reasons the Hyatt Regency London Albert Embankment may not be the hotel for you include:
The Hyatt Regency London Albert Embankment is a smaller property that lacks traditional high-end hotel perks like an on-site spa or an afternoon high tea as you might find at more luxurious London hotels.
The hotel doesn't have a lot of suites, so World of Hyatt Globalists looking for a significant upgrade or a full club lounge may be disappointed.
World of Hyatt points redemption can be tough at this property since few of its rooms are categorized as standard. I didn't find a lot of availability for points redemptions during peak summer dates.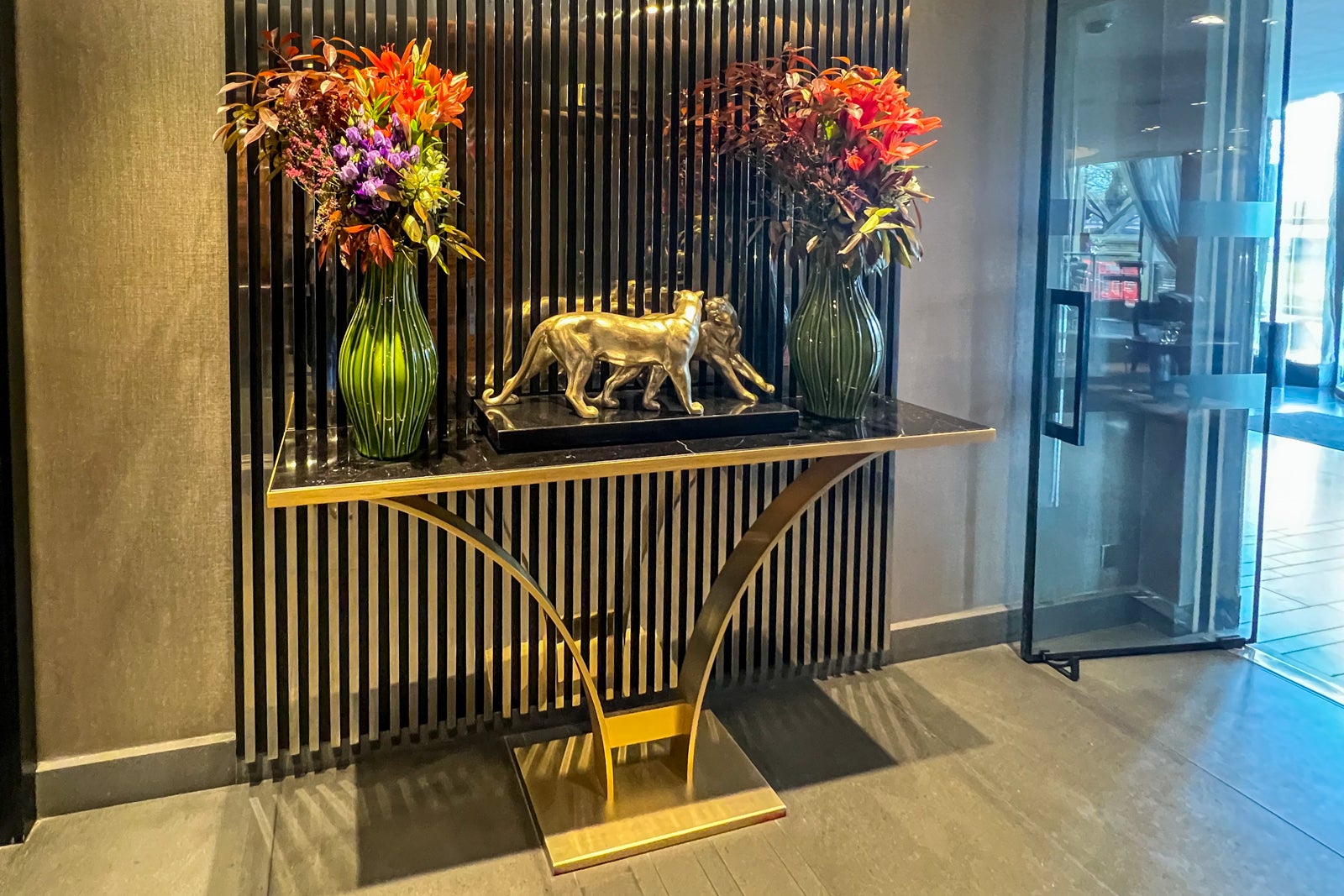 Alternatives to the Hyatt Regency London Albert Embankment
If the Hyatt Regency London Albert Embankment isn't for you, there are plenty of other Hyatts to choose from. The Andaz London Liverpool Street gets high marks from my colleague Summer Hull. TPG Director Eric Rosen had a good stay at the Hyatt Regency London Churchill, too.
Hyatt's Academy London Hotel looks charming. I'm also intrigued by Hyatt's Great Scotland Yard Hotel, which TPG named one of the best 23 Hyatts in the World.
I also got to stay at the London Edition and the world-famous Langham London. I can recommend both (and check back for the full reviews of both properties soon). The Langham, the Edition and the Andaz London Liverpool Street all made TPG's list of the best hotels in London, so that's something to consider as well.
Checking out
Hyatt Regency London Albert Embankment can be a good value for the money. It features comfortable, large (for the U.K.) rooms with some incredible river views. Details like bathrooms with heated toilet seats, in-room Nespresso machines, and fast and free Wi-Fi certainly didn't hurt in making this a nice home away from home.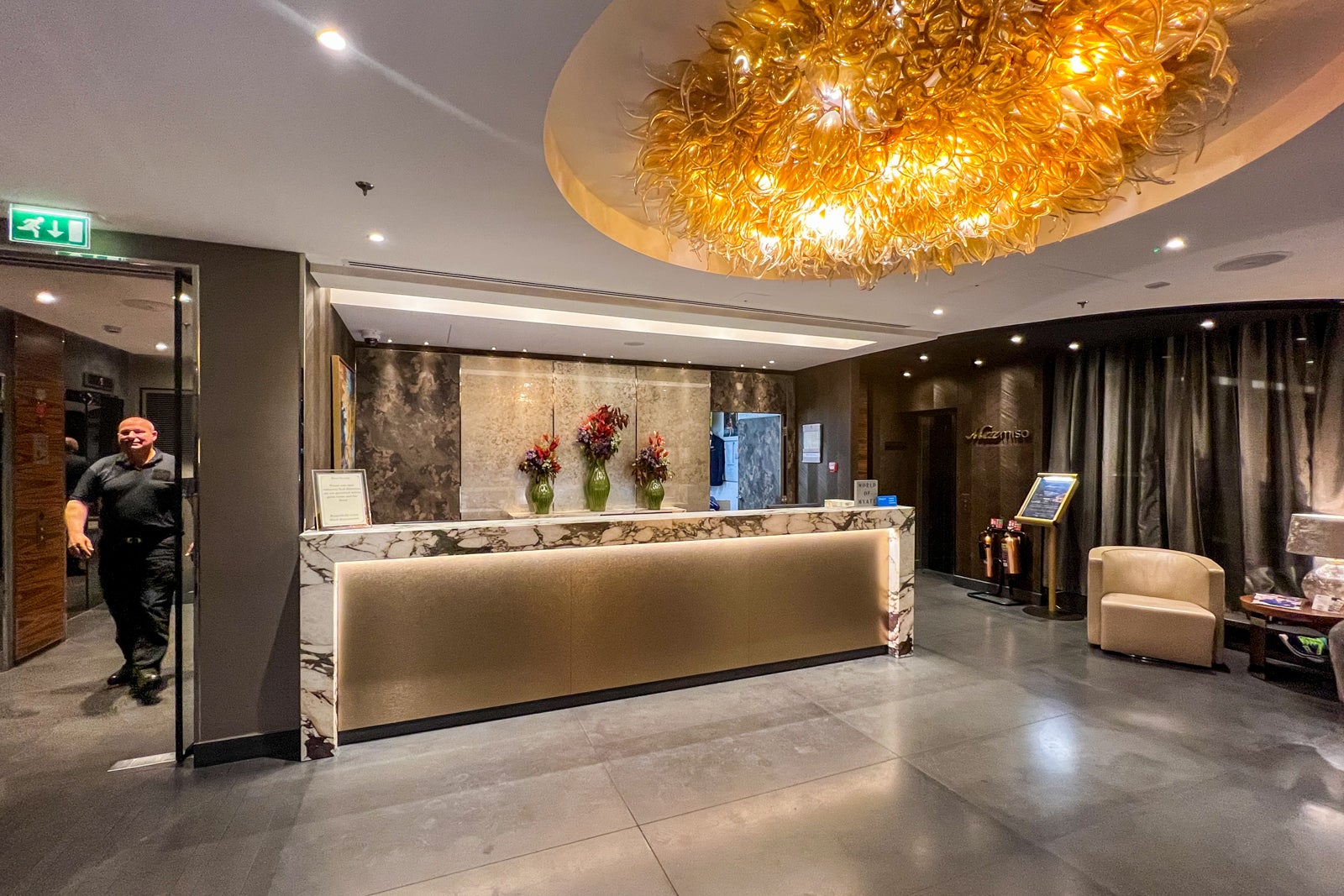 I encountered friendly staff throughout my stay at the hotel, and I loved the intimate feeling of this smaller London hotel. While I was glad to be trying some more luxurious hotels later in my London trip, I can heartily recommend this hotel, especially to folks who might want to earn (or burn) World of Hyatt points.
Travel Exclusive News / Book For The Views Alone: The New Hyatt Regency London Albert Embankment / By Clint Henderson / thepointsguy.com / Sedat Karagoz / Istanbul,New York Travel,Tourism News Office / Janbolat Khanat Almaty Travel,Tourism News Office
Pop your email address below to be notified of new posts by email. You can unsubscribed at any time, although I hope you won't!
[contact-form-7 id="19838″ title="Untitled"]