Views: 1340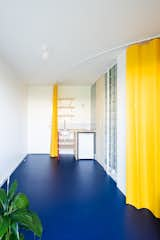 The disrepair was daunting—but it was also an opportunity for the duo, who cofounded Miogui Architecture, to create a blank slate for a little design magic. "Our client is a young investor who was buying for the first time," Berastegui says. "He wanted something extraordinary for his tenants."
Berastegui and Fremiot's first order of business was to gut the space and reorganize it. "As we do in every tiny design project, we reduced the size of the bathroom and transferred the space to the kitchen and the living room," Berastegui says. "The bathroom is used very little in a day—the kitchen and the living area are where people spend more time."
To create a flexible floor plan, they hung a sunshine-yellow curtain at a curved angle to section the living room from the kitchen and bathroom. The drapery can be pulled back when the tenant wants to join the rooms, or it can close off the spaces for a cozier feeling.
"The curved yellow curtain divides the rooms, hides shelving, and lends privacy for the bathroom," Berastegui says. "But as the space is small, it also brings some fun movement that modifies the geometry and proportions of the rooms."
Inside the yellow curtain, a wall made of glass bricks separates the bathroom from the kitchen and the living area while still allowing sunlight to enter. "With the glass blocks, every corner of the apartment is awash in natural light," Fremiot says.
The architects stacked a round mirror on top of a triangular one in the bathroom to devise a playful geometric display.
Photo by Philippe Billard
The architects also hung lots of mirrors to reflect and amplify the sense of space, color, and natural light. A round mirror above a convertible sofa makes the living room appear larger, while a triangular mirror stacked on top of a round mirror in the bathroom provides a sense of spaciousness.
"The mirrors create a different perspective and help to visually extend the rooms," Fremiot says.
Berastegui and Fremiot sectioned the kitchen from the entry with a red-painted pillar—which combined with the yellow curtain and cobalt-blue linoleum flooring references the artwork of Piet Mondrian.
"The red contrasts with the yellow and the blue, emphasizing the pillar and its structural function," Fremiot says. "We always try to work with color in our projects—we're convinced of its power to affect mood." Berastegui adds, "The apartment had to be a refuge, a place to escape—the Mondrian color, also used by Le Corbusier in his Unite D'Habitation at Marseilles, is the most rational palette."
In a playful design move, the architects devised a diamond-shaped handle for the bathroom door using a marble tile. "Selecting an unusual object as the knob abstracts the door and enhances its character, so it becomes a joyful composition," Berastegui says. "Like with Marcel Duchamp's Fountain, the knob is not a knob, but part of a composition of color and geometric shapes that are intelligible and beautiful."
The architects developed the door's narrow proportions—which give verticality and a sense of added height—in much the same way they approached the design for the knob. "The verticality makes the space feel taller and makes for a majestic entry into the tiny bathroom," Fremiot says.
In the evening, the yellow curtain filters and reflects light to give the apartment a warm glow.
Photo by Philippe Billard
Berastegui and Fremiot are masters of designing small spaces that look and feel much larger than their square footage. According to the architects, it's a process that's as complex as it is creative. "Everything has to be considered, and every detail is meaningful," Fremiot says. Berastegui adds, "Nothing hides in spaces that are this small. The challenge is to create functional surprises that make the space desirable, despite its size."
More projects by Miogui Architecture:
[contact-form-7 id="8″ title="Contact form 1″]