Views: 2259
Maybourne Hotel Group Announces The Maybourne Beverly Hills / Luxurytravelmagazine / Sedat Karagöz İstanbul,New York News Office / Almaty Tourism ,Culture,Art,Business News Office

Maybourne Hotel Group, operator of London's most legendary and prestigious hotels Claridge's, The Connaught and The Berkeley announce that their newest addition, and first international hotel, located in Los Angeles, California will be named 
The hotel, in the heart of the exclusive city of Beverly Hills, was previously known as the Montage Beverly Hills and will be owned and fully operated by Maybourne Hotel Group from May 28th, 2020.
The Maybourne Beverly Hills will reflect the contemporary spirit and style of the golden state of California, while nodding to the British roots of the group's London properties.
From world-renowned bars to ground-breaking culinary collaborations, Maybourne Hotel Group will bring its distinctive style and creativity to the property, ensuring it becomes a global destination for both local residents and hotel guests alike.
Maybourne Hotel Group Announces The Maybourne Beverly Hills / Luxurytravelmagazine / Sedat Karagöz İstanbul,New York News Office / Almaty Tourism ,Culture,Art,Business News Office

Nestled on the trunk of Palm Jumeirah and overlooking Palm West Beach, the highly anticipated Hilton Dubai Palm Jumeirah has revealed its pre-opening Executive Team ahead of the hotel's expected to launch in Q3 of 2024.

The selected Executive Team have both extensive knowledge and international experience in the hospitality industry.

Spearheading the opening of the new Hilton Hotels & Resorts property in Dubai is seasoned hotelier Andreas Searty, Managing Director.

Andreas, who brings over 35 years of international and regional experience in the hospitality industry, has been instrumental in driving his team to ensure the most effective pre-opening plans for the hotel.
Commenting on the up-and-coming launch, Andreas shared, "The awaited Hilton Dubai Palm Jumeirah will be an iconic property with its enviable beachfront location and ample lifestyle and business offerings.
Together with our experienced Executive Team, I am extremely excited to launch this impressive property which will be a unique addition to the vibrant Palm West Beach destination".
A dedicated and driven leader, Andreas, who speaks fluent English, Arabic and German, was most recently overseeing Hilton Dubai Jumeirah and Hilton Dubai The Walk where he won Hilton EMEA General Manager of the Year in 2020. He created and implemented several hotel initiatives that led to the cluster is one of the most profitable in the region.
Joining Andreas will be a team of experts in their field with extensive experience across multiple continents, including;

This post contains references to products from one or more of our advertisers. We may receive compensation when you click on links to those products. Terms apply to the offers listed on this page. For an explanation of our Advertising Policy, visit this page.
No reservations needed, just a Reserve.
Chase on Thursday announced the opening of its first new Sapphire Lounge in the U.S., cutting the ribbon on a luxurious new layaway at Boston Logan International Airport (BOS).
The new lounge (officially "The Boston Chase Sapphire Lounge by The Club") opens to the public on Tuesday, May 16. TPG was among a few media outlets to get a first look this week.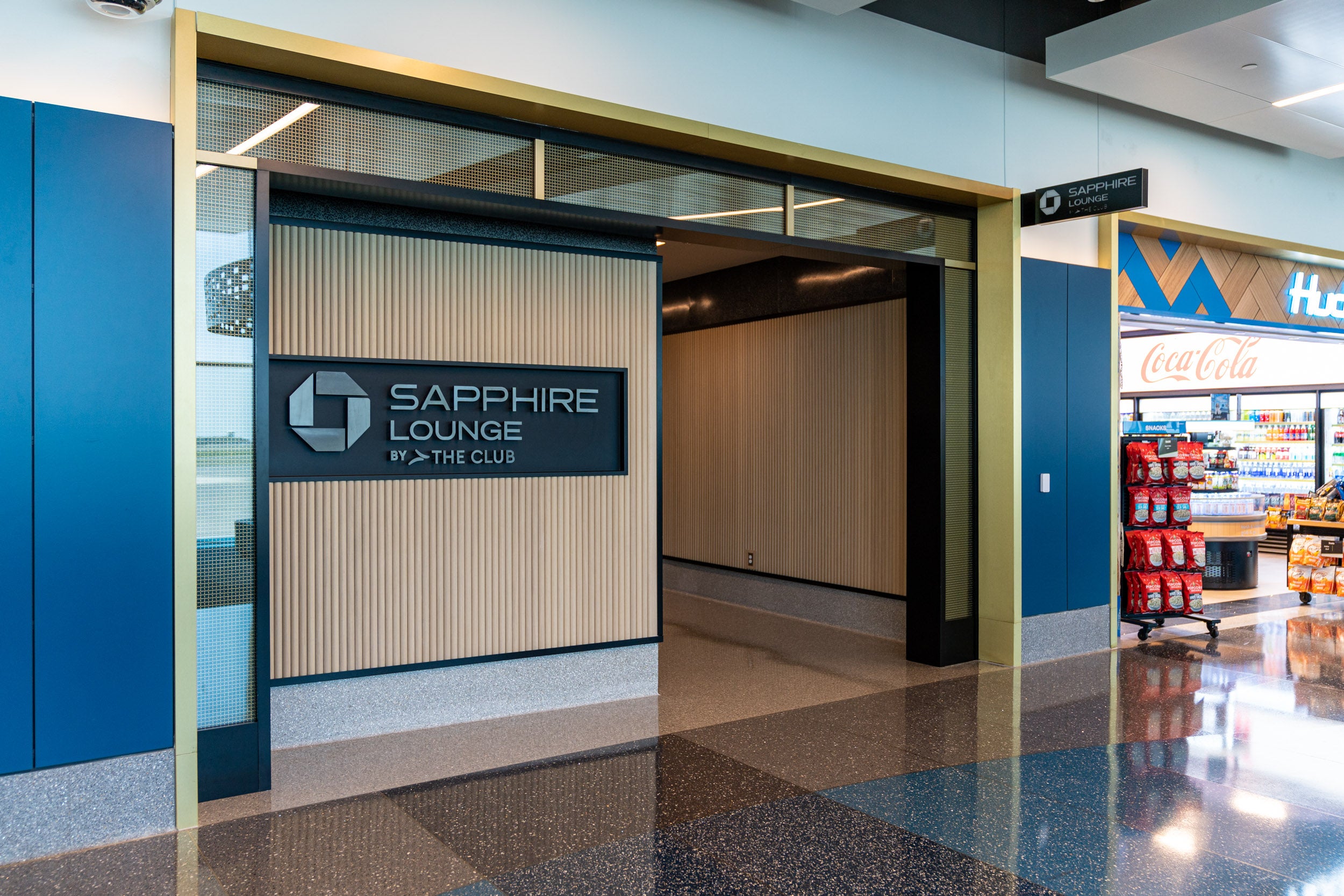 In the airside Terminal B to C connector, sitting between gates B39 and B40, the lounge is easy to get to for anyone flying out of either terminal. American Airlines, United Airlines, Southwest Airlines, Spirit Airlines, Alaska Airlines and Air Canada all operate out of Terminal B. JetBlue Airways, TAP Air Portugal, Aer Lingus and Cape Air fly from Terminal C. There's also an airside passageway from Terminal E, from which most international flights depart and arrive, so those passengers can also access the lounge.
Chase branded the new club as the "Chase Sapphire Lounge," but the lounge is only available to holders of the more premium Sapphire Reserve. Chase Sapphire Preferred members won't have access. Reserve cardholders will have to activate their included Priority Pass membership in order to gain access (which they should do anyway to access 1,300 lounges around the globe). They must also show their Priority Pass card — simply showing a Reserve card won't be enough to get in.
How to get in: Best credit cards for airport lounge access
Interestingly, Priority Pass members who don't have a Chase Sapphire Reserve card — including those with memberships through a premium American Express card — will be allowed to access one Sapphire Lounge by The Club location for free each year. Priority Pass members will be charged a to-be-announced fee for subsequent visits within the following 12 months.
The reasoning for that may come from the fact that the Chase Sapphire Lounge by The Club is actually maintained by Airport Dimensions. This major lounge operator manages Priority Pass-accessible lounges around the world, including "The Club" lounges. Collinson Group owns both Airport Dimensions and Priority Pass; this firm provides a variety of travel services related to lounges and the broader airport experience, loyalty programs, travel assistance, commerce, insurance and more.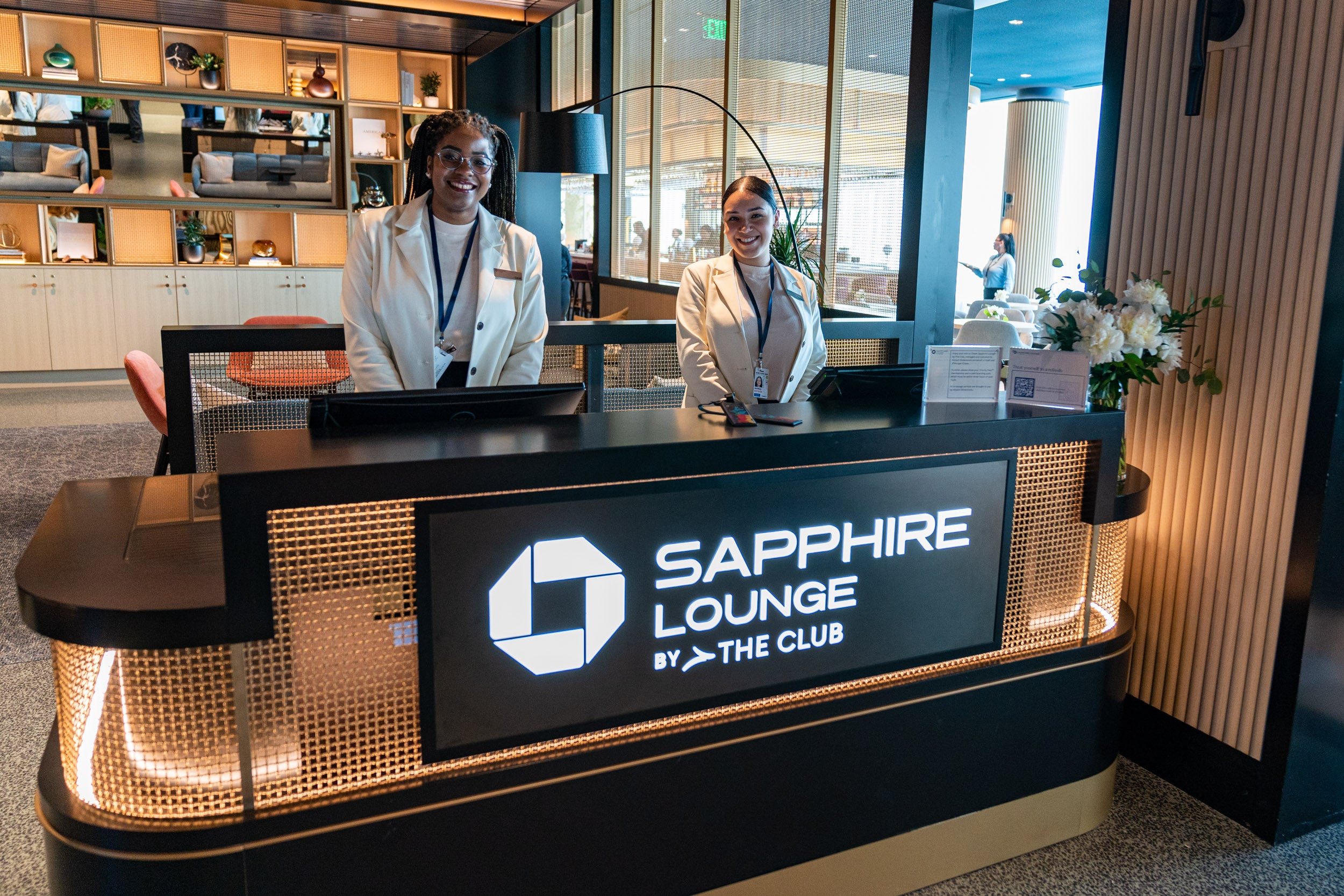 After a quick elevator ride up to the lounge from the main terminal and a swipe of your eligible card, everything in the sprawling space (the lounge is 11,640 square feet) is complimentary.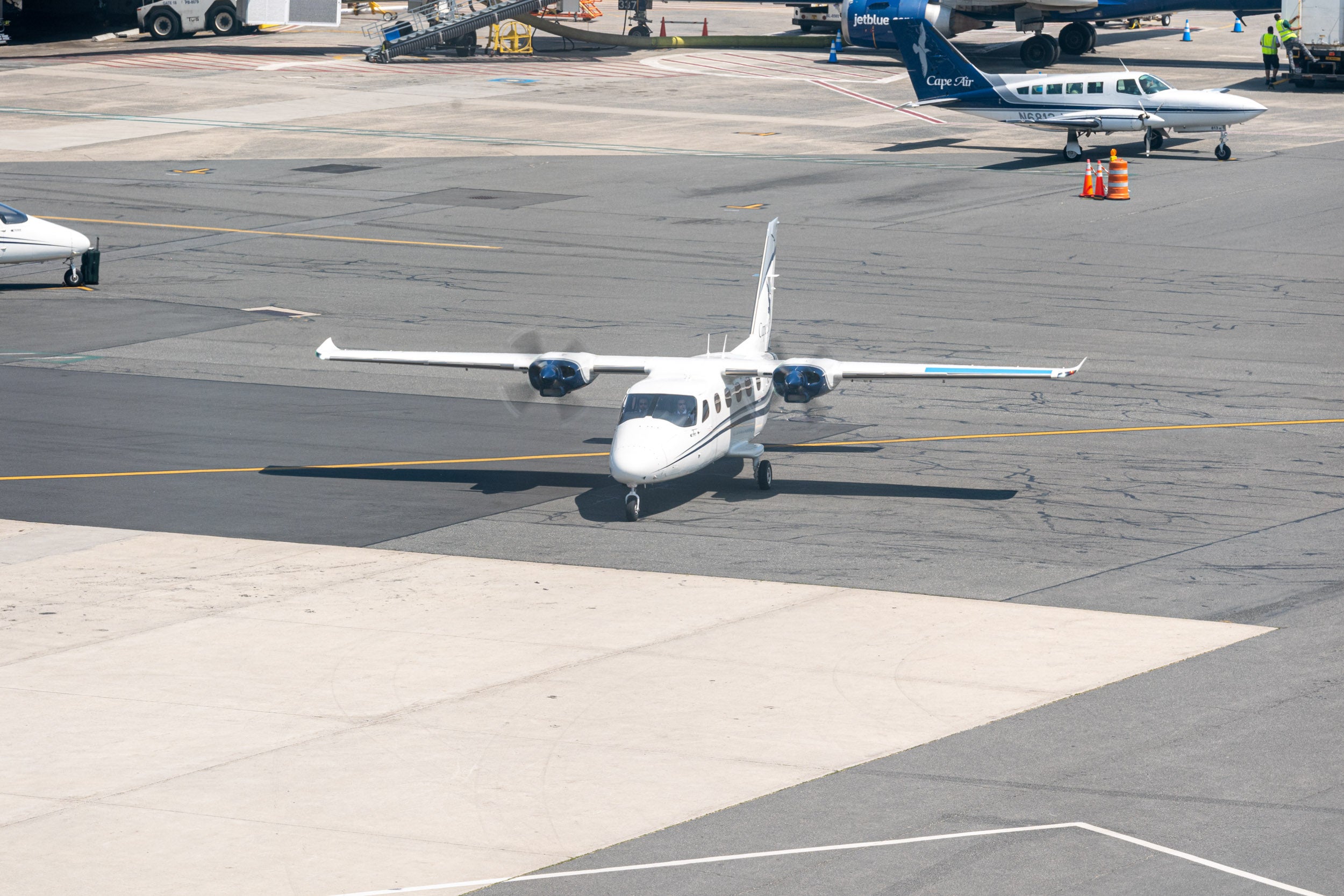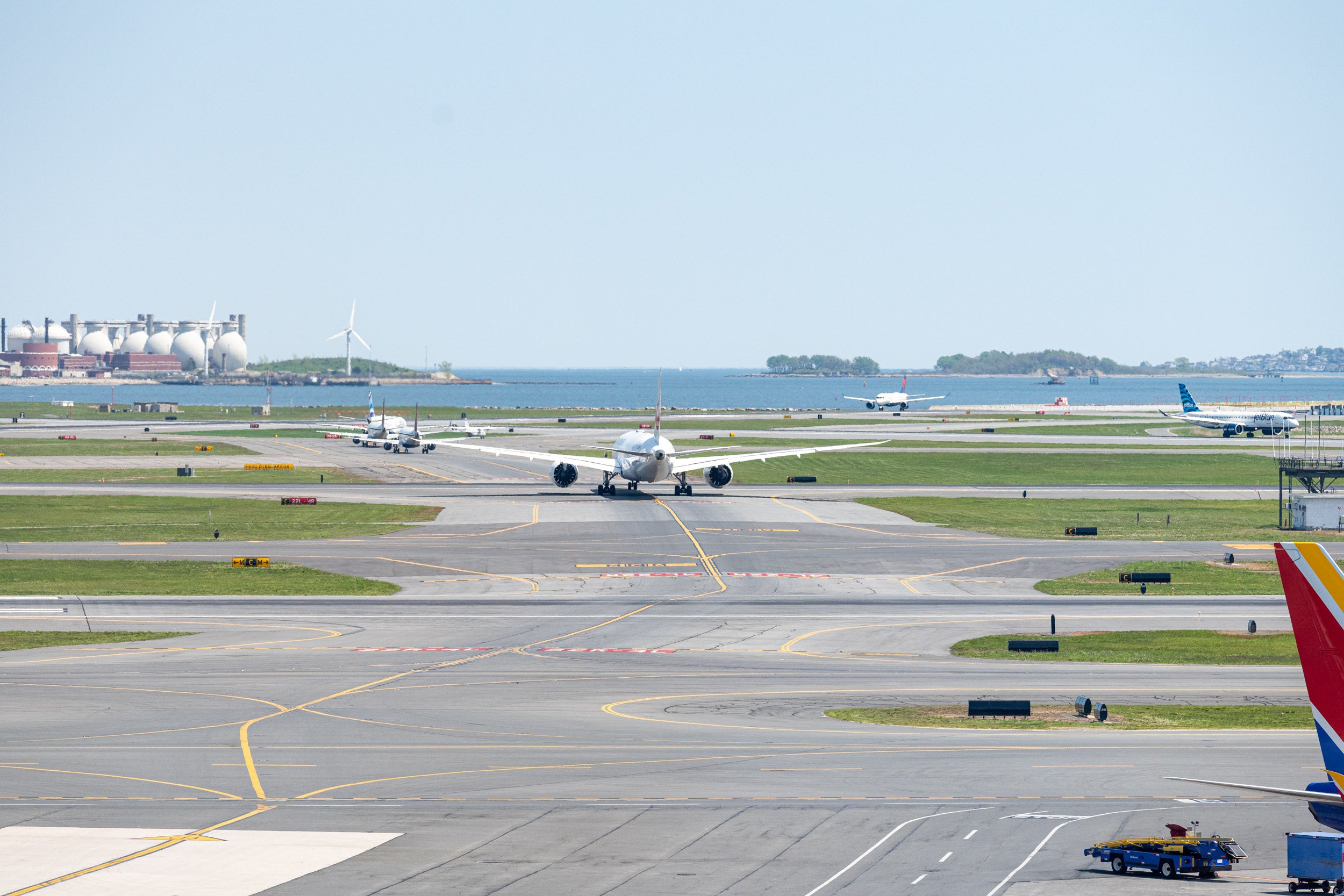 The lounge has a few different segmented areas but manages to be light-filled and spacious. The main parts of the lounge overlook the airfield, giving way to some excellent planespotting throughout the day.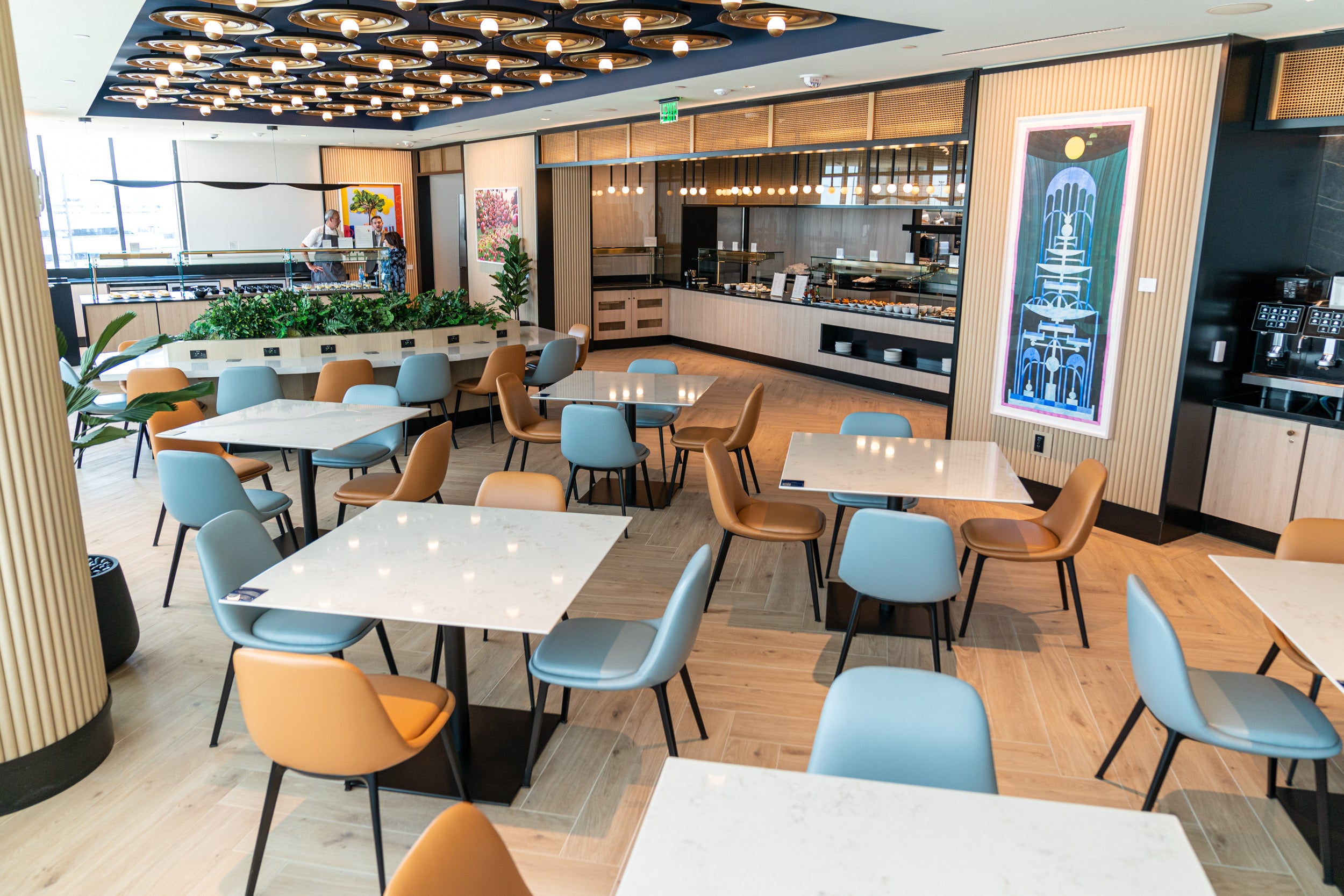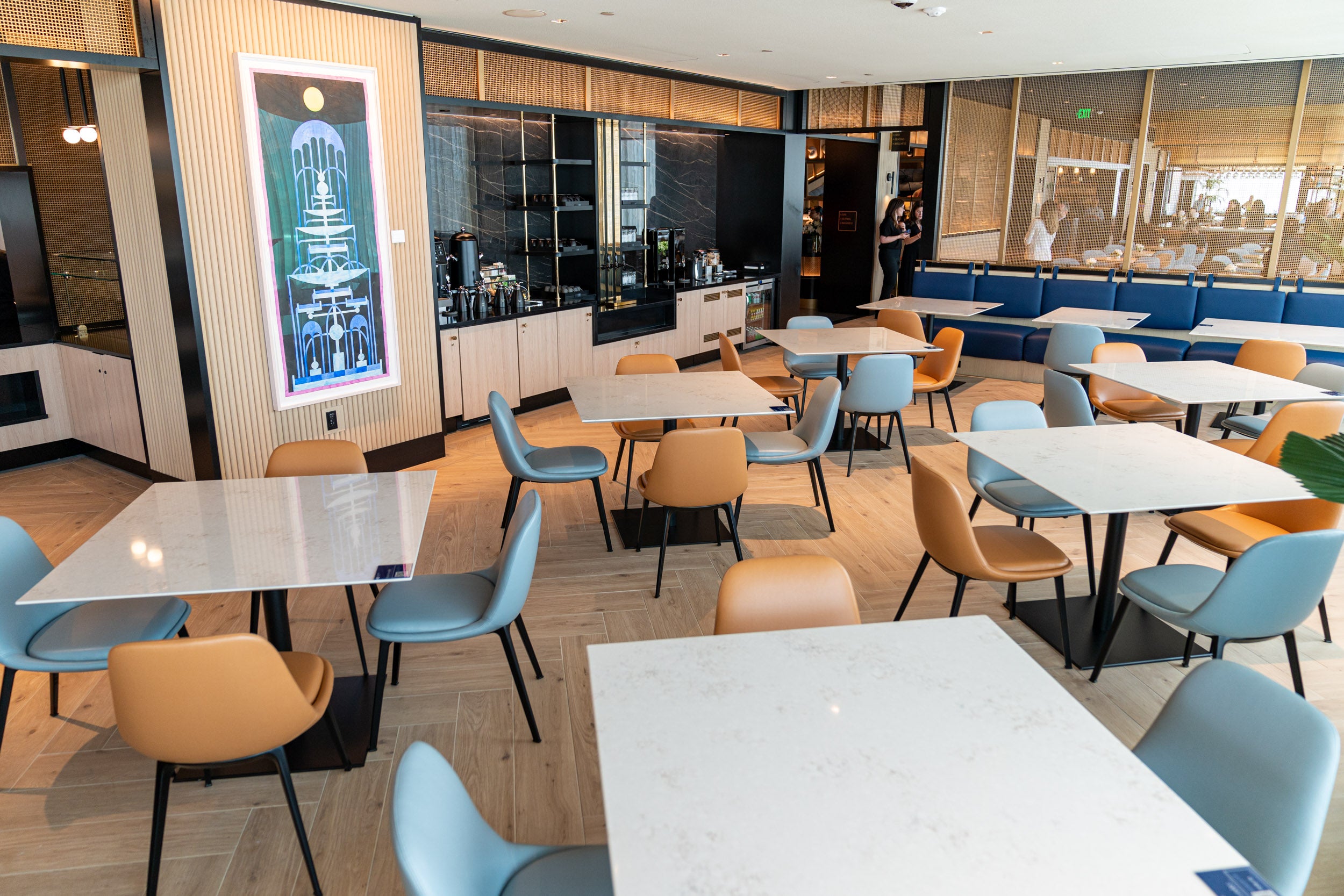 A right turn from the reception desks brings visitors to the main dining room. There's a self-service buffet area, and each table has a QR code that lets passengers order complimentary selections from an a la carte menu.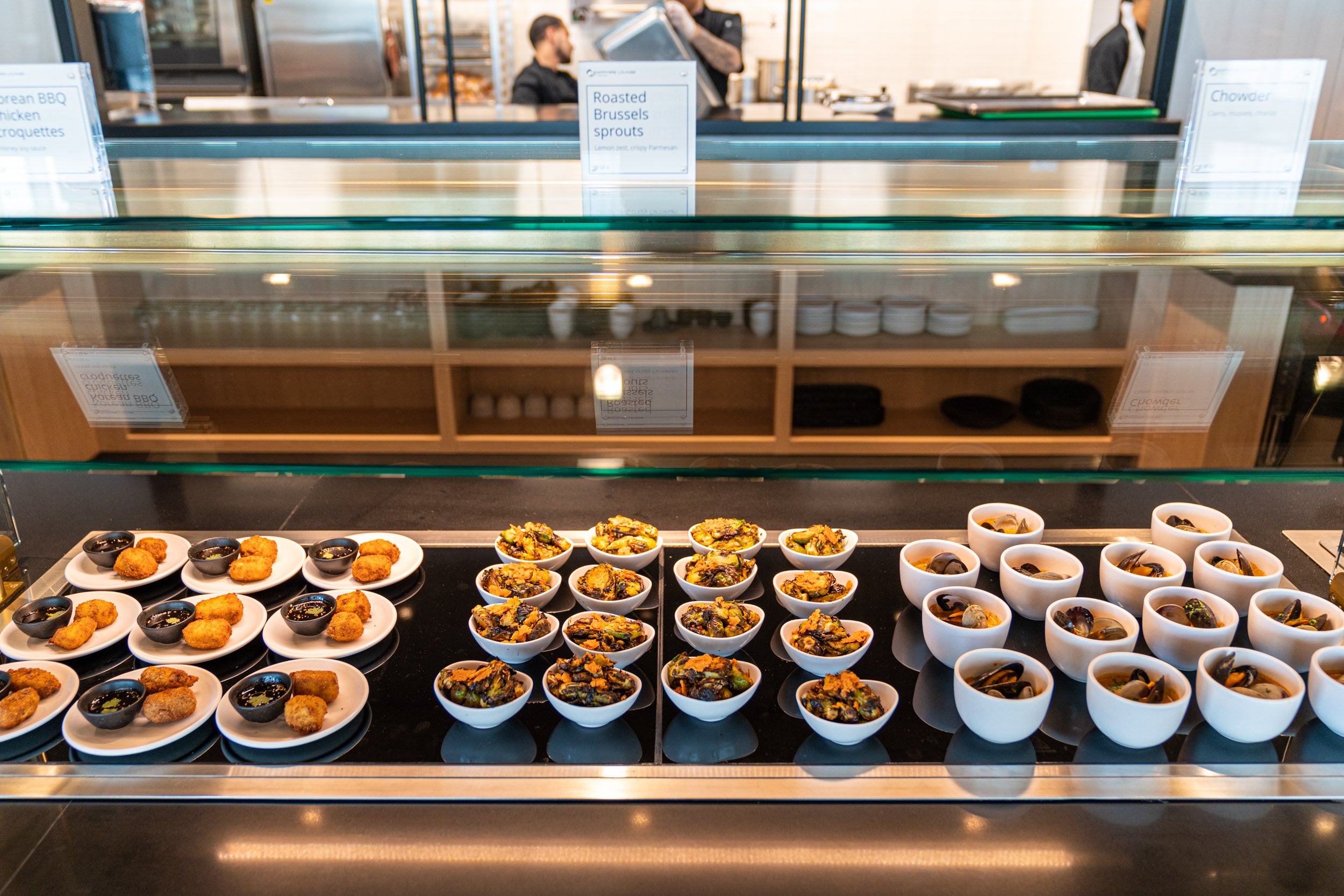 The dining options are broad, featuring bites off the Chase Sapphire Lounge network's "global" menu, available at all locations. There are also locally inspired dishes — chicken croquettes, roasted Brussels sprouts and, of course, clam chowder were on display during TPG's tour — and dishes designed by a local restauranteur.
For the Boston lounge, Chase partnered with James Beard-nominated chef Douglass Williams, the chef and owner of local restaurants MIDA and APIZZA.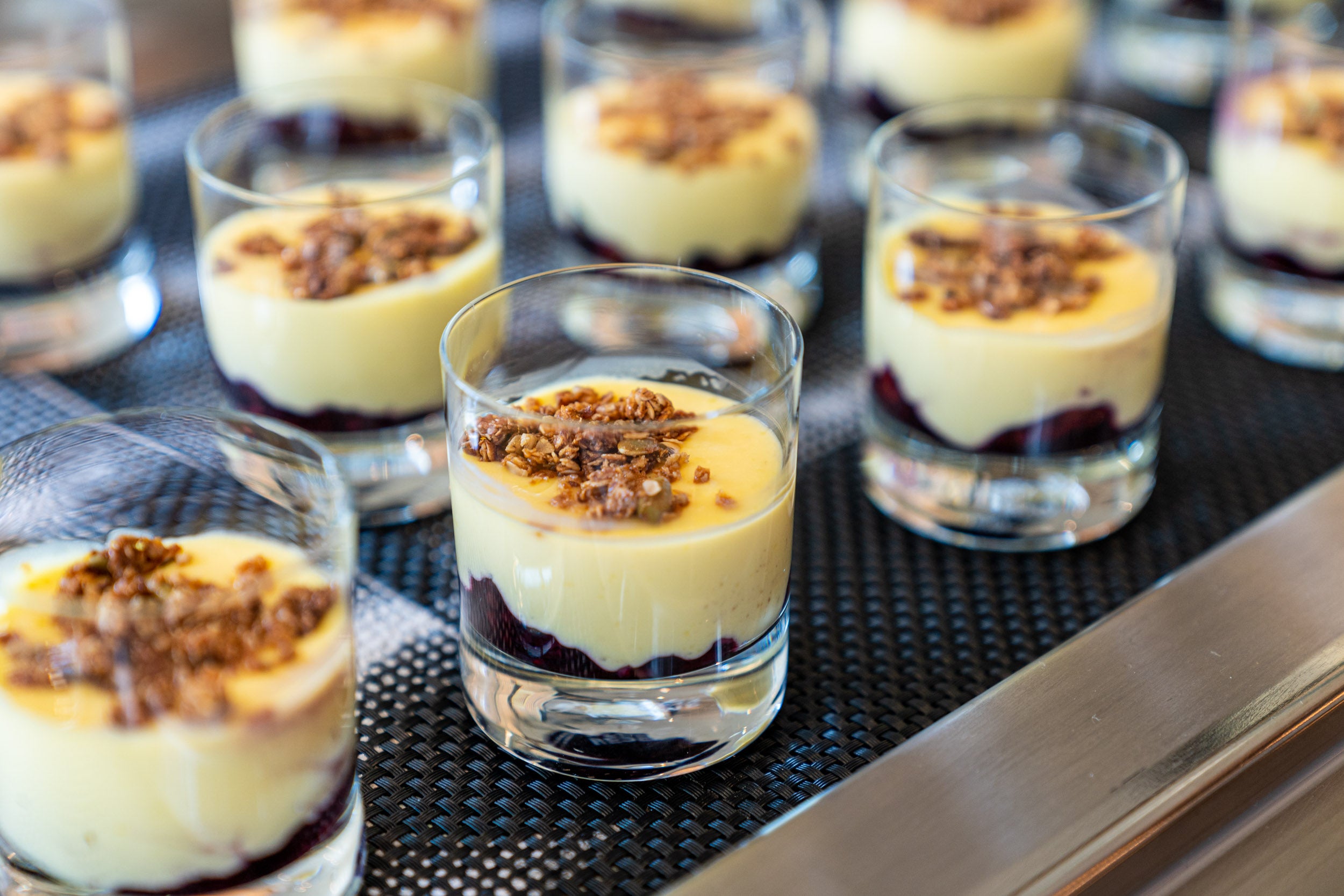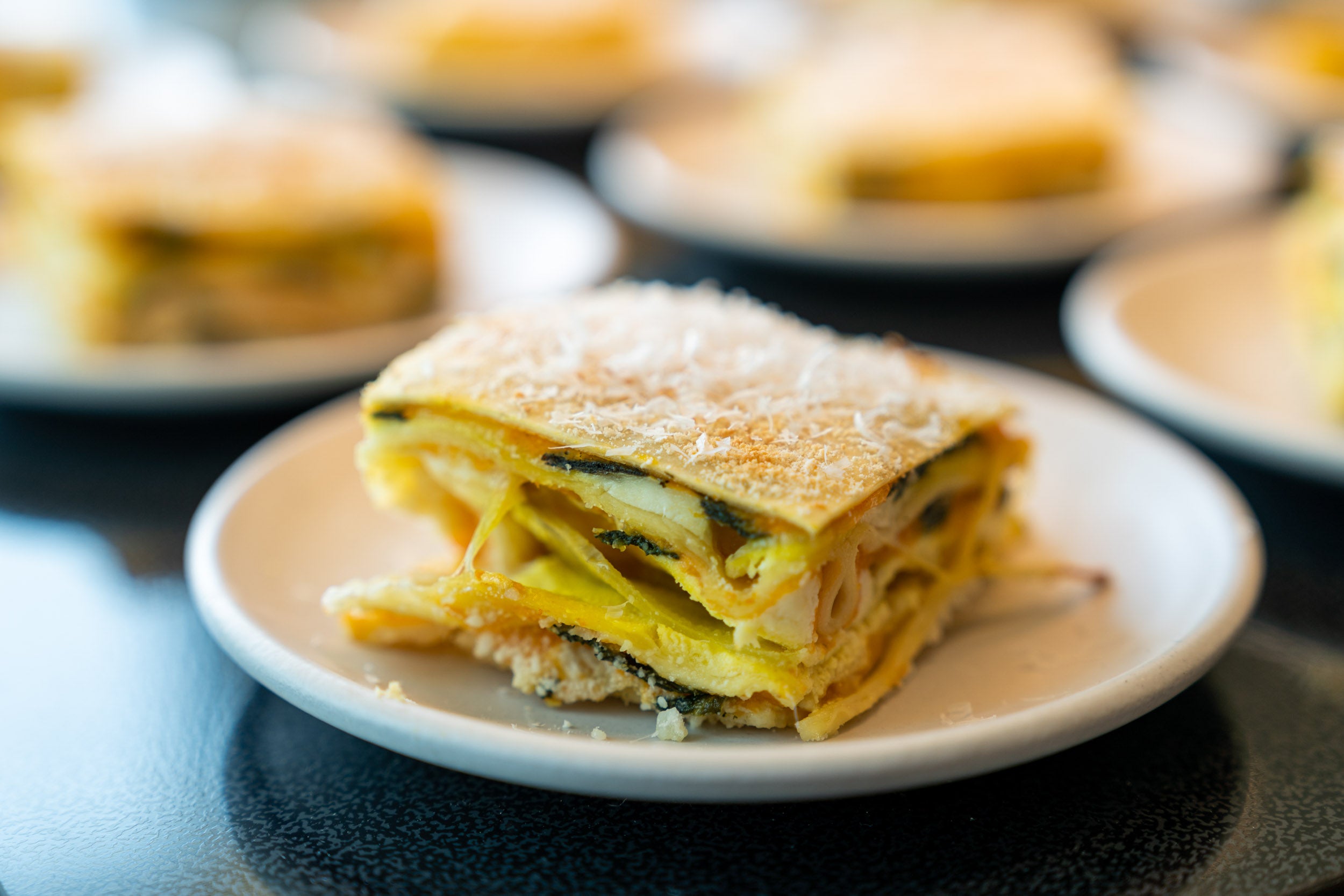 Dishes from the chef on display during the tour included a vegetable lasagna, gazpacho and a whipped lemon-mascarpone parfait.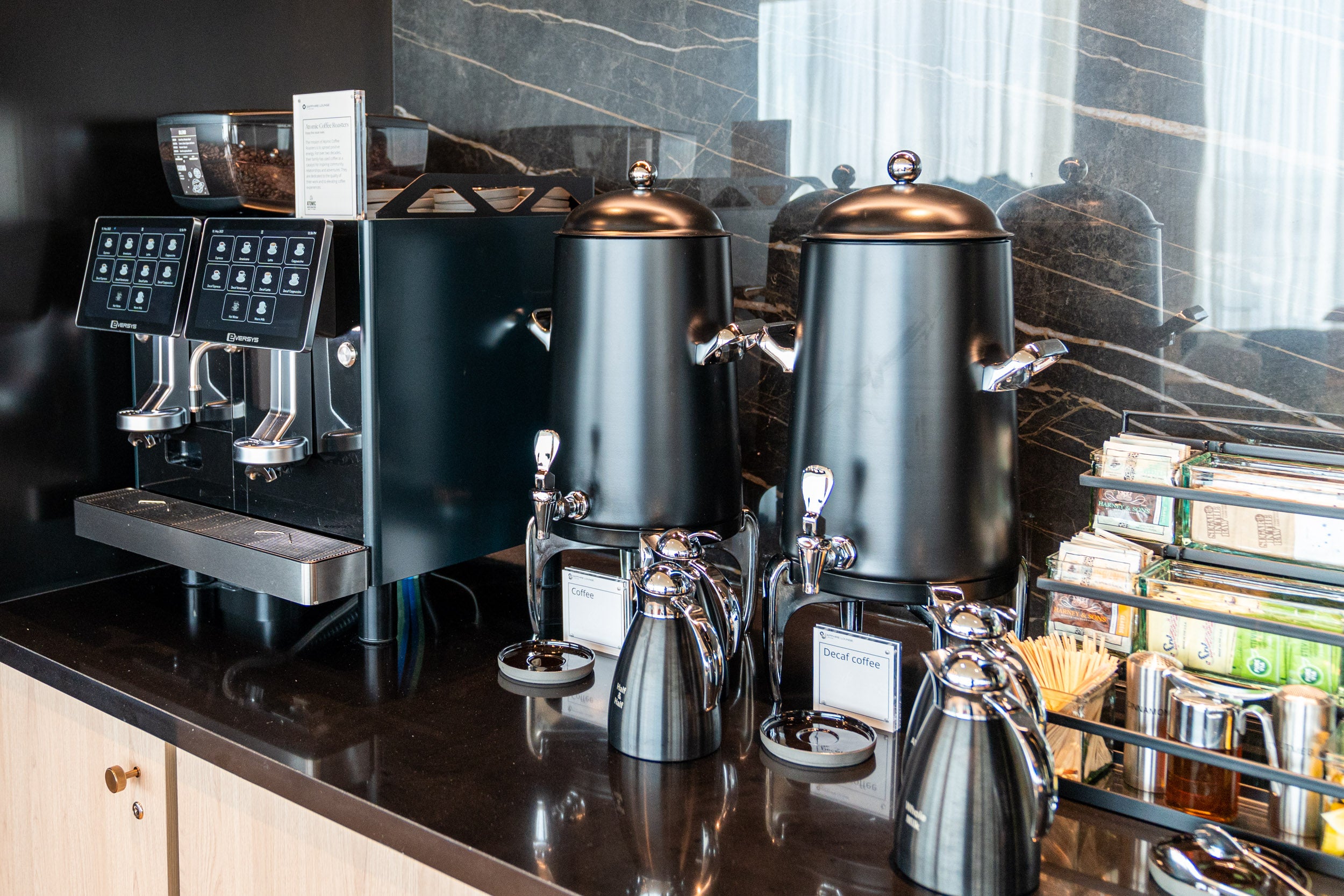 Rounding out the dining area is a large coffee station with regular filter drip coffee, espresso-based options and self-serve soft drinks.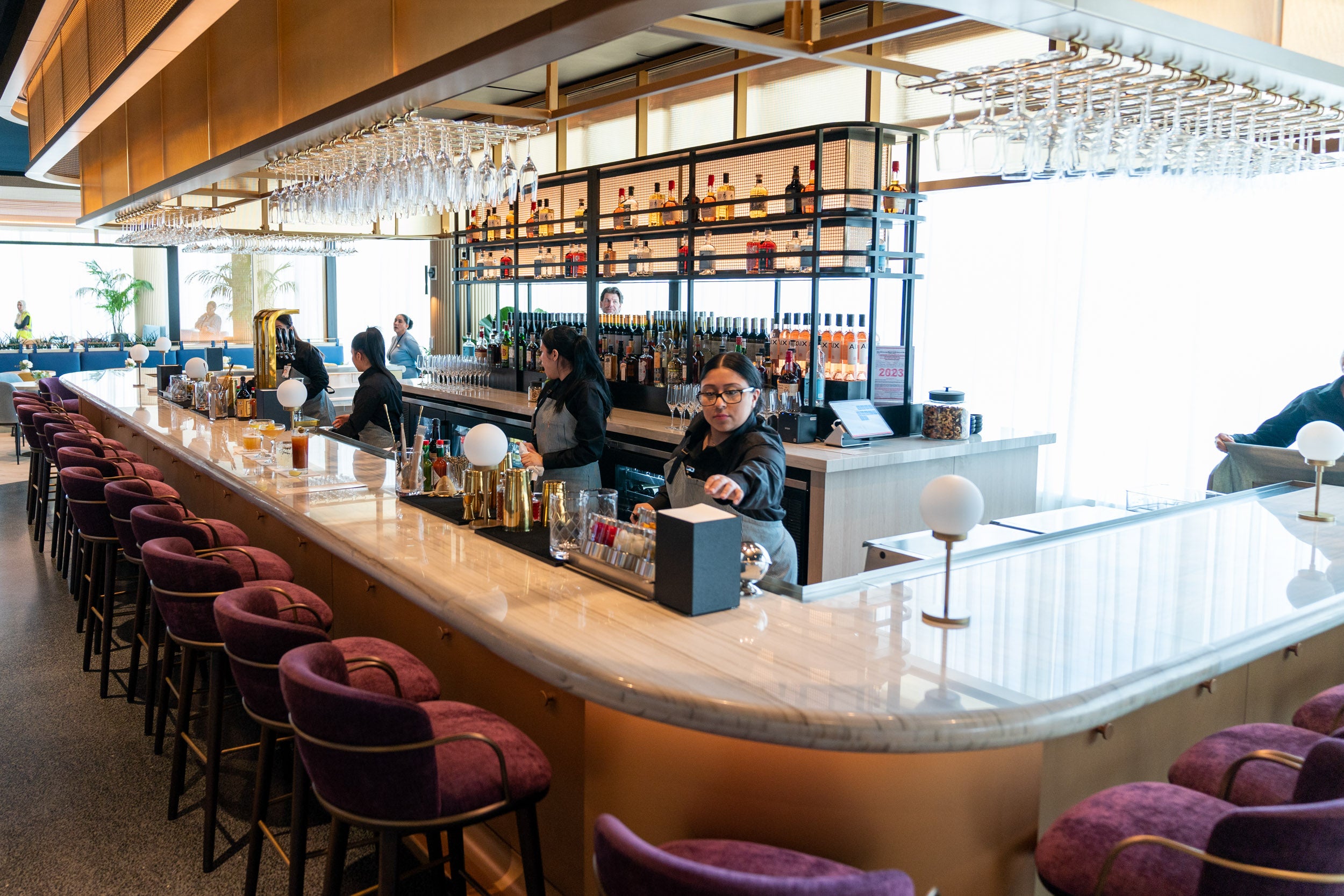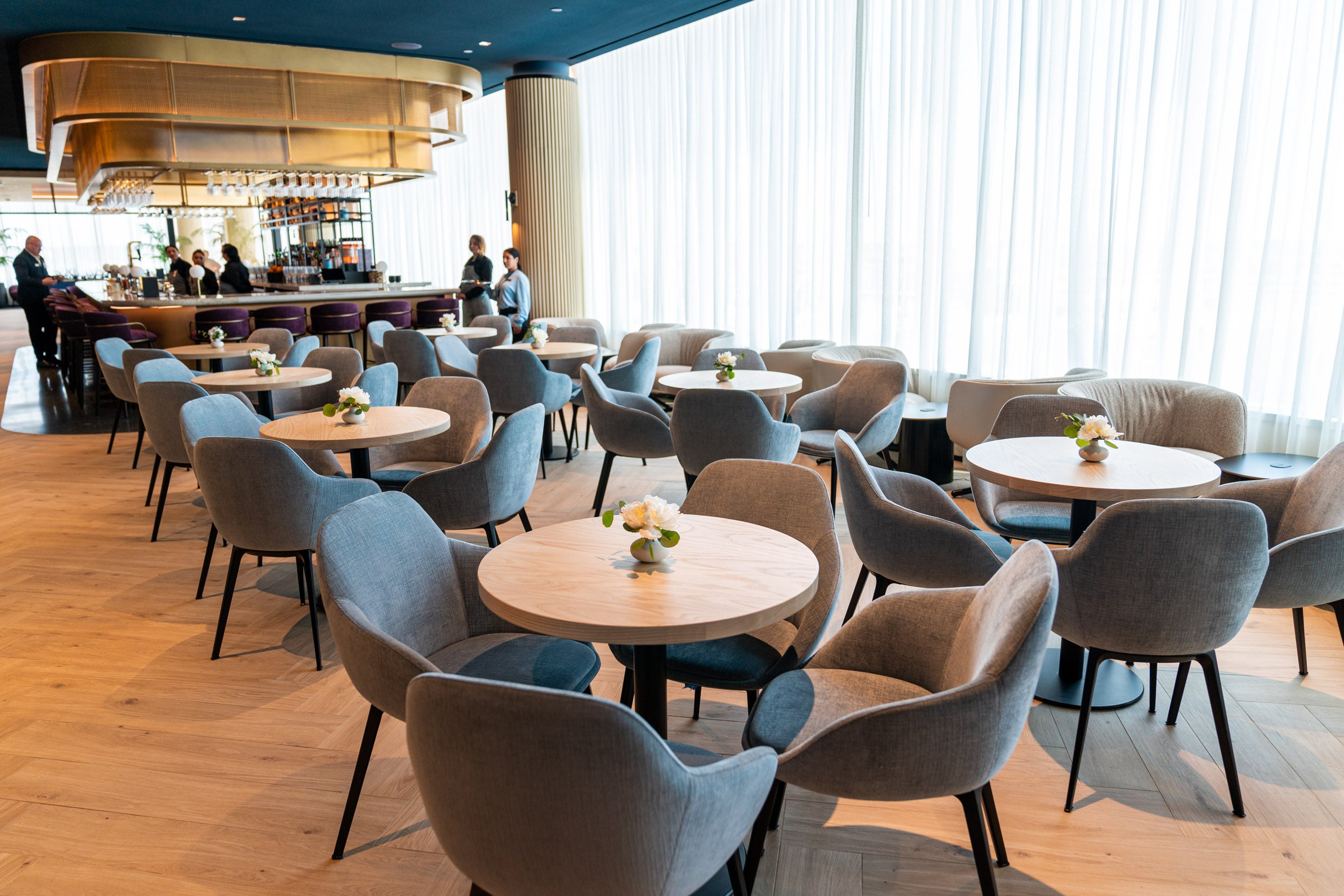 If you're not particularly hungry, you can make a left from the reception desk (or once you're finished eating, you can walk back past reception) to find the bar. It features a smattering of tables on either side, plus barstools.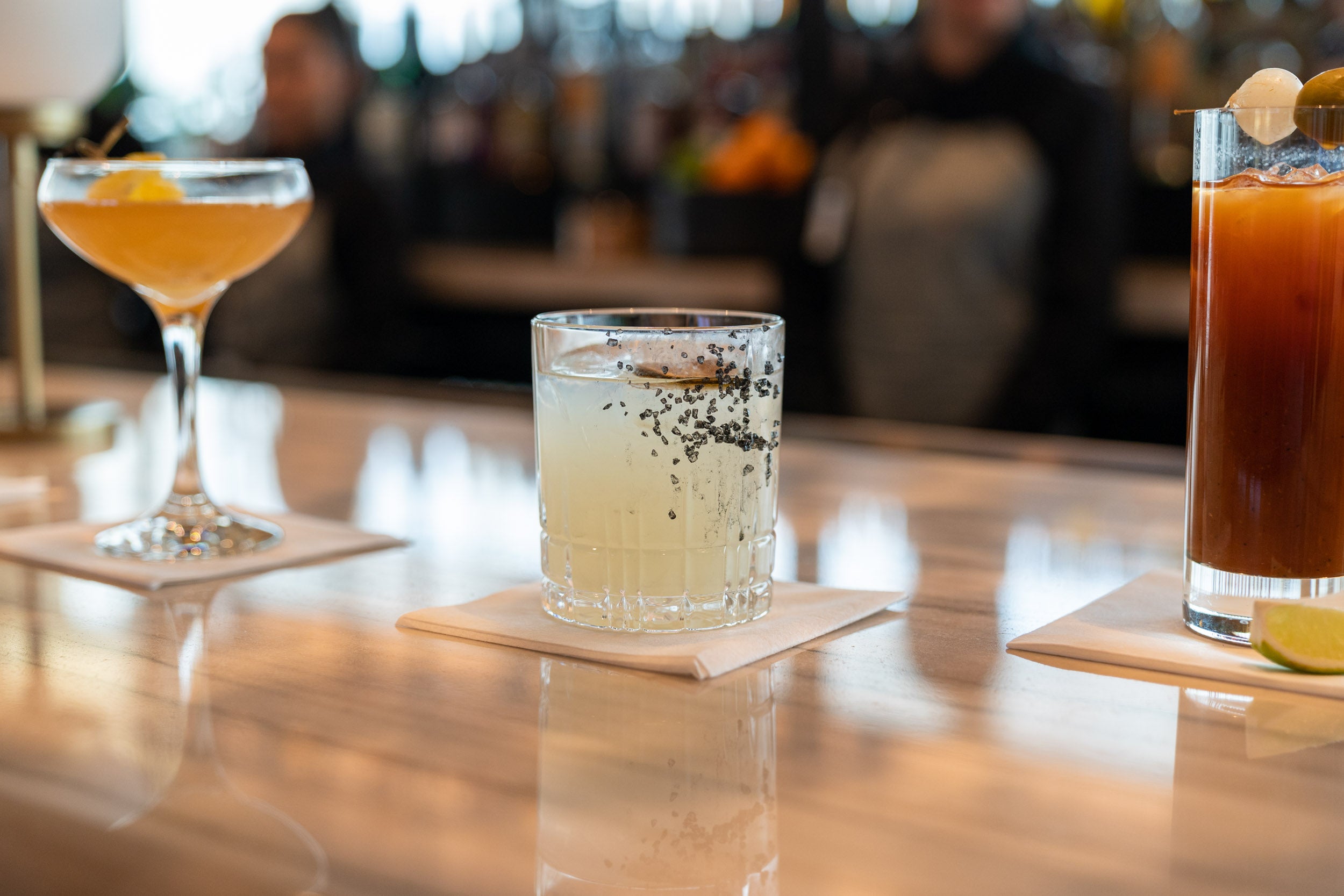 The full-service bar has beer, wine and liquor available, along with several locally inspired and signature cocktails. TPG sampled the Viaggiare off the signature menu, a bourbon-based drink that seemed vaguely based on the Paper Plane but with Darjeeling tea syrup instead of the classic's Aperol. This proved to be an effective and tasty swap that made for a drink that was at once familiar and novel.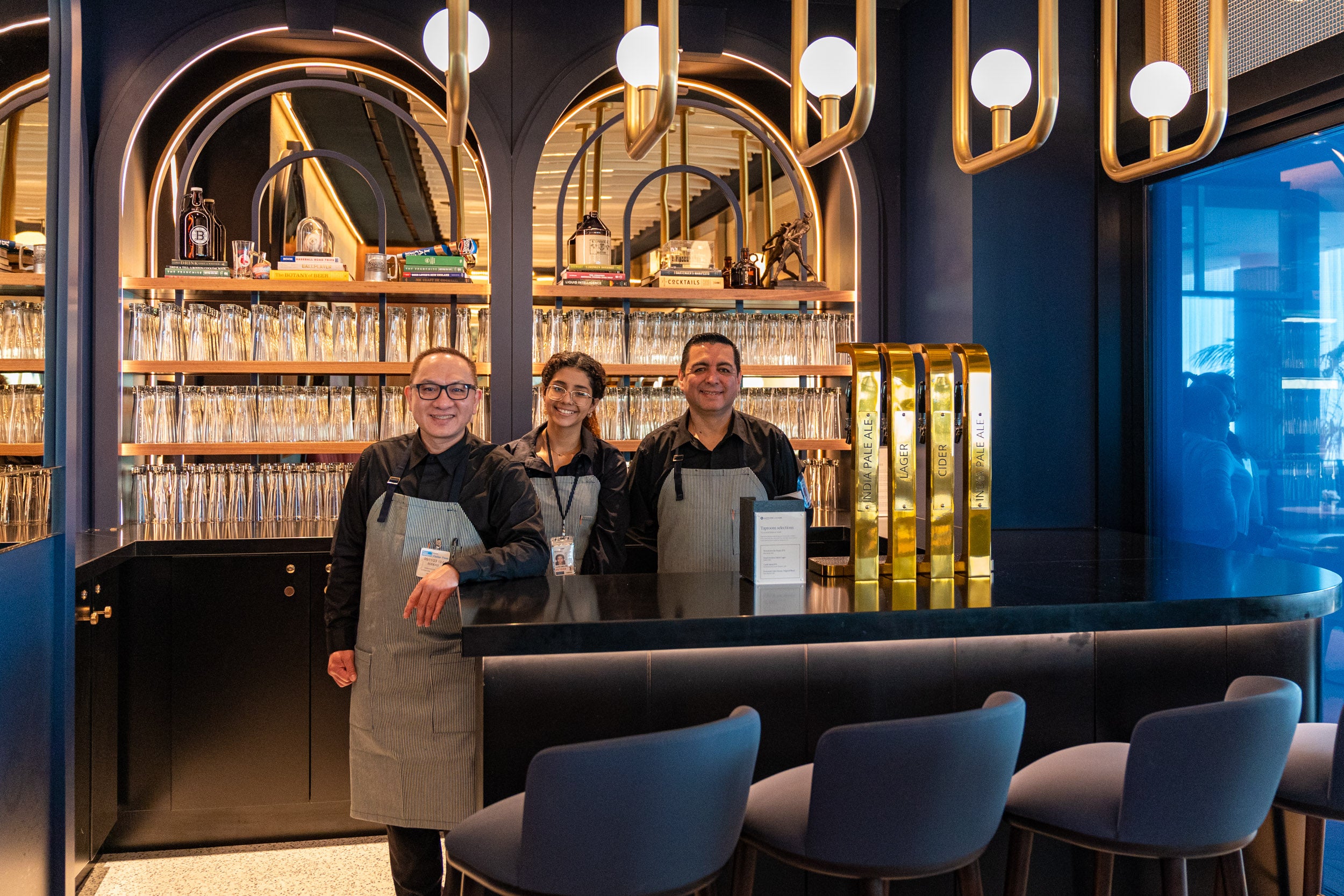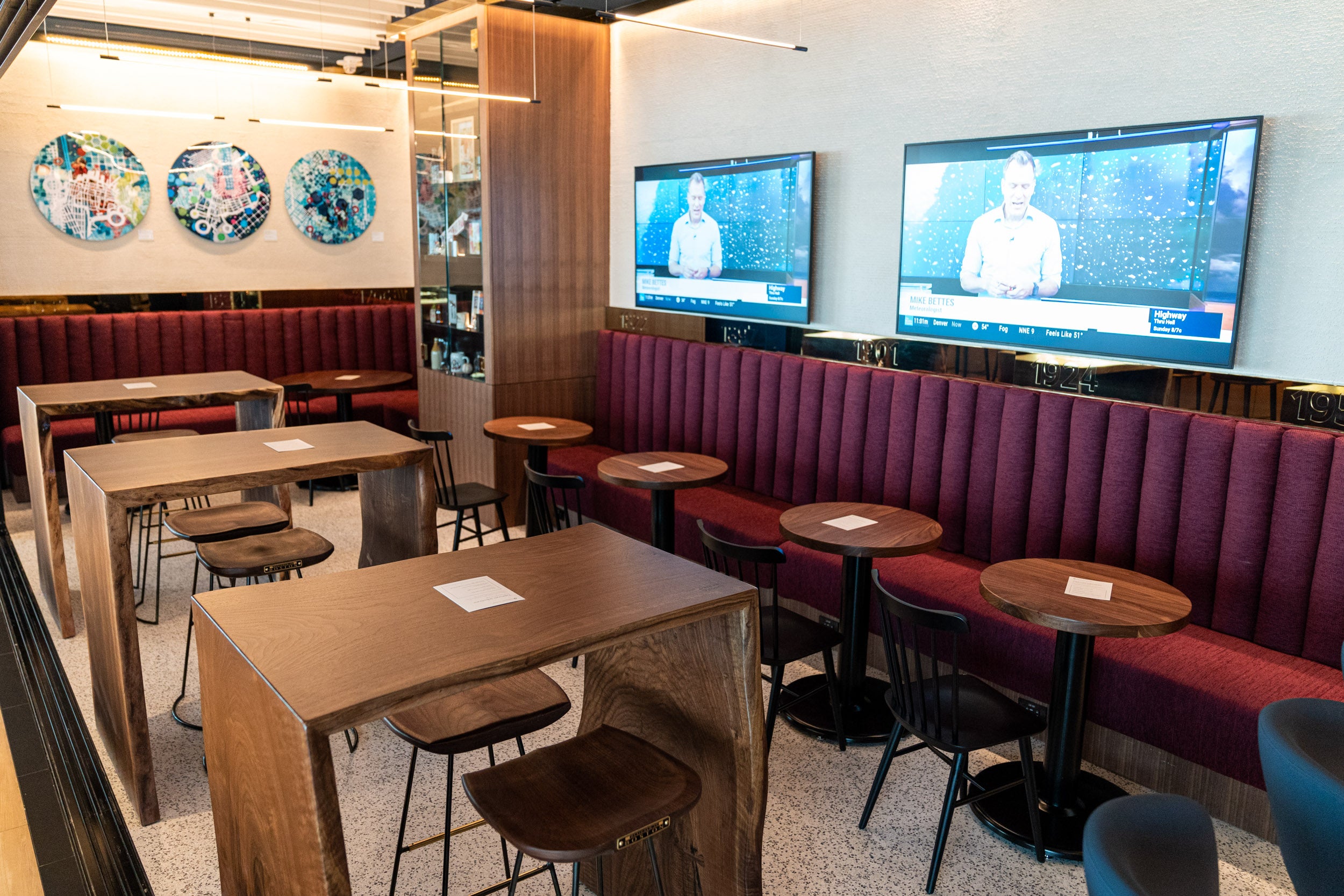 Across from the main bar, Chase and Airport Dimensions designed a unique tavern with a local craft beer bar. The taproom features four local brews on draft, and while that idea may seem familiar if you've ever visited the beer bar at Denver's Centurion Lounge, the similarities end there.
With more of a wood-paneled local regular feel, the tavern features Boston memorabilia on display and years engraved around the wall denoting important dates in Boston history. Some of these include the arrival of the first Puritans in 1630, the founding of the Red Sox and Bruins, and the election of the city's first woman mayor in 2021.
The tables at both bars will also feature a unique QR code allowing visitors to order food from the a la carte menu.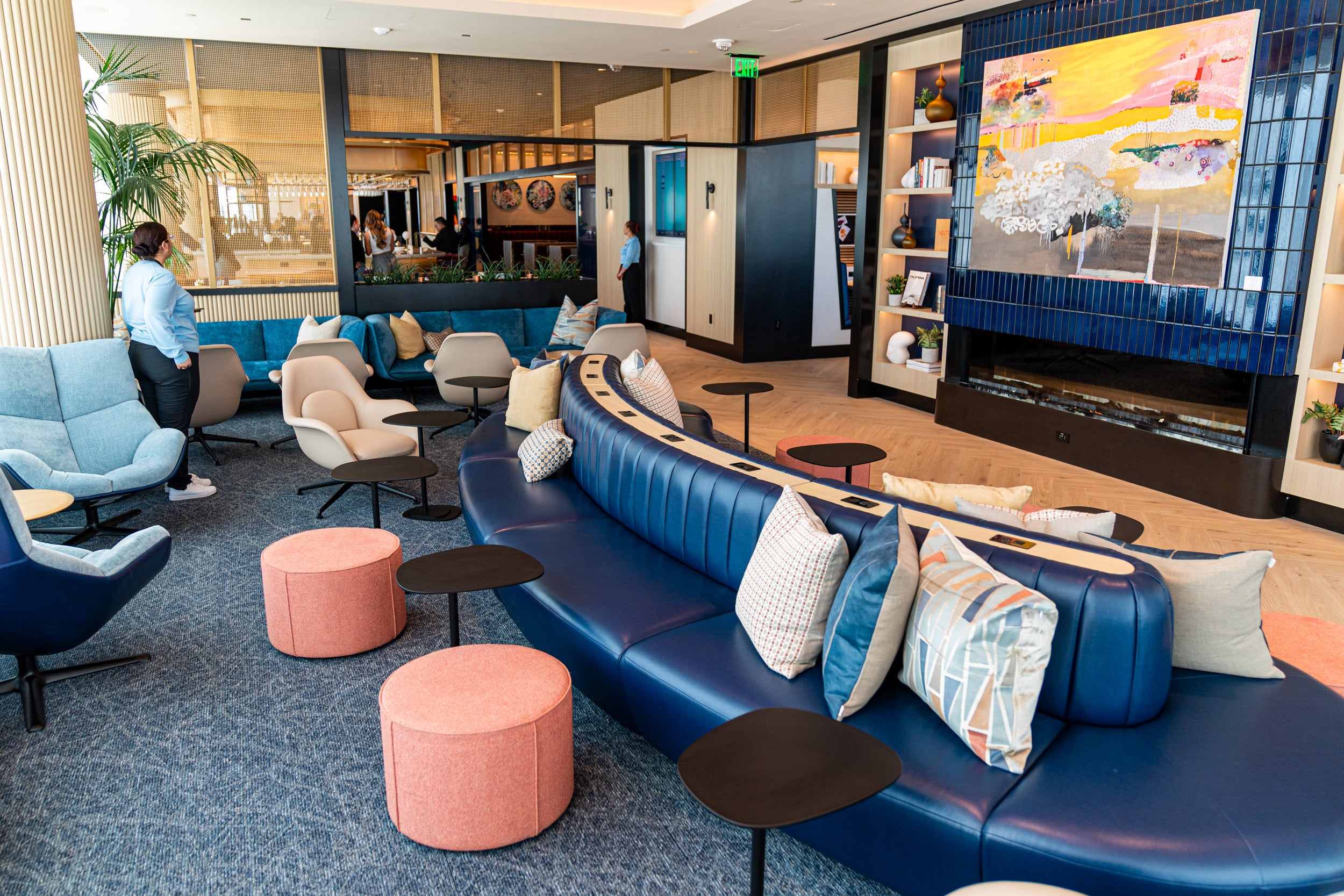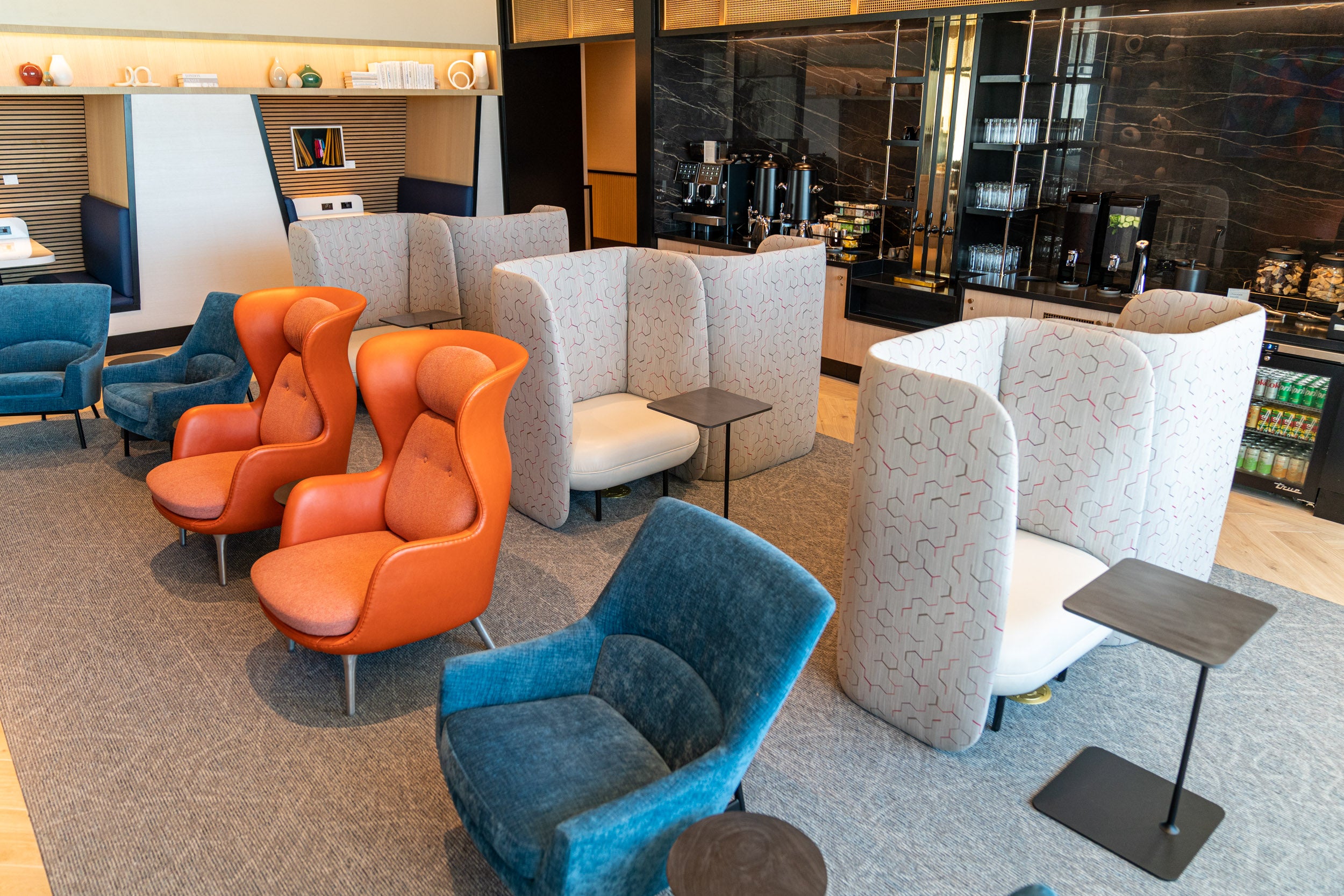 Past the bars around the corner of the lounge, more seating areas offer space for those skipping the main dining scene, along with another coffee and soft drinks station.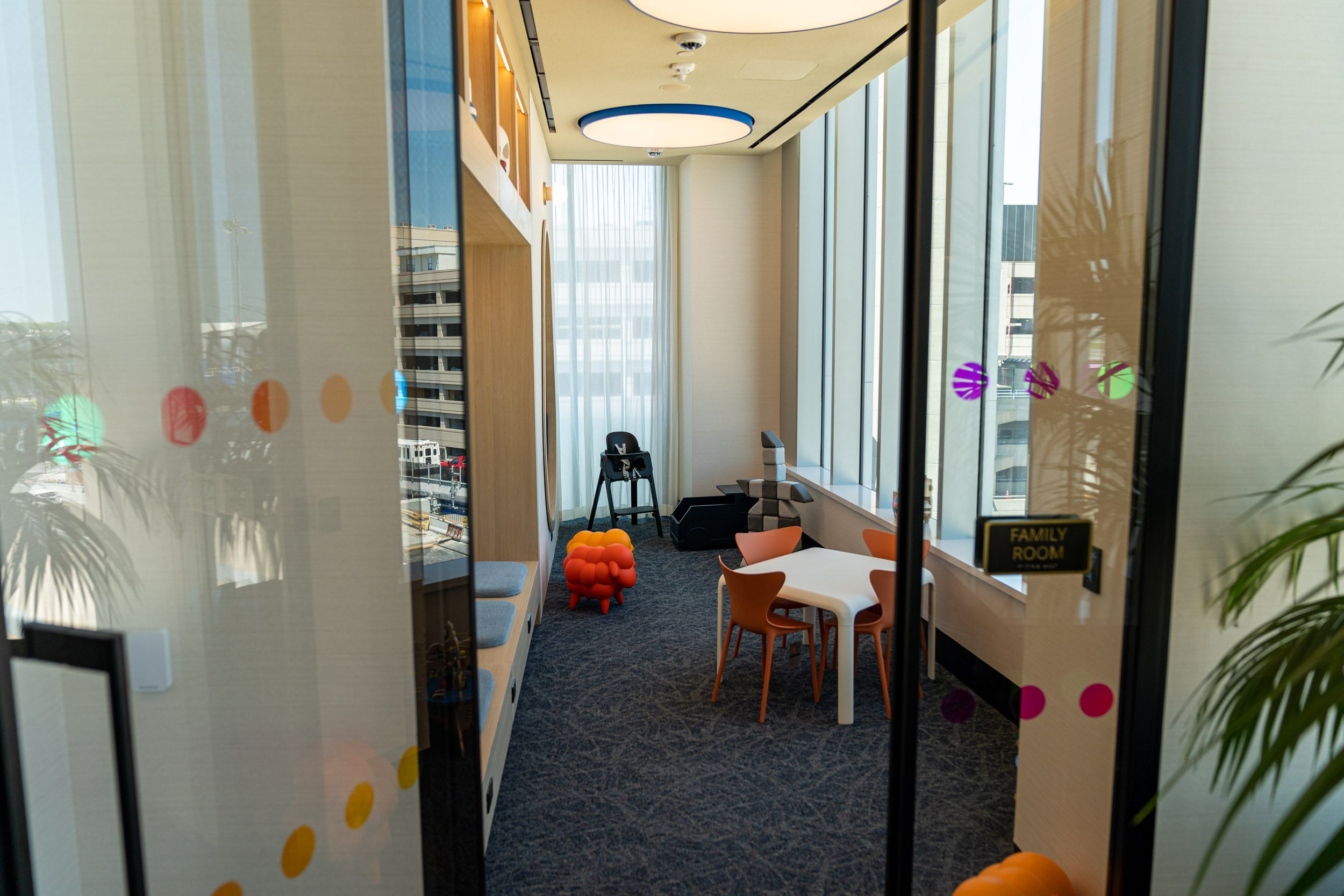 At the end of main hall, as you round the corner, there's a small family area with toys and kid-size furniture.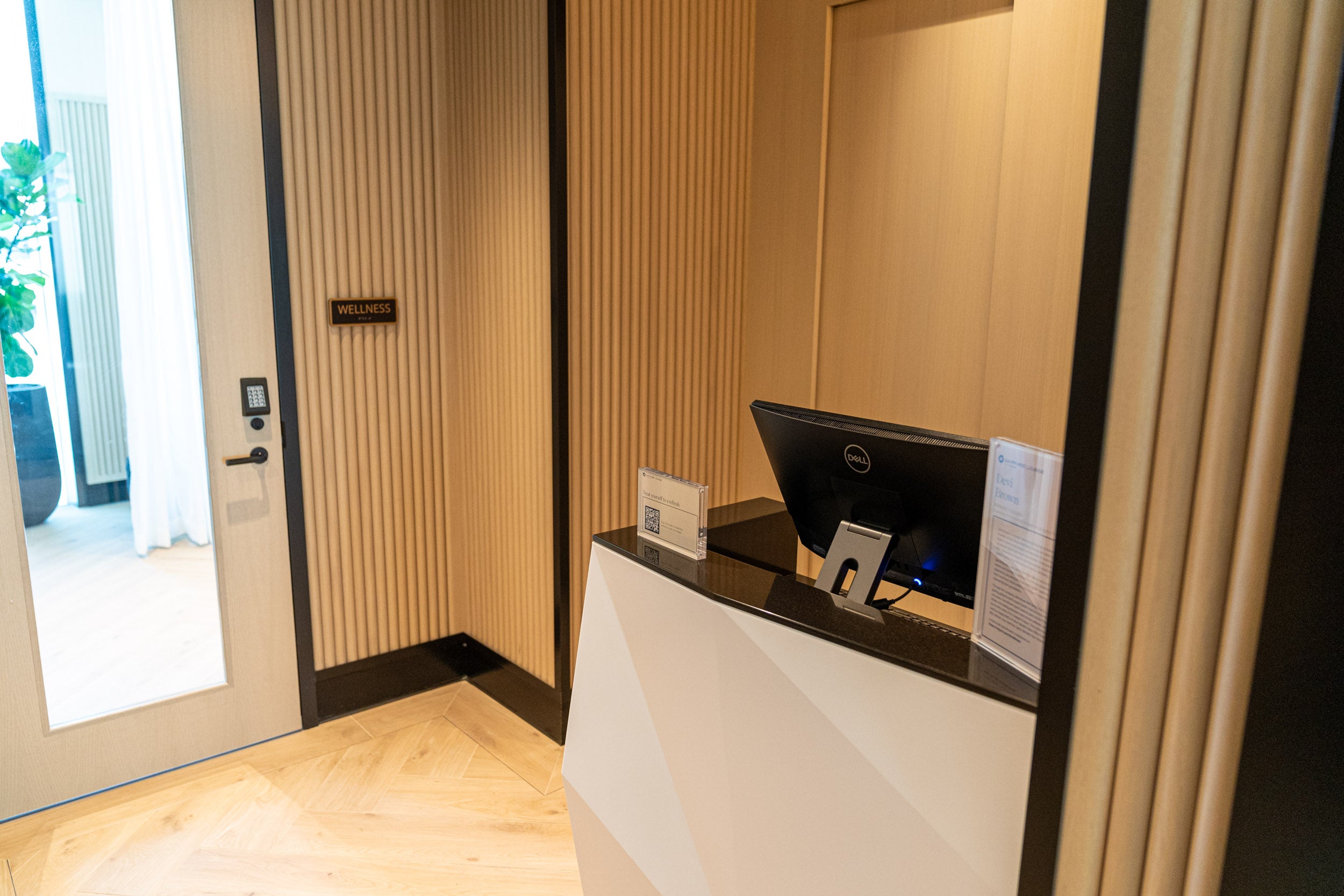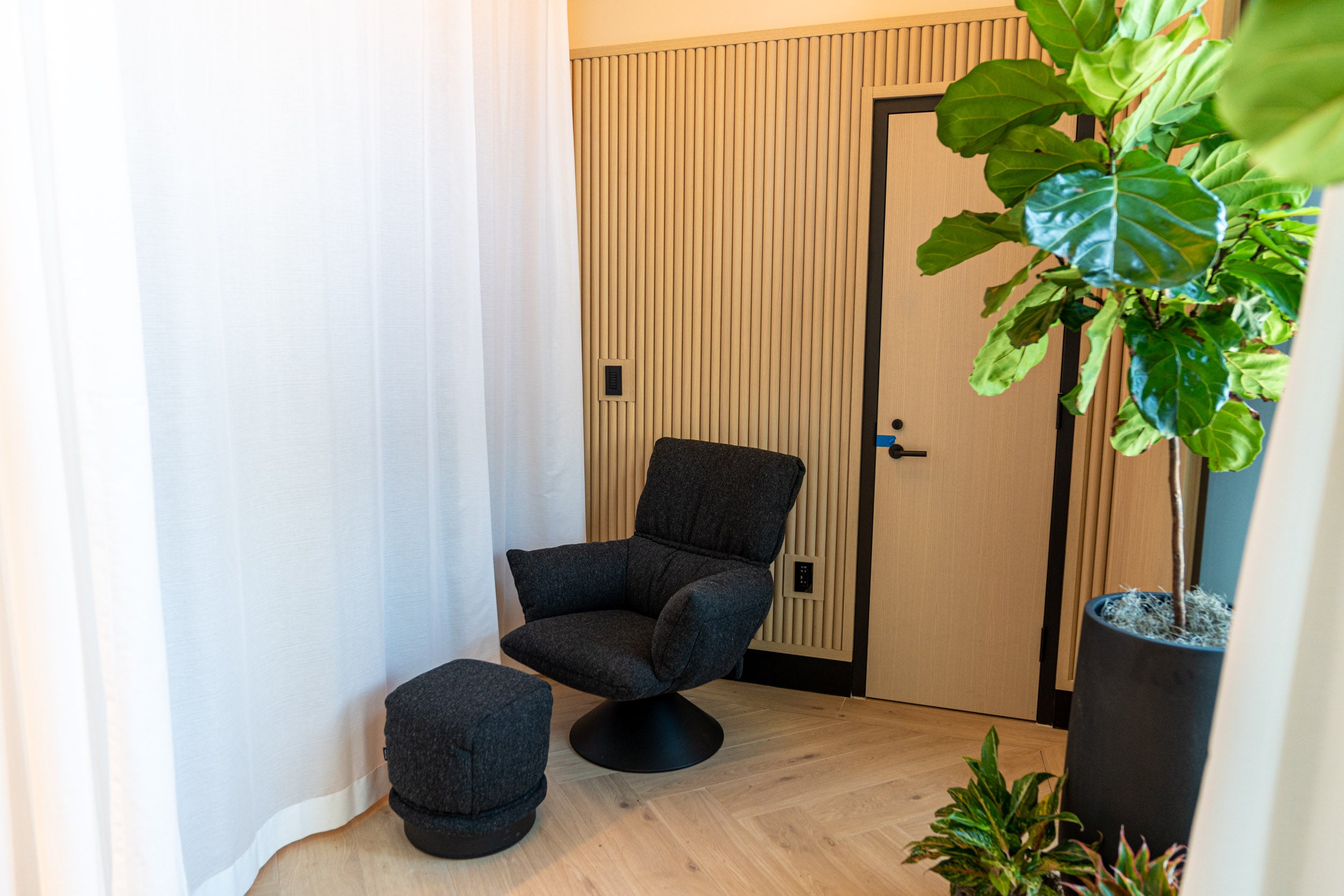 Next to the family room, guests can speak with an attendant to set up a time to use one of the lounge's wellness rooms. Massive massage chairs, comfortable loungers for those hoping to take a quick power nap and guided meditation exercises designed by wellness influencer Devi Brown are available.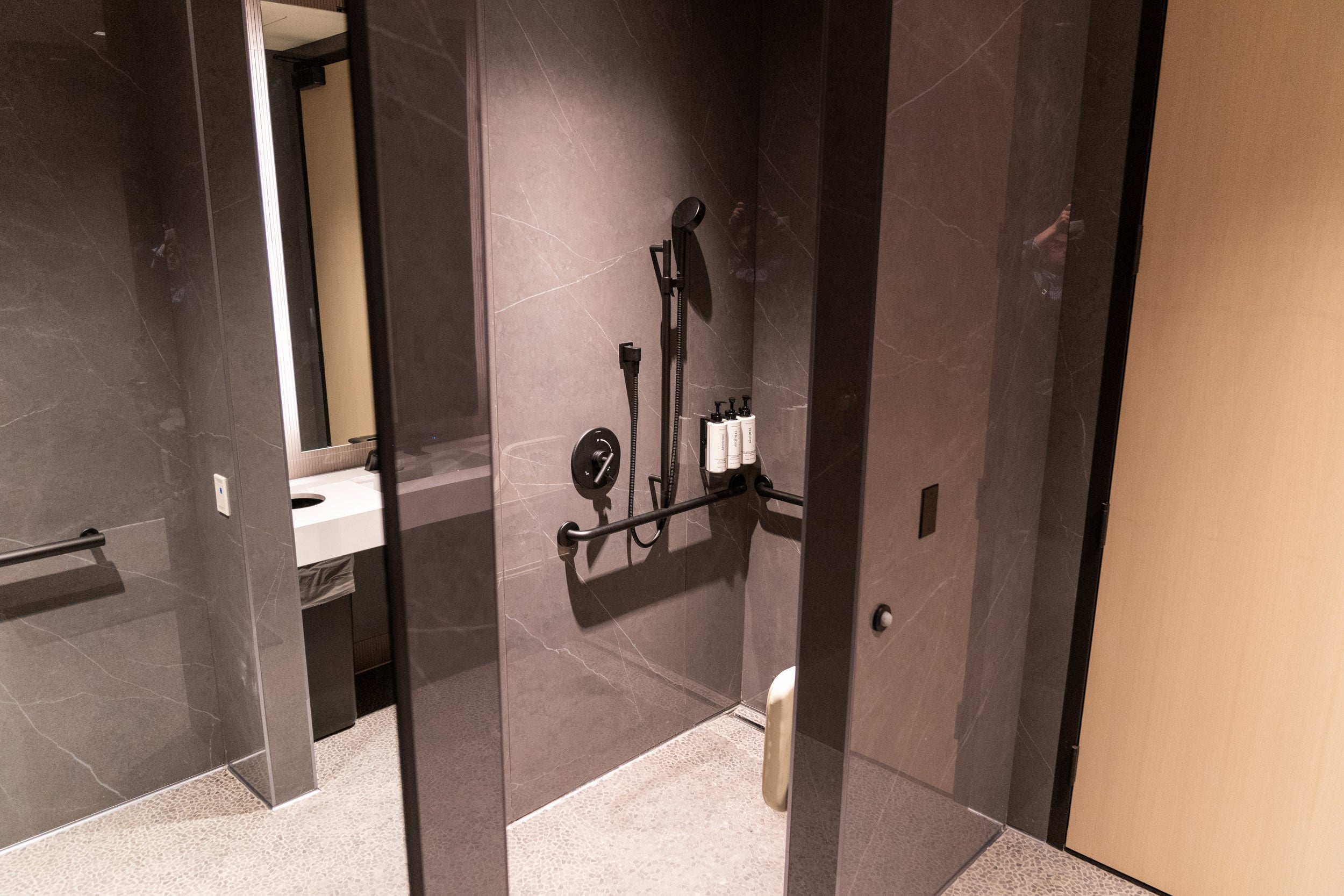 A private nursing room, two shower suites and restrooms round out the lounge's amenities.
The lounge is a thoughtful and well-designed space, adorned with art from local artist Silvia López Chavez and others. It's filled with amenities that rival what American Express offers with its Centurion Lounges.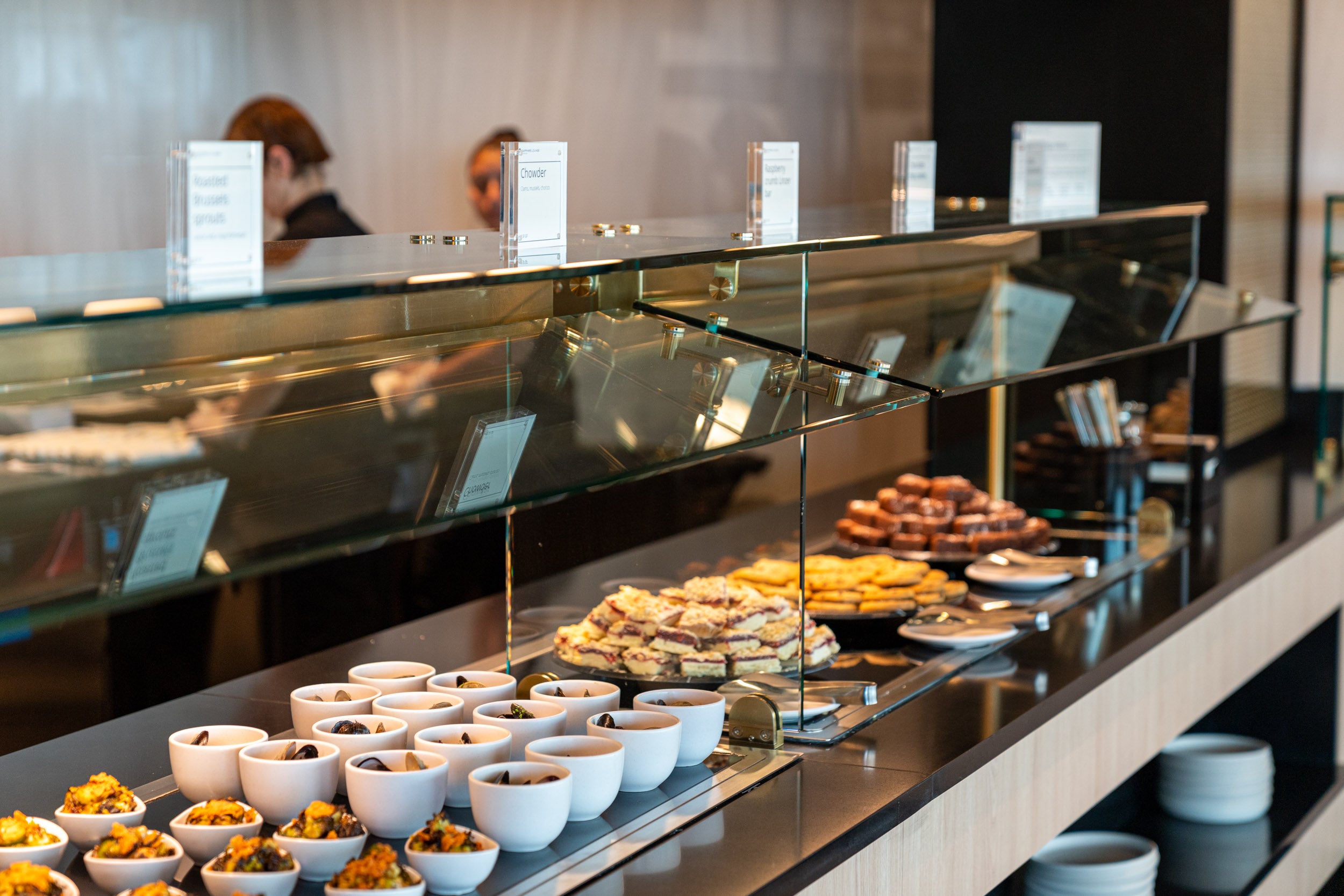 The food and drinks TPG sampled were all top-notch. However, the key will be seeing how the food and service hold up once the lounge is open to the public and fully operational.
Nevertheless, it's the best lounge option easily accessible to JetBlue passengers at Logan. Their other options are the small "The Lounge" location or the Air France lounge in the international terminal. That lounge, which is open to Priority Pass members, can be used by JetBlue passengers, but it involves a prohibitively inconvenient hike from the airline's gates that would likely deter most passengers.
The new Boston Chase Sapphire Lounge and the Sapphire Lounge that Chase opened in Hong Kong last year are just the beginning. Chase has announced that Sapphire Lounges are in the pipeline for Las Vegas' Harry Reid International Airport (LAS), New York's LaGuardia Airport (LGA), Philadelphia International Airport (PHL), Phoenix Sky Harbor International Airport (PHX) and San Diego International Airport (SAN).
Meanwhile, more announcements are likely, the managing director of the Sapphire lounges and head of Chase Sapphire partnerships Dana Pouwels hinted.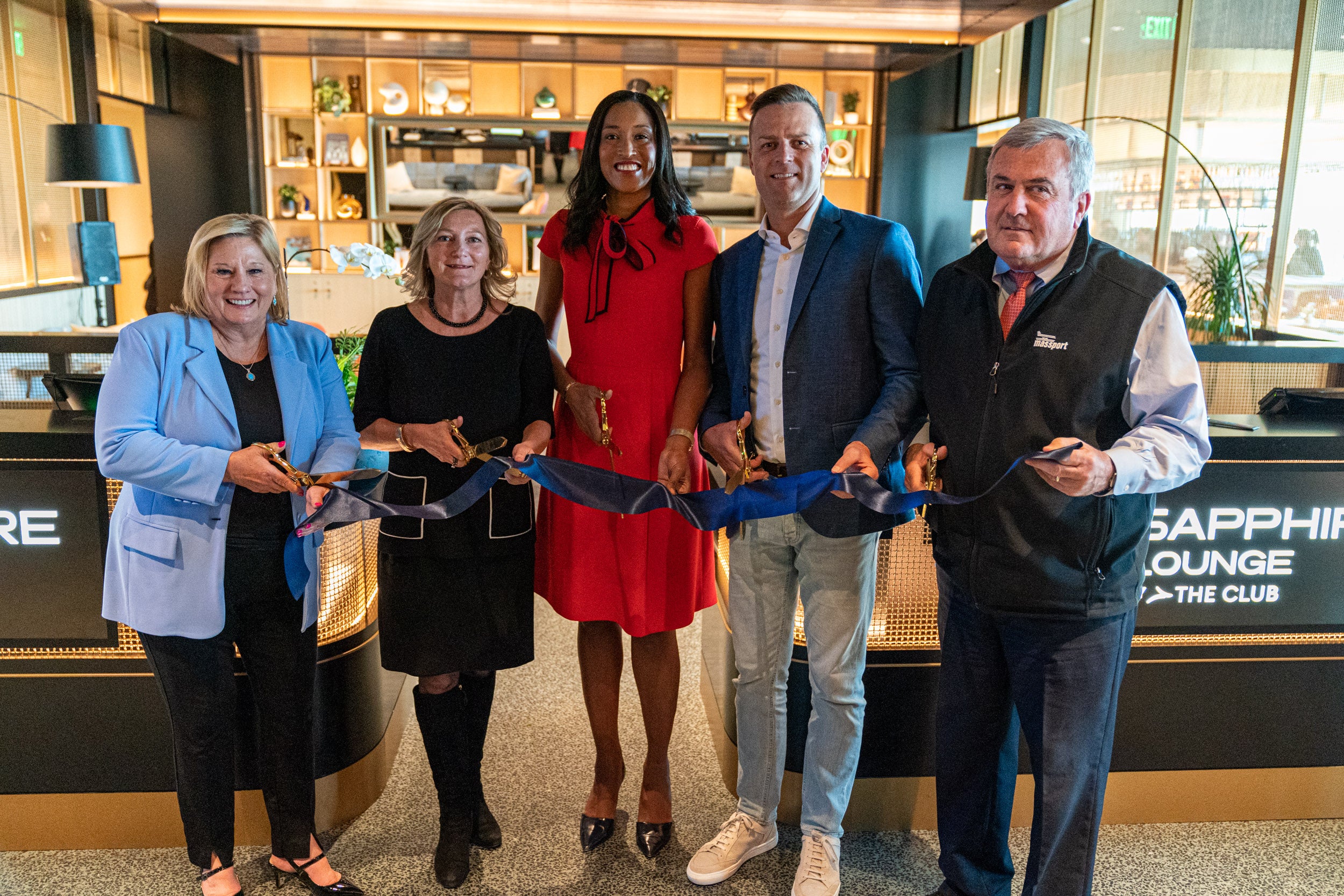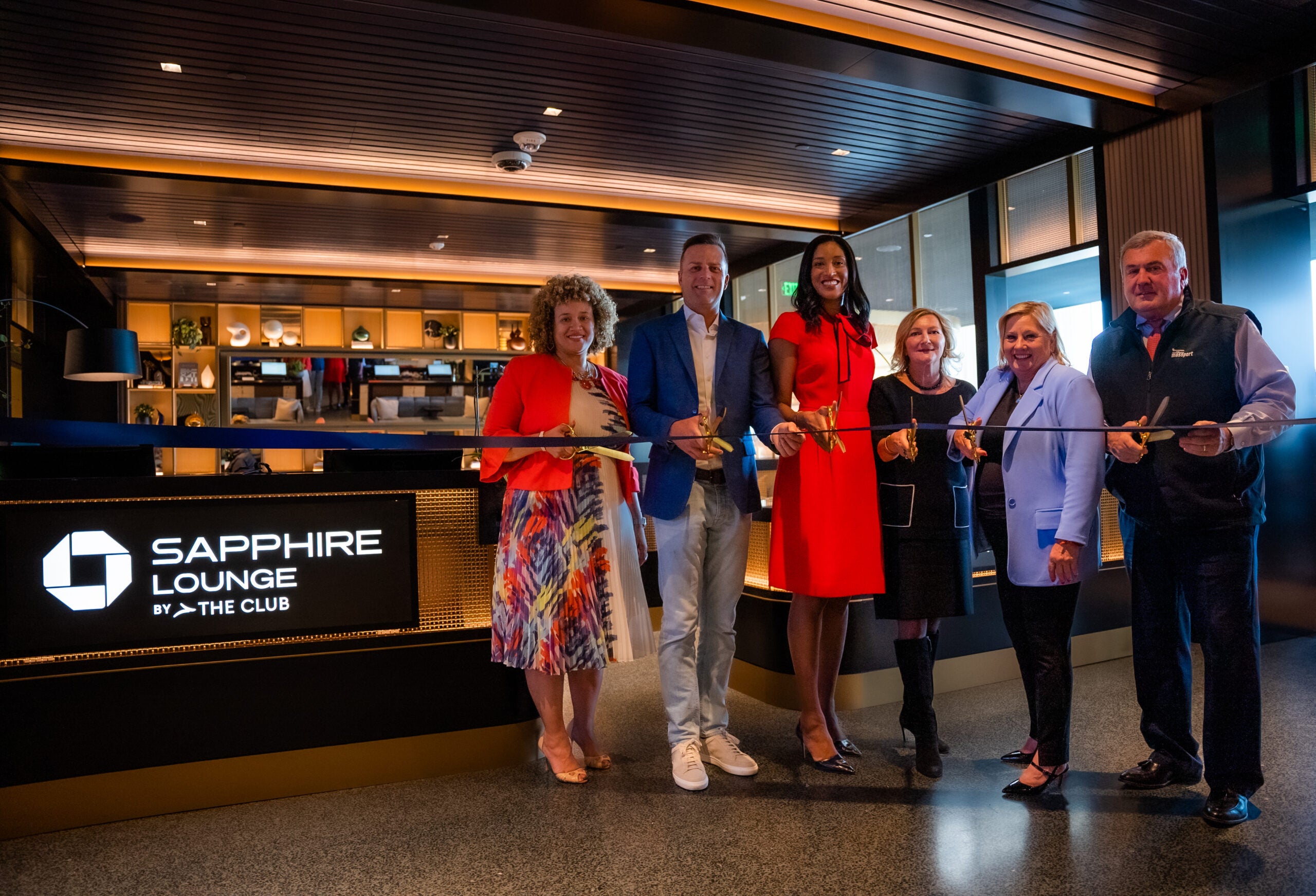 "We're evaluating opportunities on an individual basis and we have the aspiration to grow this network and drive a really great product," Pouwels said. "How we think about it is, 'Where do our Sapphire Reserve customers live and travel to, and through?' so that's really driving the locations that we're looking at."
With the Sapphire Lounges opening and quickly rising to rival the quality offered by Amex Centurion Lounges, the value proposition of the Chase Sapphire Preferred versus the Chase Sapphire Reserve may change for many cardholders. Not to mention, the Chase Sapphire Reserve versus Platinum Card by American Express debate has a whole new dimension.
Pop your email address below to be notified of new posts by email. You can unsubscribed at any time, although I hope you won't!
Pop your email address below to be notified of new posts by email. You can unsubscribed at any time, although I hope you won't!
Dear Guest,
Thank You For Contacting wmwnewsturkey Media Group – A World Away From Your Everyday.
We Value Your e-mail Communication And We Will Respond To Your Request Within 24 hours.
Regards,
SEDAT KARAGÖZ
General Manager and Senior Vice President, Operations | WMWNEWSTURKEY ISTANBUL,NEW YORK,ALMATY
+90 0541 732 90 64
sedatkaragoz@wmwnewsturkey.com