Views: 701
Luxury Travel News / Inside A Stay At The May Fair Hotel, A London Location Fit For A King / thepointsguy.com/ Jennifer Bar,Tony Bar, Sedat Karagoz / Istanbul,New York Travel,Tourism News Office / Janbolat Khanat / Almaty Travel,Tourism News Office

This post contains references to products from one or more of our advertisers. We may receive compensation when you click on links to those products. Terms apply to the offers listed on this page. For an explanation of our Advertising Policy, visit this page.
The May Fair Hotel in London is fantastically located just a 12-minute walk from the gates of Buckingham Palace.
The hotel has an almost 100-year history and a long list of on-site amenities that range from a spa to afternoon tea.
While cash rates can be lower than some of its neighbors, it's been an increasing number of years since its last major renovation.
If you're planning a trip to London, the odds might be a touch low for getting an invite to stay in Buckingham Palace, but you can stay just a 12-minute walk away from the front gates if you choose The May Fair Hotel for your temporary home away from home. This hotel has been around since 1927, and as the mounted sign in the lobby will tell you, its connections to royalty abound, as King George V and Queen Mary have even paid a visit.
The May Fair Hotel is undeniably well located but also stately, historic and, in many ways, well appointed. While it's a stalwart hotel, its most recent major renovation occurred way back in 2006, which unfortunately means that 17 years later, what was once new and shiny is now a bit dated and worn.
But some slightly dilapidated decor that may not have totally kept up with the times isn't a reason to dismiss The May Fair too quickly. It's in decent shape for a hotel with this history and has a lot to offer modern-day visitors, too.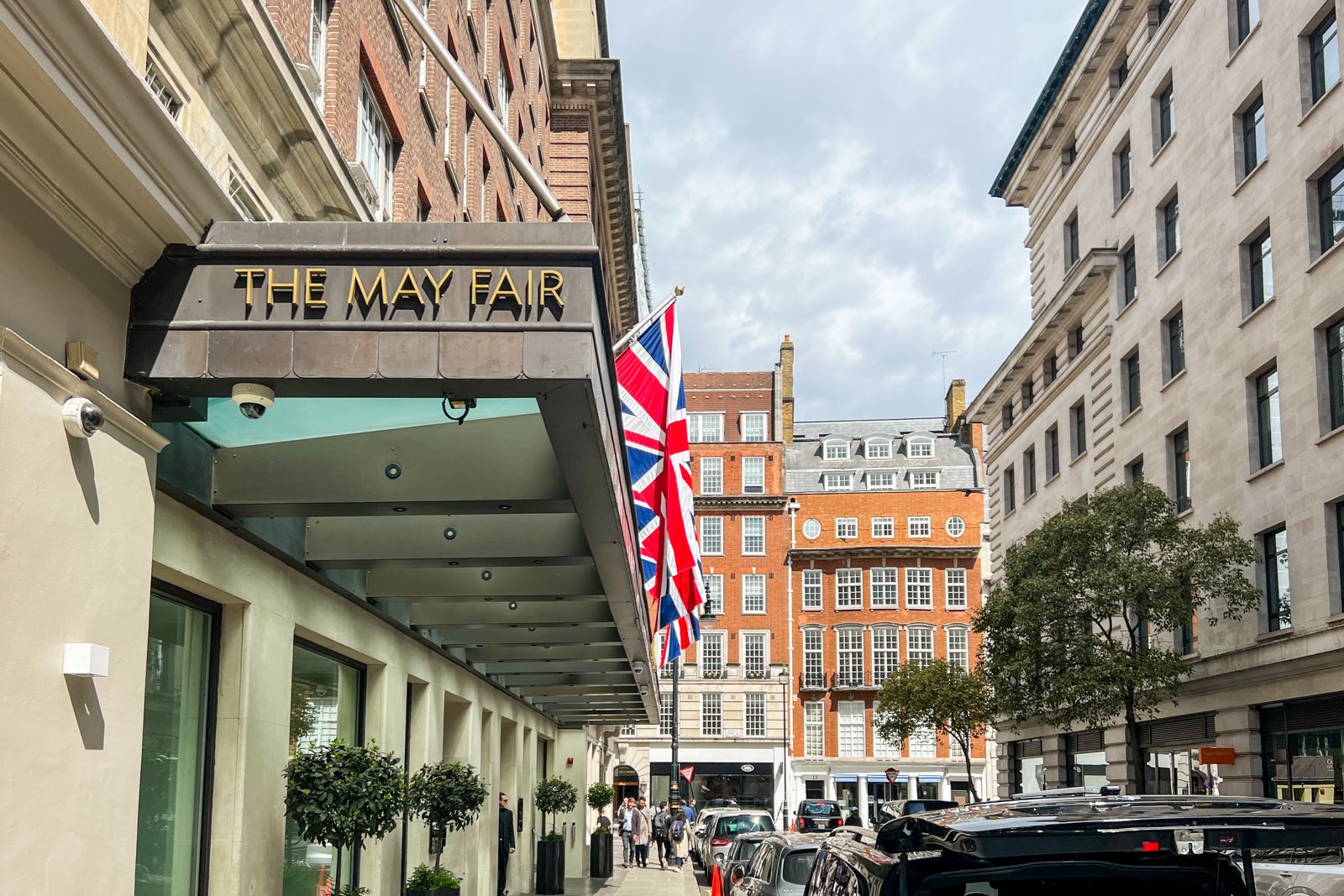 Related: These are the 23 best hotels in London
What is The May Fair Hotel?
The May Fair Hotel sits in its namesake neighborhood of Mayfair in London's West End. The area is flush with high-end shops, hotels, restaurants and offices. Over the course of its near-century-long history, the 400-room hotel has witnessed wars, welcomed kings and queens, hosted parties in its ballroom and even boasted a pool bar with crocodiles.
Thankfully, the crocodiles are long gone, though the onsite May Fair Theatre remains. Today, the hotel is part of the Radisson Collection Hotels, which means you can earn or redeem Radisson points for your stay, though note that the Radisson program split in two and the international Radisson loyalty program radically changed its redemption rates in 2022, so it may cost more points than you wish.
But if you use cash, you'll have the opportunity to stack some perks onto your stay to make it feel as luxe as the grand address would suggest.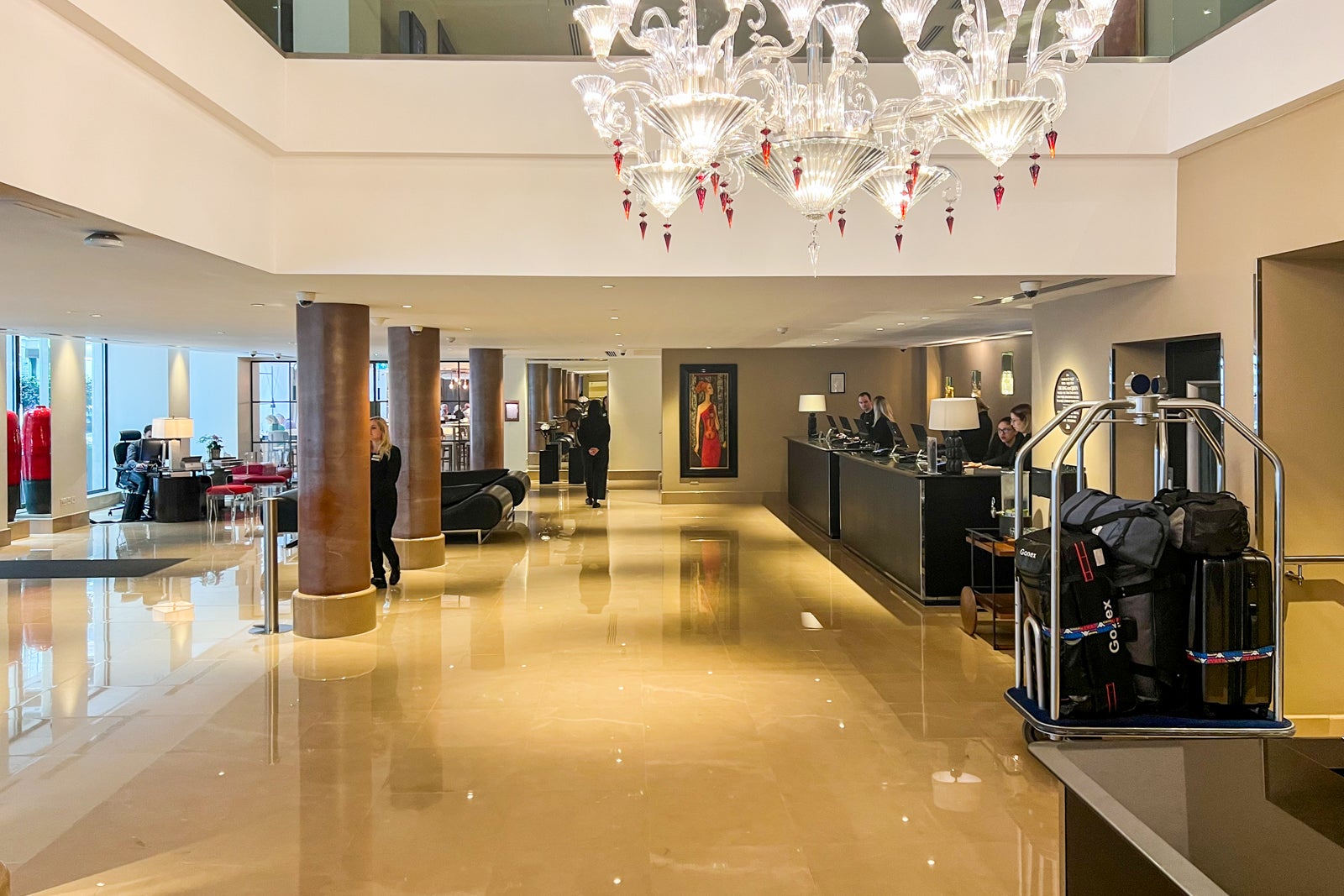 The location is unbeatable
You likely pick The May Fair Hotel for its fantastic location, especially for first-time visitors to London wanting to see the major sights.
The hotel is just a short walk across Green Park from Buckingham Palace, which places it a two-minute walk from the Green Park station and a stone's throw from the Brown Hotel, The Ritz, Hyde Park and more. It's a bit further afield to Big Ben, Westminster Abbey and innumerable other must-sees on a trip to London.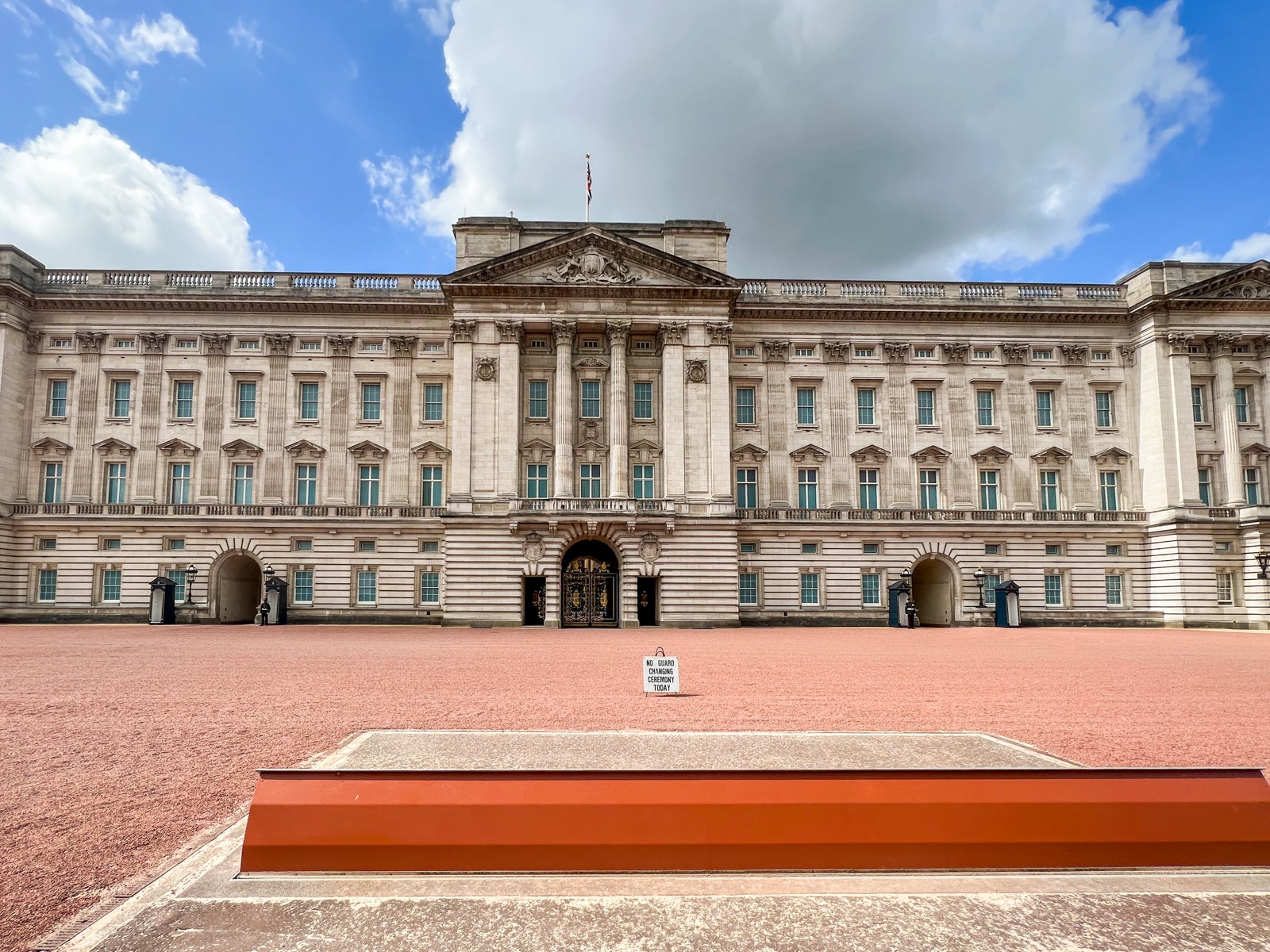 Related: These are the best free things to do in London
Enjoy an (almost) included massage with this booking trick
Nothing sounded better after an overnight flight to London than a massage (well, and a nap, which I somehow managed to resist). By booking a stay at The May Fair Hotel strategically, you can wrap a 30-minute Swedish massage into your stay for almost no extra cost.
I booked my stay via the Chase Luxury Hotel Collection (accessible to those with cards such as the Chase Sapphire Reserve and multiple United MileagePlus Chase credit cards). By booking this way, your stay includes a daily full English breakfast for two at the hotel's May Fair Kitchen, a welcome amenity and a credit of 75 British pounds ($94) at The May Fair Spa.
Download the TPG App today!
Maximize your spending, earn rewards faster, and easily track all of your points and all of your miles all in one place.
It just so happens that a 30-minute Swedish massage comes in at just 85 British pounds ($106.50) before some taxes and fees, and I can say with certainty that the massage was exactly what my jet lag ordered, especially for the out-of-pocket minimal price. The heated stone chairs in the spa relaxation area were the perfect way to unwind and soak in that I'd made it to London.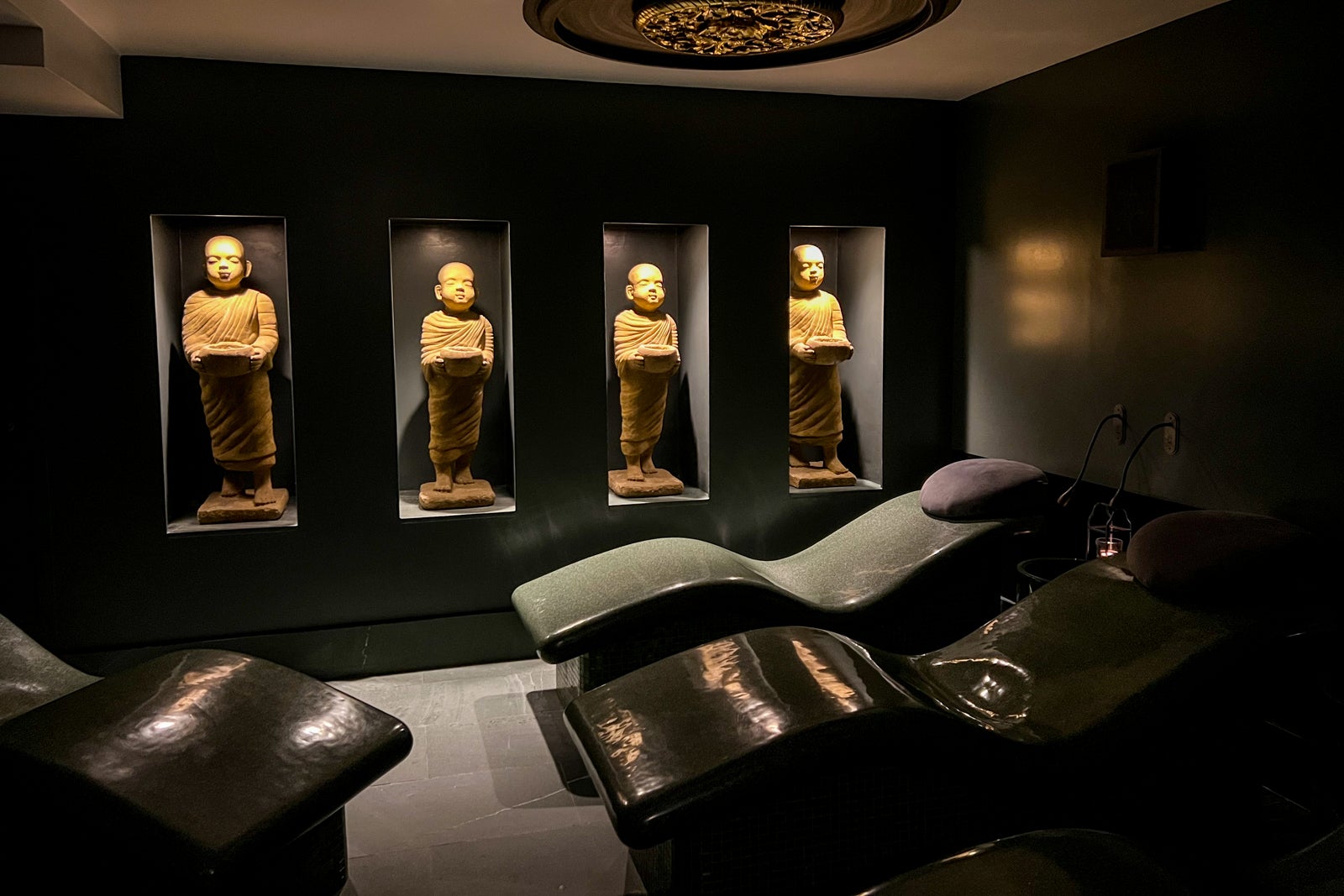 However, as great a treat as the massage was, before I paint too rosy of a photo about booking via the Chase Luxury Hotel Collection, I must add some less relaxing details. The welcome amenity that was listed as a benefit never materialized, and, more importantly, the rate I booked via Chase versus what was due at the hotel were not the same amounts.
Via Chase, it displayed a price of $517 for a one-night stay, but at the hotel, the rate charged to my card was $671. A little bit of that can be explained by the small overage from the spa, but the other $100 of it was more of a mystery.
The hotel said the difference was likely that the value-added tax (VAT) was not included in the displayed price via Chase, which is possible. However, the Chase reservation does say that the $517 was the total amount due at the hotel.
Between different currencies, a non-broken-out bill from Chase and VAT being listed on my bill from the hotel in four different sections in four different amounts, it's hard to say who is to blame for that discrepancy, but it is worth knowing as you price out your stay here.
Breakfast and drinks are solid
Though my stay was brief, I did get to sample the hotel's culinary offerings, and especially appreciated the free breakfast that came as part of my booking.
May Fair Kitchen
With breakfast included in my stay due to booking via the Chase Luxury Hotel Collection, I made sure to take advantage of that included perk. During the week, breakfast is served from 7 to 10:30 a.m., which is a nice window given that it can be hard to wake up early on your first full day in London after a long flight.
The breakfast included not only the continental and buffet-style options such as hash browns, scrambled eggs, baked beans, sliced meats and cheese and multiple types of fresh juice, but also a la carte options, including pancakes, French toast, omelets and poached eggs on chargrilled ciabatta.
Service wasn't the fastest during our time at breakfast, but the food was delicious and we were happy to linger a bit over a free cappuccino anyway.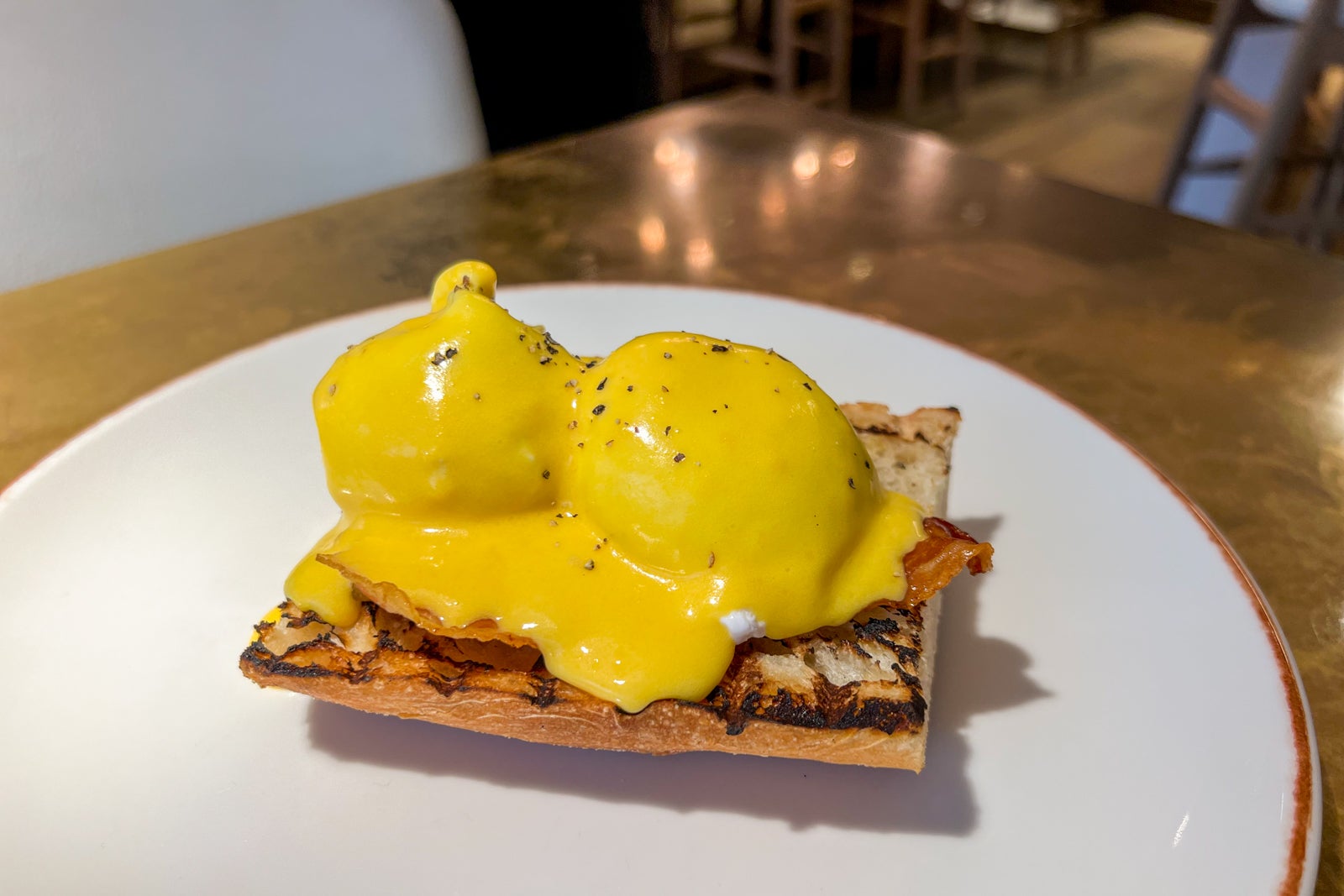 The exact hours of the restaurant vary by day of the week, but lunch and dinner are available some evenings, along with afternoon tea served on the weekends.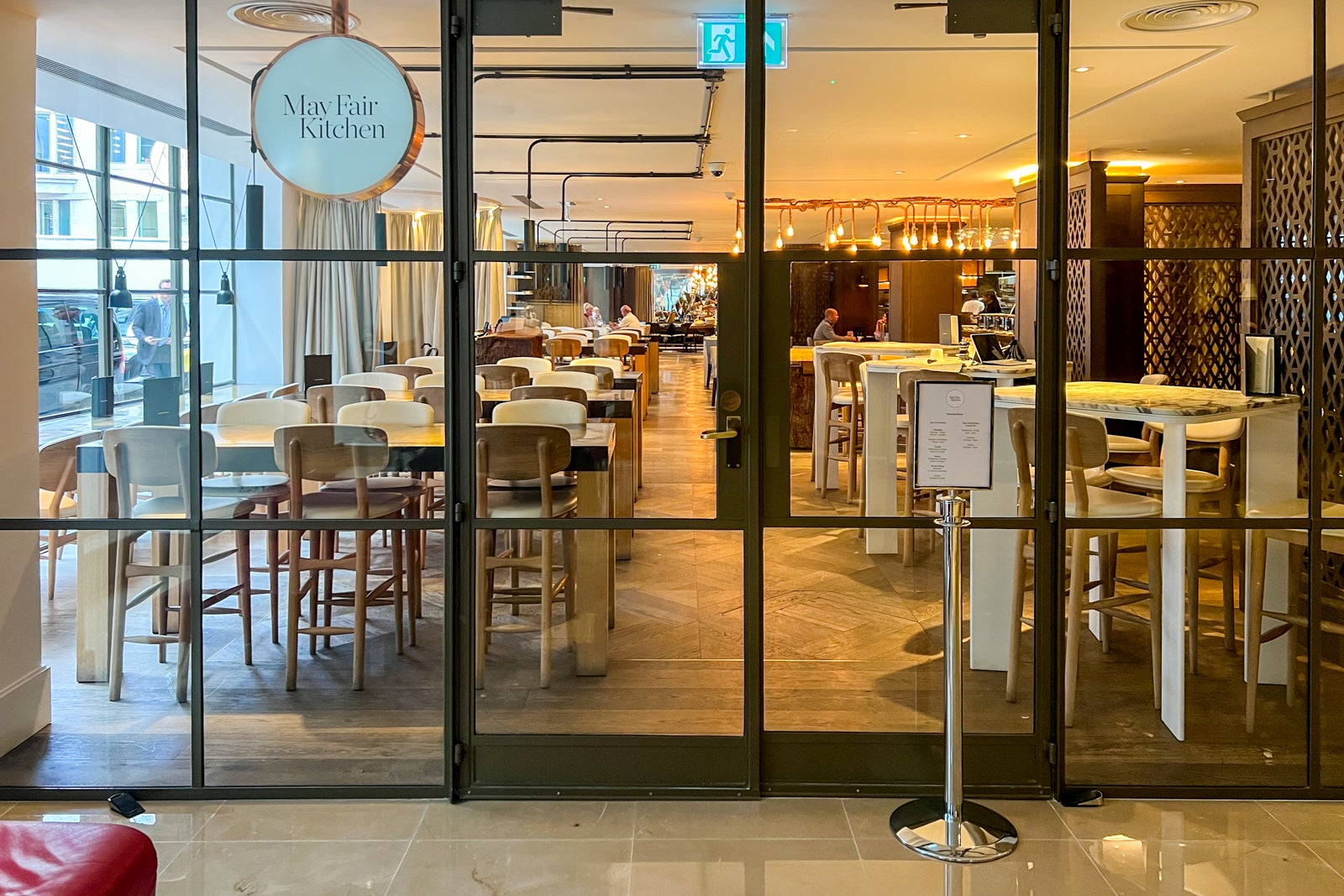 May Fair Bar
On my one-night stay, I didn't get a chance to sample more than just breakfast on site, but when I headed up to bed that evening, May Fair Bar was hopping and appeared to be quite the spot, even on a Wednesday night in the middle of May. Patrons were likely enjoying the crispy tacos, signature cocktails and even the churros for dessert. Here's the menu if you want a peek before settling in.
I popped into the bar area the next morning to take a peek around, and it looked to be a nice mix of modern and swanky and a great spot to grab a drink before heading to bed or heading out for more fun, with some dramatic light fixtures and other installations, a long bar, and big windows looking out onto the street.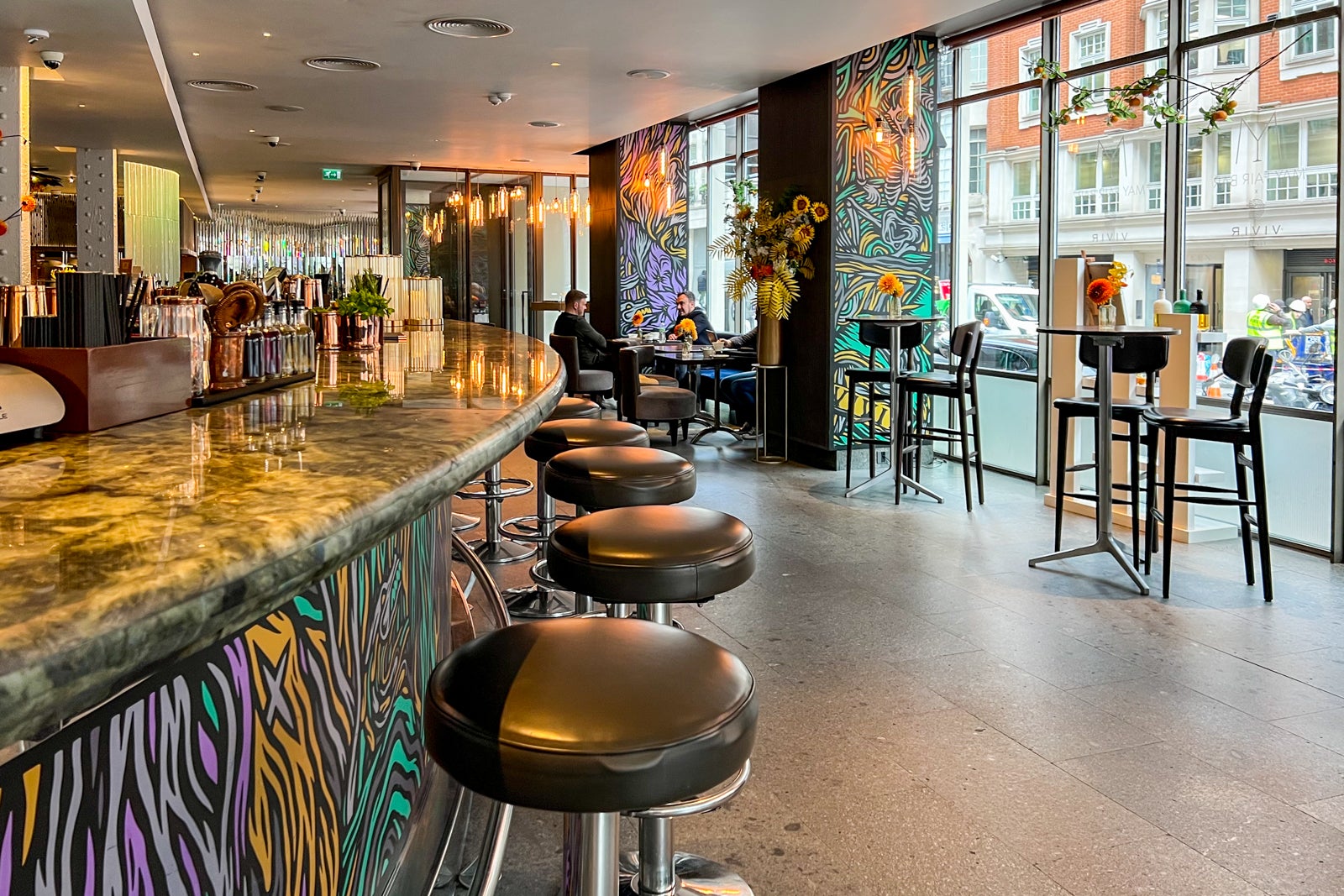 The rooms are … just fine
At The May Fair Hotel, the service is generally good, the location is amazing, the history is palpable, and the rooms … are fine.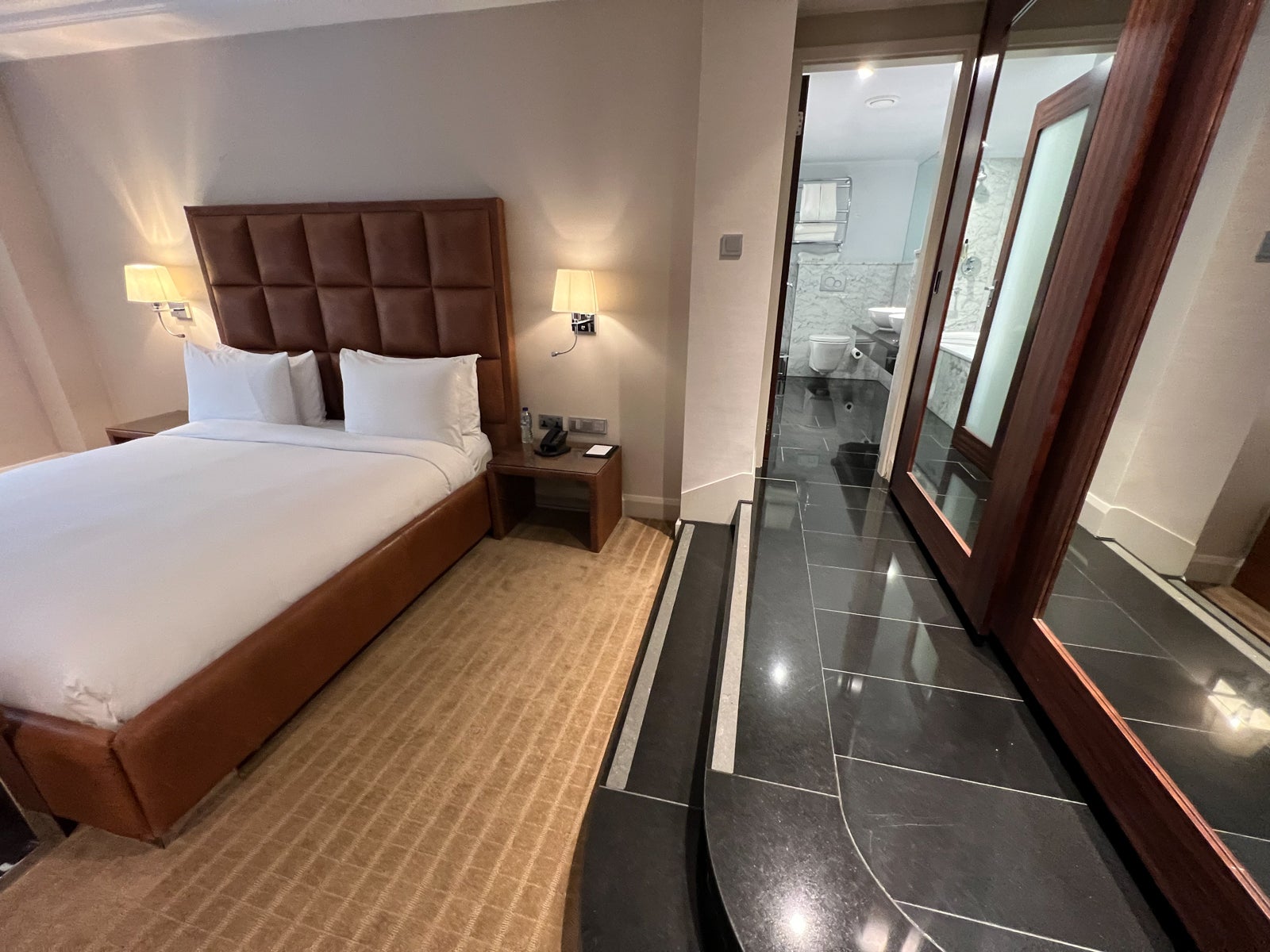 And when I say fine, I really do mean fine. They aren't bad. I slept well. The bed with a goose-down duvet was comfortable. There were handy outlets in convenient locations. And the gleaming marble bathroom was pretty and mostly functional.
But the design was bland and dominated by tones of brown and beige. There were scratches and scuffs aplenty, and the furnishings will benefit when it's time for the next renovation.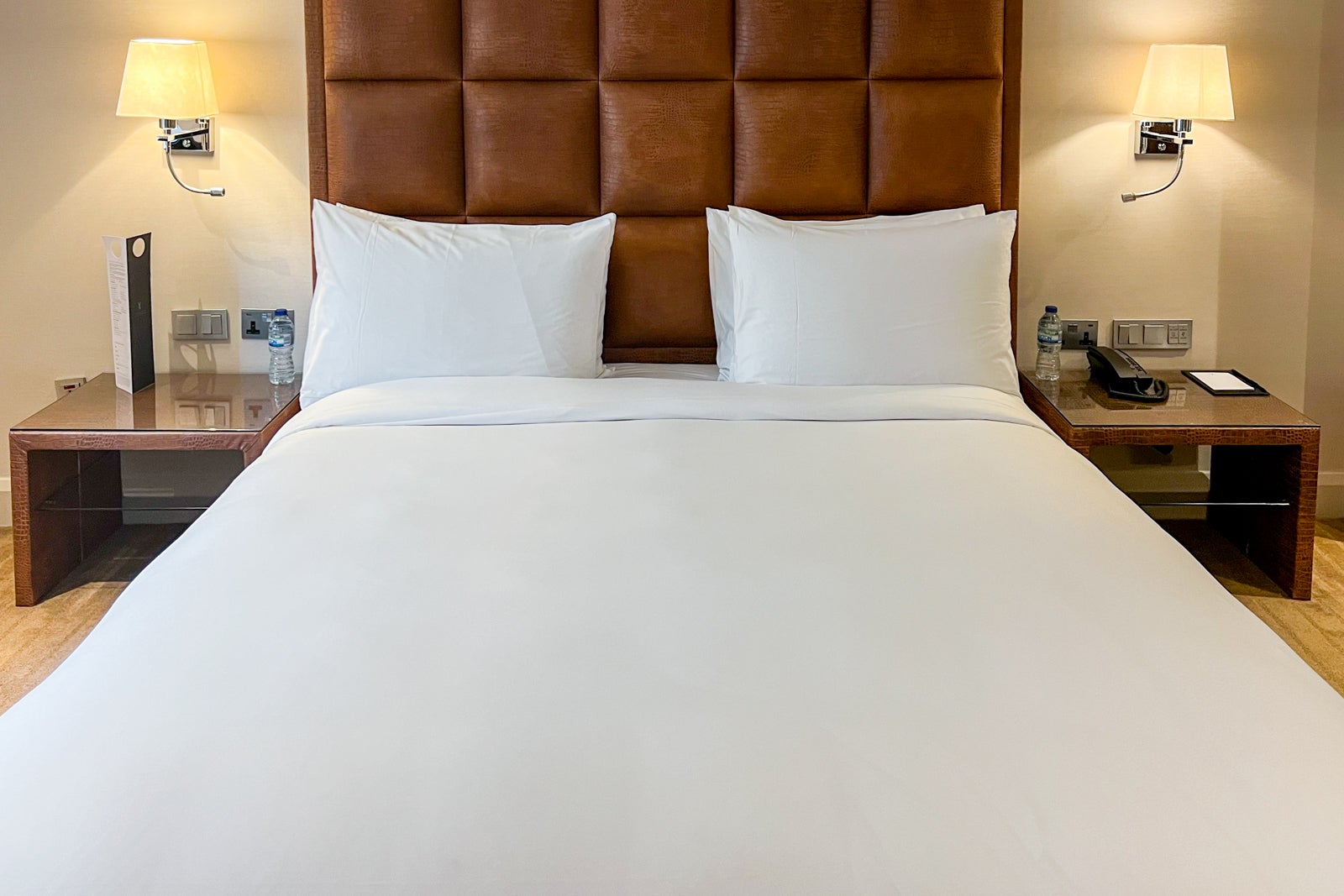 I booked and received a Collection Superior king room that was around 300 square feet and had a Nespresso machine, courtyard view and comfy king bed. The shower was unique in that when it was on, there was no discernible way to prevent it from leaking into the bathtub and even a little bit on the floor, so use the floor mat and towels liberally if needed (though the Noble Isle skincare products were heavenly).
In the closet, you'll find two robes and an umbrella, which is an underrated amenity in London.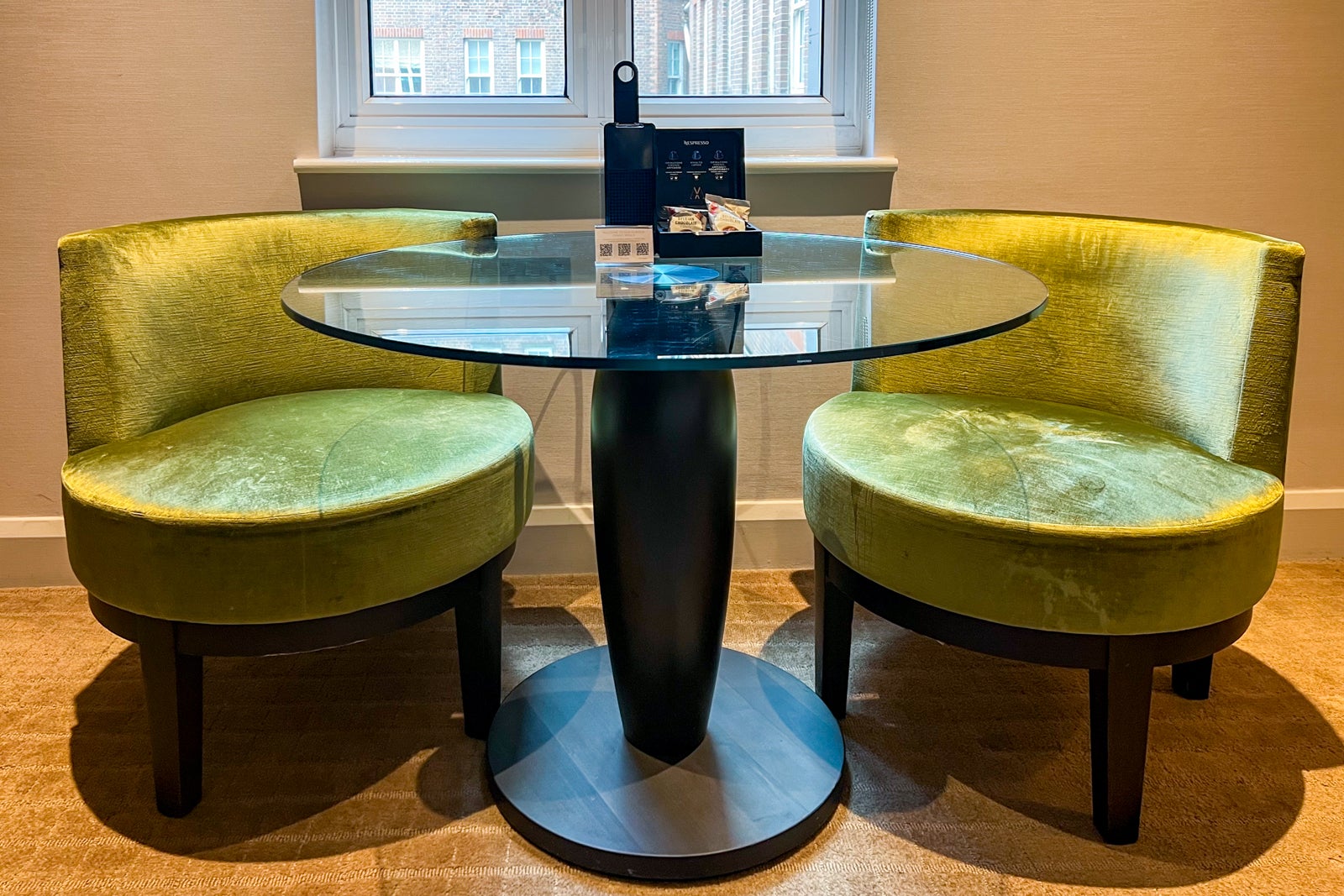 While I booked a room rated for two guests, family rooms are available at a higher rate if you're looking to find a spot for your family of four to share in London, which can be tough at some hotels.
Related: How to save money when booking rooms for a family in Europe
Reasons the May Fair Hotel Might not be for you
I've stayed at The May Fair Hotel twice over the years and would stay there again in the right situation, but it's not the right hotel for every trip or visitor.
The May Fair Hotel is not the most modern accommodation in the city, and it is coming due for a refresh, especially in the guest rooms where things are starting to look a bit worn.
There's no great way to redeem a reasonable number of hotel points now that Radisson Rewards has transitioned to a system where the number of points required is tied to the cash rate, and the points have a fixed value.
Cash rates can also be a bit high, though they are often lower than for the other upscale hotels in the area.
Alternatives to the May Fair Hotel
If you want a more luxurious stay in another historic Mayfair hotel, you can check out Brown's Hotel (and don't miss the afternoon tea if you stay there).
The Kimpton Fitzroy and NoMad London also get high marks from TPG staffers, and I adore using points to stay at the Hyatt Regency Churchill, which is slightly further from spots like the palace, but still pretty centrally located.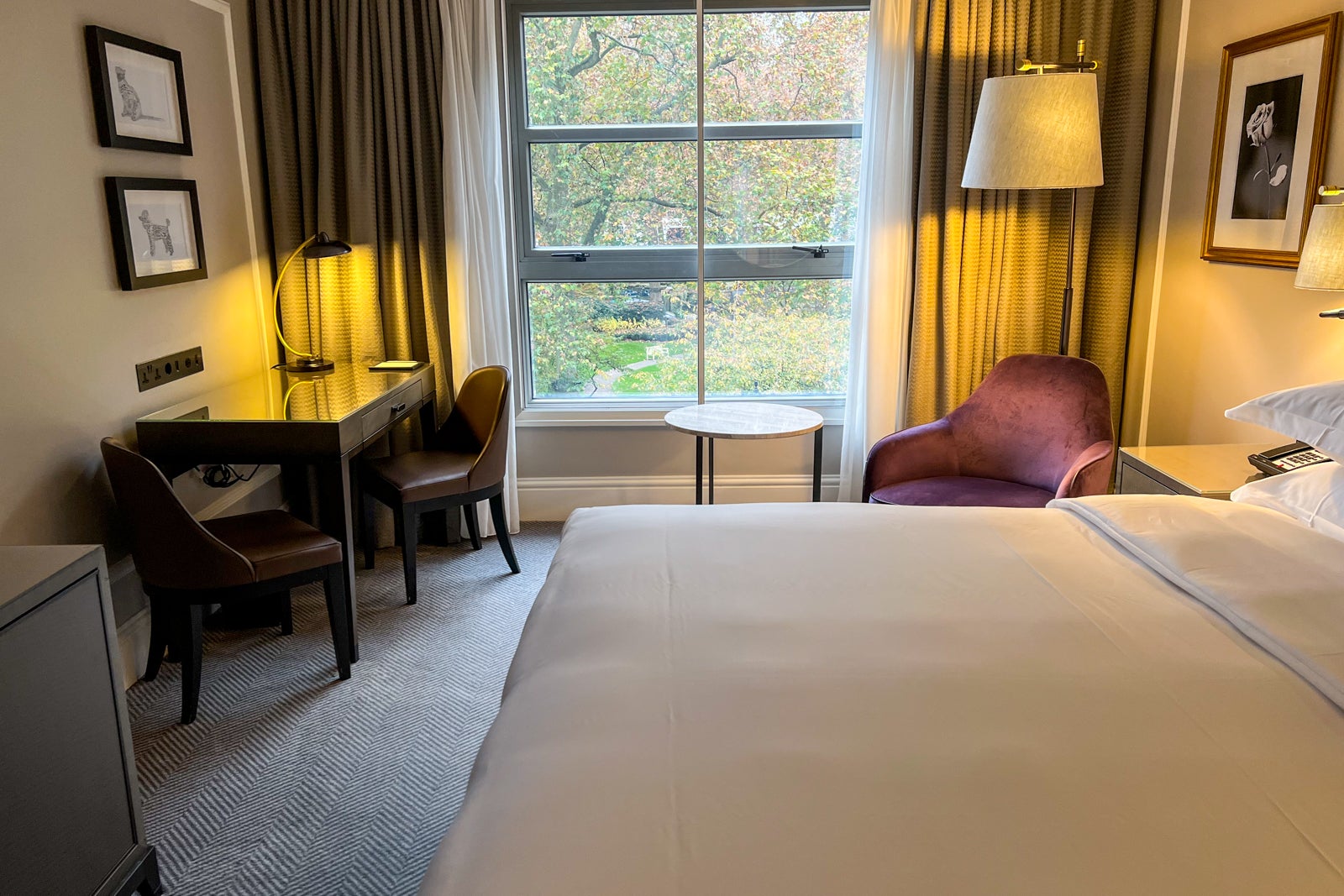 Related: 7 London hotels used by actual royalt
While my room was quite a winding journey from the elevator bank, the hallways were relatively wide. The hotel indicates that there are wheelchair and hearing-accessible rooms in its Collection Superior and Collection Premium room categories with specially designed bathrooms. I didn't encounter any must-use stairs during my stay, but I recommend asking for a room that is relatively close to the elevators if there are any mobility concerns.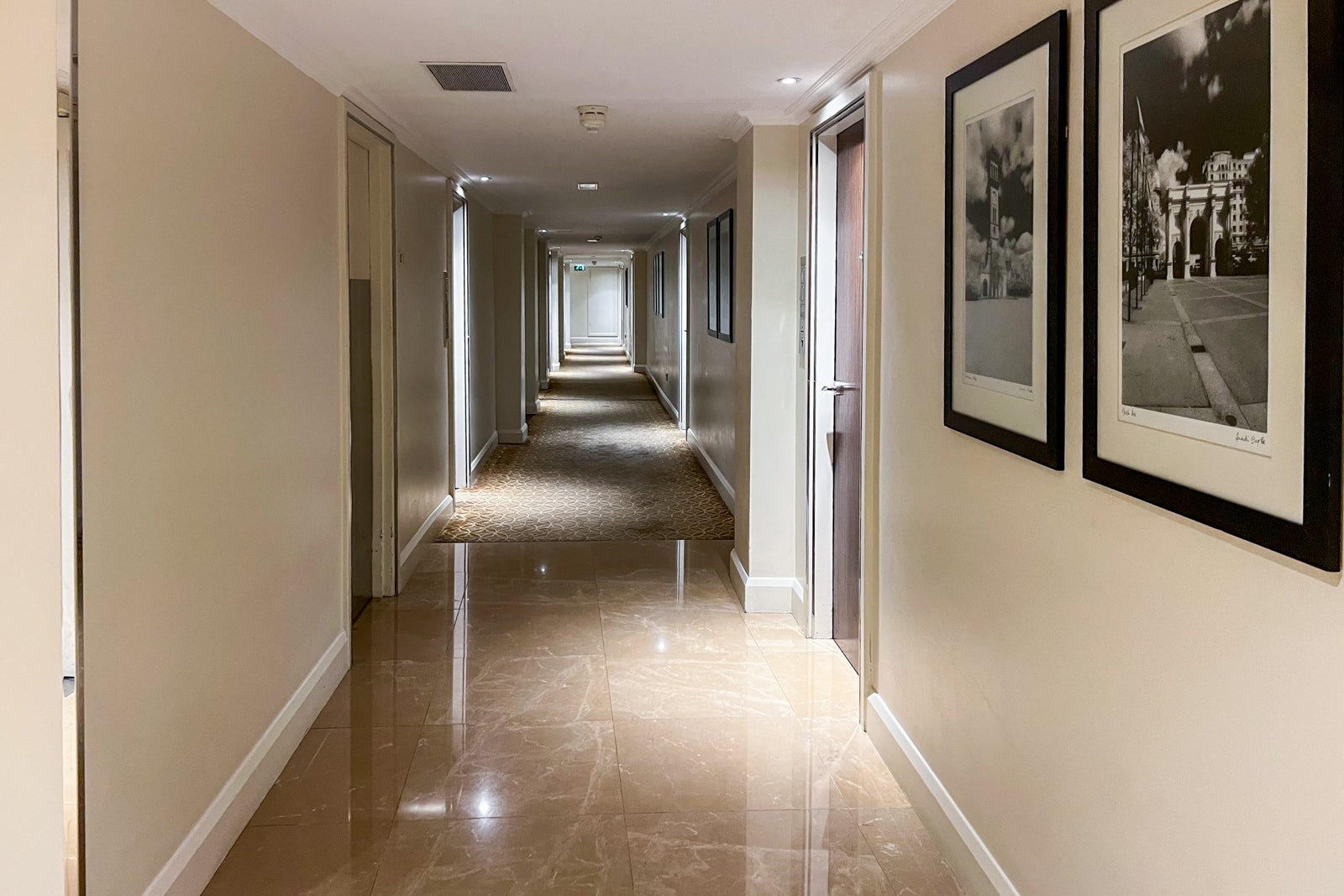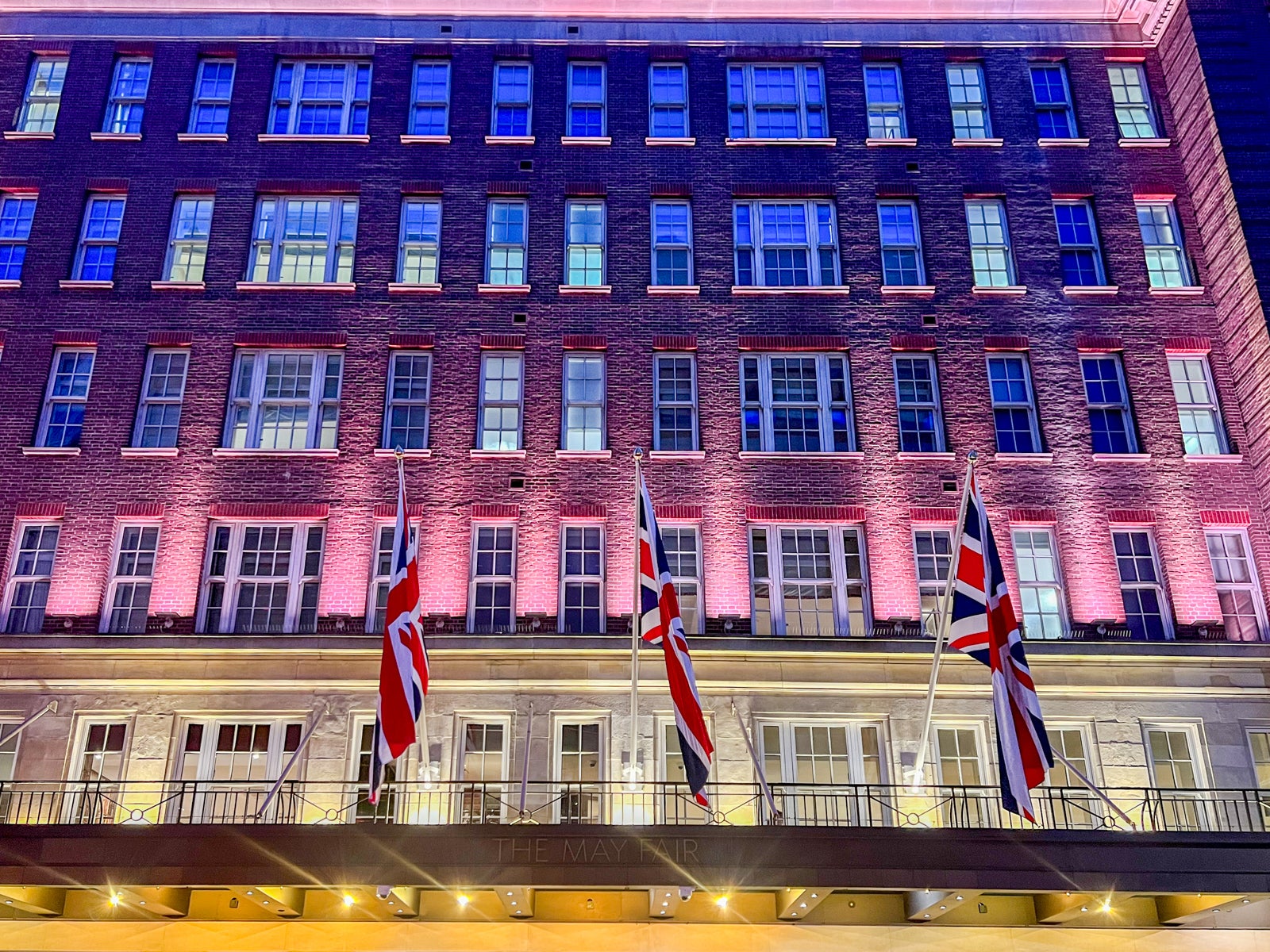 No hotel has it all, but if you want a great location, a lower cash rate than some of its swanky neighbors and a hotel with its share of London history, it's worth considering The May Fair Hotel.
It has really strong bones, and the rooms are still solid, even if they aren't sporting the latest looks. If you book a paid stay, consider doing so via a program that will include perks such as complimentary breakfast and a spa or property credit, assuming you will have time to make use of those benefits.
The good night's sleep, including a full breakfast for two and the spa credit, made my single-night stay feel special while also helping me get over the hump of that first-day jet lag so I was ready for the rest of my time in London. And being able to walk to Buckingham Palace in just over 10 minutes made it the perfect spot to start my trip.
Related:
FEATURED IMAGE BY SUMMER HULL/THE POINTS GUY
Editorial disclaimer: Opinions expressed here are the author's alone, not those of any bank, credit card issuer, airline or hotel chain, and have not been reviewed, approved or otherwise endorsed by any of these entities.
Luxury Travel News / Inside A Stay At The May Fair Hotel, A London Location Fit For A King / thepointsguy.com/ Jennifer Bar,Tony Bar, Sedat Karagoz / Istanbul,New York Travel,Tourism News Office / Janbolat Khanat / Almaty Travel,Tourism News Office
Pop your email address below to be notified of new posts by email. You can unsubscribed at any time, although I hope you won't!
[contact-form-7 id="19838″ title="Untitled"]