Views: 626
Luxury & Luxury / Dubai's Most Lavish Property To Date: What It's Like To Stay At Atlantis The Royal / thepointsguy.com/ Luxury Travel Exclusive / Sedat Karagoz / Istanbul,New York Travel,Tourism News Office / Janbolat Khanat / Almaty Travel,Tourism News Office
By Caroline Lascom

Atlantis The Royal
Dubai, United Arab Emirates
This post contains references to products from one or more of our advertisers. We may receive compensation when you click on links to those products. Terms apply to the offers listed on this page. For an explanation of our Advertising Policy, visit this page.
EDITOR'S NOTE
Atlantis The Royal provided the writer with a complimentary two-night stay. The opinions expressed below are entirely the author's and weren't subject to review by the hotel or any external entity.
In a city known for its space-age architecture and record-breaking superlatives, a place where everything operates on a bigger, bolder scale, there's no shortage of over-the-top properties in Dubai.
However, few have been as highly anticipated (eight years in the making), as costly ($1.4 billion), and quite as on-brand for Dubai as Atlantis The Royal, which debuted in January of this year.
A mesmerizing work of contemporary architecture, the 43-story hotel and residence complex was designed by eminent New York City architecture firm Kohn Pedersen Fox. The iconic silhouette comprises six towers of Jenga-like glass and steel bricks connected by a sky bridge, located in a prime position on the man-made island of Palm Jumeirah.
When it comes to luxury hotel openings, first impressions are everything. Atlantis The Royal's celebrity-studded "grand reveal" weekend launch party grabbed headlines worldwide with a 60-minute performance by Beyoncé, a culinary masterclass from Jose Andrés, tequila tastings with Kendall Jenner, thousands of free-flowing bottles of Moët Chandon (imbibed via silver slippers), and massive fireworks blazing over Palm Jumeirah. This utterly decadent extravaganza was unprecedented even in Dubai, where luxury and bling are table stakes.
During a two-night Dubai layover in July, I was keen to test Atlantis The Royal's audacious claim to be "the most experiential luxury hotel in the world." Could it possibly live up to all the hype? And what does the hotel offer travelers looking to turn a short layover into a mini vacation?
Here's what it's like to stay at the new Atlantis The Royal in Dubai.
Quick take
In terms of its modern design, high-tech interiors and sky-high price points (during peak winter months), Atlantis The Royal is a world apart from its pink-hued, ocean-themed sibling Atlantis, The Palm, next door, known for its arabesque design flair.
CAROLINE LASCOM/THE POINTS GUY
Walk between two glass-walled, fire-breathing waterfalls into the lobby of Atlantis The Royal, and you'll be immediately greeted by a phalanx of smiling, welcoming hosts. There are so many multi-sensory design features and sumptuous finishes to linger over that few guests make it straight over to the five check-in desks, where I never noticed a line during my entire stay.
Reward your inbox with the TPG Daily newsletter
Join over 700,000 readers for breaking news, in-depth guides and exclusive deals from TPG's experts.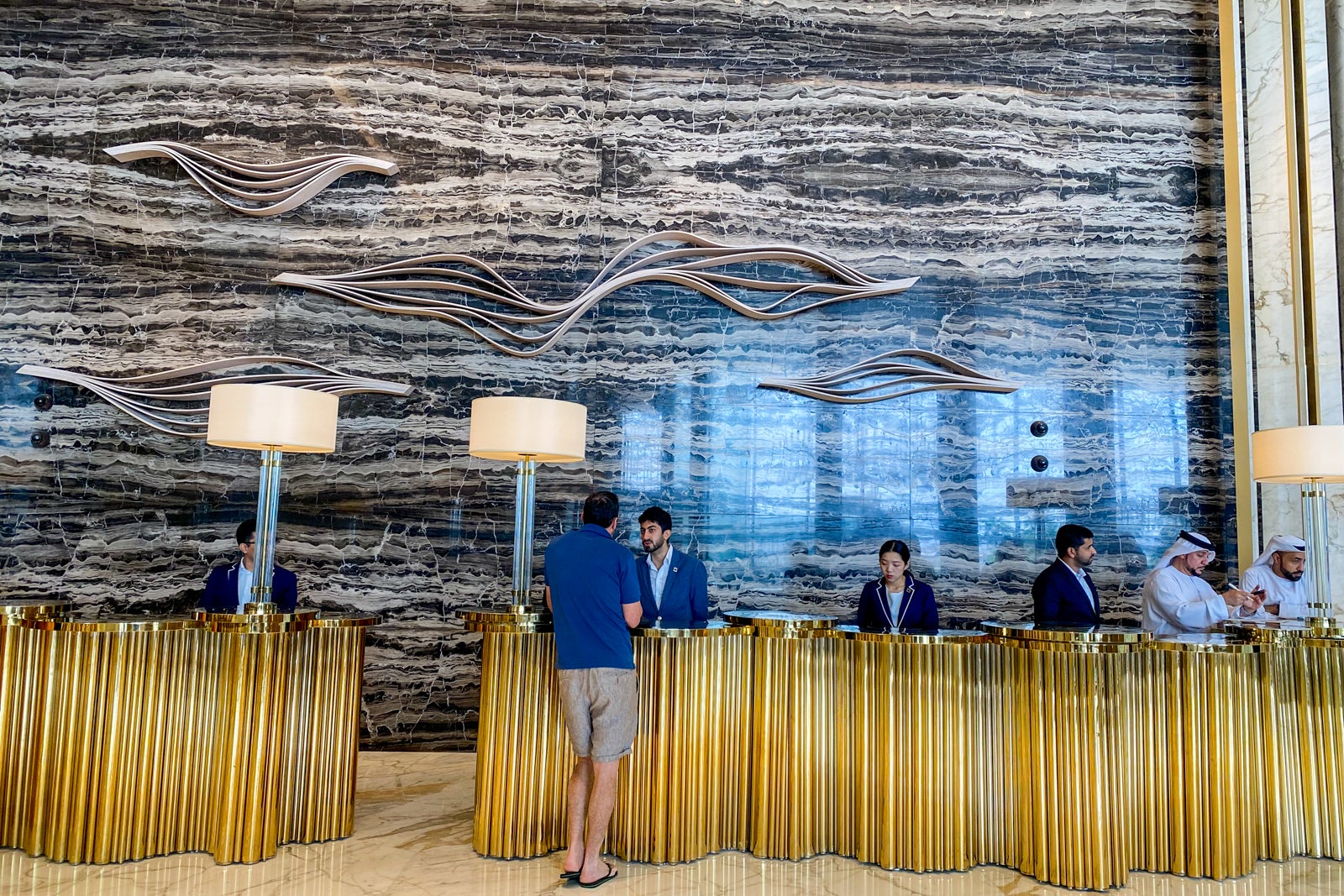 CAROLINE LASCOM/THE POINTS GUY
The captivating lobby is anchored by a 40-foot-tall, 5.5-ton steel sculpture named "Droplets," which symbolizes the first drops of rain in the desert. The water theme continues with a 21-foot-tall jellyfish aquarium (one of the world's largest) housing 4,000 moon jellies and cylindrical glass elevators surrounded by cascading water.
My arrival was right on cue for Skyblaze, a water fountain show set to music that "breathes fire" every 15 minutes outside on the terrace, framed by the glittering Dubai skyline.
Download the TPG App today!
Maximize your spending, earn rewards faster, and easily track all of your points and all of your miles all in one place.Learn More
Everywhere you look, there are premium materials — and someone diligently buffing and polishing them. The floors are covered with sumptuous marble and onyx, glistening gold accents frame floor-to-ceiling windows, and ceilings are studded with glass pendants.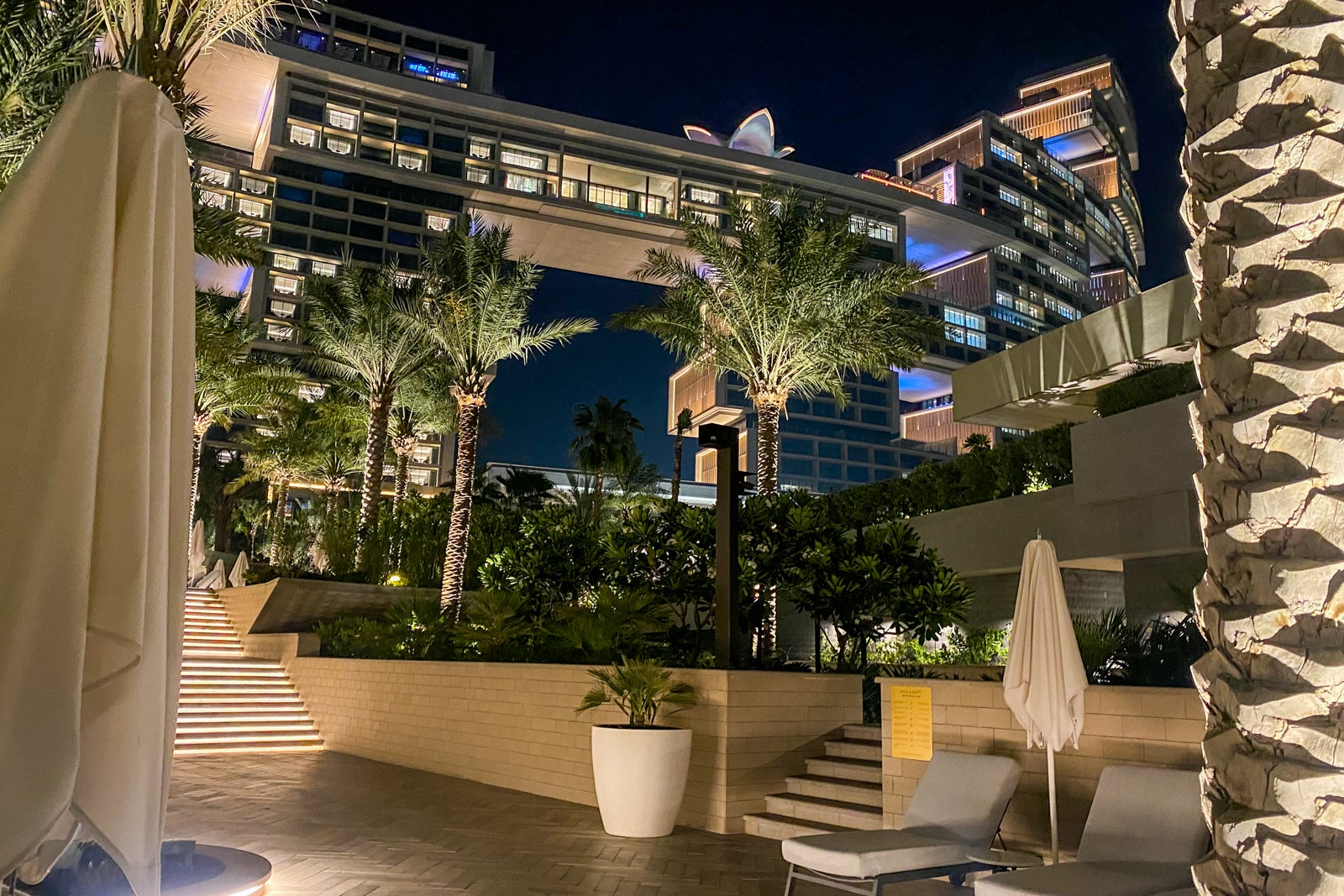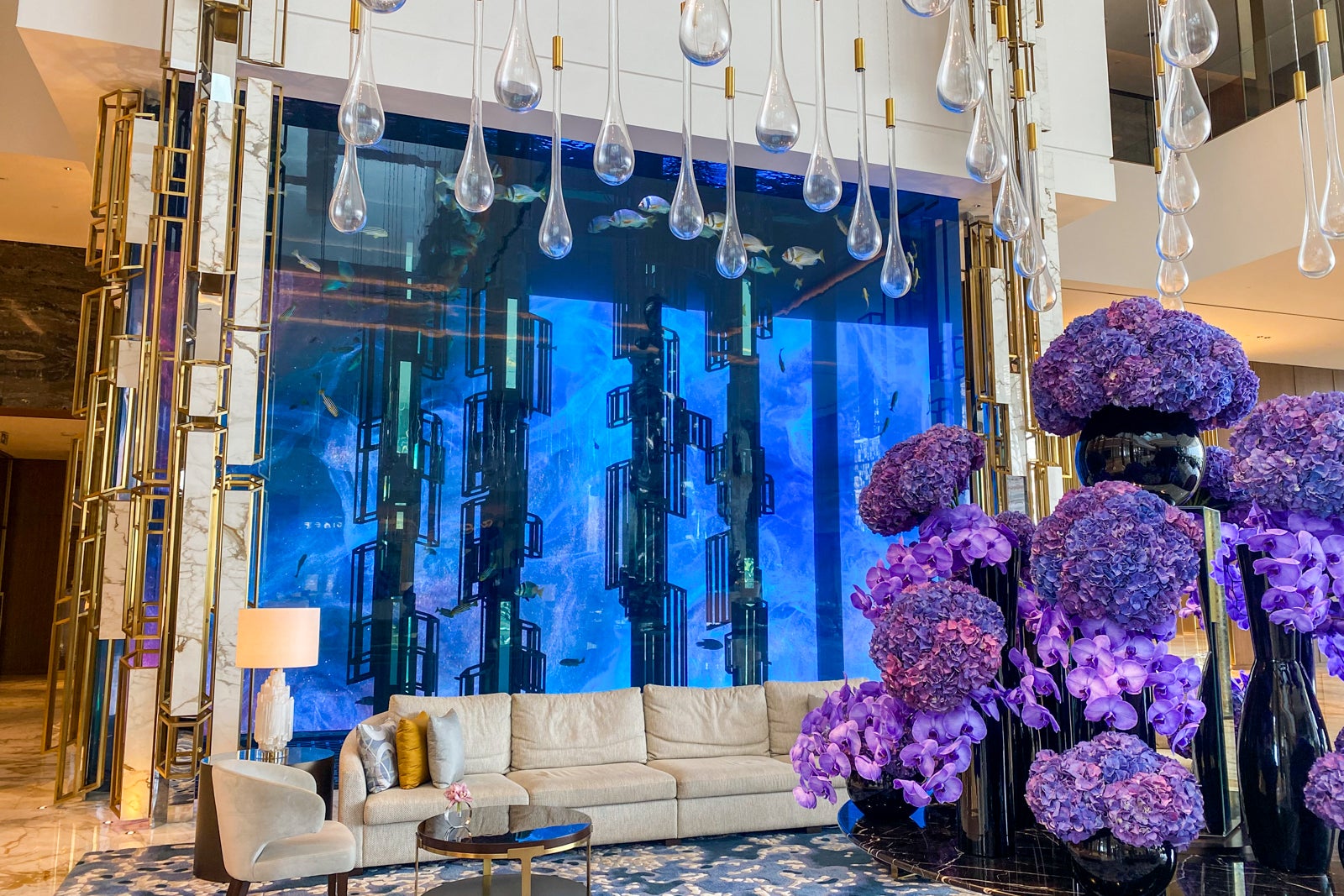 In short, everything feels designed to impress and overawe.
Getting there
Thanks to the success of Dubai's international carrier, Emirates, Dubai is a popular layover destination, a major crossroads for intercontinental flights to India, Asia, Europe and Africa, as well as far-flung islands such as the Maldives and Madagascar. The hotel is 23 miles south of Dubai International Airport (DXB), one of the world's busiest hubs.
If you arrange transportation with the hotel ahead of time, it will cost you 450 dirhams ($122) in a Mercedes-Benz V-class. However, unless you are keen to arrive in style, there's no need to book transportation in advance. Fleets of official taxis line up in neat rows just outside the arrivals hall.
I took a taxi from the airport, which cost 121 dirhams (around $33) and took 35 minutes. In terms of transit, this was one of the easiest layovers I've experienced. Within just 20 minutes of deplaning, I was en route to the hotel.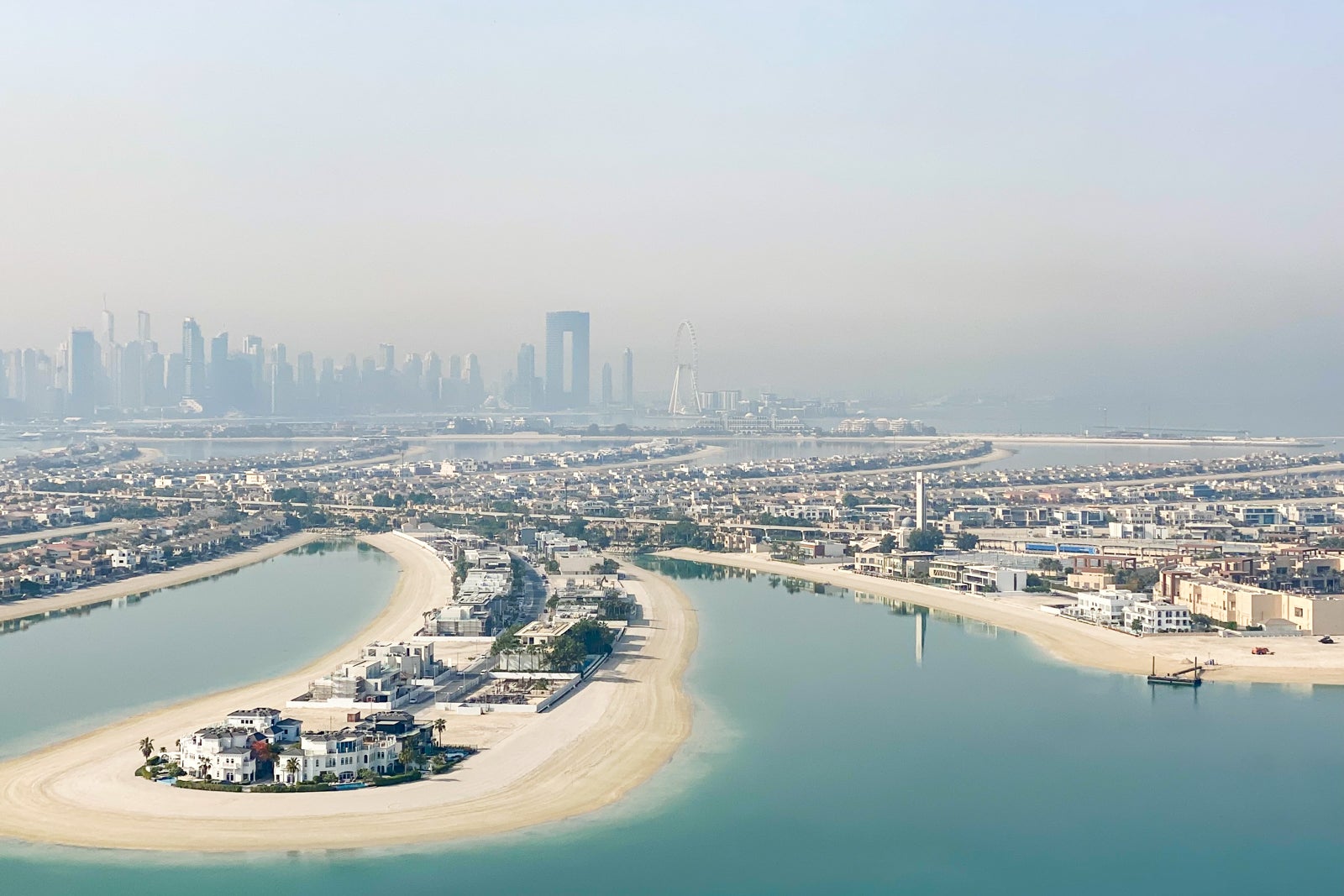 CAROLINE LASCOM/THE POINTS GUY
You can't beat the hotel's location, overlooking the Arabian Sea on one side and both Palm Jumeirah and downtown Dubai on the other — especially if you are looking for a self-contained resort experience on the Palm.
If you plan to explore the rest of Dubai, you'll need to rely on taxis or pricey hotel car services and figure in transportation time for all attractions. Dubai Mall, Burj Khalifa, and Ski Dubai are all approximately a 30-minute drive away.
Booking details
Atlantis The Royal is owned by Kerzner International (the developer for One&Only resort brands), and, like Atlantis, The Palm, it remains independent and not aligned with any points programs.
Rates start from $570 per night for an entry-level Palmscape King or Queen room (like mine, detailed below) or Seascape King or Queen room but soar to well over $1,000 per night during the winter and $3,000 should you choose to splurge on a 1,270-square-foot Sky Pool Villa with a 1,000-square-foot (minimum) terrace, a private infinity pool, a separate living and dining area, and a private butler. Not surprisingly, the best deals can be found during the searing summer months, from June through August.
Standout features
I was fascinated by the architecture and design features. Unlike Vegas, where I've always quickly had enough, I found myself walking around still looking for and wanting more.

Every staff member, from the industrious bell staff and passionate restaurant servers to the on-point pool attendants and outstanding housekeepers (who came three times a day), ensured that service was flawless, intuitive and warm.

Elegant rooms marry style and substance, with one of the best hotel beds I've ever slept in and incredible views of the Palm and Dubai from pretty much every vantage point.

Culinary excellence and diversity – the entire Atlantis hotel complex is home to three Michelin-starred restaurants and eight restaurants with menus created by Michelin-lauded chefs.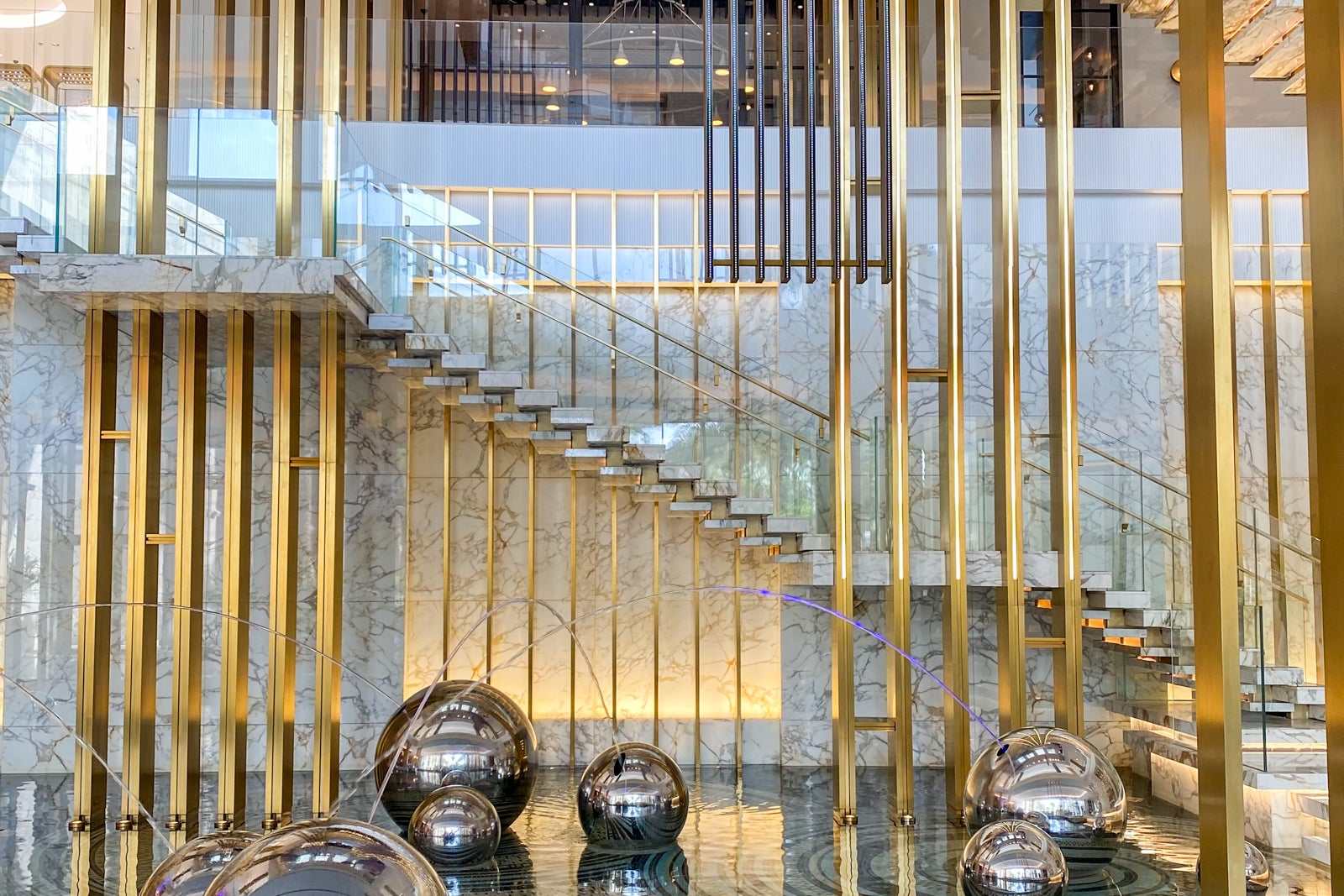 CAROLINE LASCOM/THE POINTS GUY
Caveats
For travelers looking to experience Dubai's attractions, Old Town and local restaurants, Atlantis The Royal's location may feel too isolated and logistically challenging.

While there is an inviting family pool and children are made to feel very welcome, this is very much a grown-up resort that caters to style-conscious couples and multi-generational families with teens and older children.

The Atlantis Atlas Project aims to minimize environmental impact by reducing plastics, eliminating food waste, and sourcing local food where possible, which was all very much in evidence. It was surprising, though, to still see mini, single-use toiletry bottles in the bathrooms.

Rates are high compared to other high-end Dubai hotels, even those at the pinnacle of the luxury category.
The vibe
With a design focus on water and light, as well as enormous windows that immediately draw visitors' attention to dazzling skyline views, the lobby didn't feel as overwhelming or as overtly showy as I anticipated. Different seating arrangements, textures and focal points created a relaxed intimacy despite its vast scale.
The terraced Royal pools, which lead down to the private beachfront, are shaded by palms and vegetation to provide privacy and seclusion for couples and families — and the perfect place to get over any jet lag with a quick nap.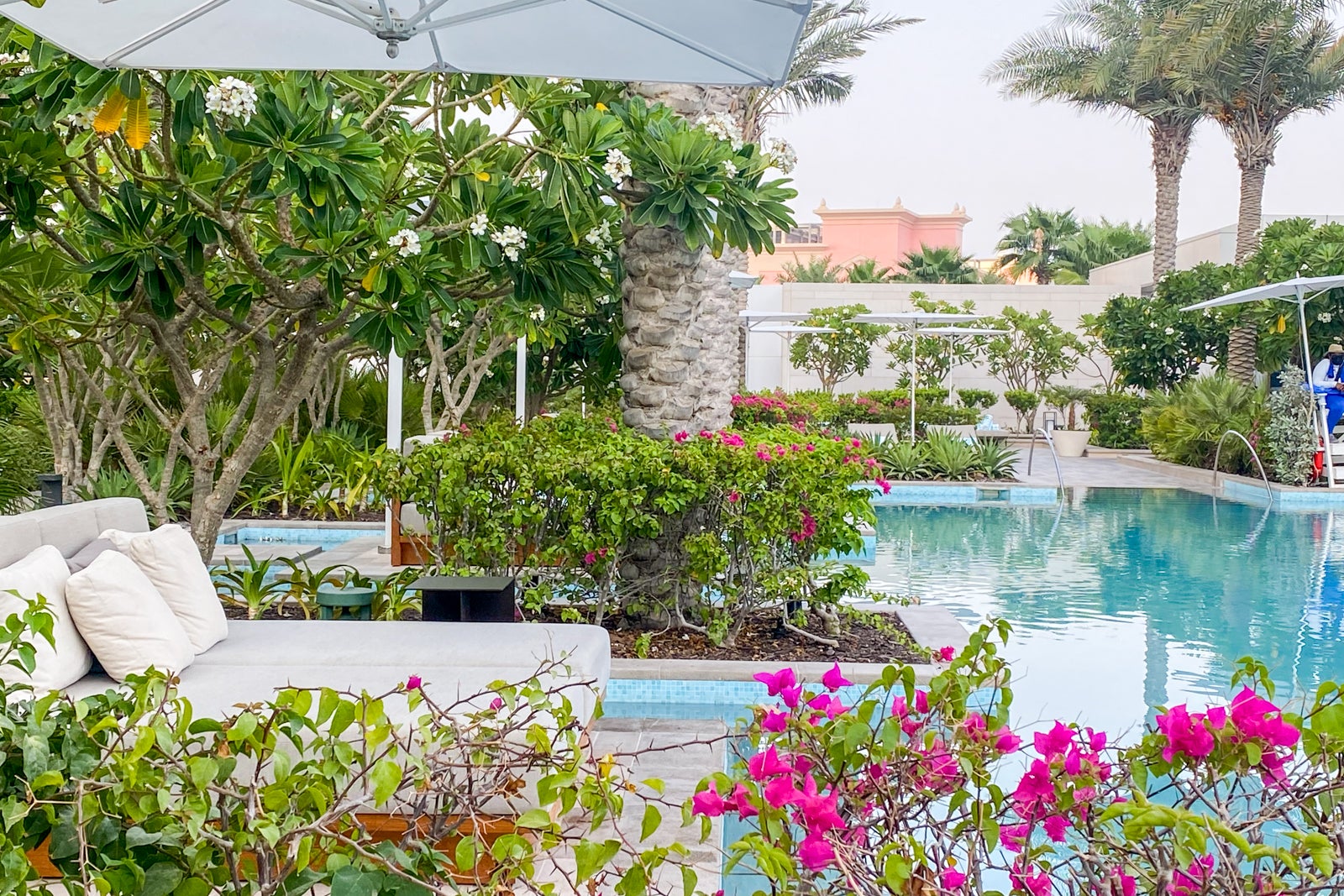 CAROLINE LASCOM/THE POINTS GUY
Over at Nobu by the Beach and at the Cloud 22 sky pool, a more style-conscious, clubby vibe prevails with cocktails flowing and plenty of Insta-moments being captured and replayed.
Whatever mood you are looking for, you can surely find here. At night, most guests dress up for dinner — there's a smart-casual dress code (no sandals or shorts for men) in most restaurants. For the most part, though, the ambience is approachable and low-key, and everyone just seems to be having a really great time.
The room
With 795 rooms, suites and penthouses (including 44 with private infinity pools), all with views of either the Palm (and Dubai skyline) or the Arabian Sea, there are plenty of accommodations to choose from. My entry-level Queenscape Palm View Room with two queen beds was on the 26th floor and measured just under 600 square feet.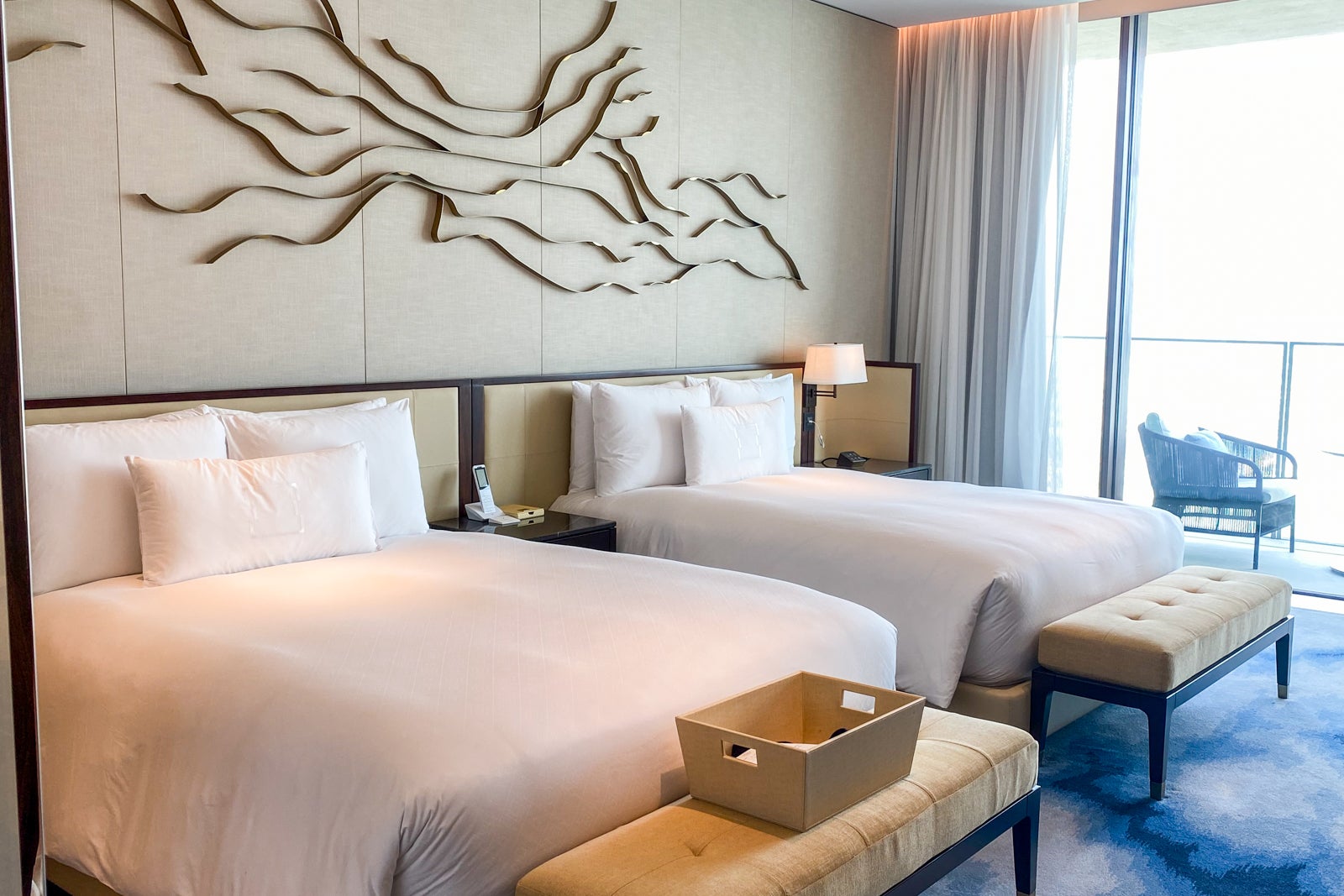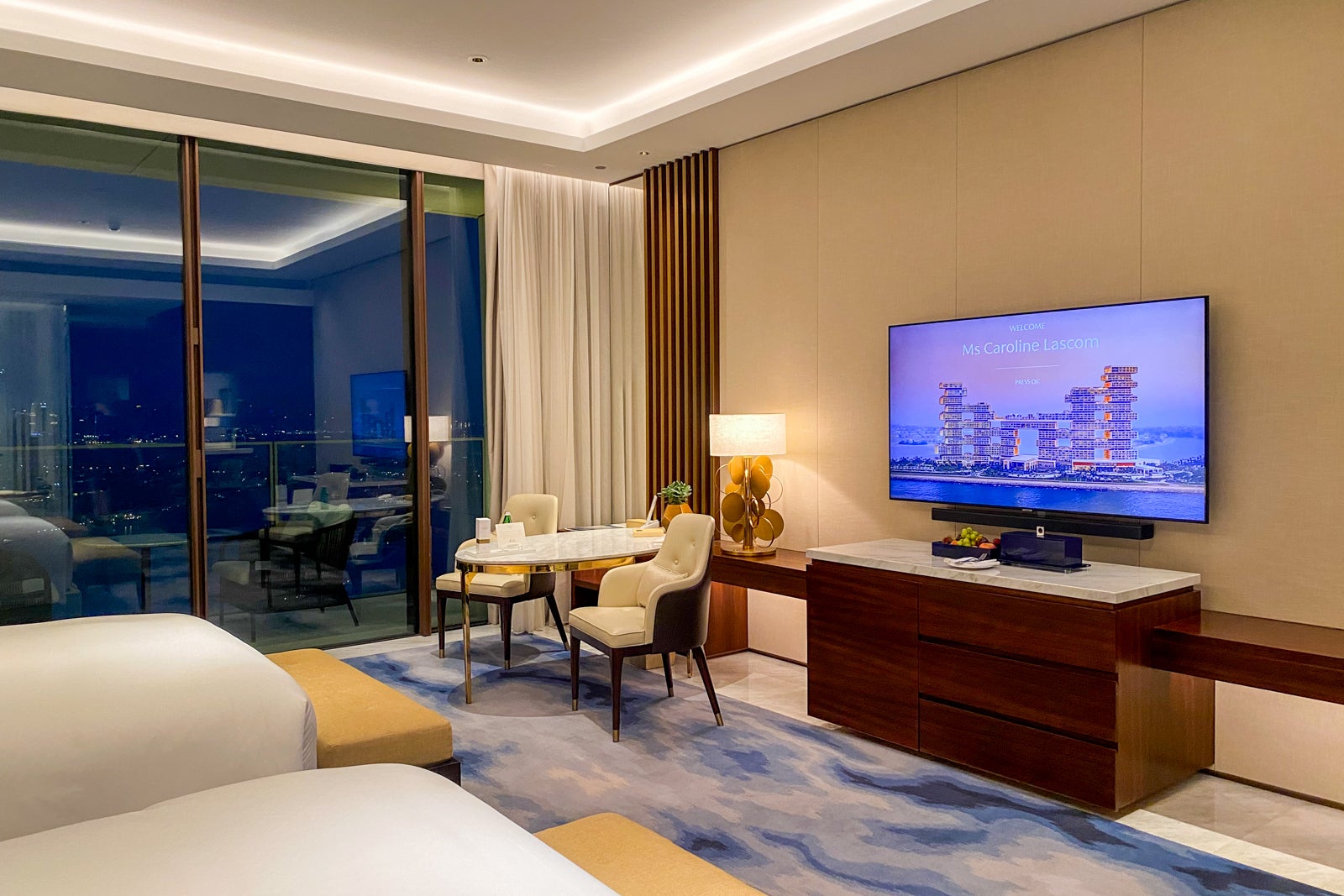 With a muted grey and white color palette, elegant dark wooden furnishings and plush carpet with undulating streaks of blue, the overriding aesthetic was of restrained sophistication.
My eyes were immediately drawn, though, to the large terrace, which was far and away the highlight of the room, with sweeping views of the Palm framed by Dubai's skyscrapers.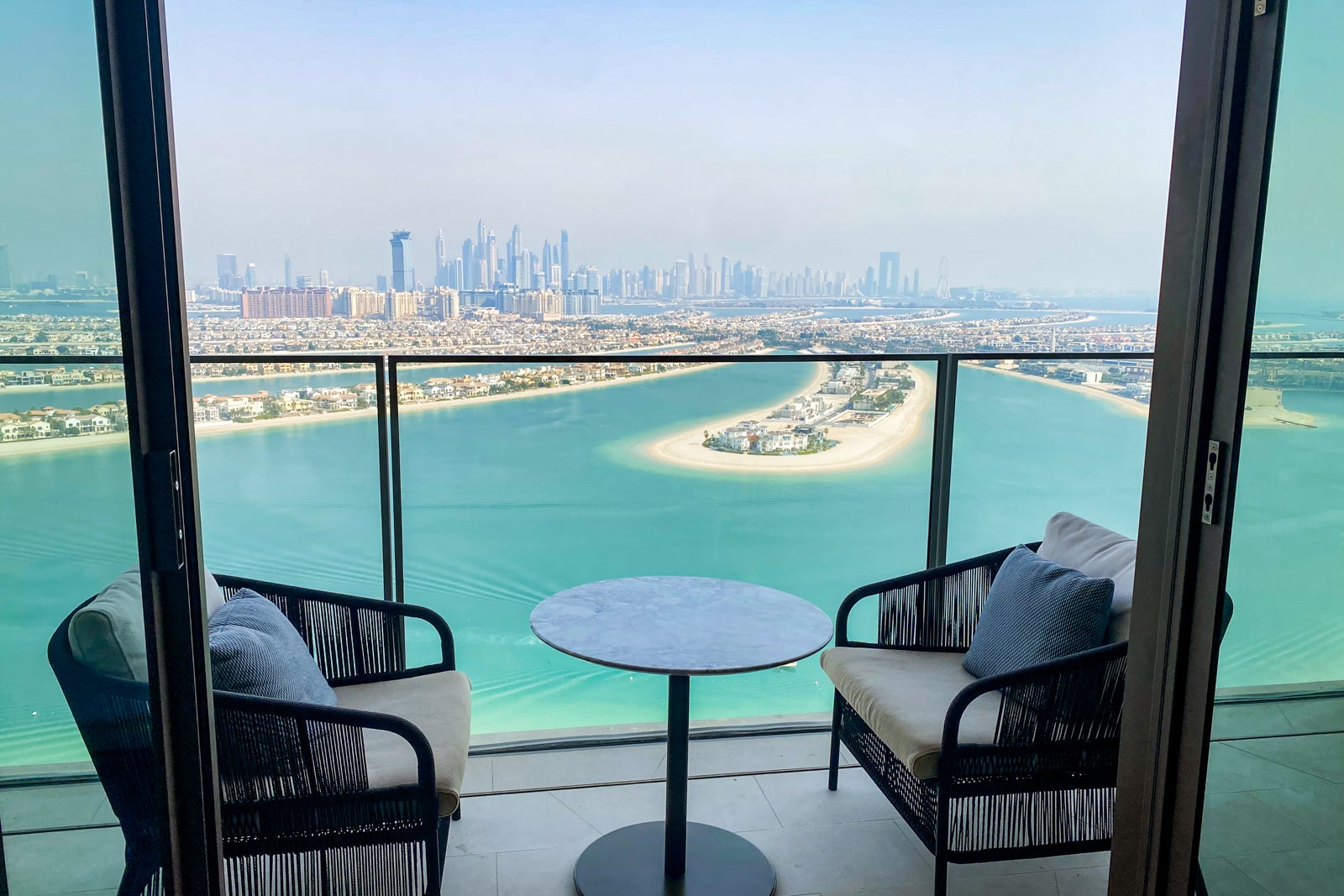 CAROLINE LASCOM/THE POINTS GUY
In the corner of the room, an oval marble table and contemporary light fixtures gleamed with gilt accents, and two sleek armchairs provided a seating area and comfortable workspace (with thoughtfully placed outlets), ideally positioned to take in the views. There was also a large flat-screen TV and complimentary Wi-Fi, which was fast and reliable.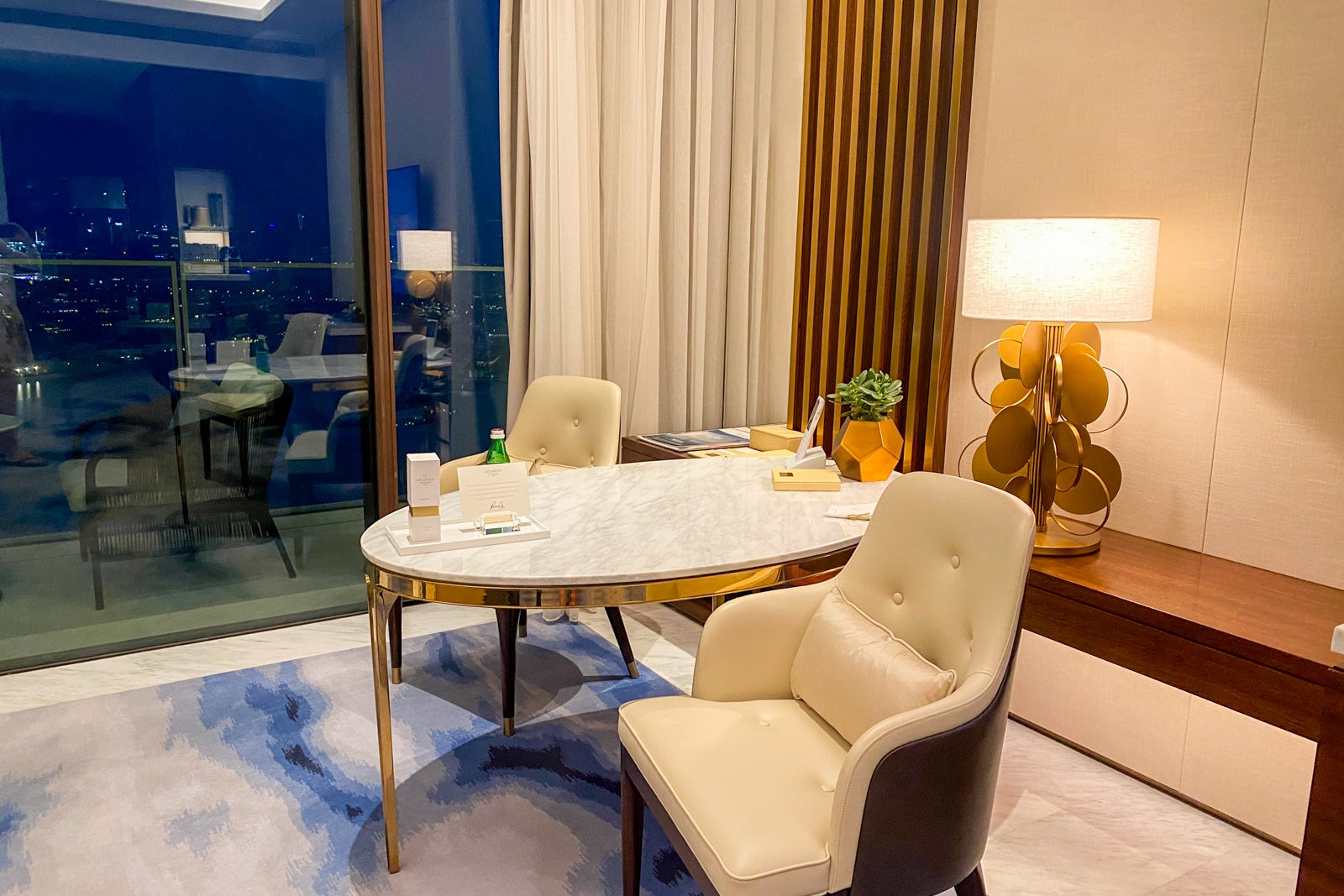 CAROLINE LASCOM/THE POINTS GUY
The sumptuous marble bathroom with a deep soaking tub and dual vanities was separated from the bedroom by "magic glass" and stocked with Acqua di Palma toiletries in the shower, as well bespoke amenities from Graff and super-soft Frette bathrobes and towels. The only real evidence of bling was a gold-rimmed, white, lacquered box that housed a gold-colored comb, razor and toothbrushes.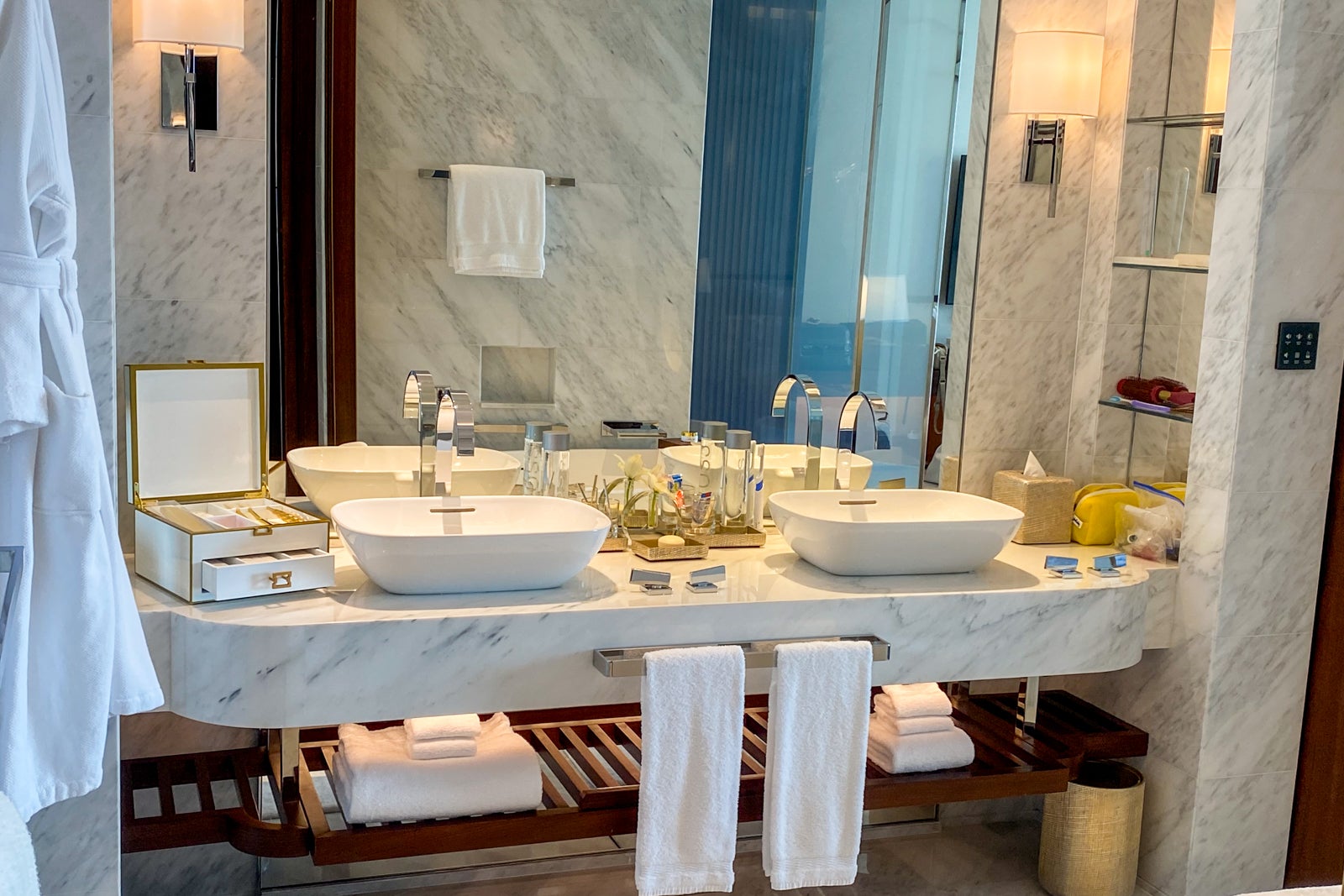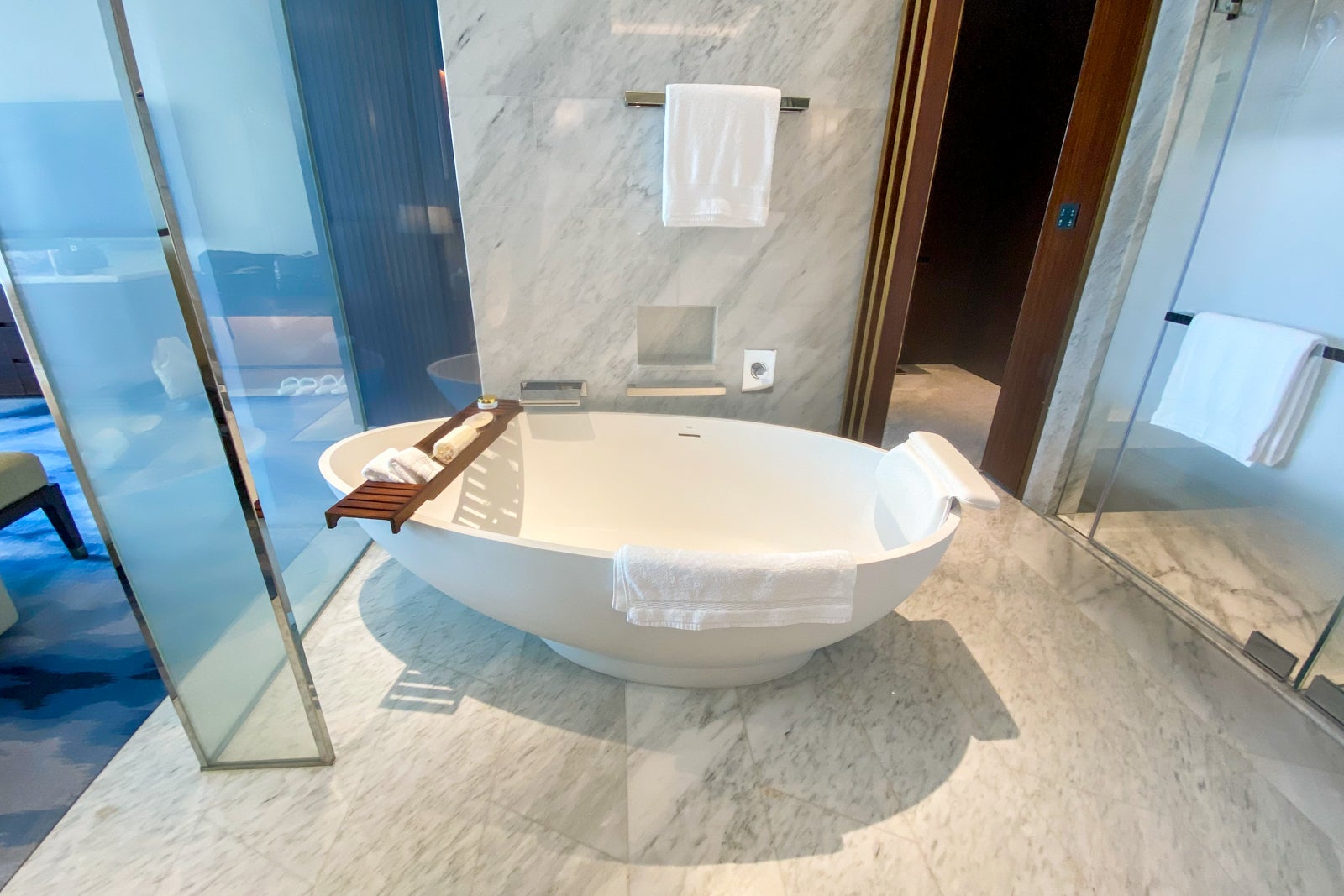 Just off the entryway was a massive walk-in wardrobe and dressing room, which featured another full-length mirror. By the bedside was an illuminated touchscreen panel with six lighting options and more outlets compatible with British, U.S. and European plugs and chargers.
Exploring my room, I did find myself falling under Dubai's superlative spell, finding the provided slippers to be extra fluffy, the sheets extra satiny, and the pillow density just right for snuggling under the cloud-like comforter. Housekeeping seemed to magically appear at exactly the right moment (right when we were leaving the room), and often bearing treats, such as a little white drawstring bag filled with mini aftersun lotions.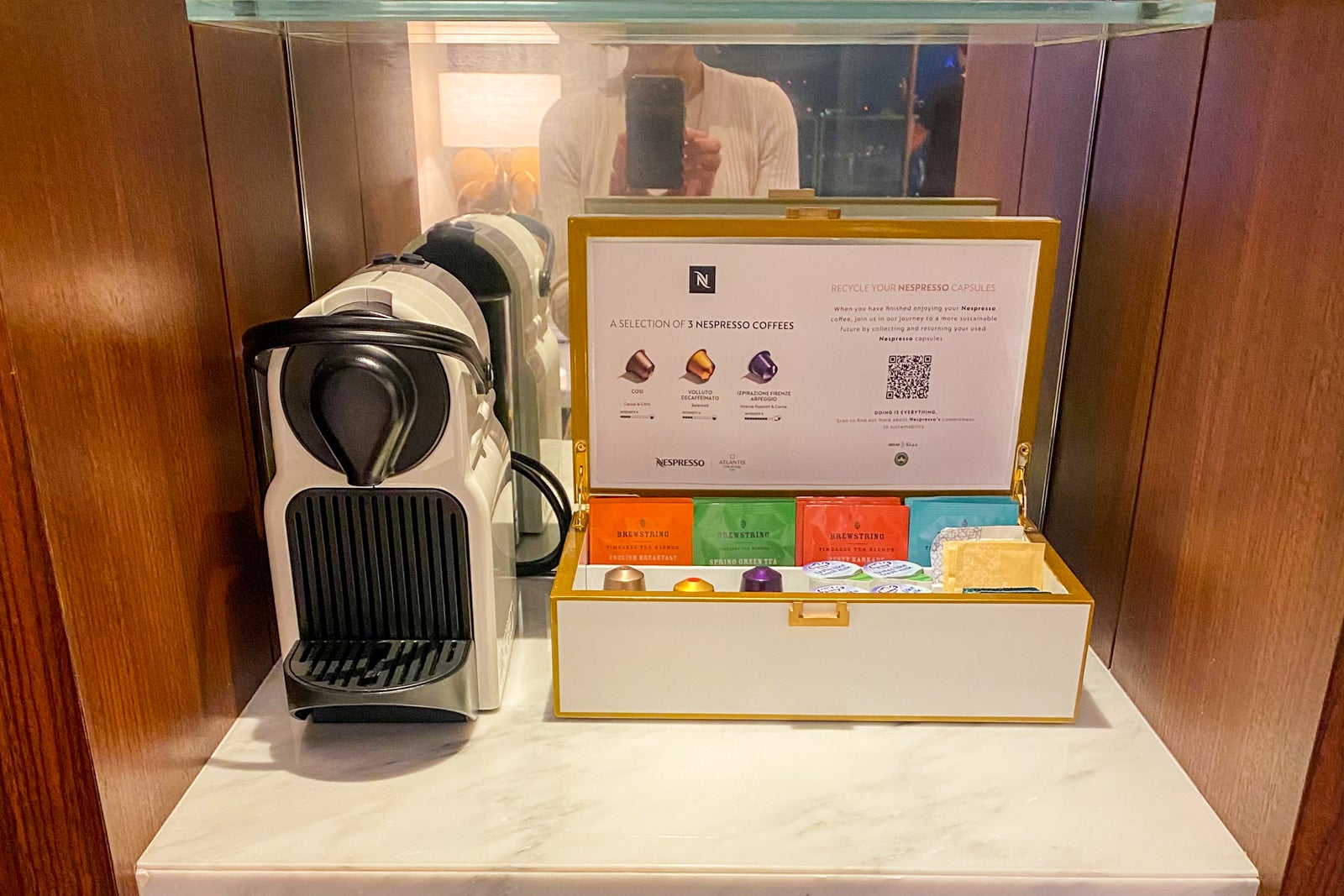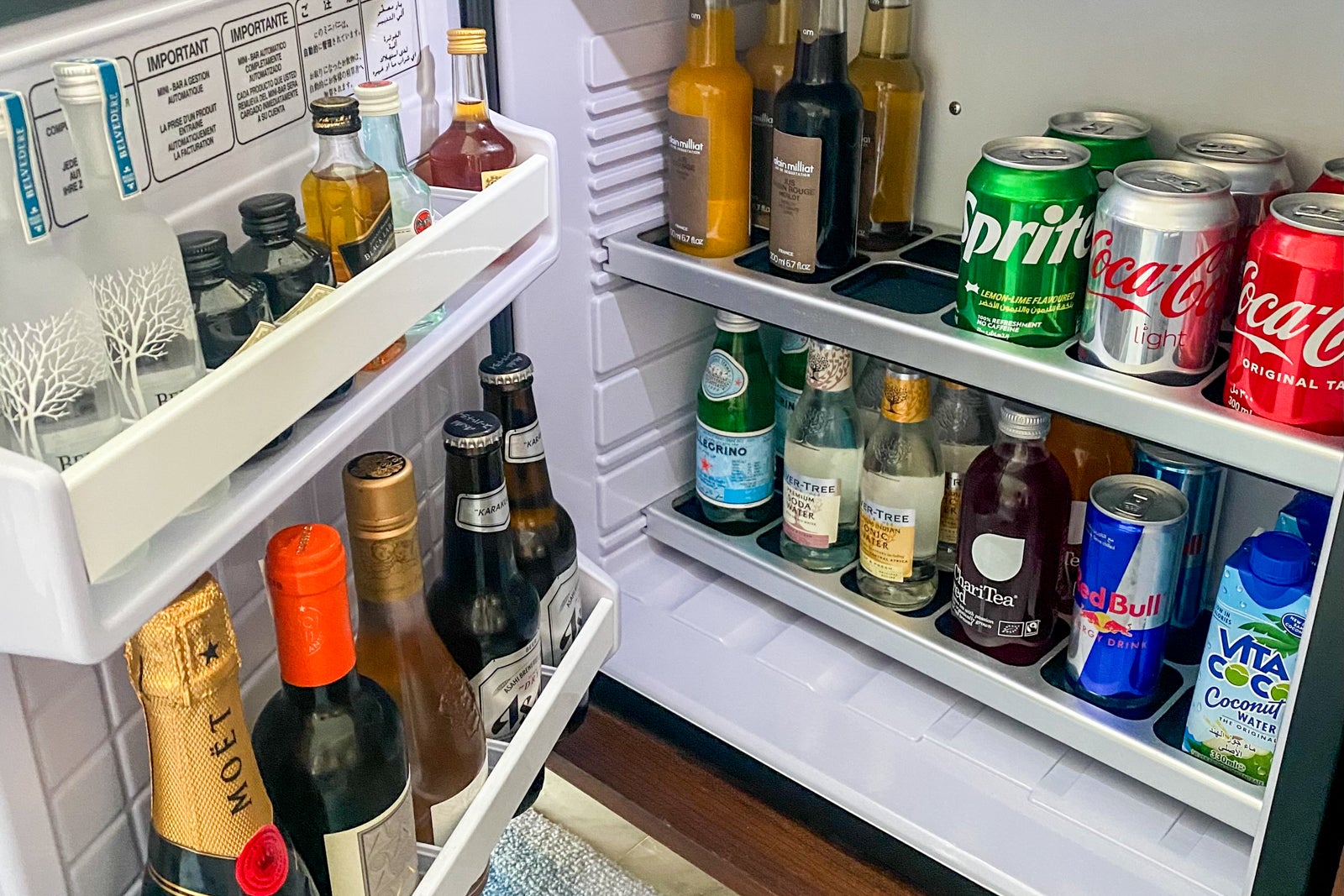 The six large glass bottles of complimentary Voss water were replenished twice daily, along with a selection of Nespresso pods, various teas, and a well-stocked minibar. I was still coming across accessories, like a woven beach bag and two pairs of flip-flops, in drawers on my last morning.
Since I had already been traveling for 10 days, I was able to test out the express laundry service, which had a flat rate of 200 dirhams (around $54) for 10 items (dry clean or regular wash) and our clothes came back laundered and folded so neatly that I almost didn't want to pack them away again.
Food and drink
With 17 restaurants and bars, including eight helmed by celebrity chefs, foodies could happily indulge for at least a week at Atlantis The Royal, though I did my best in two days.
You can trace centuries of British culinary heritage at Dinner By Heston Blumenthal, where the famed chef conjures his pioneering molecular gastronomy; sample classic Spanish tapas from Jose Andrés at Jaleo; or slink over to the fashionable Nobu by the Beach (the brand's first pool and beach club), to chill, dine on Japanese bites and listen to live DJs. While restaurants at The Royal are pricey, they were on par with what I'd expect to pay at a high-end restaurant back home in Chicago.
La Mar by Gastón Acurio
With outposts in Lima and Miami, La Mar is helmed by Gastón Acurio, the celebrity chef credited with thrusting Peru's national dish, ceviche, into the spotlight.
Inside the sleek dining room, a buzzing open kitchen and a centerpiece seafood bar are surrounded by richly hued tiles and mosaics, and ocean-inspired glass pendant lighting. It was still too hot at 8 p.m to dine on the terrace with skyline views, but the bustling indoor dining room was pleasant.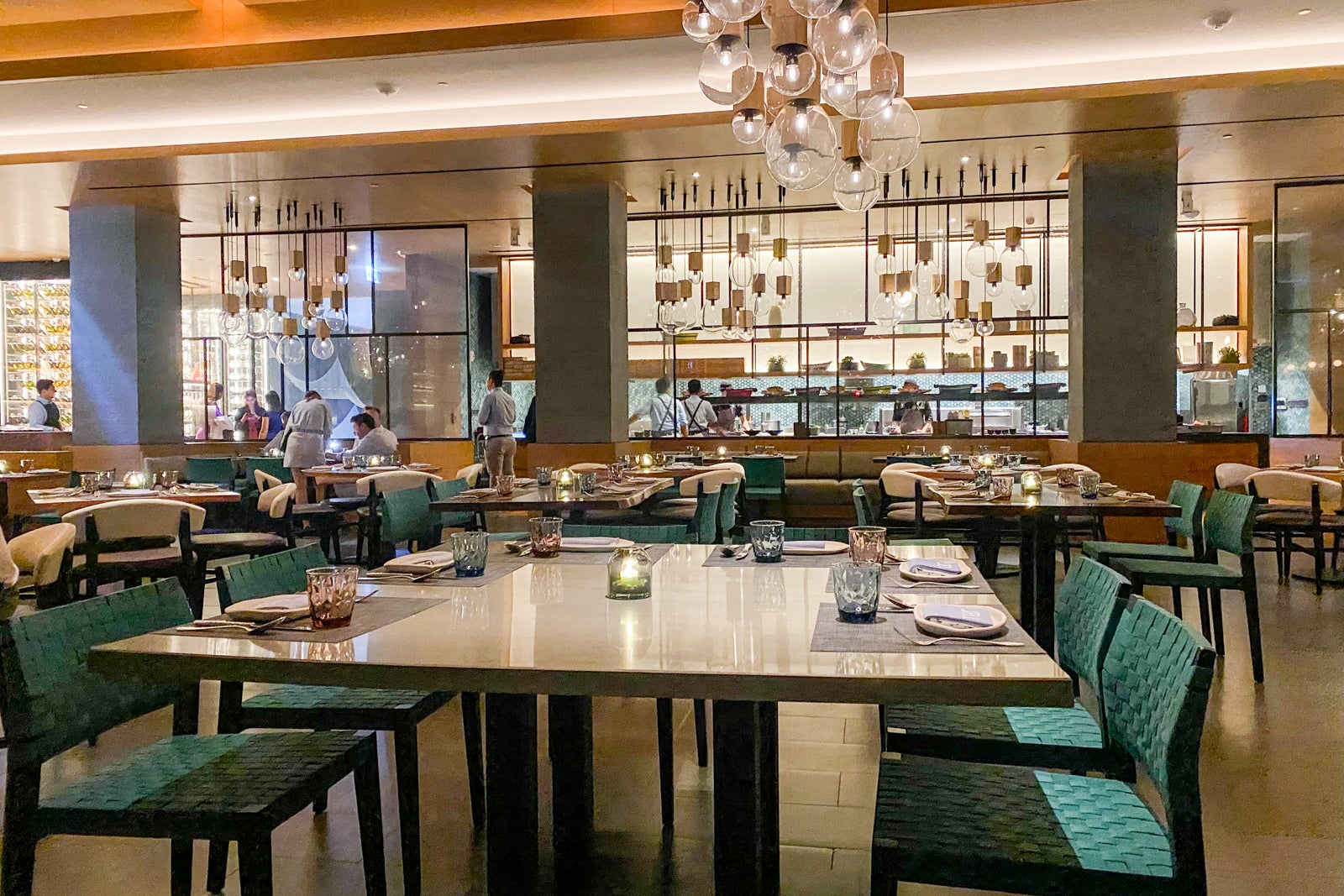 CAROLINE LASCOM/THE POINTS GUY
The menu showcases contemporary and classic ceviche, nigiri, anticuchos (Peruvian skewers) and larger rice dishes ideal for sharing.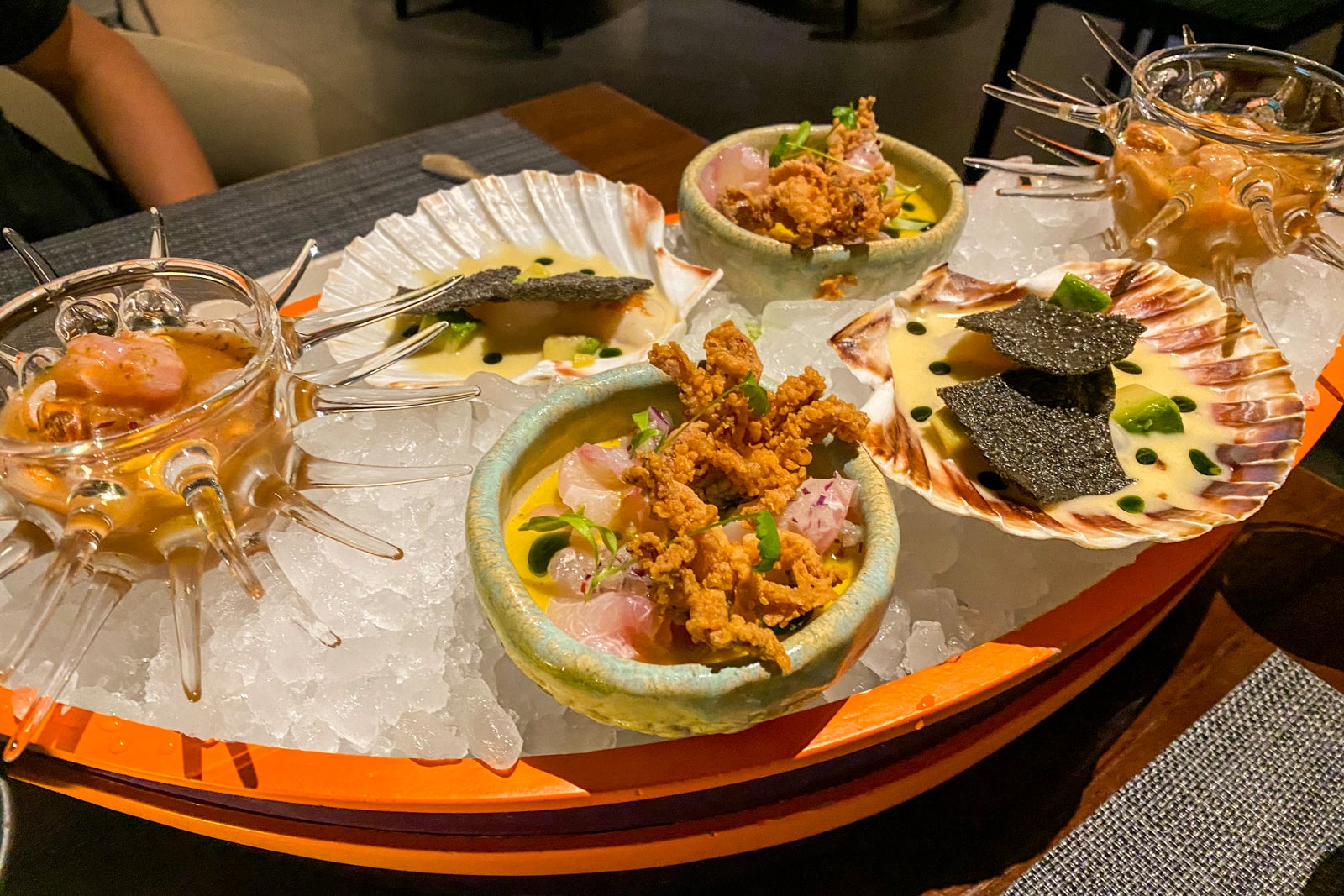 CAROLINE LASCOM/THE POINTS GUY
After ordering a frothy pisco sour, I took the advice of our knowledgeable server and opted for the chef's multi-course menu, which included a cebiche tasting (190 dirhams, or $51), nigiri cebichero of Hokkaido scallop with Peruvian yellow chili (55 dirhams, or $14), and arroz con mariscos, Peru's traditional take on paella, with scallops, squid, octopus and shrimp (340 dirhams, or $92). The highlight was definitely the incredibly fresh cebiche and nigiri. The rice dish tasted flavorful and soaked up all the seafood flavors, but it was just a little on the heavy side, especially given everything else we'd tasted.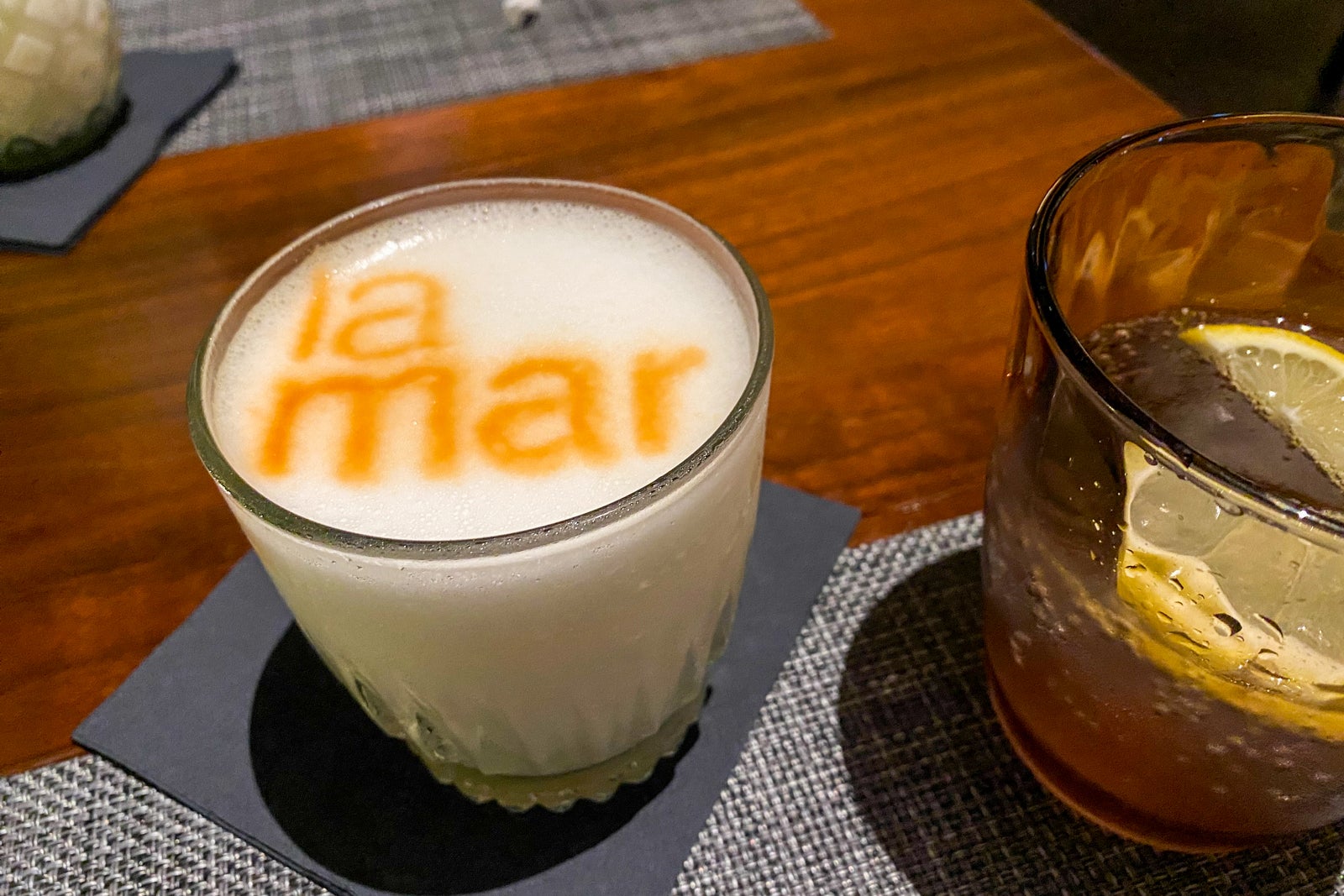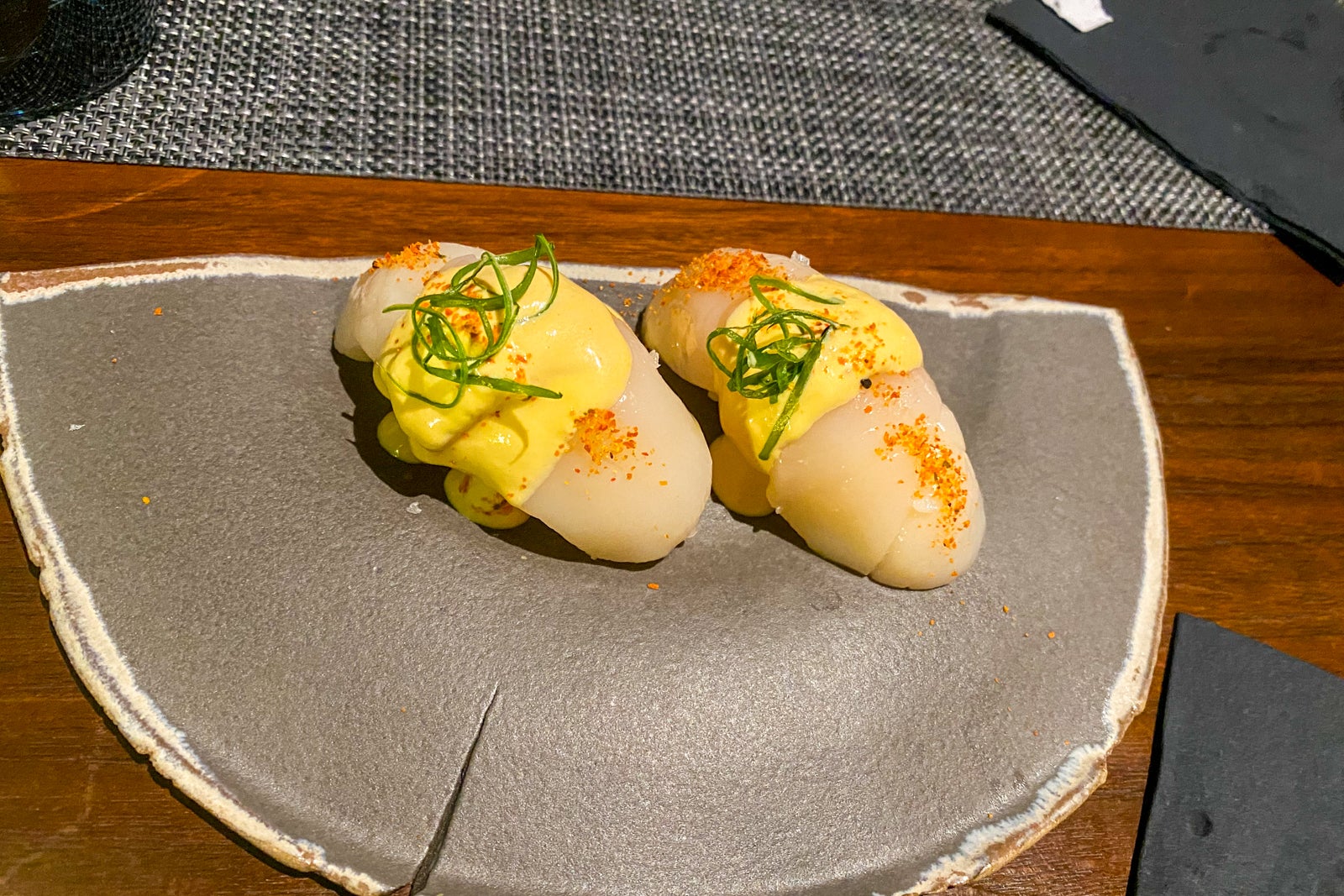 Jaleo by Jose Andrés
On the second night, we dined at Jose Andrés' Jaleo, the restaurant brand known and loved for its classic tapas, paellas, Spanish cheeses and jamón. Many dishes hail from Andrés' family recipes and are made for sharing.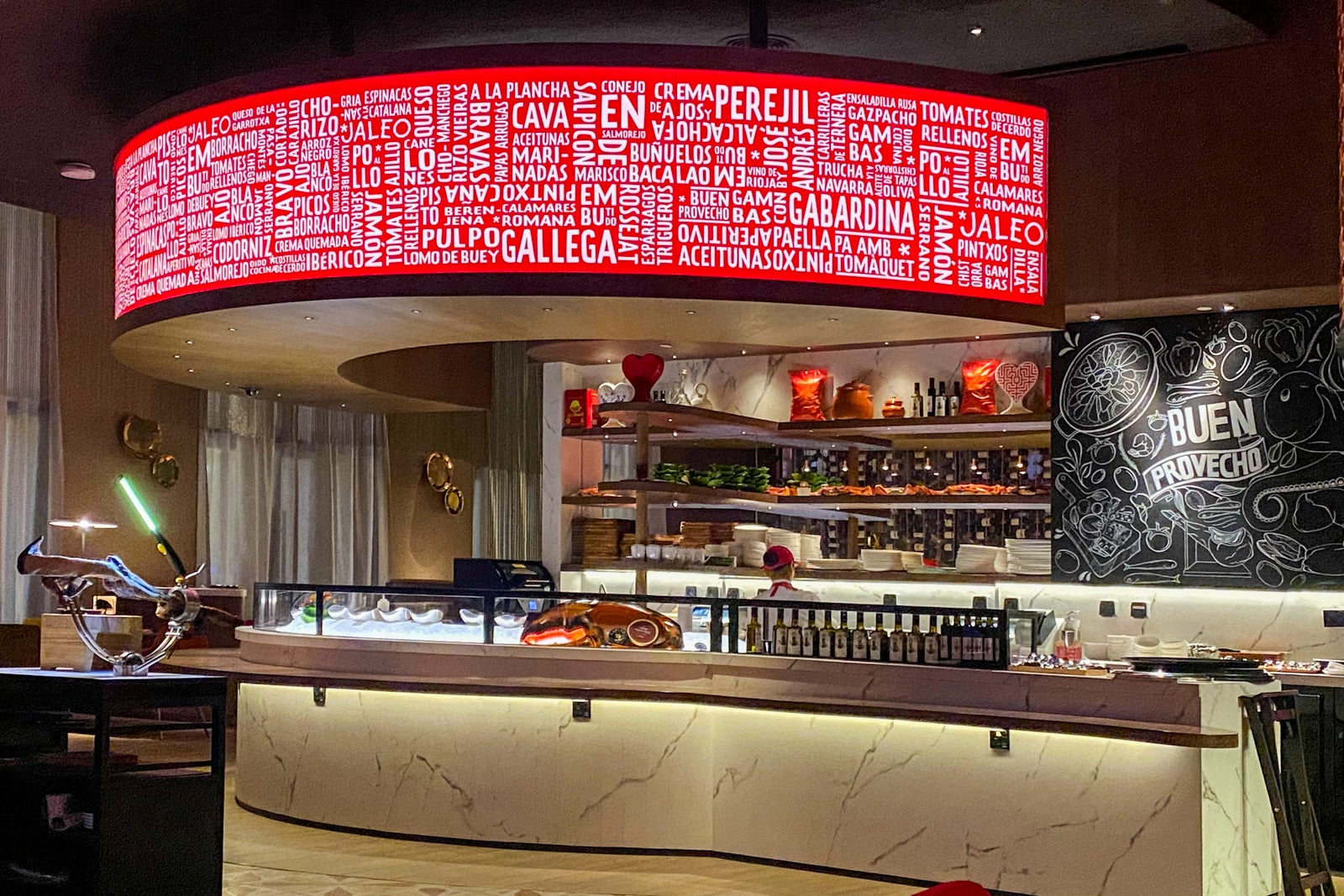 CAROLINE LASCOM/THE POINTS GUY
Inside the vibrant dining room — all bold red light fixtures, plush leather booths and decorative elements with a dash of surrealism — colossal pans of paellas simmer at the open kitchen.
Outside, the sunken terrace with a busy bar and ornamental water features is a lively place to end the night with a glass of Spanish wine.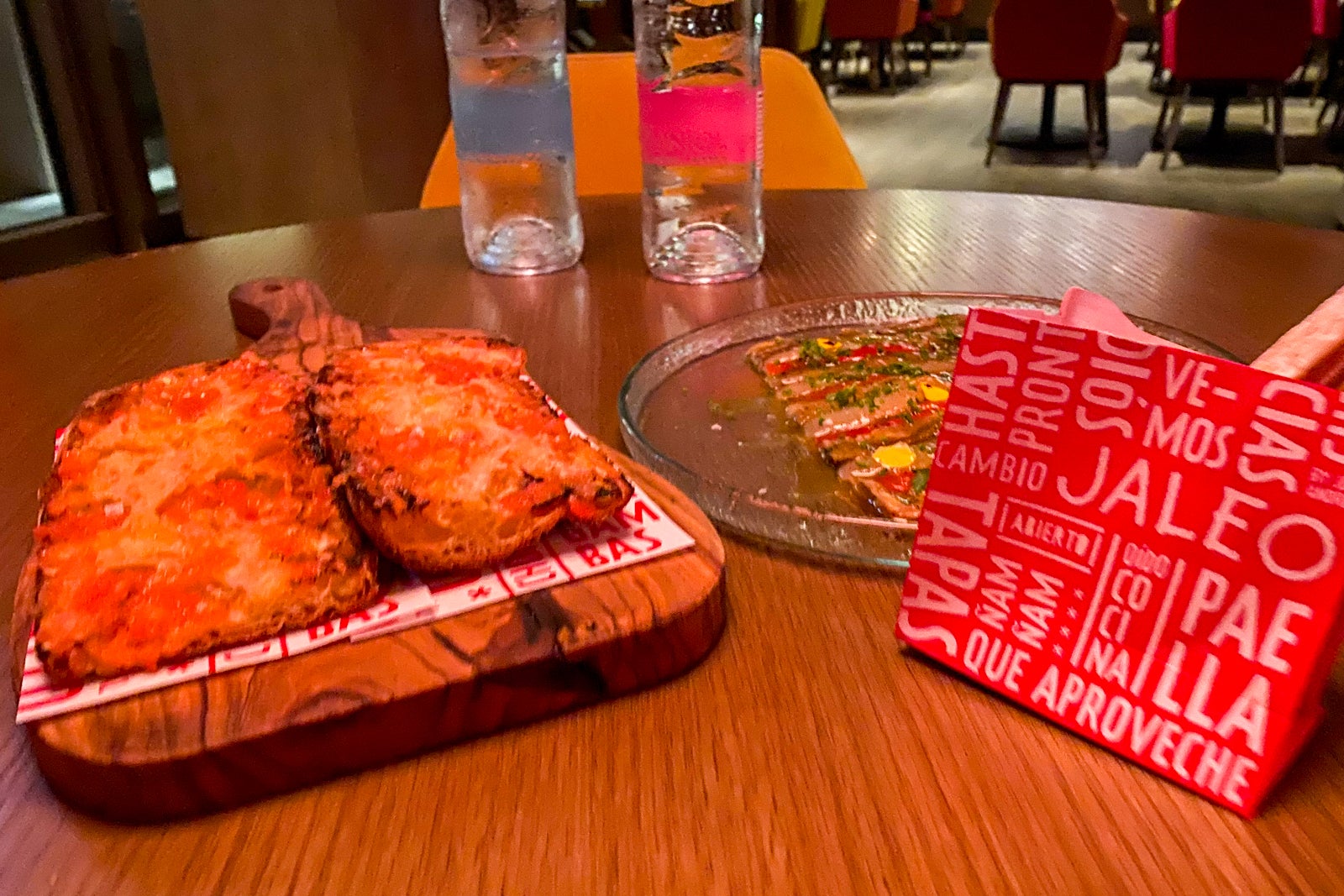 CAROLINE LASCOM/THE POINTS GUY
We grazed across most sections of the expansive menu but especially enjoyed the piquant, authentic flavors of classic tapas, such as pan con tomate (toasted bread topped with tomato, garlic and olive oil, 45 dirhams or $12); tender chargrilled octopus (160 dirhams or $45); and patatas bravas (spicy potatoes, 60 dirhams or $14).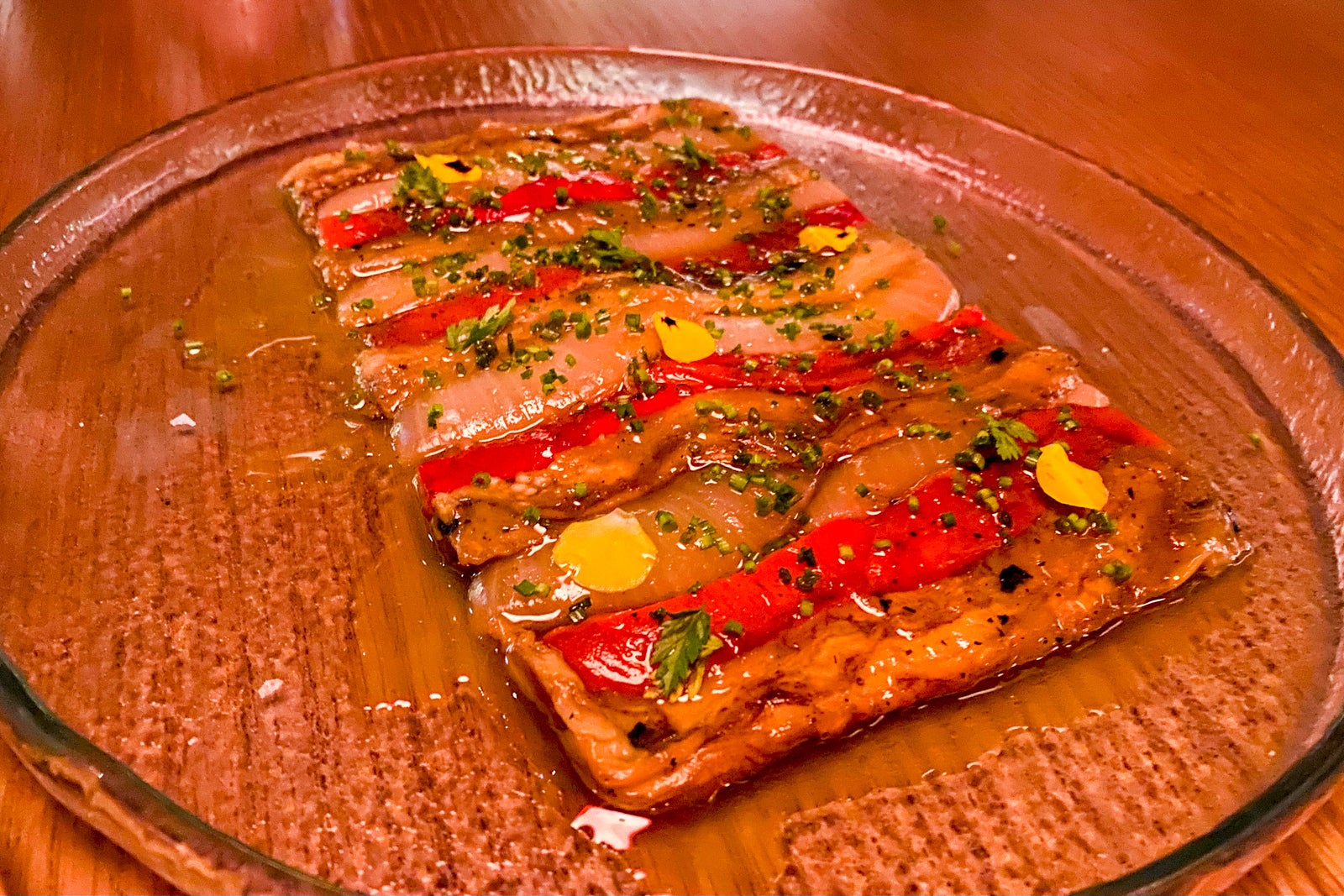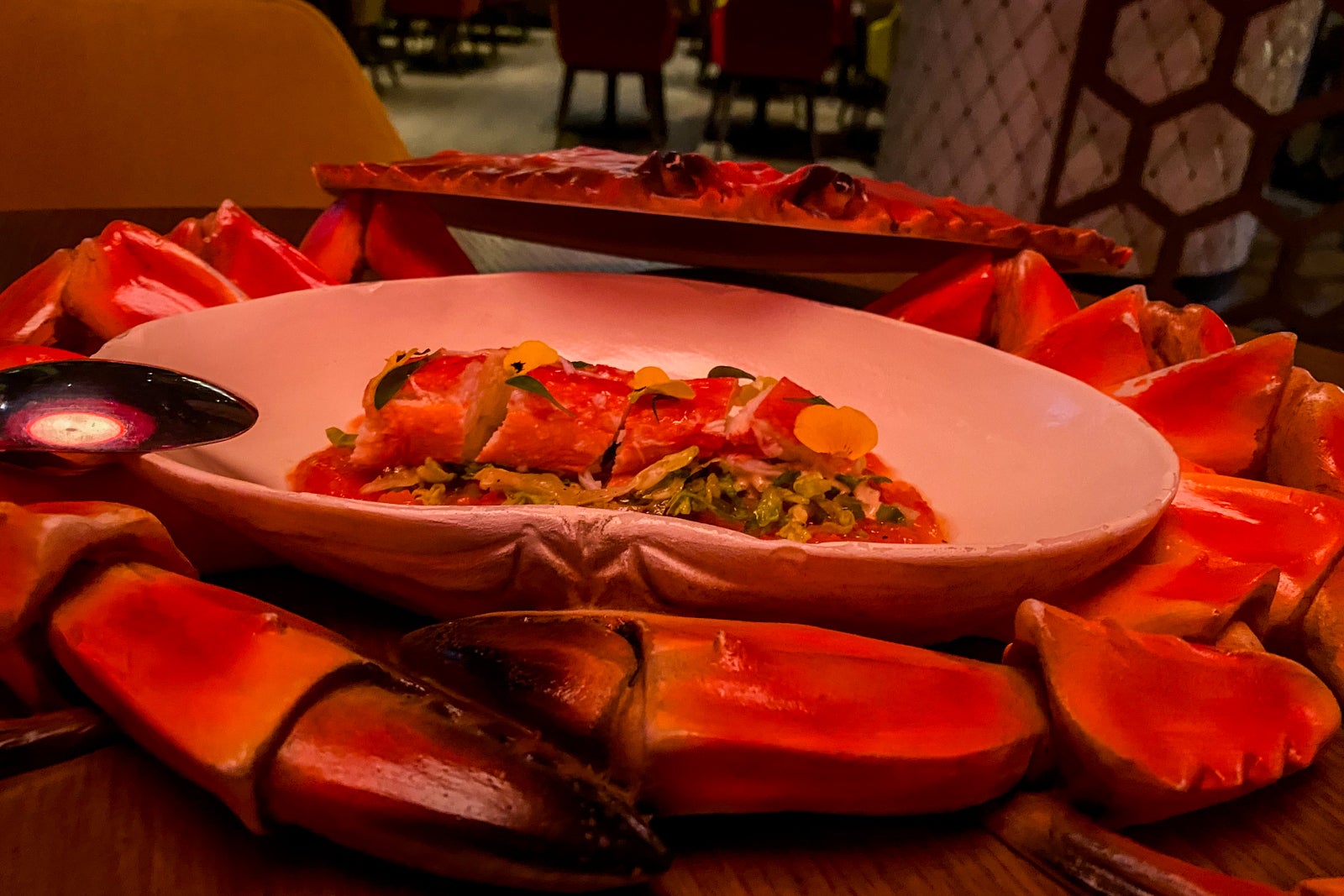 Jaleo's signature dish is the Paella Valenciana (50 dirhams, or $177) which is a commitment, serving four people. If you are a couple and just want to sample it (or are simply fazed by the number of choices on the menu), you can always opt for the ¡Eat like José! tasting menu (500 dirhams, or $136).
Gastronomy
Given the roll-call of celebrity-chef restaurants at The Royal, I was surprised when several guests told me shortly after I'd arrived that their culinary highlight was breakfast at Gastronomy, served from 7 a.m. to noon and included with all room rates.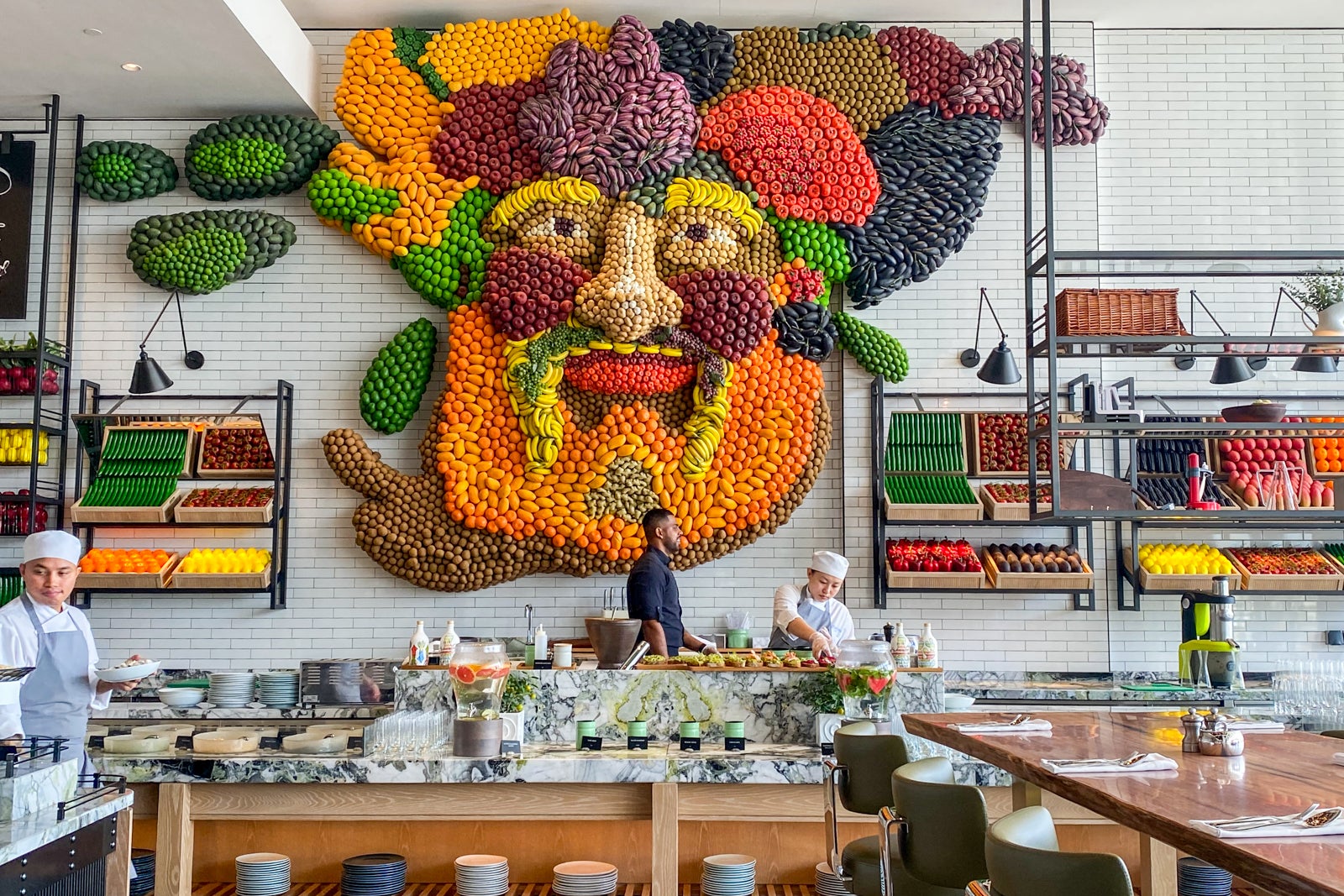 CAROLINE LASCOM/THE POINTS GUY
Taking inspiration from a food market, The Royal's breakfast buffet is a far cry from any other hotel breakfast that I've experienced, even at uber-luxe properties.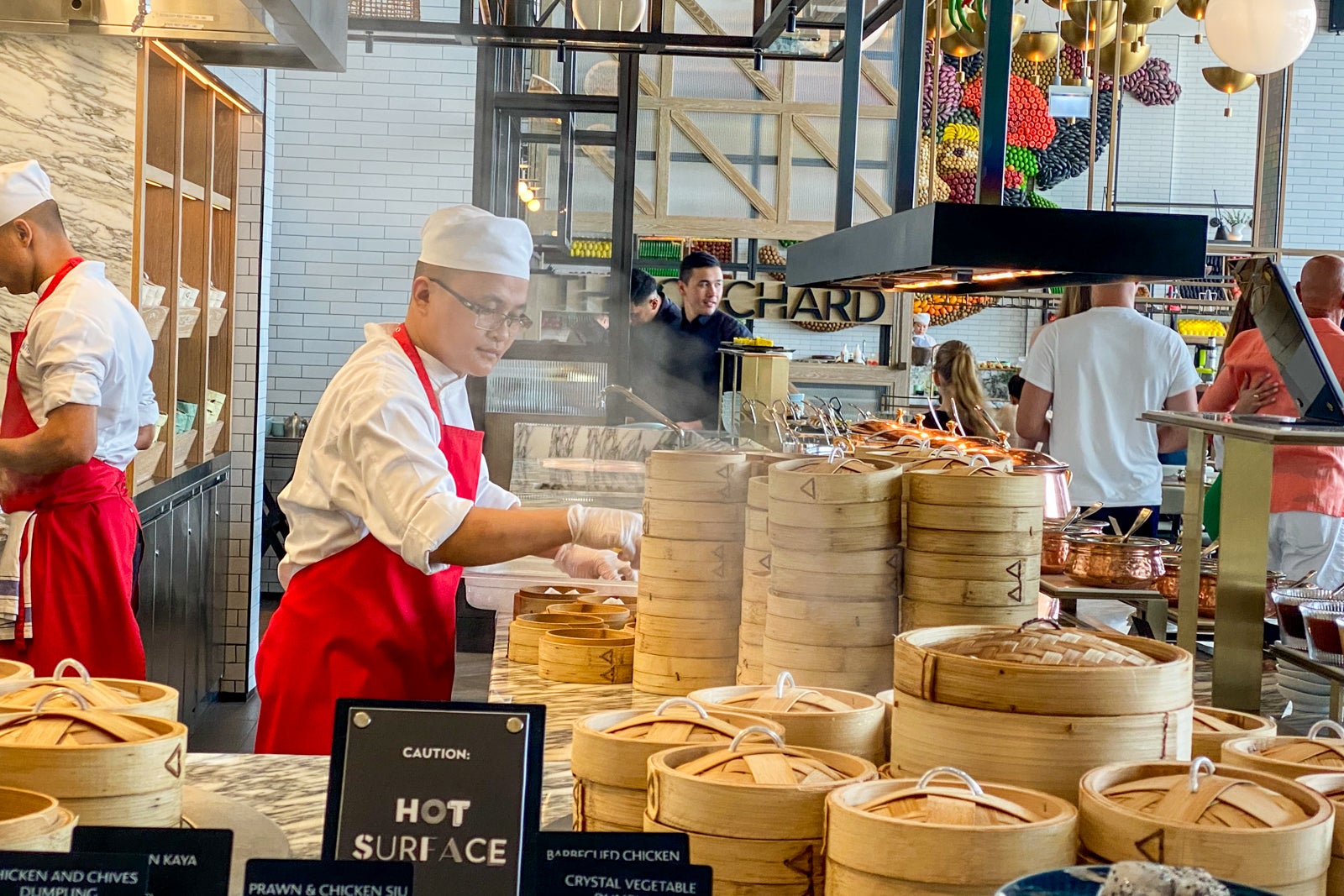 CAROLINE LASCOM/THE POINTS GUY
Each themed station offers everything from the usual bounty of fresh fruits, made-to-order omelets, baked goods, pancakes and waffles, but then there's also a live oyster bar, Asian noodle stations, Indian curries, Middle Eastern salads and grilled meat, Naples-style breakfast pizza, ice cream sundaes (with a chocolate fountain) … the list goes on. You could feast like a king for hours here, and many guests were clearly inspired to do just that.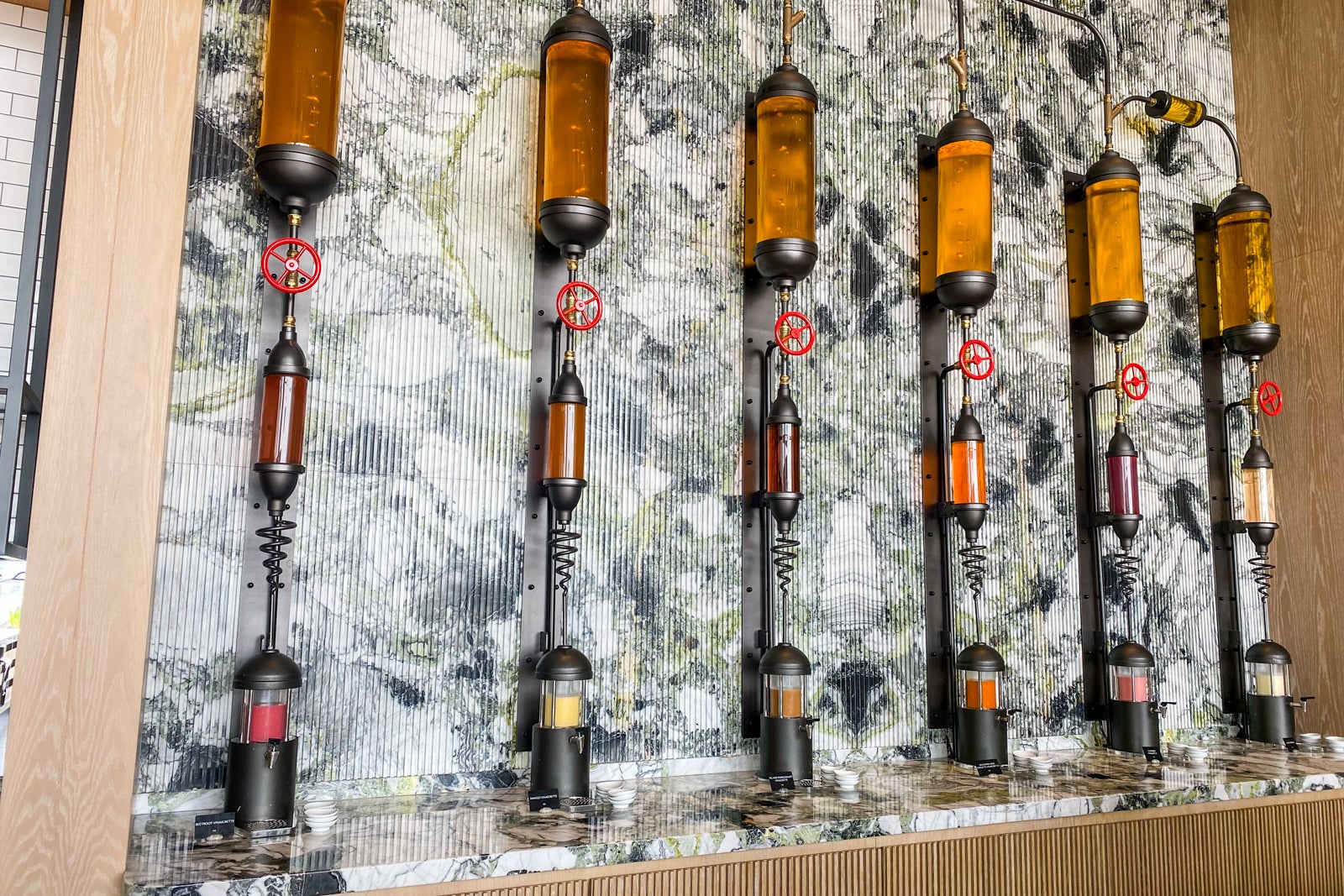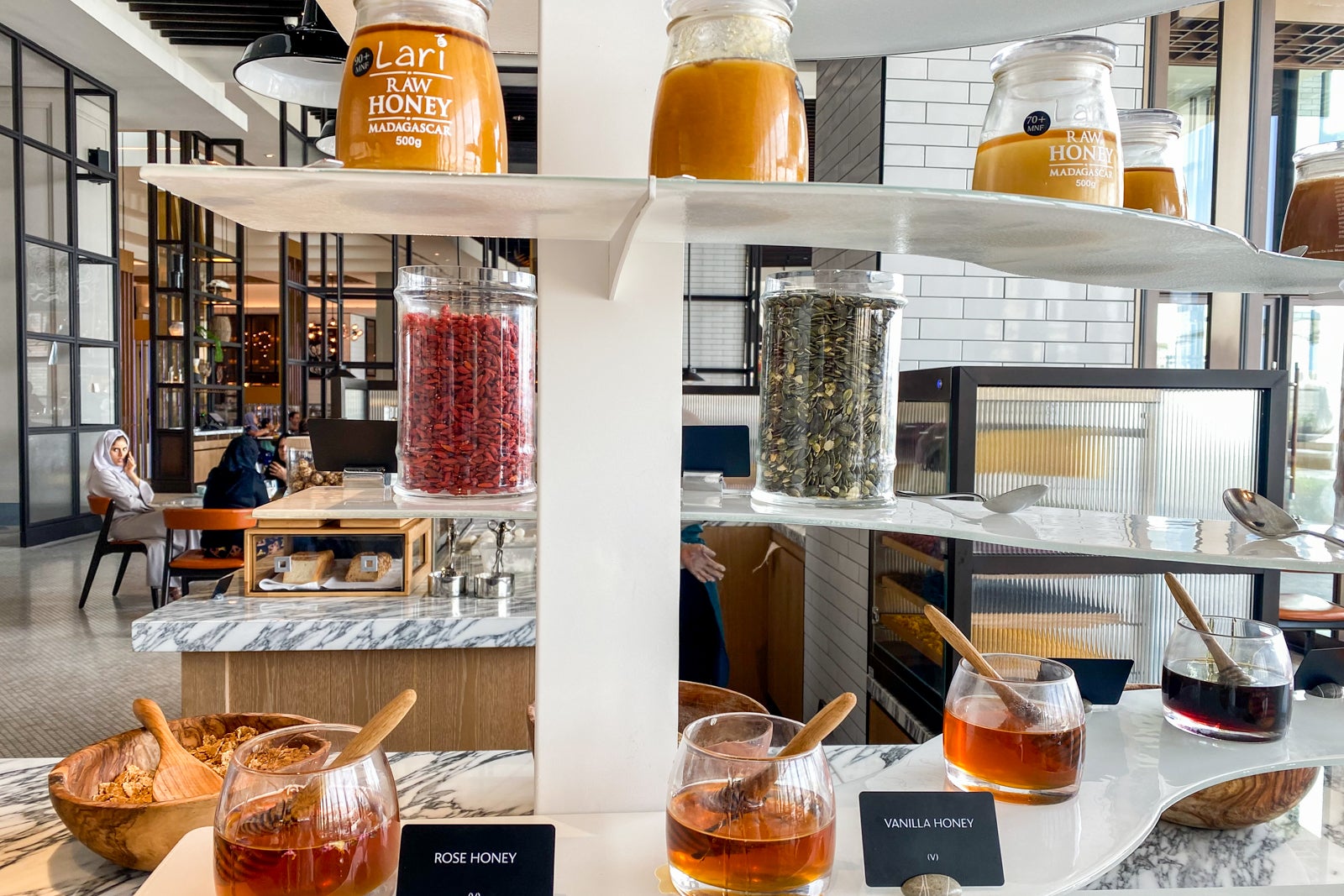 Pools, beach and amenities
As you'd expect, the amenities at Atlantis The Royal keep pace with its surroundings.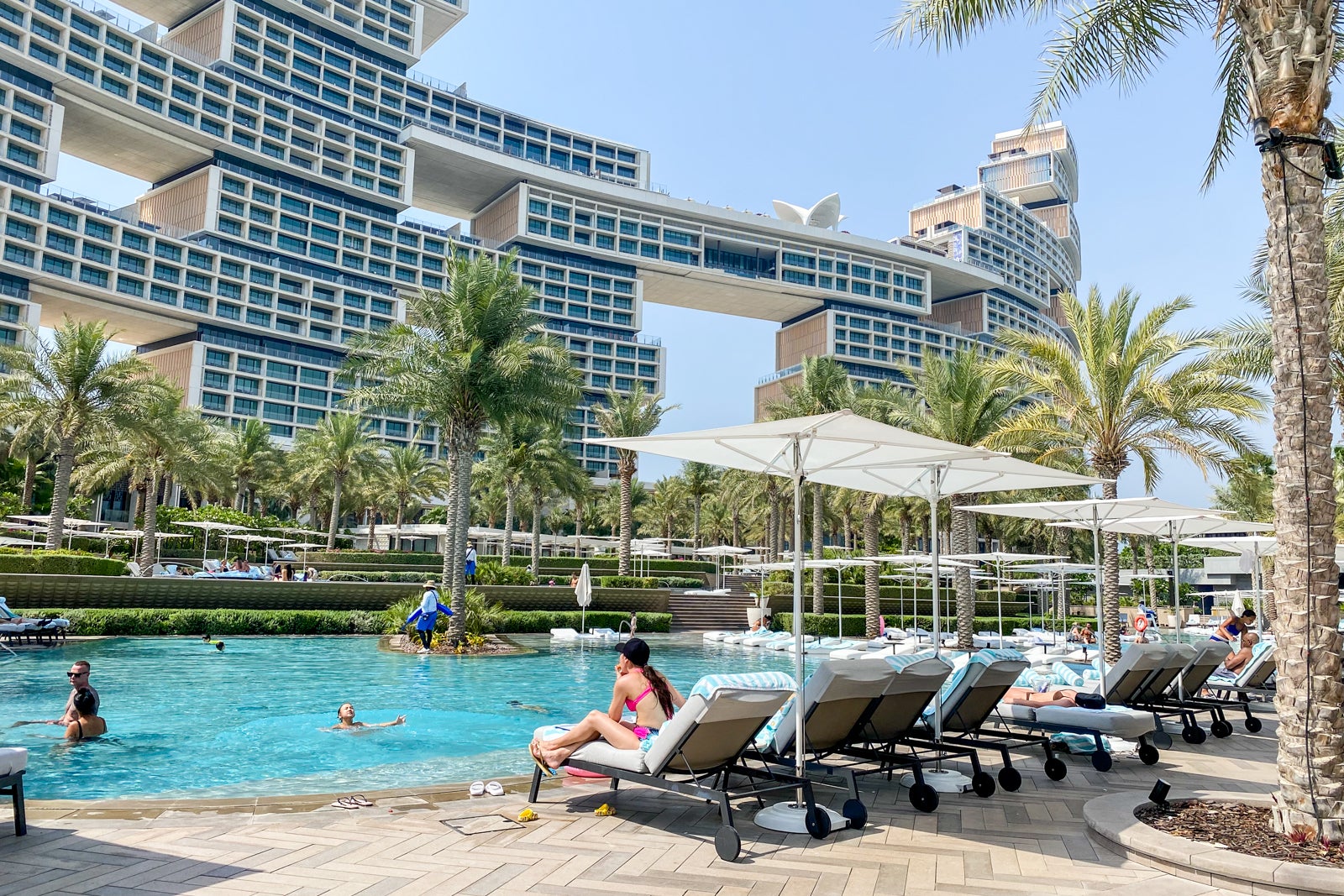 CAROLINE LASCOM/THE POINTS GUY
If you pass through Dubai in the mid-summer, like me, time outdoors will likely be fairly limited and generally involve getting into the water as fast as possible, which is definitely no chore here.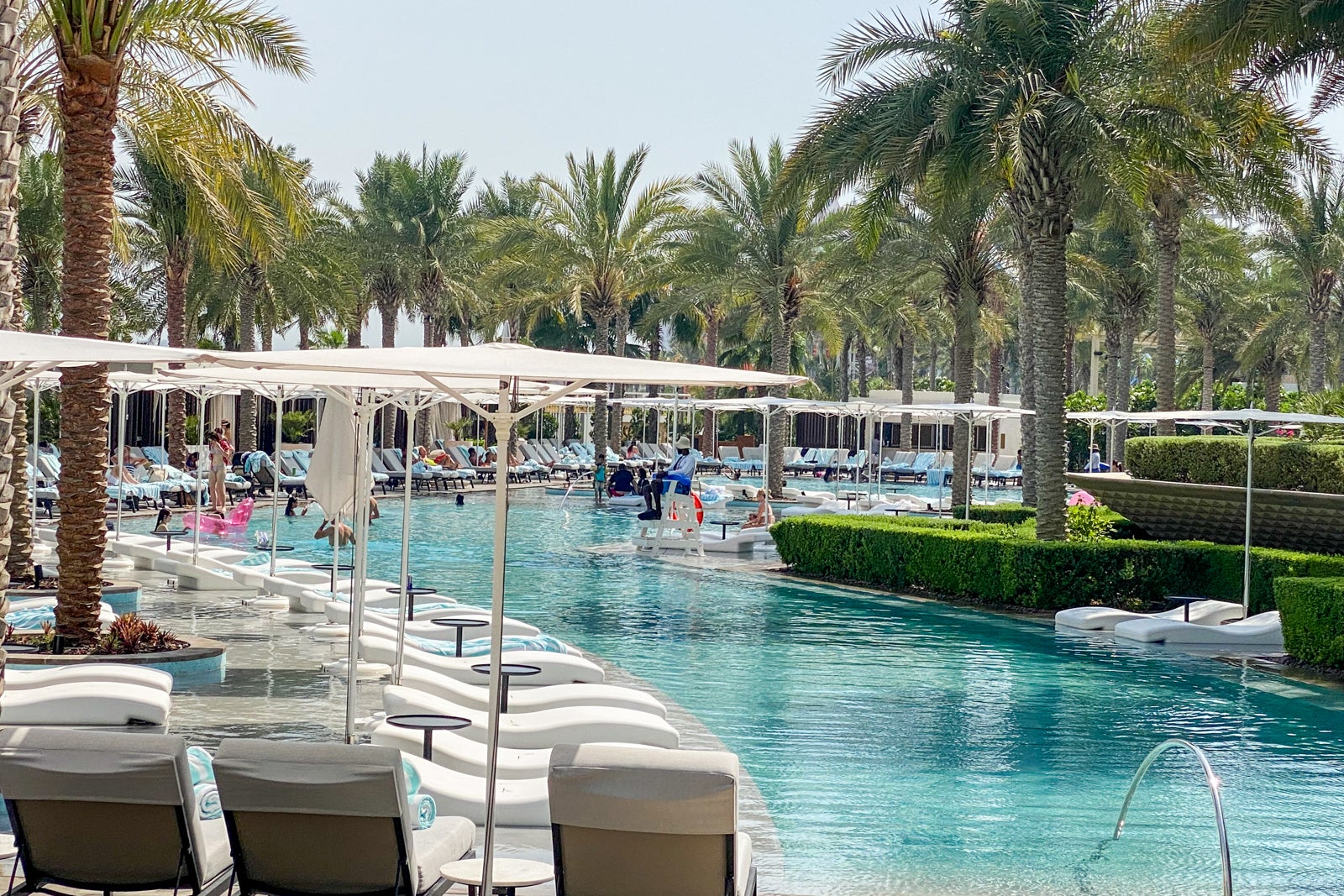 CAROLINE LASCOM/THE POINTS GUY
Overlooking Palm Jumeirah and Dubai's skyline, a series of palm-fringed terraced pools lead down to the hotel's pristine 1.5-mile-long private white sand beach.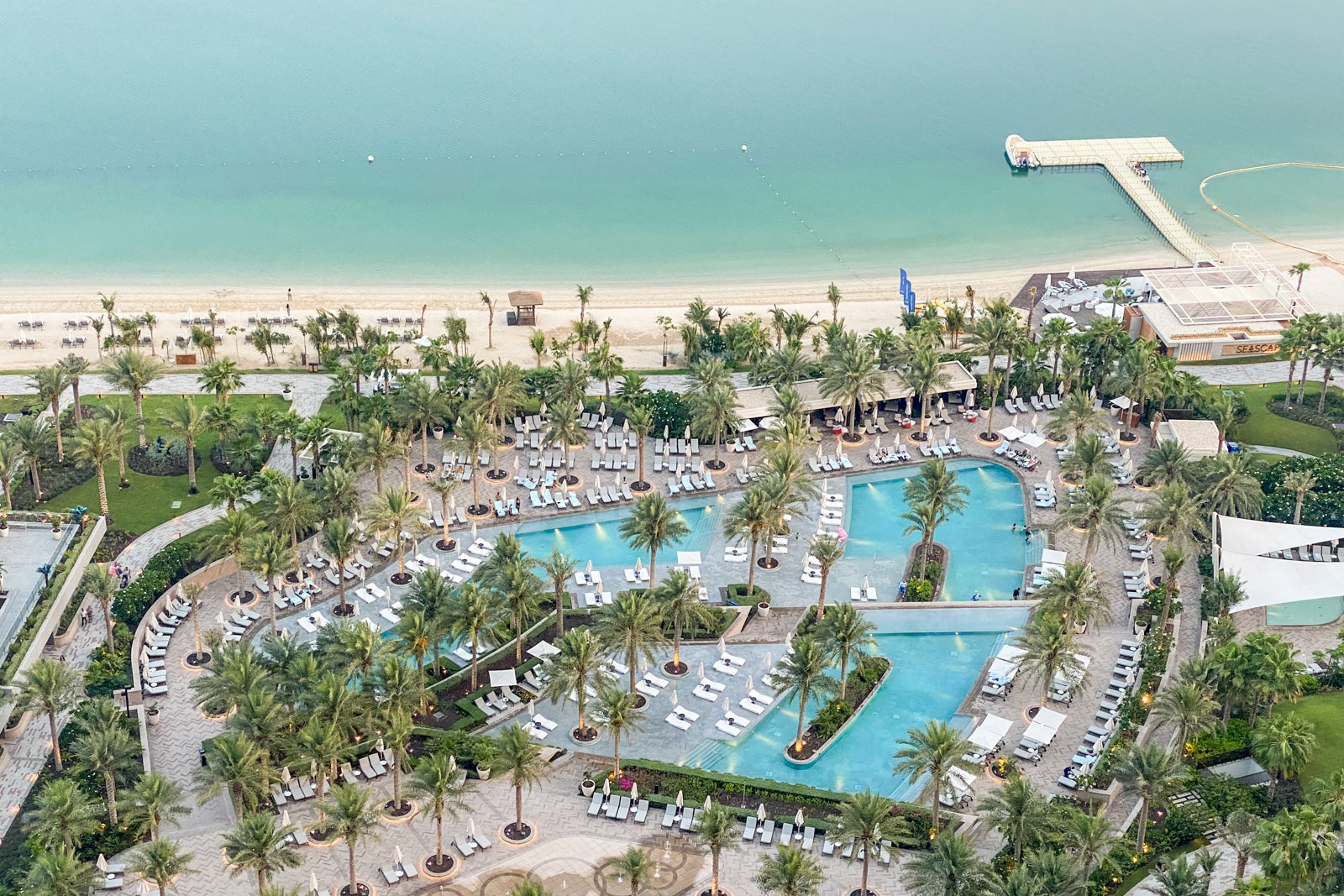 CAROLINE LASCOM/THE POINTS GUY
During my offseason stay, the family-friendly Royal pools had a chilled vibe with a soundtrack of '90s British anthems playing and plenty of loungers and umbrellas tended to by pool attendants who seemed to anticipate your every need.
As temperatures rose to over 105 degrees Fahrenheit, they were constantly repositioning umbrellas, refilling ice buckets with bottled water and handing out thoughtful cooling treats and balms, like popsicles and aloe vera ice cubes.
The adults-only Cloud 22, which feels like it's floating over the Palm, is a design and engineering feat with cantilevered "chandelier" umbrellas, a swim-up bar, a DJ booth and a series of pools and hot tubs surrounded by duplex cabanas and loungers, as well as floating sunbeds.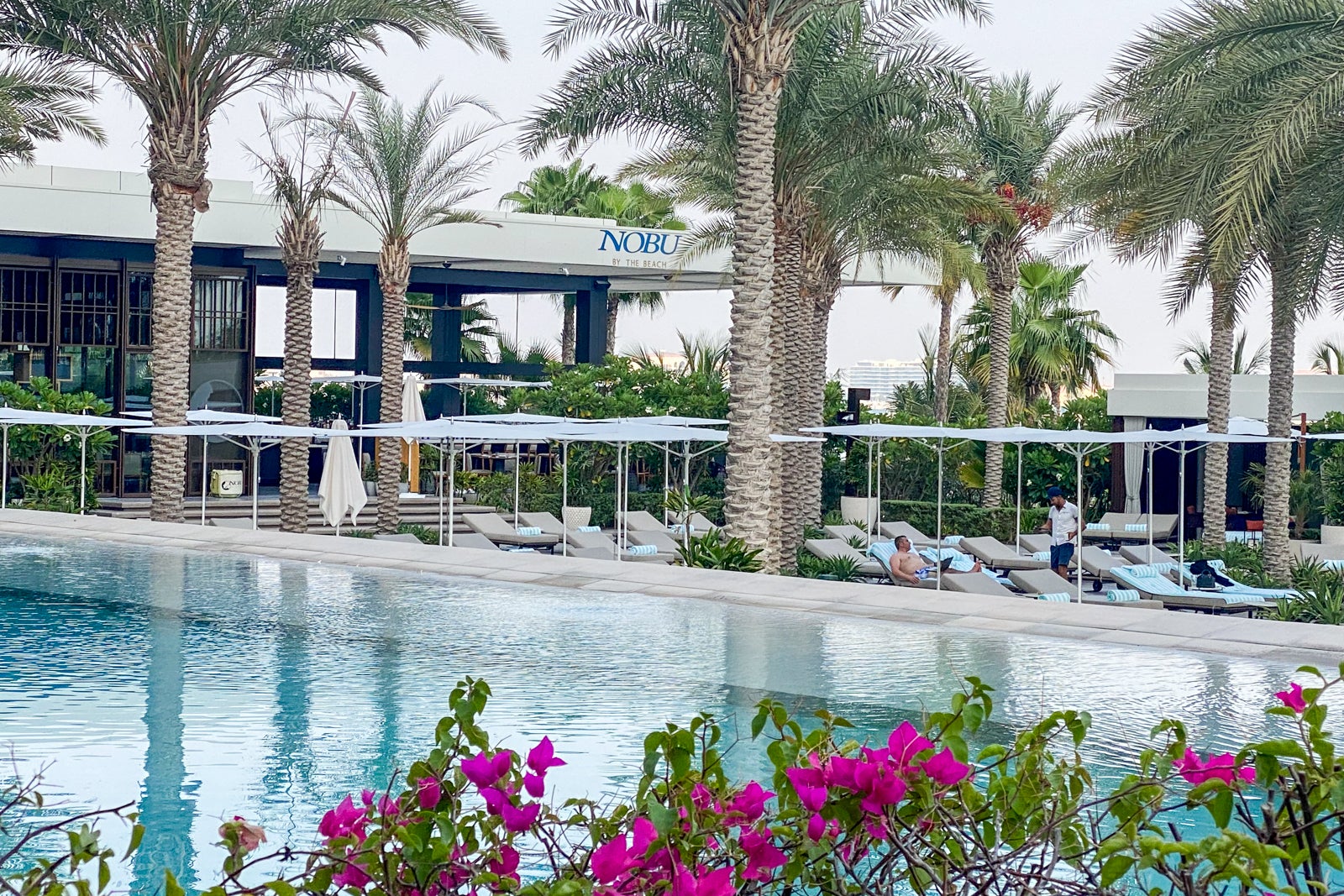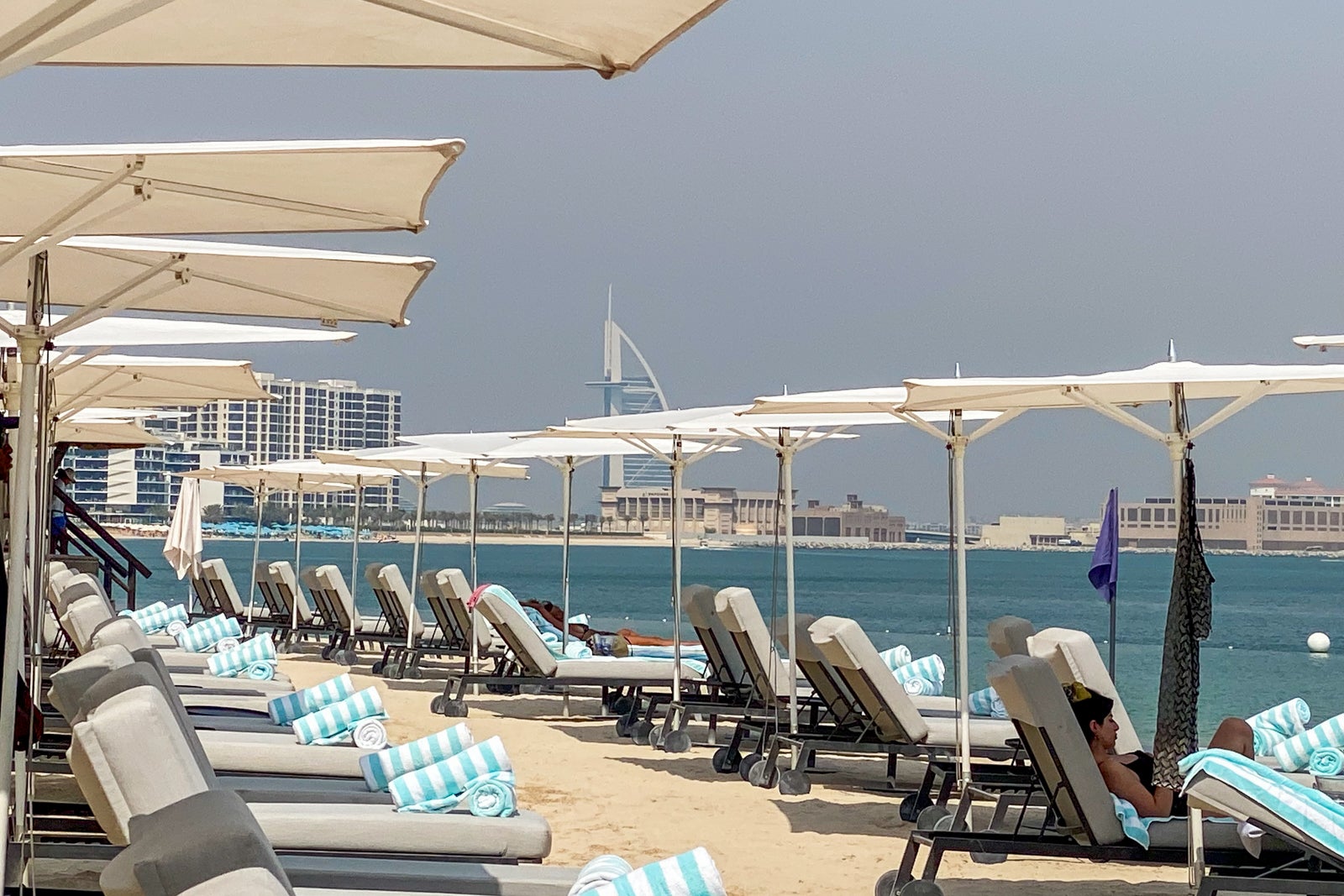 Guests of The Royal also have complimentary access to Atlantis Aquaventure water park (the largest water park in the world with 125 sides) and The Lost Chambers Aquarium, both of which are at Atlantis The Palm next door (around a 10-minute walk). With such thrills as a nine-story, near-vertical drop into a tunnel surrounded by a shark-filled lagoon, as well as tamer, more family-oriented rides, it's a big hit with older kids, like my 14-year-old son.
Since our water park visit was during low season, most wait times for attractions didn't exceed more than a few minutes. However, there were uncomfortably long lines, at times (in pretty intense heat), for towels, lockers, beverages and buggy transportation back to the hotels (the complex is massive). There could also be better signage — we walked around in circles trying to find entrances to some rides.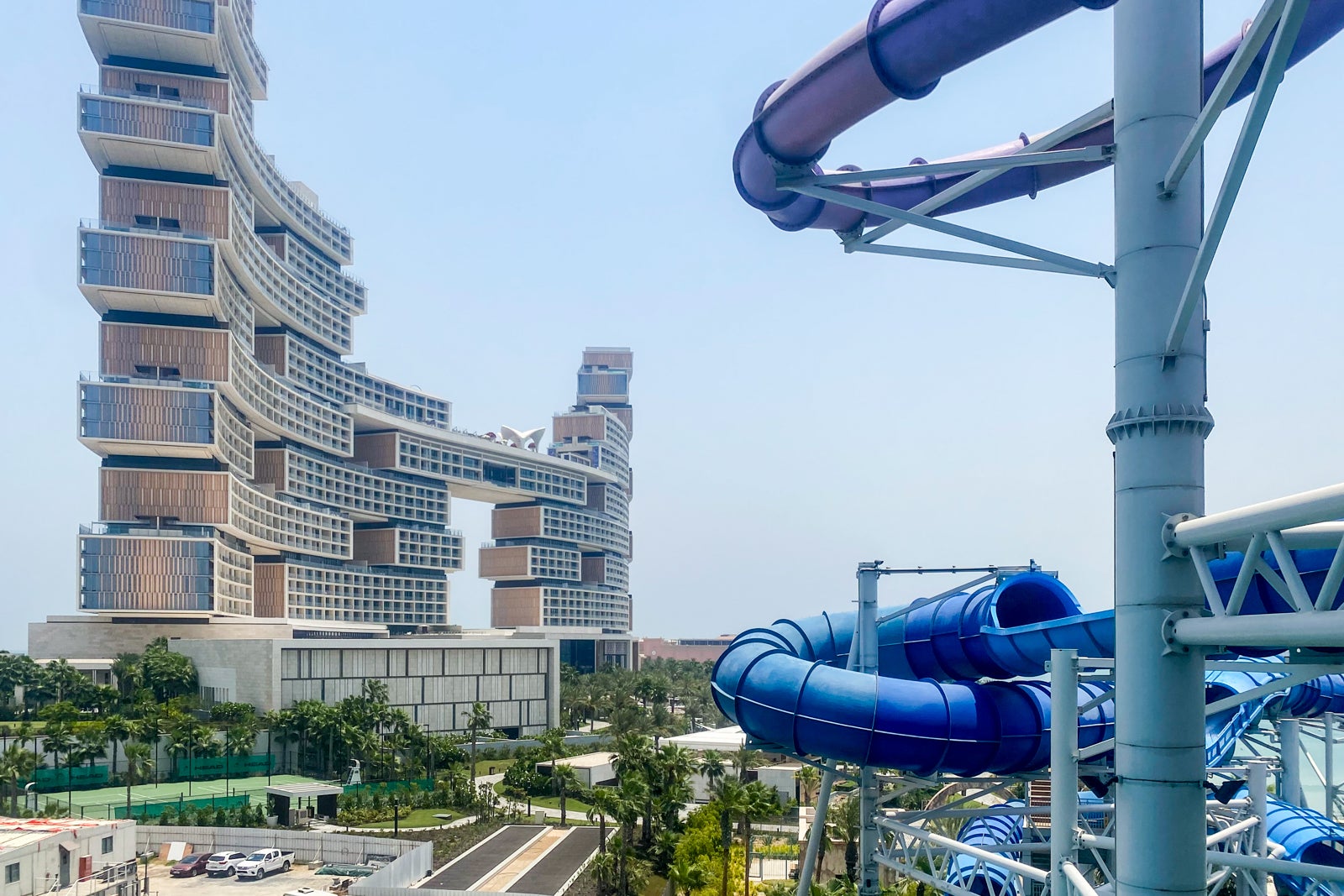 CAROLINE LASCOM/THE POINTS GUY
Overlooking a meditation garden, the Awaken fitness center makes it very easy for health-conscious travelers to maintain their daily fitness rituals.
Equipped with top-of-the-line Technogym and Outrace equipment, there's also a fitness studio for classes, a mindfulness pavilion and an 80-foot lap pool. Guests can also book private training sessions through the spa.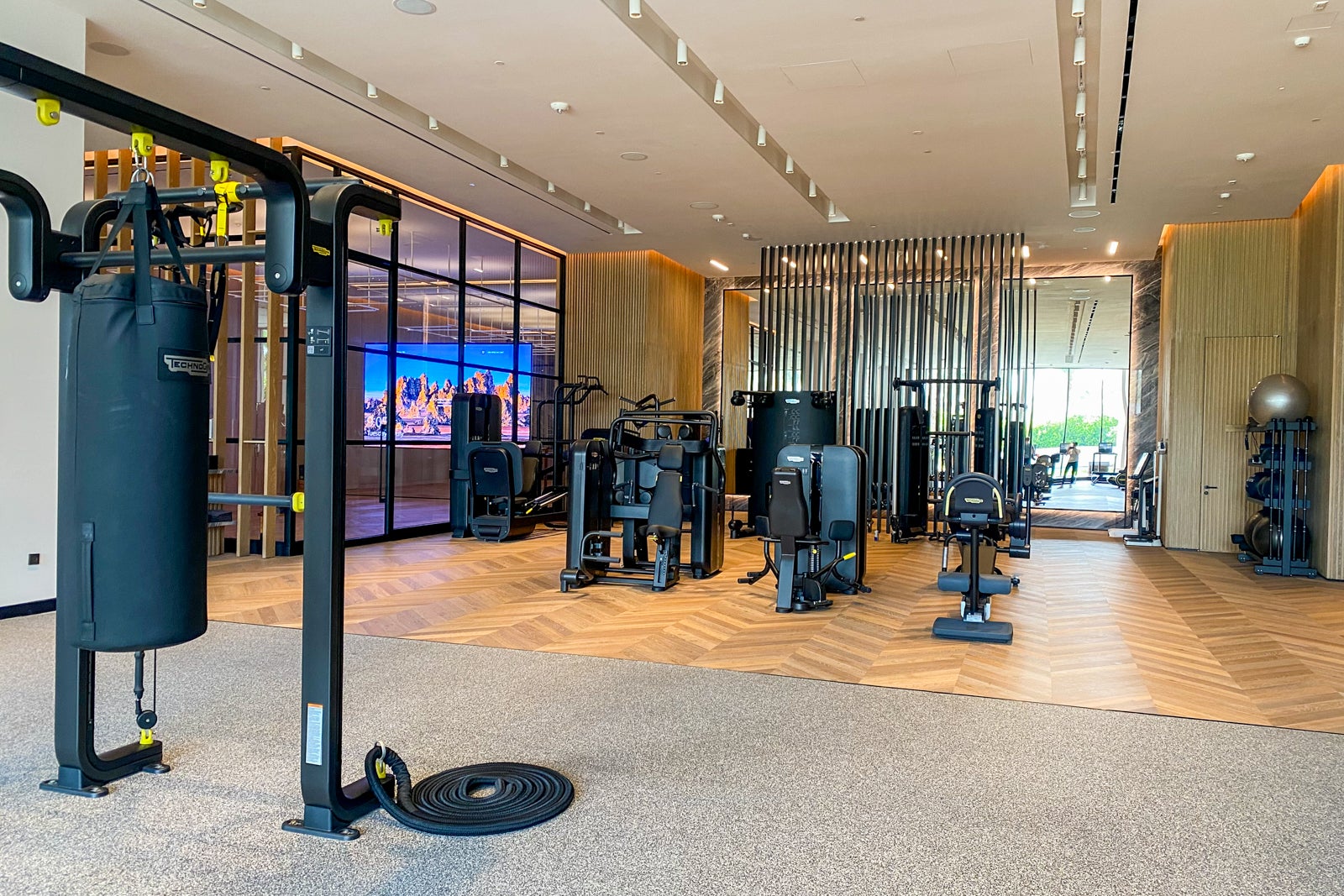 CAROLINE LASCOM/THE POINTS GUY
The Awaken Spa appeals to travelers looking for a dedicated, wellness-focused retreat and those just looking to unwind after a long flight.
Focused on leading-edge treatments and therapies, as well as more holistic regimens and journeys of "self-discovery," the extensive spa menu incorporates skincare products and healing techniques from luxury skincare brands, including Augustinus Bader and Amra.
Overall, pricing is not too far beyond what you'd expect at any high-end property. Signature treatments included a one-hour Classic Hydrafacial, which costs 1,080 dirhams ($295), the one-hour Method Facial By Augustinus Bader (980 dirhams, or $266) and a Golden Hour, a 90-minute massage (1,200 dirhams, or $326).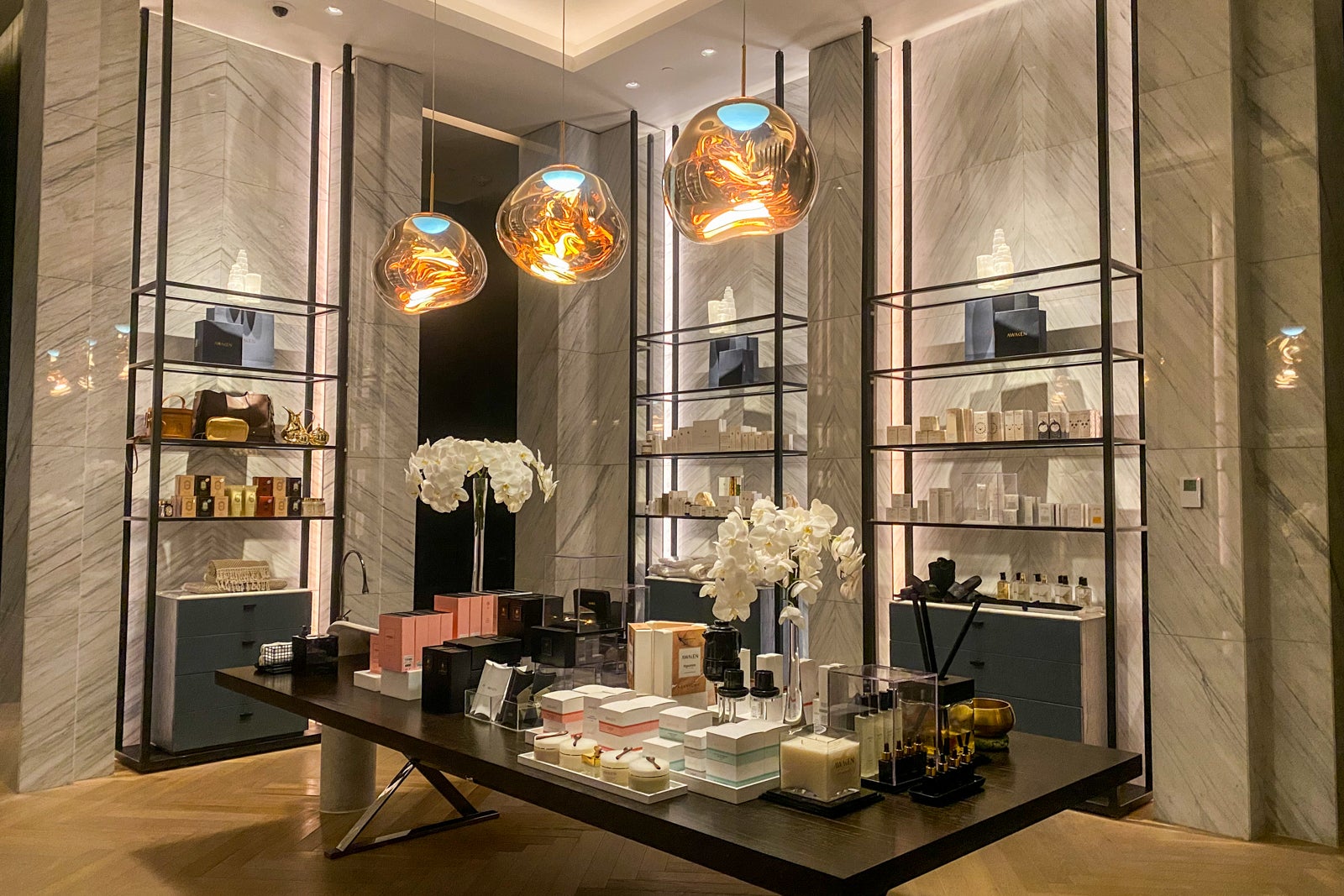 CAROLINE LASCOM/THE POINTS GUY
If you have time to really indulge, the spa's facilities invite serious pampering — a halotherapy salt cave, hydrotherapy pool, alchemy shower, aromatherapy steam room, a charcoal sauna and "The Hammam Sensorium," inspired by Middle Eastern bathhouse culture.
Other properties to consider
If this is your second visit to Dubai, or if you are in the mood for a rejuvenating desert retreat with plenty of outdoor activities (falconry, camel rides and desert wildlife safaris), it's worth considering a stay at one of TPG's favorite points properties in the Middle East, Al Maha, a Luxury Collection Desert Resort & Spa.
Luxurious suites with stunning desert views and plunge pools, and lavish Bedouin decor, impart a real sense of place. It's an especially worthy points redemption (from 92,000 Marriott Bonvoy points per night) given the high (all-inclusive) rates, which start from $816 per night.
Another great points choice at Dubai Creek, and a very popular hotel with Americans and Europeans, Park Hyatt Dubai is currently undergoing a whole-scale renovation of its interiors. The 233-key hotel is known for its Arabian-meets-Mediterranean flair and features luxury amenities like deep soaking tubs, a pillow menu and Bulgari toiletries. A category 6 Hyatt property, rates start from $190 per night or 21,000 World of Hyatt points.
For more understated elegance, and walkable access to the city's more soulful streetscapes and traditional eateries, the budget-friendly boutique XVA Art Hotel in Al Fahidi Historical District is a stunning, art-filled redoubt; a charming contrast to Dubai's flashy skyscrapers. Each of the 13 individually styled rooms features Persian design elements and artworks from emerging and established Middle Eastern artists. Rates start at just $112 per night.
Accessibility
Atlantis The Royal offers a limited number of accessible rooms and amenities that can be helpful in navigating both standard rooms and public spaces within the property, such as wheelchairs, toilet frames, shower stools and phones with accessible features for guests who are visually impaired. Due to limited numbers, these items should be requested at the time of booking and with as much advance notice as possible.
The sheer size and high-tech design of the property, with massive open spaces, wide corridors and doorways — and plenty of attentive staff members positioned throughout the hotel — facilitates getting around the hotel if you are in a wheelchair or have reduced mobility concerns.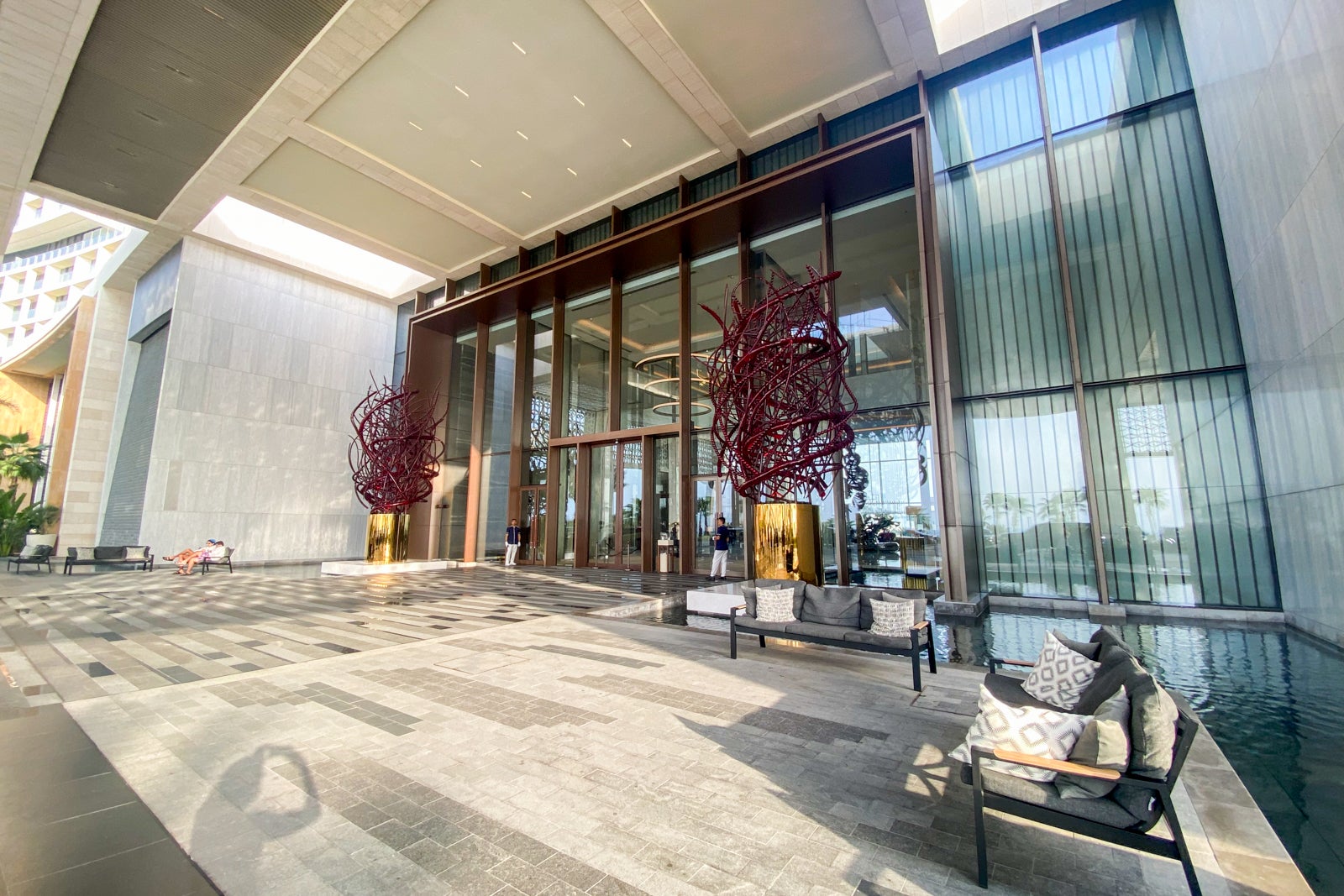 CAROLINE LASCOM/THE POINTS GUY
There are also ramps positioned near the beach, pools and outdoor dining areas. The open plan layout of standard rooms also offers plenty of space to move around in a wheelchair and large bathrooms have separate walk-in showers with a bench, and there are telephones in the rooms' water closets.
Checking out
Layovers can often be fraught experiences, with such concerns as did I leave my passport on the plane and will my ATM card work, often overwhelming the ability to truly relax and immerse yourself in the destination.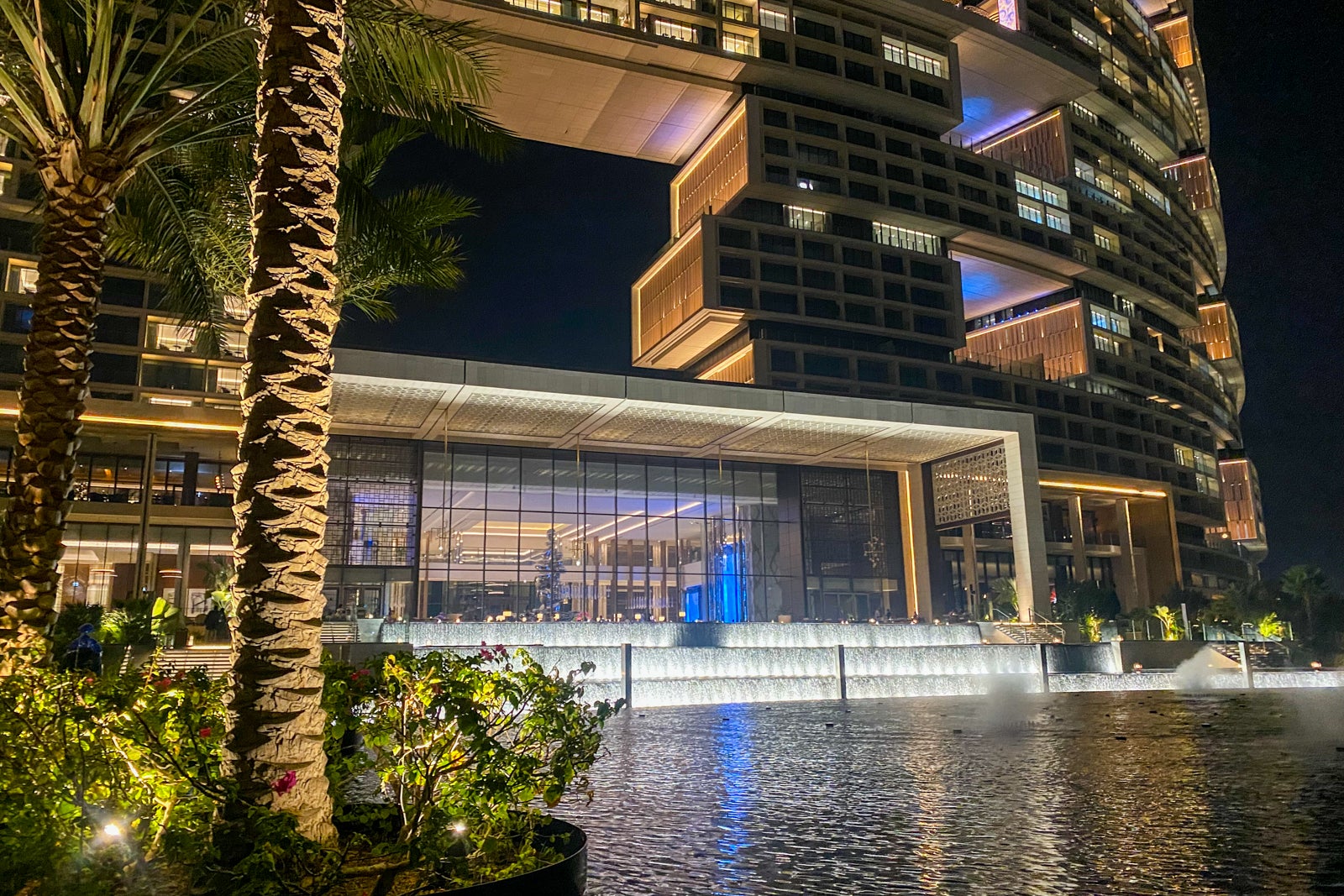 CAROLINE LASCOM/THE POINTS GUY
My stay at Atlantis The Royal was one of the most seamless and energizing short layovers that I've experienced. From the moment I walked into the lobby, I felt cocooned in luxury and dazzled by views, design features and high-tech conveniences.
Perhaps what impressed me most of all, though, was the impeccable service and attention to detail — with every staff member going above and beyond.
While the rates are high for Dubai, with big-name luxury hotels less than half the price, the perks, amenities (including access to the largest water park in the world at Atlantis, The Palm) and an incredible breakfast make the price feel appropriate.
While Atlantis The Royal can certainly lay claim to being the region's new standard bearer for luxury, style and architectural ingenuity, the monumental scale and nouveau-riche decadence will not be to everyone's taste.
But this is Dubai, and if you are looking for an on-brand, superlative-charged hotel, The Royal is without a doubt one of the most exciting properties to debut in 2023.
Luxury & Luxury / Dubai's Most Lavish Property To Date: What It's Like To Stay At Atlantis The Royal / thepointsguy.com/ Luxury Travel Exclusive / Sedat Karagoz / Istanbul,New York Travel,Tourism News Office / Janbolat Khanat / Almaty Travel,Tourism News Office
Dear Guest,

Thank You For Contacting wmwnewsturkey Media Group – A World Away From Your Everyday.

We Value Your e-mail Communication And We Will Respond To Your Request Within 24 hours.

Regards,

SEDAT KARAGÖZ

General Manager and Senior Vice President, Operations | WMWNEWSTURKEY ISTANBUL,NEW YORK,ALMATY

+90 0541 732 90 64


sedatkaragoz@wmwnewsturkey.com

Pop your email address below to be notified of new posts by email. You can unsubscribed at any time, although I hope you won't!

[contact-form-7 id="7b30894″ title="Contact form 1″]