Views: 413
Don't miss our latest posts. Subscribe now to our gay travel newsletter
Gay Athens: our complete travel guide for LGBTQ travelers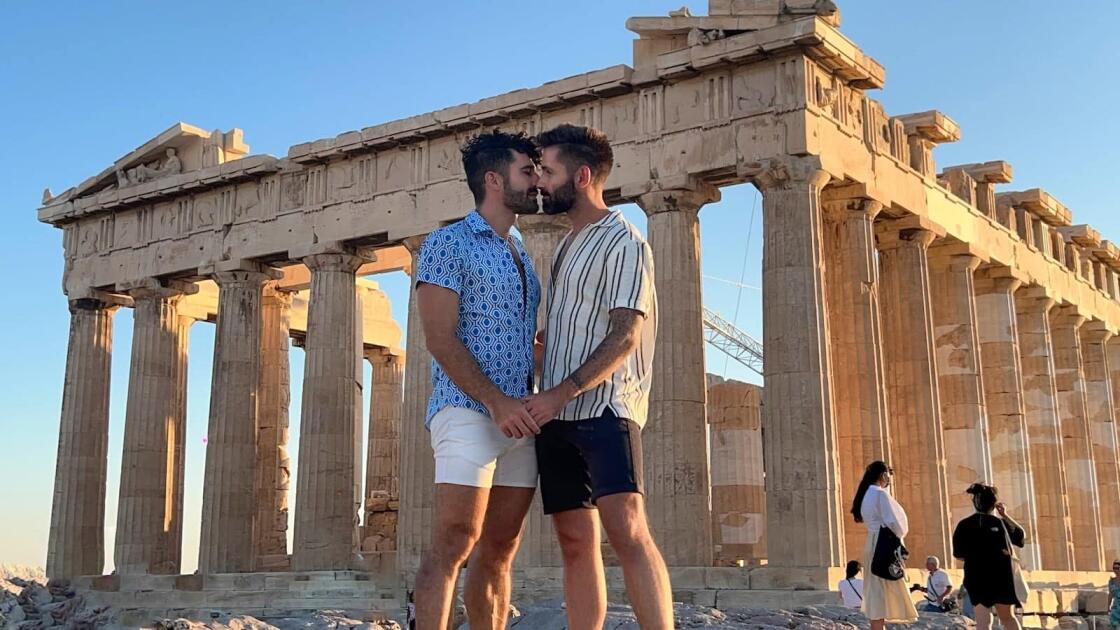 Affable. Ageless. Athens.
It's iconic. It's dirty. It's spectacular. It's hectic. It's dazzling. It's unforgettable!
This huge sprawling mess of a city shouldn't impress. It's dirty, rundown, gritty – particularly if you're staying in one of the neighborhoods just outside the center like Psiri or Metaxourgeio (and don't even get us started on Omonia!).
But what Athens lacks in clean streets, it sure makes up for in character. Every day in the Greek capital was like a new adventure for us. It got under our skin so much that we return to it time and time again for more.
That's right, you better call the Acro-polis, 'cause the Nomadic Boys are in town!
Athens oozes culture with ancient monuments and world wonders (hello Parthenon!) whilst at the same time, it has a vibrant gay scene in the Gazi neighborhood, with a party happening every night of the week. Athenians are night owls, and like the Spanish, they like to eat late and then go out partying till the early hours. We also love getting lost in the village-like Plaka area, shopping in the souvenir shops of Monastiraki, and reminiscing over a romantic cocktail at a rooftop bar facing the Acropolis. Not once did we get bored in Athens. And neither will you!
Our detailed gay guide to Athens is based on our experience traveling here as a gay couple, and also from my personal experience visiting my family every summer (as a second-generation Greek kid growing up in London, UK).
Is Athens safe for gay travelers?
We felt very safe a gay couple in the streets of Athens. The city has a large LGBTQ community with an influx of international gay visitors adding to the scene throughout the year. We found Athens to be no less gay friendly than any other big European capital city we've been to.
What we mean by that is that it has gay pockets like Gazi where we felt totally safe with PDAs, especially in the many queer spaces here. But, as with all other big capitals, Athens also has some pretty gritty areas, like Omonia, where everyone needs to be careful regardless of whether you're straight or gay.
For hotels, all the places we stayed at in Athens welcomed us as a gay couple. It felt like they had dealt with LGBTQ travelers before, which is unsurprising given how international and touristic downtown Athens is. So, on this front, you'll be just fine!
When it comes to LGBTQ rights in Greece, a lot has changed over the past few decades which has made Greece a pink leader in this very conservative region of Europe (the Balkans and Eastern Europe).
Greece has progressive anti-discrimination laws, legal recognition of gender identity, and recognizes gay civil unions. But, compared to Western Europe, Greece is lagging. For example, gay marriage and adoption laws in Greece are still not legal, but watch this space… we hope to be updating this section of our article very soon!
Where is the gay area in Athens?
The main gay area of Athens is the Gazi neighborhood where the bulk of the city's best gay hangouts is located. The nearest metro station is "Kerameikos". Gazi is in the center of the city, around 1.5 miles (2.5km) northwest of the Acropolis.
The Gazi neighborhood is mostly quiet and residential. In the evening, parts of it feel a bit remote and rough. The reason is that Gazi surrounds the old gasworks of Athens and used to be where the famous brothels of the city were located in the early 1900s. Much has changed since(!) but Gazi has always had a reputation for being a deprived area of the city, albeit with a low crime rate.
We felt safe walking the streets of Gazi at night and never had any problems. But we are two men – if you're traveling solo and don't feel 100% safe, we recommend calling an Uber to get to your hotel to be on the safe side. None of our friends ever had any issues in Gazi, nor did I when walking the streets of Gazi as a young oblivious twentysomething gay boy.
In terms of the Gazi gay scene, Del Sol is one of the most popular bars to head to with friends for drinks. We also loved Big Bar, Athens' main gay bear hangout. Sodade has been the main gay club in Athens for donkey's years – as long as I can remember! Shamone is another popular gay club in Athens where the cool kids hang out… but more about all this is below.
Where to stay in Athens?
We found most hotels in Athens to be very gay friendly. You won't have any problems here getting a place with a double bed! In terms of gay male-only hotels, we found only one – Alexander Apartments, located above the city's main gay sauna…
if you're booking this bad boy, then you're looking for one thing, and one thing only! Otherwise, for a more romantic, boutique-type hotel, you'll be spoilt for choice in Athens. To inspire you, we've set out some of our favorite tried-and-tested gay hotels in Athens right here:
Our favorite gay bars in Athens!
The bulk of the gay bars in Athens can be found in and around the Gazi gay area. Del Sol Cafe is our favorite place to come for a few cocktails before heading to Sodade to party. Big Bear Bar is another gay bar gem in Athens – zero attitude! Here are the main gay bars in Athens that we loved and think you need to check out:
Exciting gay cafes in Athens!
The gay Greek boys love their coffee as much as they love to party. We found an abundance of gay cafes in Athens to check out, though with places like Del Sol Cafe we placed them in the gay bars section because for us it felt more like a gay bar than a gay cafe even though it's open early for brunch.
Electrifying gay clubs in Athens!
For us, Sodade has been the main gay hangout in Athens since time immemorial – at least for the past two or so decades that I've been coming here! A word of warning about the gay clubs of Athens: smoking is permitted indoors so be prepared to wash out your hair and launder your clothes after a heavy night out partying.
Are there any gay beaches in Athens?
Oh yeah! In fact, this is one of our favorite things about Athens – you're not only a short cab ride away from some pretty stunning Mediterranean beaches, but there's even a gay one!
There are lots of really lovely beach clubs just outside the main city metropolis that locals flock to on a summer's day, most notably "Ark" in the sophisticated Glyfada neighborhood, "L'amico Beach Bar Lounge" in Anavissos, and "Bolivar" in Alimos.
But if you're looking for a gay beach in Athens, you'll want to be heading over Vouliagmeni for the "Limanakia B" beach. This is where the gay boys in Athens come to get their dose of the D (get your mind out the gutter, we were referring to Vitamin D…!)
Limanakia B is specifically located between Vouliagmeni and Varkiza, and takes around 40-minutes by taxi from downtown Athens or around 1 hour by metro and bus.
It's a rocky beach so bring water shoes, sandals, or flip-flops. It has plenty of hidden caves to "explore"(!) and is renowned as a 'clothing optional' spot if you catch our drift. Note there are no facilities or shops here, so bring everything you will need – snacks, water, and sunblock.
Gay shops and services in Athens
If you want to top up your Speedos, get a few outfits for some of those themed gay parties or just feel cute for your Insta, Athens has several gay shops worth checking out.
ES is the main gay shop in Athens. It's a famous gay Spanish brand that specializes in clothing for men. Specifically gay men. They just know how to get the perfect cut to show off the right parts of your body!
We love them for this. They also own the Addicted brand, which is also featured in this shop. For a special offer – use our NOMADICBOYS code to claim a 10% discount if you're shopping from their website. ES Collection is located at 105 54, Themidos in Monastiraki. It is open daily from 11am to 5pm (9pm on weekends).
Mega is the best shop in all of Greece to come to find any toy or other fun item you could possibly need. From saucy underwear or themed outfits to any pleasure toy you can imagine. If not available, order online and they usually offer same-day delivery service. Mega is located at Iera Othos, 38 in Gazi. It is open daily from 10am to 11pm.
Checkpoint is the best healthcare center to come for gay men. It's completely judgment free, and unlike most healthcare providers in East Europe, they know their stuff! You can get tested for free at their walk-in center at Pittaki 4 in Monastiraki on Tuesday to Saturday from 12-8pm.
Seductive gay saunas in Athens!
Alexander is the most famous gay sauna in Athens and also an institution in the Gazi gay area. It frequently hosts themed parties and also houses a hotel atop (see hotels section above). Beyond Alexander, there are a few other gay saunas in Athens to try out:
Alexander is the #1 place to head to in Athens if you want action. It's a "premium gay sauna" (thank-you-very-much!) in a large building that also includes 3 guestrooms above it. The sauna includes a steamy labyrinth, an open-air garden, and an X-Action darkroom area. They also have some pretty wild-themed parties like "Toy Boy". Alexander Sauna is located at the crossing point of Megalou Alexandrou 134 and Iera Odos. It is open daily from 5pm until 2am (6am on weekends).
Flex is another popular gay sauna in Athens, located in Monastiraki. It has a Jacuzzi, sauna, Hammam, solarium, and even a shop to top up your jockstrap collection. In the summer months, they open up their veranda area, which also has a Jacuzzi. The best time to come is on Sunday and Wednesday when they have Bear Days. The busiest times are between 4-9pm. Flex is located at Polykleitou 6 and is open daily (except Tuesdays) from 3pm until midnight.
Is there any gay cruising in Athens?
You betcha! Both indoor and outdoor cruising spaces exist in abundance in Athens.
When it comes to gay outdoor cruising in Athens, the Limanakia gay beach detailed above is your best bet. But understandably it's a bit far! In the city center, Zappeion in the National Garden Park is the most popular gay cruising spot – at night of course, after tourists/families have left!
In terms of indoor gay cruising venues/clubs, there are several to check out, which we've listed below. For gay saunas in Athens, scroll back up.
Attraxx is the main gay cruising club in Gazi. If you want something more low-key than Alexander Sauna, then head here. It includes a cinema area, darkrooms, glory holes, and "luxury"(!) private cabins. Attraxx is located at Lakchou 36 in Gazi, and is open daily from 12pm until 2am (4am on weekends).
Lamda is a staple on the Athenian gay scene. It's a cruising club that's been around for decades. Every evening men looking for discreet action head here. It's €7 for an all-day ticket. Inside you'll find private cabins, glory holes, a darkroom, and a video room. It is located at the crossing point between Lembesi 15, and Syngrou Avenue 9 just close to the Olympus Zeus temple. It is open daily from 10am till midnight (till 2am on weekends).
8Downtown is a modern adults-only (i.e. over 21 years) multiplex. As well as the usual cruising set up (cabins, darkroom) it also has a cinema to immerse yourself in! Whereas Lamda is more cis gay men dominated, the crowd at 8Downtown are a mix of everyone LGBTQ, and closet-married straight men! It is located at Karolou 8. It is open daily from 12pm until 3am (4:30am on weekends).
What are the best gay events in Athens?
The Athens gay scene is evolving all the time, with more and more gay events being added to the calendar each year. Most recently is the expansion of Mykonos' XLSIOR party. Here are the main gay events in Athens that you should keep on your radar:
Where to eat in Athens?
Greek food. Enough said. Famous for being one of the healthiest in the world and one of the tastiest. From souvlaki to moussaka, taramosalata to pastitsio, foodies will be spoilt rotten in Athens. So, "Καλή όρεξη!" (Greek for 'bon appetite – kali orexi).
What are the best things to do in Athens?
Athens, the heart of the Ancient Greek empire. From the Acropolis to the Temple of Zeus, the Greek capital is swarming with ancient monuments to explore. Athens also comes alive at night, which is another reason we fell in love with it. Here are a few of our favorite things to do in Athens to inspire your own Bucket List.
Our heads up on tickets: book a Combo Ticket which includes entry to all 7 ancient monuments, along with a queue jump.
Planning Your Own Gay Trip To Athens
Gay Map of Athens
We've put all of the places we mentioned in this guide onto a handy map so you can plan your own fabulous gay trip to Athens!
Pop your email address below to be notified of new posts by email. You can unsubscribed at any time, although I hope you won't!
[contact-form-7 id="19838″ title="Untitled"]
Dear Guest,
Thank You For Contacting wmwnewsturkey Media Group – A World Away From Your Everyday.
We Value Your e-mail Communication And We Will Respond To Your Request Within 24 hours.
Regards,
SEDAT KARAGÖZ
General Manager and Senior Vice President, Operations | WMWNEWSTURKEY ISTANBUL,NEW YORK,ALMATY
+90 0541 732 90 64