How to Get the Most Out of a Luxury Florida Holiday in Seven Days / Luxurytravelmagazin / By Jannifer Bar / New York / TRAVEL EXCLUSIVE NEWS / Istanbul
7 min read
How to Get the Most Out of a Luxury Florida Holiday in Seven Days / Luxurytravelmagazin / By Jannifer Bar / New York /
TRAVEL EXCLUSIVE NEWS / Istanbul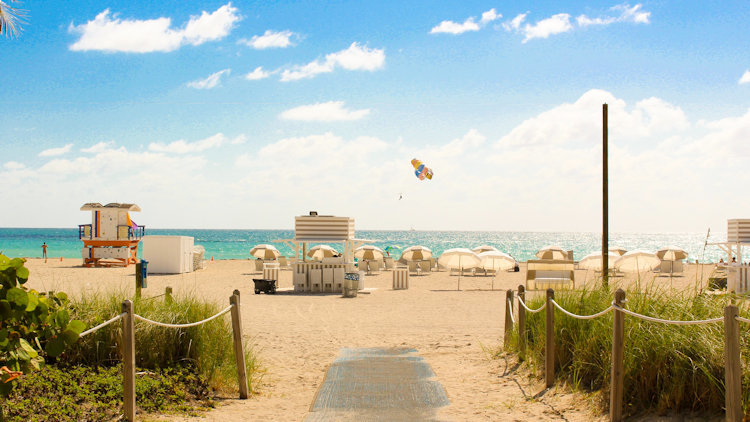 It's possible to organize a rewarding luxury travel experience no matter how long you have to spare, so we have created this guide to help you get the most out of a Florida vacation in just seven days.
Note: It's wise to pre-book up to 6 months in advance, as most services are provided on a first-come, first-served basis.
Day One
Beginning in Orlando, your first priority will be settling into your accommodation. Luckily, the standard of luxury vacation homes in Orlando is so high that this will feel far from a waste of time – you can unwind by the pool, order-in lunch to dine al fresco or get in the mood for Orlando's many movie-based attractions with a film in the home theater.
By the afternoon, you should feel more than ready to dive into everything this unique city has to offer. Perhaps one of the most surprising options is Disney's Wild Africa Trek, an exhilarating safari adventure which allows you to experience the sight of majestic African animals on American soil. On this 3-hour tour, a guide will share insights from their extensive knowledge of the 250 species that live in the park, while a professional photographer captures images your family and the beautiful animals you encounter.
Prices are $189.00 – $249.00 per person, plus tax and the cost of a general park admission ticket. Children must be aged 8-years and up.
Restaurant suggestion
Orlando's culinary scene is often viewed as being on the "cheap and cheerful" end of the spectrum, and there's certainly nothing wrong with indulging in some of your favorite fast food if you want to. In reality, however, there are some very distinctive and memorable dining experiences to be found in Orlando.
Tiffins Restaurant: 15 minutes drive from Disney World.
Considered to be one of the best places to eat in any Disney Park around the world, Tiffins is located in Disney's Animal Kingdom and serves fine dining cuisine that's been inspired by "exploration and adventure". The menu encapsulates a globe-trotting, fusion style and mains are priced between $35 to $65.
Day Two
It's a cliché, but like most clichés it's undeniably true – no trip to Orlando would be complete without visiting The Happiest Place on Earth (and if you have children in your party, you are unlikely to have any choice in the matter). Adults may view the prospect of long lines in a crowded theme park with some trepidation, but luckily there are options which allow you to see Disney World at its absolute best.
Through the expert team at Disney VIP Tour Services, you can plan your dream day at one or more of the parks in advance, making sure you miss nothing on your "must-see" list. Private cars will pick you up from your accommodation and drive you between locations, using private entrances for greater speed, while FastPasses mean you won't spend your day waiting for rides.
You'll also have access to VIP areas for parades, shows and "nighttime spectaculars", as well as the advantage of your guide's comprehensive knowledge of the park and its history. A seven hour tour can be anything between $2,975 and $4,375 (with an additional $425 to $625 per hour should you wish to extend your day), but with Disney's endlessly accommodating treatment, it really is worth it.
Restaurant suggestion
Disney World offers a delightful experience for the whole family, but after a day of kid-centric fun, the adults of your party may appreciate a rather more grown-up treat. By engaging a babysitting service (cost is often discussed on a case-by-case basis), you can book a table at the exclusive Victoria and Alberts and enjoy something truly indulgent.
Located on the Disney Resort, Victoria and Alberts creates an ambience of Victorian elegance and caters to the highest-end of fine dining – but unfortunately, (or fortunately, depending on your perspective) children under ten are not allowed in the dining area. The exquisite tasting menu is $235.00 a head.
Day Three
Now, you do have the option of arranging another day of thrill-rides and movie magic with a VIP tour of Universal Orlando, but if you want something a little different, then this city will accommodate you. Just one hour outside of Orlando is the Kennedy Space Center, a full-day experience which offers opportunities to train like an astronaut, meet people who have been into space and even (on certain occasions) see a rocket launch.
This is a truly interesting location for both adults and kids alike, with the perfect balance of education and fun to keep everyone engaged. Adult tickets start at $57.
Restaurant suggestions
Norman's: 14 minutes drive from Disney World.
Latin, Caribbean and Asian influences converge in attractive surroundings at Norman's, a fine dining experience it would be a shame to miss. Enjoy unrivaled views across lakes and gardens while you sample wagyu beef and pan-seared snapper. Mains start at $29.
or
Bull and Bear: 7 minutes drive from Disney World.
Awarded with a TripAdvisor Certificate of Excellence, this famous steakhouse is the perfect place to satisfy a craving for classically American dining. Tuck into a tomahawk steak for two for $75 a head.
Day Four
After the action-packed nature of the start of your holiday, day four is an opportunity to take things a little easier. Consider spending your morning exploring the Sea Life Aquarium, where you can encounter sharks, stingrays, sea turtles and hundreds of other fascinating creatures gliding through their otherworldly habitat. Tickets are $28, and you can also choose to contribute to Sea Life's conservation efforts.
For a truly memorable way to take in the lush landscapes of Florida, you can arrange a Orlando Balloon Ride. Both relaxing and exhilarating, enjoy having your head in the clouds before floating back to earth and catching a show at the Walt Disney Theatre. Balloon rides are $139 per person, while tickets to an evening viewing of musicals such as Les Miserables are around $130.
Restaurant suggestion
Reyes Mezcaleria: 23 minutes drive from Disney' World (and 7 minutes from the theatre)
Head to downtown Orlando to experience authentic Mexican food in a characterful setting. Michoacán native Chef Wendy Lopez creates regionally-inspired dishes that you can pair with tempting craft cocktails. Mains are $14-$44.
Day Five
When you have just seven days to relax on your vacation, it can be tempting to stick to one location. No one wants to eat into their holiday time with the boredom and frustration that can come with traveling between multiple destinations. But with a luxury holiday to Florida, you needn't choose between the irresistible chocolate-box selection of theme parks in Orlando and indulgent beach life of Miami.
By arranging a private flight for you and your family, you'll turn what is often the downpoint of any trip into a unique and exciting experience. This way you can wake up in Orlando, step on a plane without any of the usual hassle of a commercial flight, and in 40 minutes time be a stone's-throw away from all the fun of Miami Beach.
If you arrange for your luggage to be dropped off at your luxury villa and make sure you pack your beach gear in a carry-on, you can drive to the beach straight from the airport for an afternoon of sun, sea and sand. South Pointe Park Pier features a 17-acre park, playing area and fishing pier, and is out of the way of South Beach's crowds. Other quieter beaches that are in easy distance include 21st–45th Street Beach, Haulover Beach and Surfside. `
Restaurant suggestion
La Mar: A waterfront location and inventive Asian-Peruvian menu sets this beautiful fusion restaurant apart from the crowd. Pick from their diverse menu, with mains costing around $28 – $69.
Day Six
The expansive national park of the Everglades is only around an hour drive from Miami, making this city the perfect base from which to experience some of the most exotic and breathtaking displays of nature in the United States. Make sure to set aside a day to explore the 1.5 million acres of swampland that form the Everglades – there's a variety of tour companies offering narrated airboat tours, the option to rent out canoes and walking trails where you can spot alligators and other animals.
Restaurant suggestions
While you are unlikely to find many fine-dining options, a visit to the Everglades gives you a chance to sample authentic Southern cuisine – boasting mom and pop eateries, a growing Latin influence and seafood that's just hours out of the water. The Everglades Gator Grill, White Lion Cafe, El Toro Taco Family Restaurant and Pit Bar-B-Q all come recommended.
Day Seven
It's the last day of your Floridian adventure and for you, making the most of it might mean unwinding in your villa to prepare yourself for the journey home. But if you'd like to head out and about, there's a plethora of options for laid-back activities in this warm and relaxed part of the world. Whether you choose to hire a yacht from Bayside Marina, Coconut Grove or Miami Beach Marina and sail around Biscayne Bay, or spend the day at the exceptional Tierra Santa Healing House spa, you can ensure you head home feeling truly refreshed.
Restaurant suggestion
Alter: A modern and minimalist option, Chef Brad Kilgore took his fine-dining experience and channelled it into something unique, serving seasonal Floridian food that's been immaculately prepared. The full chef's experience is $165 per person, with an extra $100 for paired beverages.
This post was written by Top Villas, a travel company who help people create their perfect vacation experience with a selection of luxury villas near Disney, Florida.
How to Get the Most Out of a Luxury Florida Holiday in Seven Days / Luxurytravelmagazin / By Jannifer Bar / New York /
TRAVEL EXCLUSIVE NEWS / Istanbul