Views: 298
Exclusive Travel News / 10 Of The Best Hotel Pools In The US / By Tanner Saunders / thepointsguy.com/ Luxury Travel Exclusive / Sedat Karagoz / Istanbul,New York Travel,Tourism News Office / Janbolat Khanat / Almaty Travel,Tourism News Office

This post contains references to products from one or more of our advertisers. We may receive compensation when you click on links to those products. Terms apply to the offers listed on this page. For an explanation of our Advertising Policy, visit this page.
Is there anything better in life than spending a lazy day lounging in the sun by a pool? Probably not, unless your idea of the perfect pool day is floating in a larger-than-life lazy river or chasing your kiddos around a pool with a kid-friendly splash pad or wave pool.
Whatever your version of an ideal pool day is, it all starts with the swimming pool. Thankfully, here in the U.S., we have more incredible hotel pools than we could ever possibly write about.
That said, we have gathered a handful of our favorites from sea to shining sea. These include pools with knockout views you have to see to believe, ones with incredible cabanas and others that are just so fun and functional that you'll never want to leave.
From the Las Vegas Strip to the theme parks of Orlando and everywhere in between, here are some of the best hotel pools in the U.S. to consider for your next trip
Disney's Yacht Club Resort and Beach Club Resort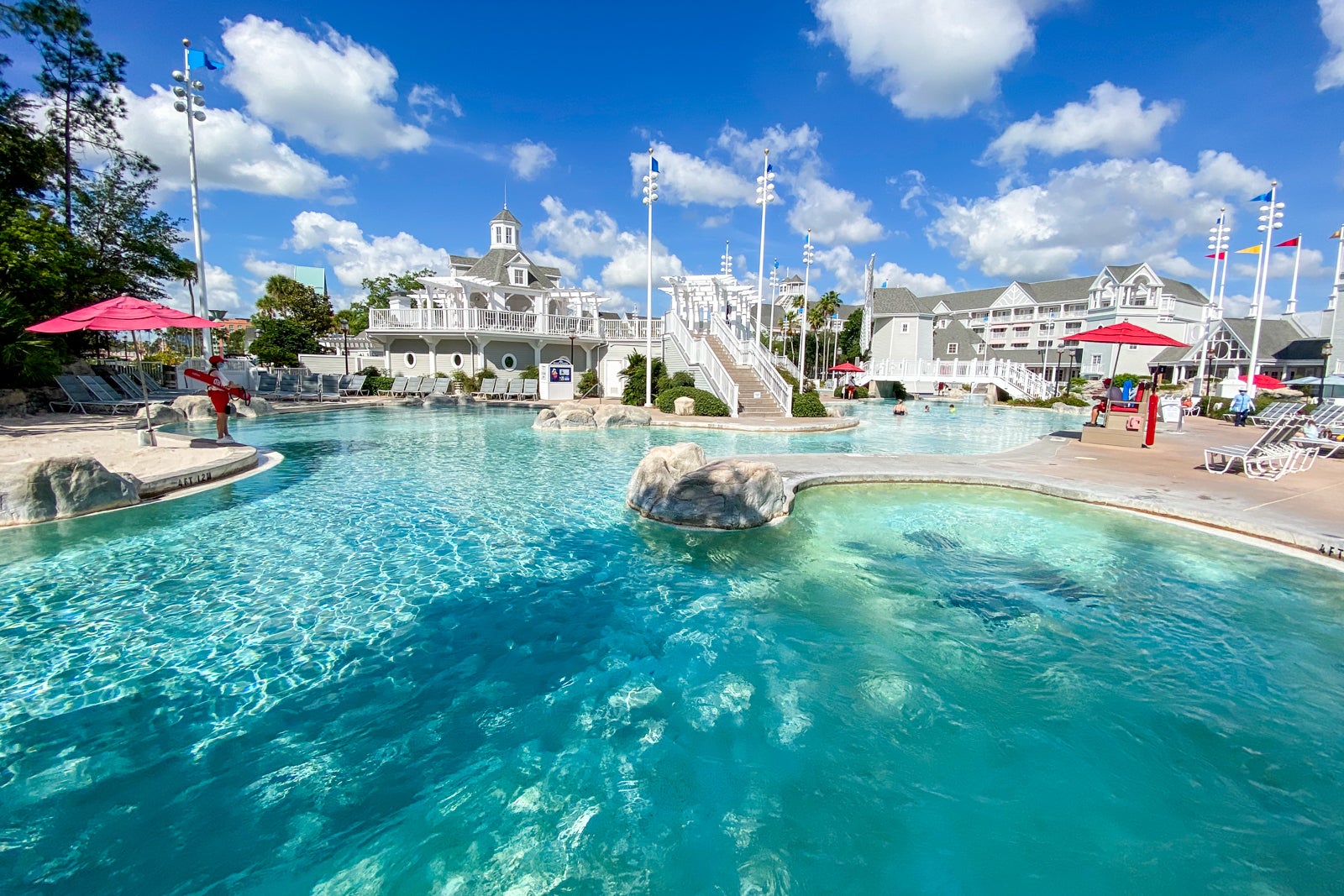 In Orlando, there's no shortage of activities — and there's certainly no shortage of pools.
One of the best in Orlando (and the country) can be found on the grounds of Disney World, shared between two Disney resorts: Disney's Yacht Club and Beach Club. Called Stormalong Bay, this 3-acre pool complex is basically a water park complete with a trio of leisure pools (including a sand-bottom pool), a 230-foot-long waterslide, a lazy river and an elevated tanning area.
How to book: At two of the more expensive properties at Walt Disney World, rates easily reach over $500 a night. However, with the help of a free Disney vacation planner, you might be able to find a better deal.
Related: The best Disney World hotel
Four Seasons Hotel Philadelphia at Comcast Center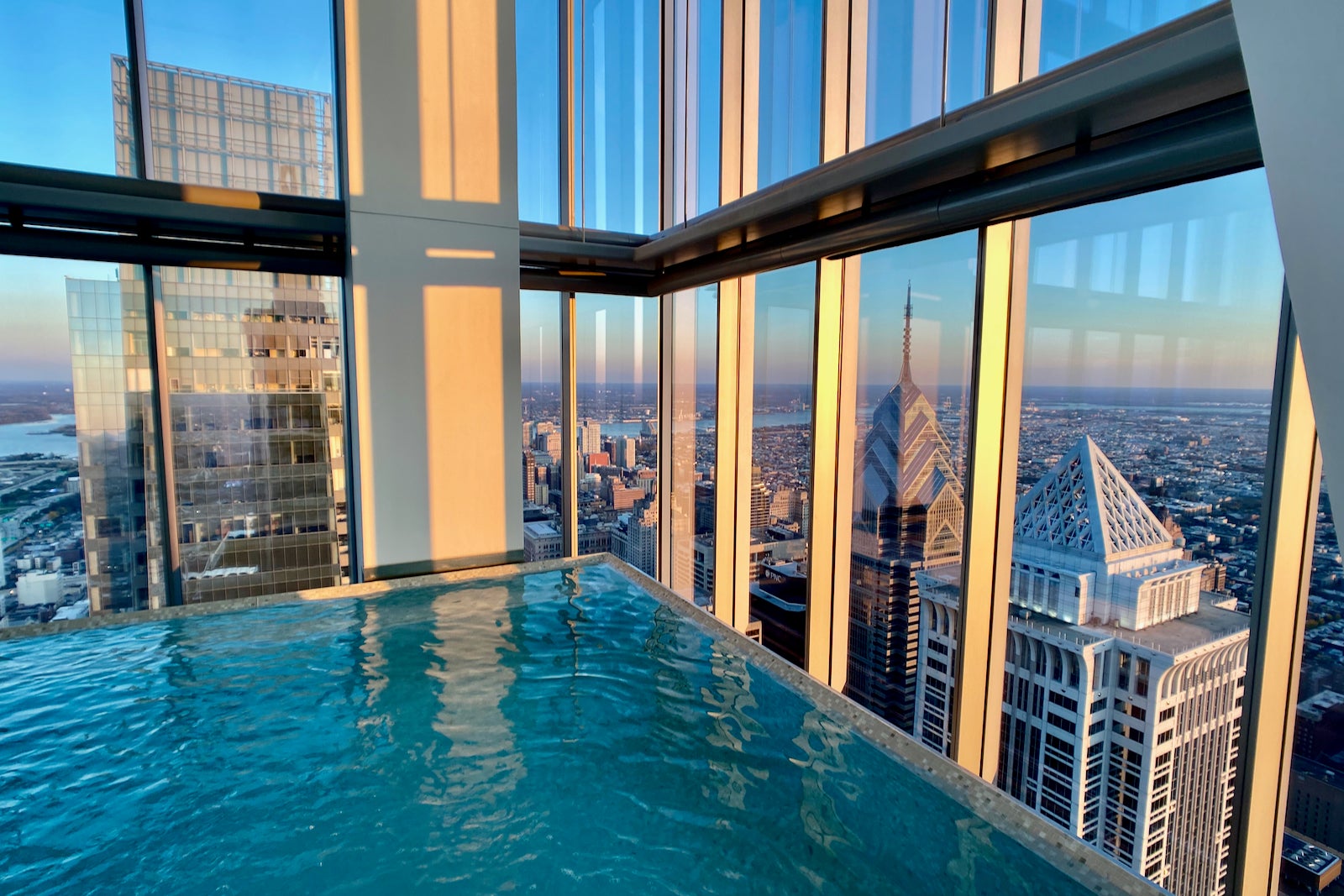 When we think about incredible pools, our minds don't usually go straight to indoor pools — unless you're familiar with the luxe Four Seasons Philadelphia. On the 57th floor of the downtown Philly hotel, the 30,000-gallon infinity-edge pool is reserved exclusively for hotel guests and boasts some of the most incredible views of the city, all seen from the comfort of heated water.
Reward your inbox with the TPG Daily newsletter
Join over 700,000 readers for breaking news, in-depth guides and exclusive deals from TPG's experts.
It's open all year long, so hotel guests can take in those stunning views or sit back with a healthy bento box meal delivered to their lounge chair even while it's snowing outside.
How to book: Though we're hoping it'll happen someday, Four Seasons still doesn't have a loyalty program. Cash rates at the Four Seasons Philadelphia can be found from $1,000 a night during peak summer months. There is some good news, however: Four Seasons is a member of American Express Fine Hotels + Resorts, a program for holders of The Platinum Card® from American Express (and other Centurion- and Platinum-branded cards), that offers complimentary breakfast, guaranteed 4 p.m. late checkout, upgrades and a $100 spa credit.
Related: Why the Four Seasons in Philly is the perfect weekend getaway
Maximize your spending, earn rewards faster, and easily track all of your points and all of your miles all in one place.
JW Marriott San Antonio Hill Country Resort & Spa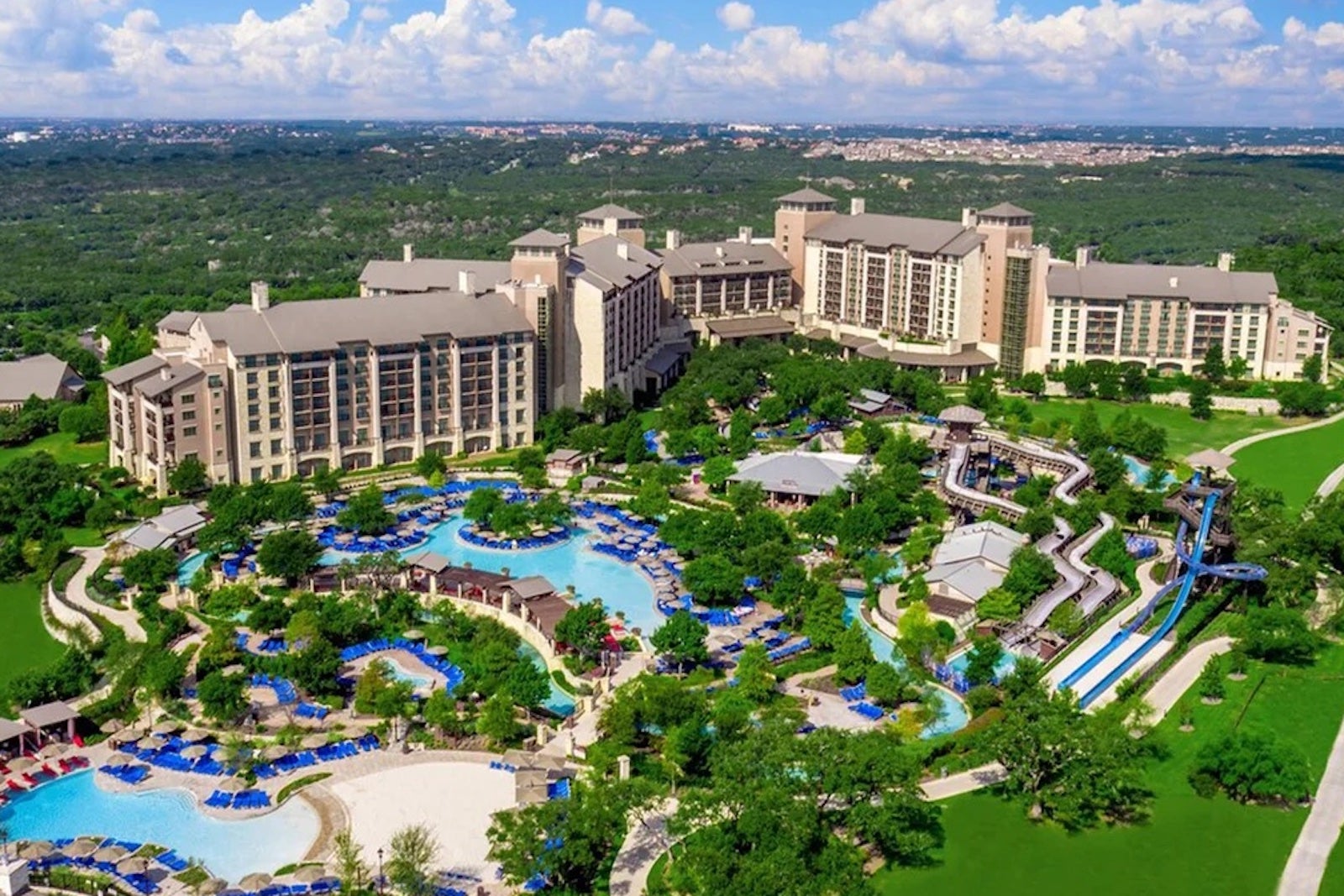 Everything's bigger in Texas — and that's exactly the case at the JW Marriott San Antonio Hill Country Resort & Spa.
There, guests will find more water action than at most resorts, including a 9-acre water park with multiple waterslides, a 1,100-foot lazy river, a kids pool with a zero-depth beach entry, an activity pool and even an adults-only pool. So, whatever your preferred vacation style, everyone who visits this Marriott Bonvoy-associated resort can find the perfect pool to beat the intense heat of Texas Hill Country.
Related: The best Marriott hotels in the world
How to book: Cash rates at this JW Marriott start as low as $290 a night, though you'll likely find more availability closer to $400 and above, with rates soaring to over $1,000 during peak travel periods. Marriott Bonvoy award nights start at 43,000 points a night, and if you act fast, there is still reward night availability for July and August.
Right now, with the Marriott Bonvoy Boundless Credit Card, you could earn 75,000 Marriott Bonvoy bonus points after using your card to spend $3,000 on eligible purchases in the first six months; plus, earn 50,000 bonus points after you stay six eligible paid nights at Marriott hotels through Jan. 31, 2024
Resorts World Las Vegas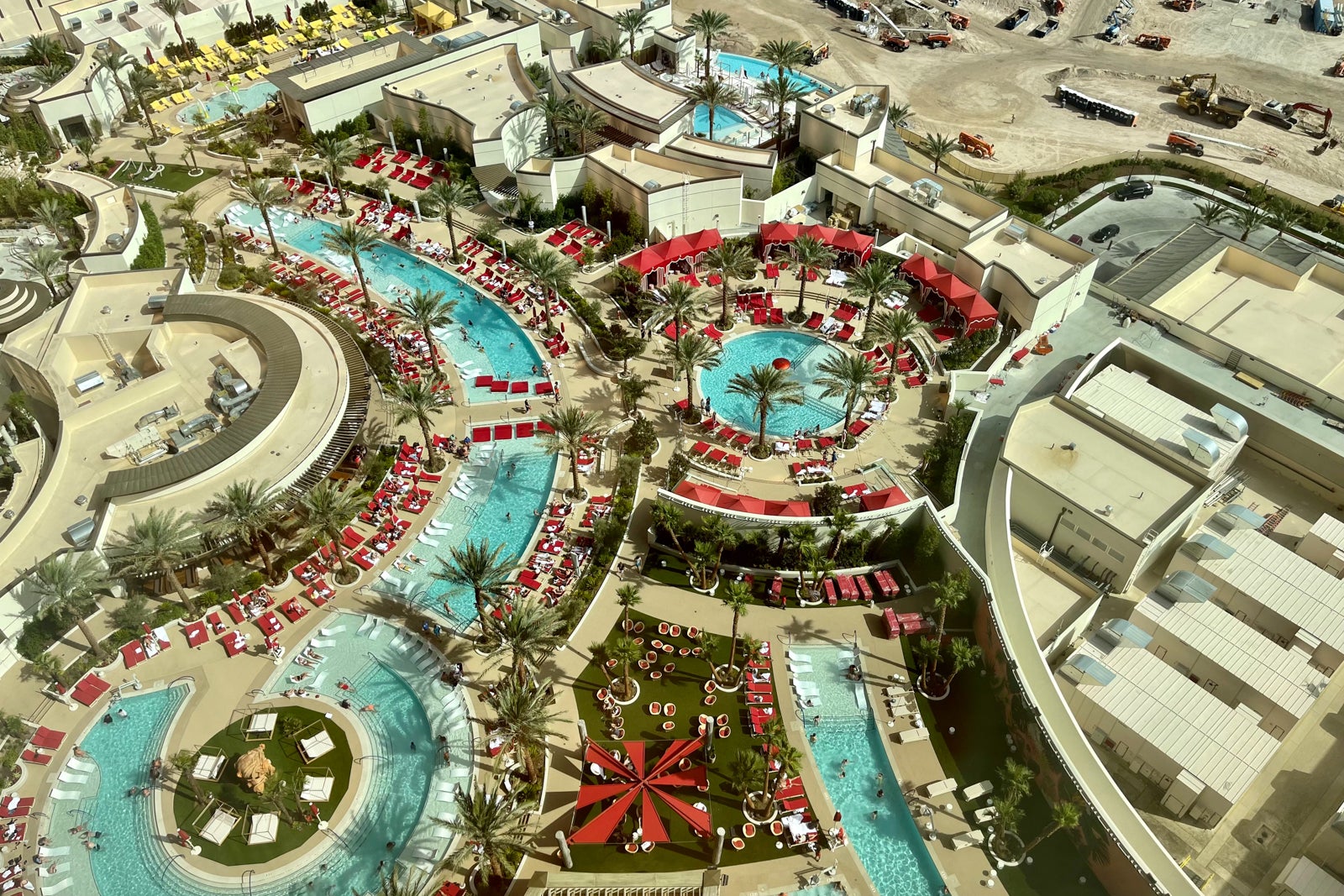 In Sin City, choosing a hotel based on its pool is an overwhelming experience because there are just so many great options.
Those trying to trade in some points for a stay at a property with one of those pools should look no further than Hilton's Resorts World. It's home to three different hotels in one massive complex: the Las Vegas Hilton, the Conrad Las Vegas and the luxury-focused Crockfords Las Vegas.
Related: The best hotel pools in Las Vegas
At the property's 5 1/2-acre pool complex, located outside on the fifth floor, guests will find a handful of different pools to experience. That includes the large Main Pool, where guests can reserve daybeds with a dedicated server, side table, concierge, towel service and shade.
There's also a Family Pool with rentable cabanas; the Bimini Pool with oversized games and activities; the Cabana Pool, where guests can rent cabanas with amenities like a television, refrigerator, coffee table and misting fan; and a VIP pool.
How to book: Because there are three different Hilton Honors-associated hotels here, rates vary depending on where you want to stay. Rates at the Las Vegas Hilton start at $78 or 45,000-70,000 points per night. Rates at the Conrad can start at $95 or 39,000-80,000 points per night. Rates at Crockfords start at $259 or 88,000-95,000 points per night
The West Hollywood Edition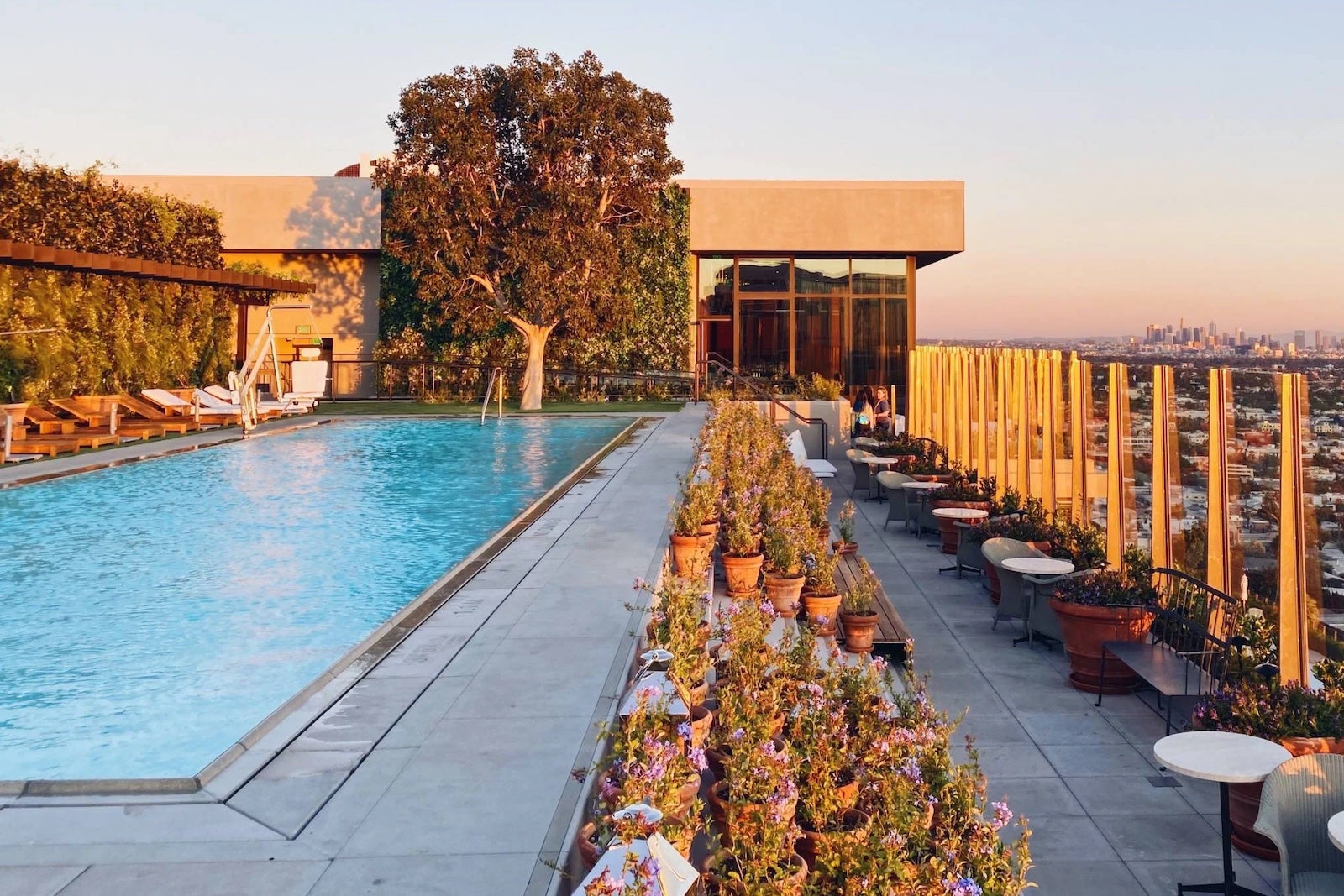 If you want to take in sweeping views of Hollywood Hills and the Los Angeles skyline, there's no better place to do it than from the pool at the celebrity-friendly West Hollywood Edition.
High in the hills, the pool offers wooden lounge chairs and lush greenery throughout to complement the stunning California sunsets and sunrises that are a must to take in while visiting this Marriott Bonvoy property. For food and drink, The Roof offers pool guests a wide arrange of drinks, including "tropical-inspired cocktails with Southern California flair" and an extensive list of tequilas and mezcals.
How to book: Cash rates for the West Hollywood Edition, including access to its rooftop pool, start at $568 a night. For folks with Marriott Bonvoy points to blow, nightly redemptions start at 68,500 points
Fairmont Kea Lani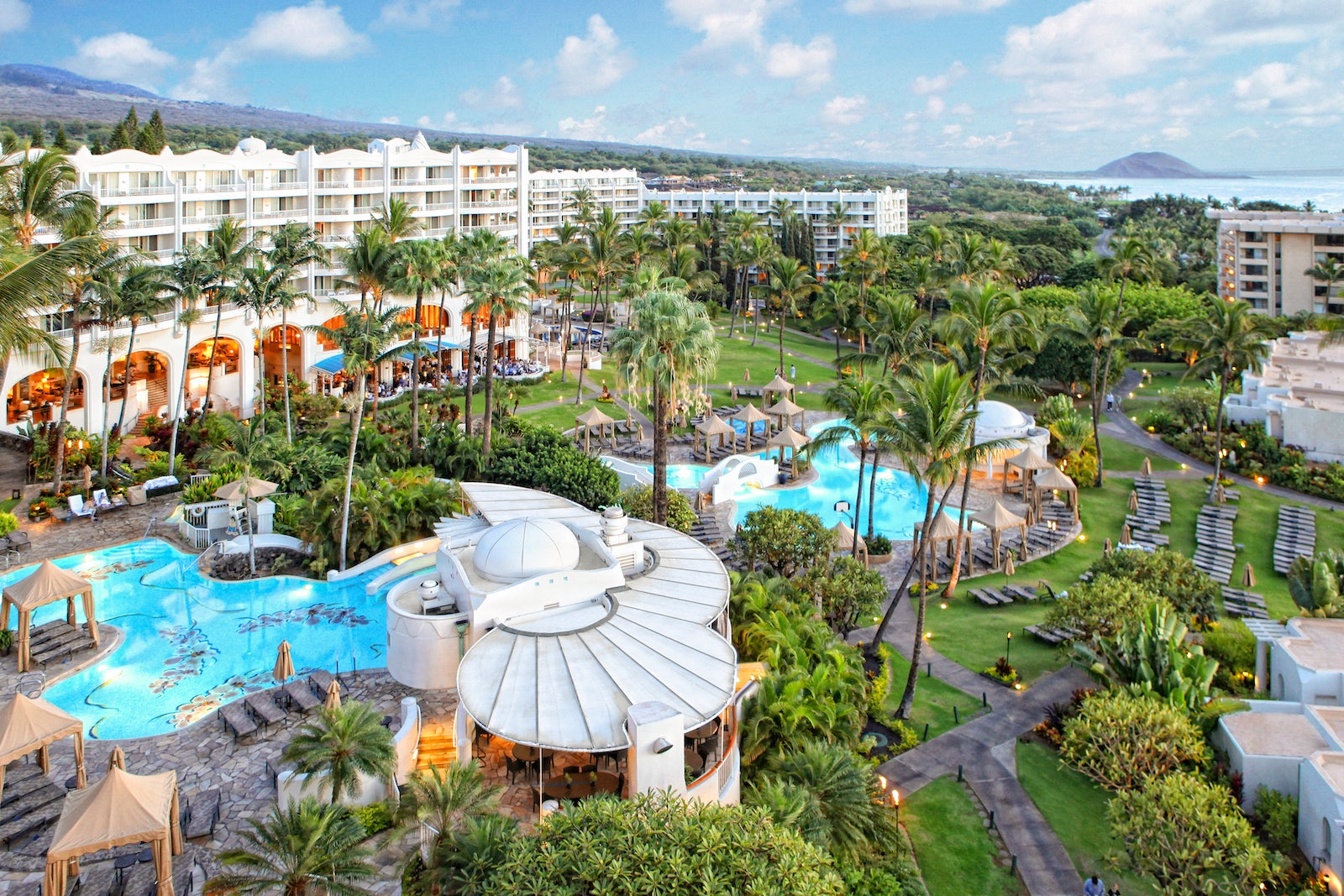 It's tough to imagine sitting by a pool in Hawaii when you're surrounded by the beauty of the ocean. However, at the Fairmont Kea Lani in Maui, it's really not that hard because there are plenty of incredible pools.
At this all-suite Fairmont, there are two lagoon pools joined by a 140-foot waterslide, two whirlpools and a kids pool with a basketball hoop. There's also an adults-only pool tucked away from the others.
Guests can rent cabanas around the three different main pools with access to chilled water, juices and sodas with the reservation, plus complimentary snacks. All guests can enjoy lunch and cocktails from Ko Restaurant and Ama Bar & Grill, as well as grab water toys and free sunscreen at the Pool Pavilion.
How to book: Rates at the Fairmont Kea Lani, the only Accor Live Limitless property on Maui, start at $1,009 a night. Read a review of the property, as well as reviews of TPG's other favorite Maui properties
Aulani, A Disney Resort & Spa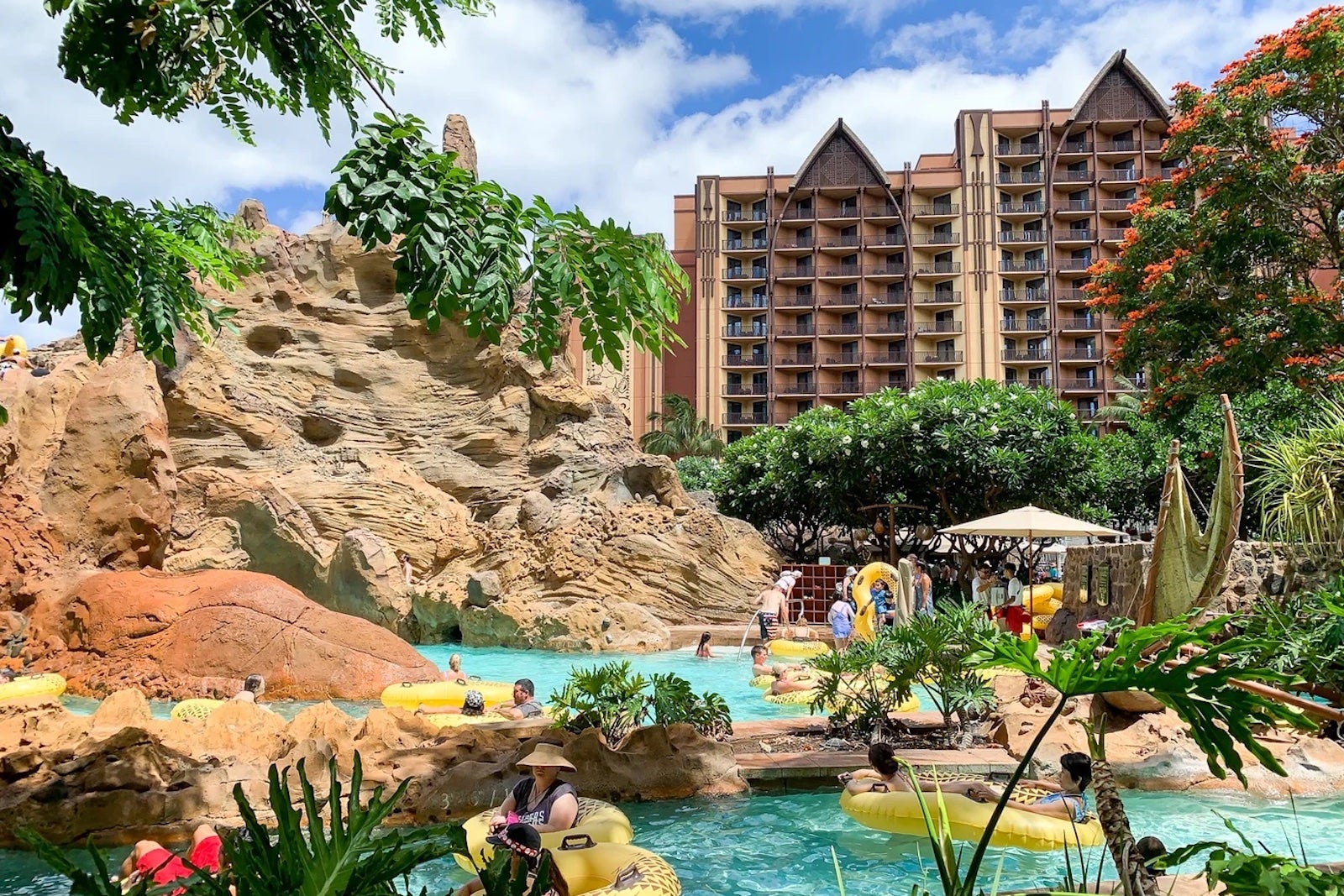 When it comes to swimming pools, Disney knows what it's doing — that's why it's got two entries on this list. This time, we're looking at Aulani, A Disney Resort & Spa, one of the most popular hotels in all of Hawaii, especially for folks traveling with family.
Called the Waikolohe Valley pool area, this resort has something for everyone: pools with ocean views, a kids pool and the main Waikolohe pool, and an 8,200-square-foot zero-entry pool with a waterslide in a volcano. Hotel guests can rent cabanas, dine poolside and forget the outside world while splashing and relaxing under the big Hawaii sky.
How to book: Cash rates at this top-tier Disney property don't come cheap and are usually upward of $569 a night.
Related: Where Disney and Hawaii intersect: Aulani, A Disney Resort & Spa
The Cosmopolitan of Las Vegas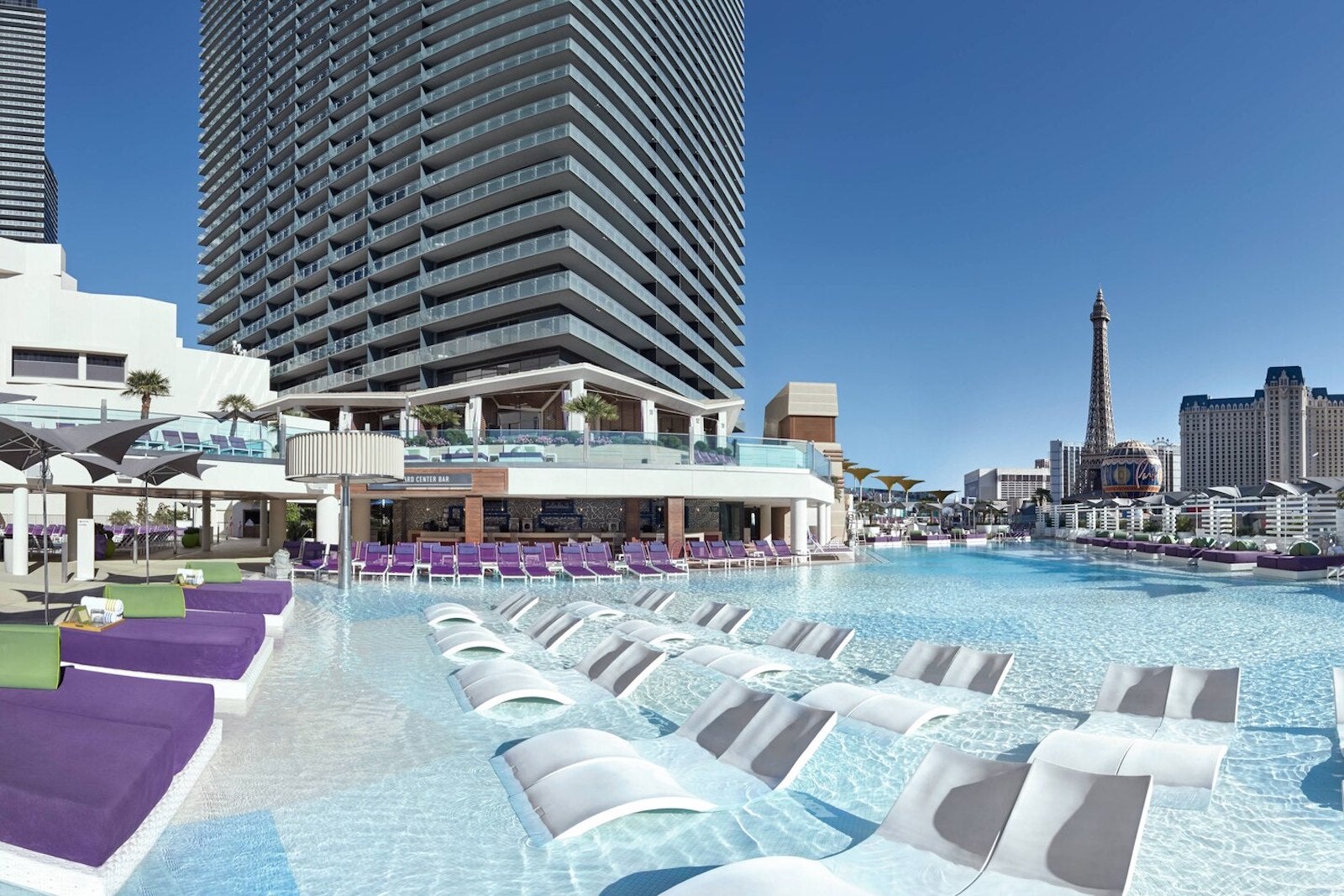 Another contender from Las Vegas, the pools at The Cosmopolitan — a Marriott Bonvoy Autograph Collection property — are where people go to bake in the sun and the flashing lights of Las Vegas Boulevard.
Of the two pools, the Boulevard Pool reigns supreme with its fourth-floor location overlooking the Strip. Folks who head up to this pool deck can book cabanas with a server and complimentary fruit plate, or just opt for a daybed. The pool frequently features live entertainment and "dive-in" movies. However, you can always hit up the bar for a refreshing drink to cool down from the desert heat.
How to book: You can find cash rates at The Cosmopolitan for as low as $240 a night if you look hard and your dates are flexible. Vegas is famous for its fluctuating rates, though, so don't be shocked if stays here cost upward of $500 a night on various weekends. The Cosmopolitan is also a Marriott Bonvoy resort with award availability starting at 75,000 points per night.
Related: Jackpot! Best hotels in Vegas for a Sin City getavay1 Hotel Brooklyn Bridge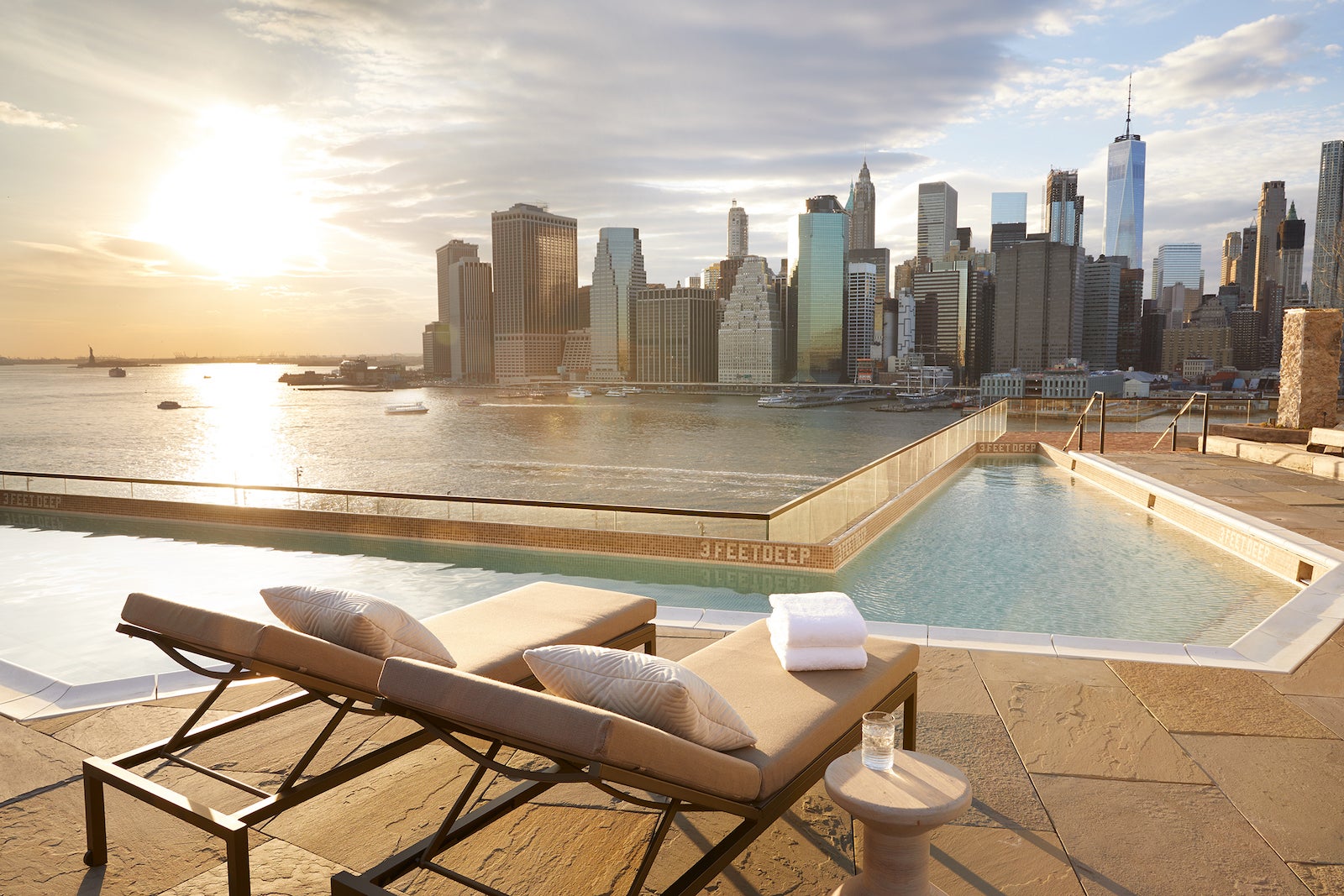 There's no skyline like the New York City skyline — and there's really no better place to take it in than the rooftop pool at 1 Hotel Brooklyn Bridge.
Located in Brooklyn Heights near the trendy DUMBO neighborhood, this hotel is prime Brooklyn real estate. However, the real star of the show is the pool. It's reserved for hotel guests, but reservations are required and limited to two-hour slots. Food and drinks are served from Harriet's Rooftop, which stays open even after the pool closes at 7 p.m.
Related: The best hotels in New York City, from luxury stays to points properties
How to book: Rates at 1 Hotel Brooklyn Bridge vary throughout the year. In the busy summer months, rooms start around $400 a night during weekdays but can climb to over $600 on weekends
The Westin Kierland Resort & Spa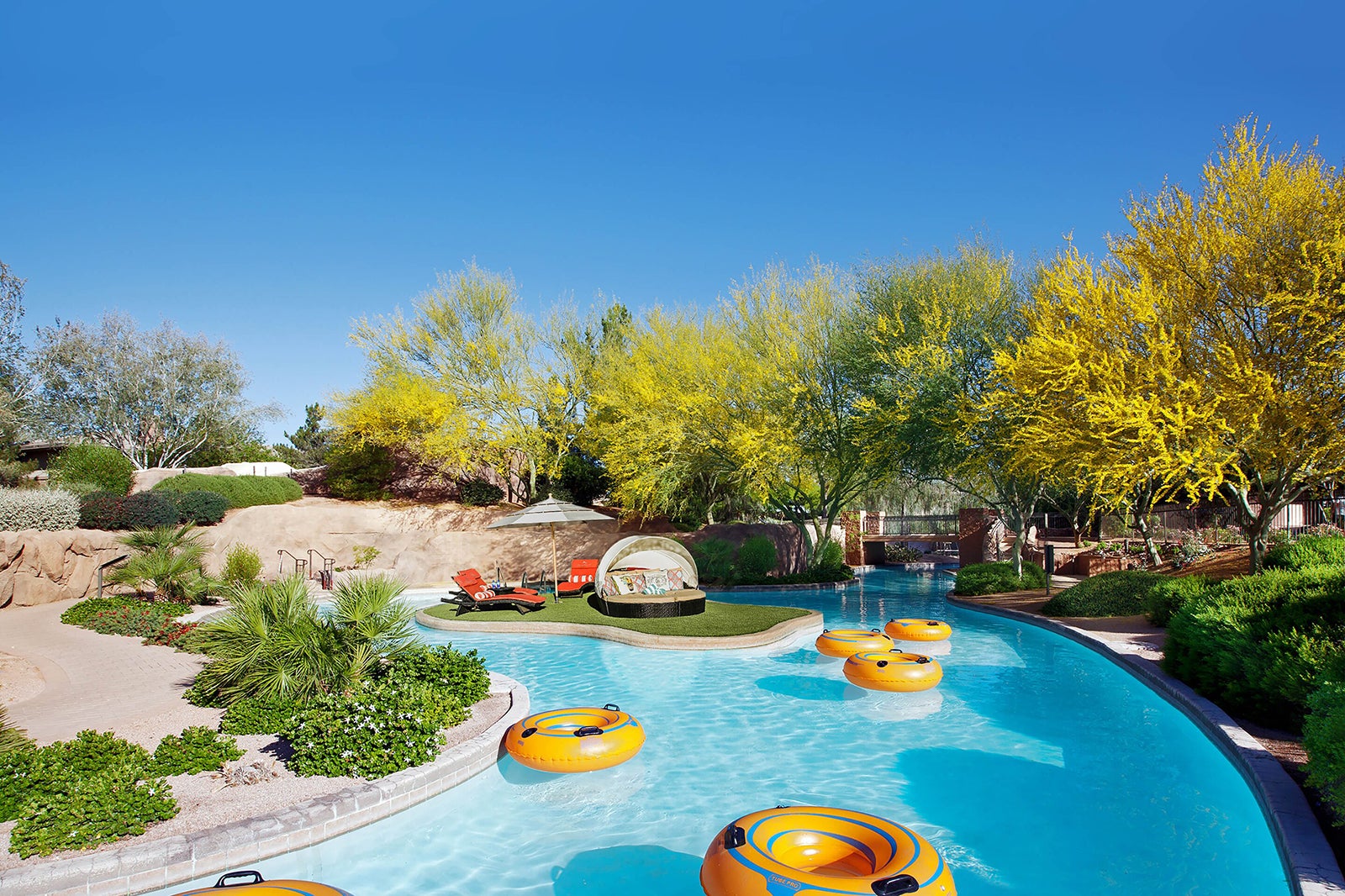 Another resort with a pool area that doubles as a water park, the Westin Kierland in Scottsdale, Arizona, is the perfect place to take the kids (or kids at heart) to enjoy a day basking in the sun, splashing in the water and racking up some Marriott Bonvoy points along the way.
At Adventure Water Park, guests can ride a 110-foot waterslide, float along a lazy river or try a surfing simulator that feels more California than Arizona desert. You can rent a cabana to get a little shade or reserve a Tommy Bahama Relaxation Reef that's basically a private island right in the middle of it all. If that's just too much, the adults-only pool is the ideal spot for folks to relax without a child in sight.
How to book: In the very hot summer months, you can find rooms as low as $229. As the Phoenix area cools down in the fall, rates go up significantly, easily upward of $500 a night. Award nights can be found as low as 41,000 points per night and as high as 60,000 points per night.
FEATURED IMAGE BY FAIRMONT KEA LANI/FACEBOOK
Exclusive Travel News / 10 Of The Best Hotel Pools In The US / By Tanner Saunders / thepointsguy.com/ Luxury Travel Exclusive / Sedat Karagoz / Istanbul,New York Travel,Tourism News Office / Janbolat Khanat / Almaty Travel,Tourism News Office
Pop your email address below to be notified of new posts by email. You can unsubscribed at any time, although I hope you won't!
[contact-form-7 id="19838″ title="Untitled"]