Gay Tampa: Our Travel Guide To The Best Gay Bars, Clubs, Hotels & Things To Do / By Stefan Arestis / Nomadıc Boys / Stefan & Sebastien

In this travel guide to gay Tampa, we've put together our top recommendations and tips from our first-hand experience traveling here as a gay couple.Tampa is young, fun and full of c……college students!This unassuming city in Florida makes the perfect gay vacation spot. Tampa truly has a fun and exciting vibe thanks to the large population of students in town attending the city's famous University.We loved Tampa. You can feel a buzz in the air as you jog on down the Tampa Riverwalk – helped by the awesome day we'd spent on the rides at the Busch Gardens amusement park. We found the city to be open-minded, tolerant and super diverse. Most importantly, it felt very gay friendly.Tampa was one of our stopovers during our big road trip around Florida. The city offers so much for LGBTQ travellers, least of all the exciting Busch Gardens (Universal's unofficial younger sister!) and the GaYbor gay scene in Ybor City. We had a blast here and would certainly return for more!In this travel guide to gay Tampa, we've put together the best gay friendly hotels to stay, bars/clubs to check out, events, things to do, and more. Be sure to also check out our article about the best things to do in Tampa for more inspiration.
Join our newsletter

Subscribe now to receive in-depth FREE travel guides, along with inspiring stories, savvy planning tips, and exclusive discounts on gay tours.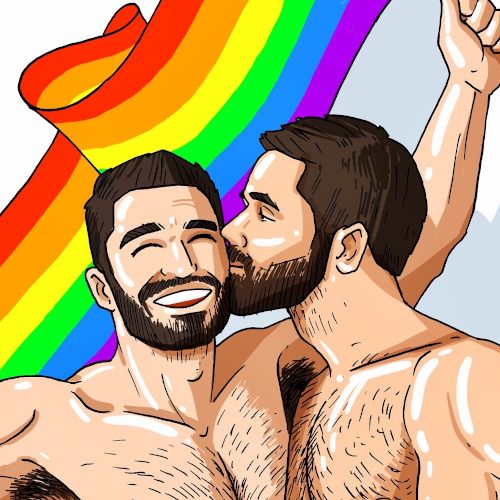 Covered in our travel guide show
Gay neighbourhood of Tampa

The gay neighbourhood of Tampa is mainly based along 7th Avenue in the city's historic district called "Ybor City". A coalition of businesses in the area created an LGBT Chamber of Commerce business group called "GaYbor", which is also the nickname for the gay neighbourhood of Tampa.In good ole' GaYbor, you'll find the main gay clubs, bars and bathhouses of Tampa, as well as a number of boutique shops like "La France". Tampa's gay nightlife comes alive on weekends as the crowds hit the gay bars like Bradleys and Honey Pots (see more below).The GaYbor is also home to some of the best gay events like Tampa Pride & Diversity Parade in March and the Tampa International Gay & Lesbian Film Festival in October. See more below to find out more about the best gay events in Tampa.

BONUS TIPWe highly recommend getting the Tampa Bay CityPass, which for just $107, includes entry into various attractions like Busch Gardens, The Florida Aquarium, ZooTampa, Clearwater Marine Aquarium and more, over 9 days. We rate it because it allowed us to skip all the queues, which saved us a lot of time!Find out moreBlending in with the rainbow life of Tampa's Gaybor

Best gay hotels in Tampa

Whilst there are no exclusively male-only gay resorts in Tampa like there is in Fort Lauderdale and Key West, there are several gay-owned and queer-friendly hotels that won't care two hoots if two men want to share a double bed. We've set out below the best gay hotels in Tampa that we tried and loved during our trip:Must do in Tampa: Visit Busch GardensAfter visiting Universal in Orlando we wanted more! We're massive theme park geeks, so we were extremely excited to visit Busch Gardens in Tampa. This place is soooo much fun! As well as the exhilarating rides, Busch Gardens also has a safari and a fascinating zoo. It does get super busy though so we highly recommend buying your skip-the-queues ticket online beforehand.Find out moreEPICUREAN HOTEL

WHY WE LOVE IT
---
Romantic boutique hotel, made for gay couples!

Truly epicurean in style – a wine cellar design at reception

Get a couple's massage at the lush Evangeline Spa

Guest rooms have an "artisan pantry"
Epicurean by name, epicurean by nature…the foodie theme is what initially caught our eye. It starts with the reception area, which is designed like a wine cellar with a collage of wooden wine crates. On the TV screens, the Food Network is the main featured channel.
Next, the guest rooms each have an "artisan pantry" with suggested food pairings of prosciutto, cheese and chocolate for each wine offered. Then over to the Evangeline Spa for our couple's massage with its walls adorned with wine corks and treatments that use fresh fruits, local herbs, essential oils, coffee and other natural ingredients. 
Foodie travellers in Tampa really need to check this place out!Our room at the Epicurean luxury hotel was simply handsome! Full of space, with rain shower, Tassimo coffee-makers and ultra-comfortable king-sized bed thanks to the Beautyrest Euro Top mattresses…honestly, it felt like we were lying in a cloud when sleeping on these! The best rooms have a balcony that opens onto the hotel's unique garden patio, which is also the restaurant's herb garden.The Epicurean has a small fitness centre with cardio equipment, machines and free weights. It also has a small pool and a jogging trail close to the hotel which we tried out one morning before breakfast. The main restaurant is the Élevage (named after the winemaking process between fermentation and bottling) which is pretty posh with some unique dishes – sourdough pancakes for breakfast, brioche-crusted halibut for lunch and sorghum-glazed filet mignon for dinner…yes please!
Prices at Epicurean Hotel start from $329 per night:
STAY WITH A GAY LOCALMisterb&b is the Airbnb equivalent for the LGBTQ community. Unlike on Airbnb, you know your host is gay, voiding any nasty surprises when you check-in. It is also a great way to meet gay locals and discover the underground gay scene. Click below to get 10 € (or $10) off our first booking.Find a gay host nowALOFT HOTEL

WHY WE LOVE IT
---
One of the most trendy gay friendly hotels in Tampa

Located just by the very cool Tampa Riverwalk

Hip pool bar that is a popular hangout at sunset

Corgis are welcome for free…Aloft is a dog-friendly hotel!
Aloft, one of our favourite Marriott brands, is a very hip hotel targeted to Millennials. You really feel that from the moment you enter, with cool dark interiors, live DJ in the lobby and the events they host like the silent disco on the pool deck and the "Wine Down" on the last Wednesday of every month.
Aloft also knows that we gay boys love our pets 'cause they get to stay here, for free! They even have event targetted to our furry friends, like the "Wine and Whiskers", complete with a kitten cuddle zone!
The rooms inside can be on the small side with limited storage space, but functional. The larger Ultra Savvy Suites are much bigger with a private terrace and walk-in closet. The location of Aloft is another big thumbs up. It's right by the 2.6-mile (4.2km) Tampa Riverwalk, which was our favourite spot for morning runs. Aloft is also close to the Tampa Bay Performing Arts Center, the University of Tampa, the Tampa Convention Center and the Tampa Museum of Art. For the gay scene over in Ybor City, it's a 10-minute taxi ride.Inside, there is a 24-hour gym, not the largest hotel gym we've tried, but complete enough for you to do a full circuit. There is also a pool with a bar, where we loved hanging out during sunset. The views are impressive – overlooking the river which is west facing, so you know those sunsets are going to blow up your Insta feed! Final point, if you're driving they have a valet service for the daily fee of $22.
Prices at Aloft Hotel start from $219 per night:
---
Join our newsletter
Subscribe now to receive in-depth FREE travel guides, along with inspiring stories, savvy planning tips, and exclusive discounts on gay tours.
DON'T MISS OUT!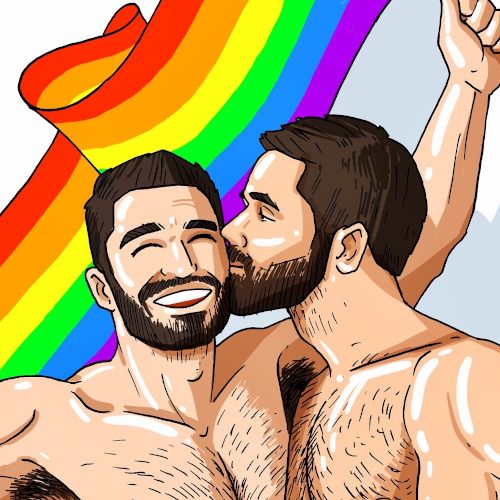 CASA PUENTE GUESTHOUSE

WHY WE LOVE IT
---
Super friendly gay-owned clothing-optional guesthouse

Our top pick for gay budget travellers in Tampa

Very personable: just 5 rooms available to book

Located close to Busch Gardens
Casa Puente is owned and managed by cute gay couple Martin and Eric. Staying here feels like staying with a your gay family. The boys make you feel so welcome from the moment you arrive.
It was so easy to make friends with the other guests and ended up going out together in Ybor City. For this reason alone we highly recommend Casa Puente to solo gay travellers who are looking to make new friends.
Casa Puente has 3 room options – 2 private ensuite rooms and a studio self-contained unit of 500 sq ft (46 sq m) on the second floor. They share a private pool, spa and hot tub which are clothing-optional.Martin and Eric also own a 39-foot Sea Ray Express Yacht called "Beautiful Seaduction", which is docked 35 minutes from Casa Puente at the Gulfport Marina in Gulfport Florida (South St. Petersburg) area. They offer daytime 4-hour cruises or evening sunset/moon-lit excursions. The Beautiful Seaductress (as we liked to call her…!) can also handle 4 adults staying overnight.The cruises can also be clothing-optional by agreement with Martin and Eric in advance.

The property sits on over 1.5 acres of land including a running stream with a bridge (Puente in Spanish – hence the name).

It also borders a pretty wooded area which has nature trails along the water. Location wise, it's around 10 miles (16km) north from Downtown Tampa and a 15-minute taxi drive to the gay bars of Ybor City. It is also located close to Busch Gardens.
Prices at Casa Puente Guesthouse start from $89 per night:
Gay bars in Tampa

Ybor City is where you'll find the gay nightlife of Tampa! The famous pretty Old City of Tampa has a vibrant gay scene that gets busy every evening, particularly at weekends. Bradley's is the main gay bar which is usually the busiest with a few dotted around it. Outside of Ybor City is the City Side Lounge, which is famous for its themed events. We summarise them all below:
DON'T MISS OUT!
Join our newsletter
Subscribe now to receive in-depth FREE travel guides, along with inspiring stories, savvy planning tips, and exclusive discounts on gay tours.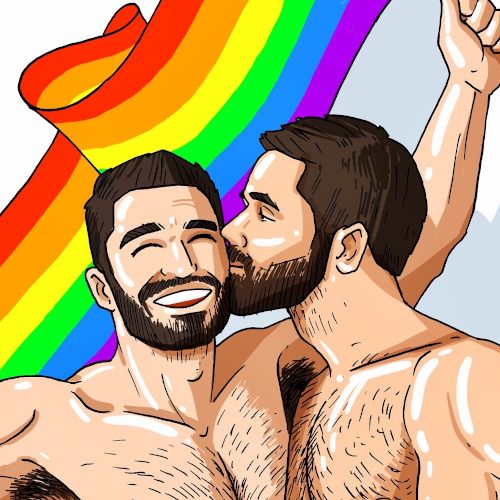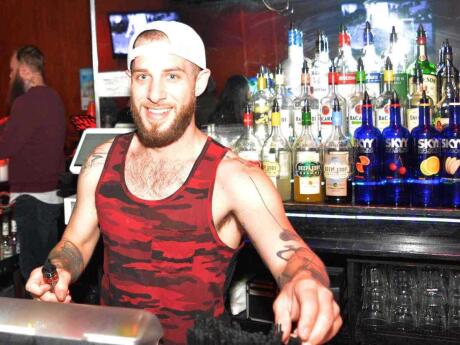 Bradley's is the place to come to start the night. It's busy here whatever day of the week you come, thanks to the large community of LGBTQ student in Tampa. For example, on Monday evenings they have a 2 for 1 Happy hour on all drinks, on Thursdays an amateur ʂtriþ contest and on Friday evenings a series of drag shows. Bradley's also has a dance area, which gets busy after midnight.
Bradley's on 7th is located at 1510 East on 7th Avenue. It is open every evening until around 3am.
---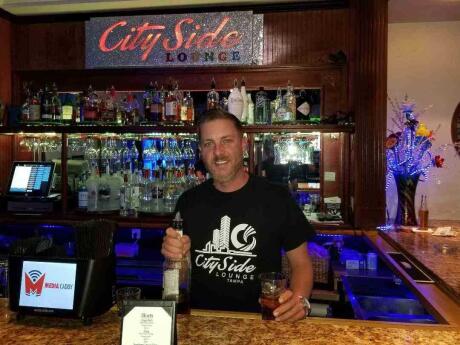 City Side is the only gay bar of Tampa not in Ybor City. It's a building with 3 bars inside and a stage, which is the focal point of the daily themed events. Check out Drag Bingo on Sundays, the 'Darts and Bingo Tournaments' on Tuesdays and Thursdays, Karaoke on Wednesdays and Saturdays, and the hot boy ʂtriþþer show on Friday nights. City Side also has occasional drag shows happening – check their Facebook page for the latest info.City Side is located at 3703 Henderson Boulevard, outside of Ybor City, southwest of downtown. it is open every evening until around 3am.
---

"Ybor's City's finest Hole in the Wall"…Reservoir is a cutesy dive bar, more low key than Bradley's, with a friendly local crowd where everyone knows everyone.Sunday afternoons are the best time to come when they have their 2 for 1 happy hour until 7pm. It's super relaxed and a great place to make new friends, whether over a few rounds of pool or over a heated argument over Monopoly… Lesson learnt: never play Monopoly with Seby ever again…!Reservoir is open every evening until around 3am. It is located at 1518 East 7th Avenue.
---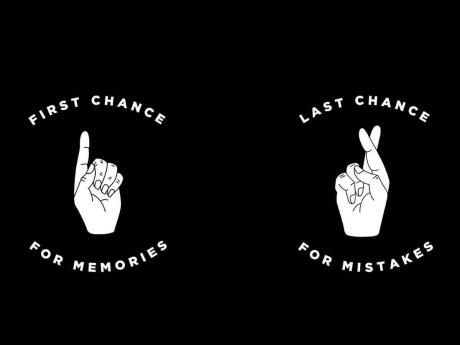 First Chance Last Chance is another popular intimate local bar in Ybor City. We loved having cocktails at the private open-air courtyard and outdoor bar area.
The mixologists of First Chance are famous for their concoctions, which is part of the bar's attraction. They also have live music – a mix of RnB and pop hits. The crowd is a mix of mainly unpretentious LGBTQ locals of all ages.
First Chance Last Chance is open every evening until around 3am. It is located at 1707 North 16th Street.
---
Gay clubs in Tampa

As with the bars, the bulk of the gay clubs of Tampa are located along Seventh Avenue. Honey Pot and Southern Nights are the most famous where most of the crowd will end up after starting out at Bradley's. There are also a couple of other gay clubs located just outside of GaYbor's Seventh Avenue. We summarise the best ones here:
DON'T MISS OUT!
Join our newsletter
Subscribe now to receive in-depth FREE travel guides, along with inspiring stories, savvy planning tips, and exclusive discounts on gay tours.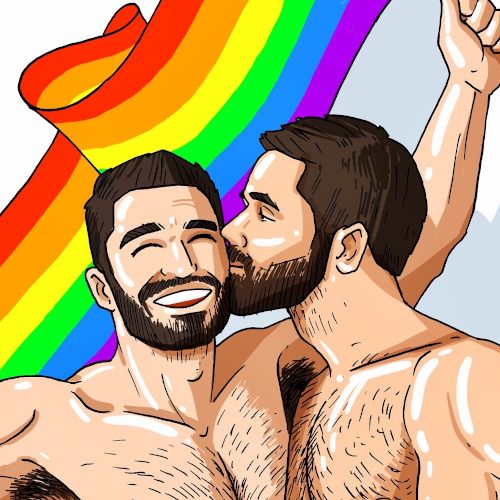 Honey Pot

(temporarily closed – updated June 2022)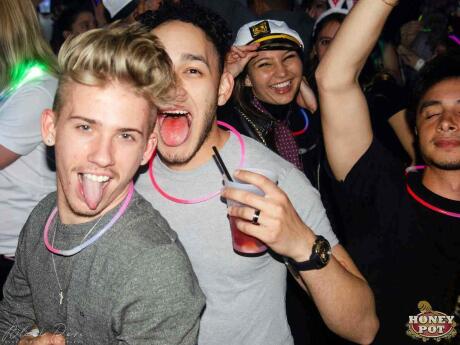 Friday nights at Honey Pot are wild! Honey Pot has the best gay nights in Tampa with tongue-in-cheek events like "Steam Fridays", "Wet Dreams", "Tease Saturdays" and the infamous "Hot Guy Of the Week Contest"! They have live DJs, and hot dancers and it's the best hangout to meet all the cute local Tampa student party boys.
They also host some of the most famous drag queens, which have included the likes of Miss Yuhua Hamasaki in the past.
Honey Pot is only open Friday and Saturday evenings until 3am. It is located at 1507 East 7th Avenue.
---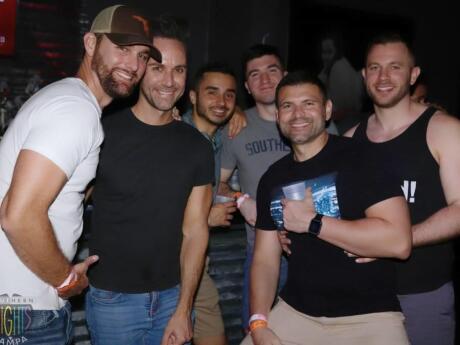 Southern Nights is another staple on the Tampa Seventh Avenue GaYbor scene, the place where celeb drag stars are going to be spotted if they're in town.
Previous performers have included Manila, Sharon Needles, Thorgy Thor,Alaska, Derrick Berry and Nina Flowers. It gets super busy here from around midnight onwards, with hot topless guys dancing and performing. This is also the place to come in Tampa for Ru Paul's Drag Race Watch Parties.
Southern Nights is only open on Tuesdays, Wednesdays, Fridays and Saturdays until around 3am. It is located at 1401 East 7th Avenue.
---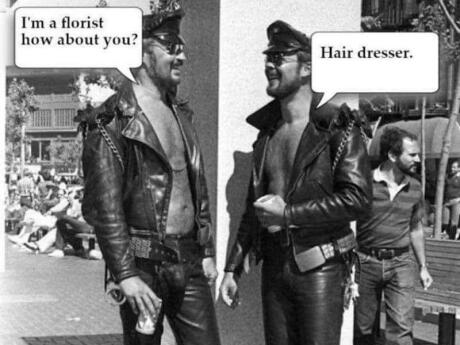 Where real men get what they deserve! Cristoph's is Tampa's premier leather hanky panky club with themed events like the "Ram Party"… They are also the best hangout for bears and older men…much fewer students head here! The best bear night parties of Tampa are at Christoph's and include "Bear Soup", "Bear Bingo Night" and the infamous"Fridays We Deal With Daddy Issues" night! For details of the latest events, check the Cristoph's website.
Christoph's is located outside of Ybor City at 2606 North Armenia Avenue. It is open every evening until around 3am. 
---

The Castle is one of the most famous clubs in all of Tampa full of people from all spectrums of life, particularly the punk and gothic community It always attracts a large queer segment particularly during the larger alternative nights like the e-Rotic Ball, the Vampire Ball, VOID in the Dungeon and Nuclear Night. From the outside, you can't miss it thanks to the pretty dramatic Gothic exterior. Inside includes a saloon, courtyard area and a dungeon!
The Castle is located at 2004 N 16th St and only open on Friday and Saturday evenings until 3am.
---
Drag shows in Tampa

Tampa has a strong drag heritage – remember, this is the home of Miss Vanjie! Whenever a famous drag queen celeb's in town, they will usually be performing at one of the bars below:Southern Nights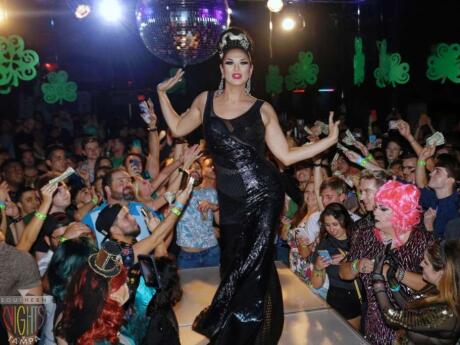 Southern Nights has become the city's premier drag bar. Not only do they have a drag show on almost every night of the week, they also host live watch parties of the latest Ru Paul's Drag Race episodes. Whenever a famous Queen is in town, Southern Nights is where she'll be at.
They've had some pretty famous faces hosting and headlining some of their weekend parties such as Sharon Needles, Trinity K Bonet, Manila Luzon Miss Vanjie and Roxxxy Andrews. For more, check out the Events section of their Facebook page the latest info about the next party.
---
Bradley's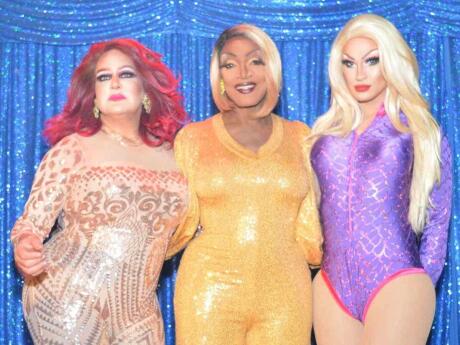 Their slogan says it all: "drinks divas dance". The drag shows at Bradley's are hilarious. They take place in their Diva Dance Room and include the "La Cage Aux Folle" show.
On Thursdays, during their amateur ʂtriþþer contests, they'll sometimes have a drag queen hosting the event, which is priceless to watch! For more info, check the Events section of Bradley's website.
---
City Side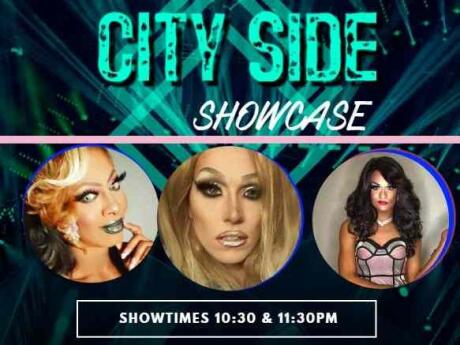 City Side has become famous in the Tampa drag circuit due to its famous drag "Miss City Side" pageant Every March, contestants gather to entertain the crowds hoping to be crowned the next Miss City Side. Another prominent drag event at City Side to watch out for is the weekly "Just Slay" competition in which drag queens compete against each other in mini-challenges to win a cash prize. For more, check the Events section of the City Slide Facebook Page.
---
Gay saunas in Tampa

If you're looking for good old fashioned hanky panky sauna fun, there is one all-male gay bathhouse in Tampa to check out called the Tampa Mens Club. Otherwise, if you just want a nice queer-friendly space to chill for the day, we recommend the Shangri-La Bath & Sauna. We summarise both below:Tampa Mens ClubThe Tampa Mens Club is the city's main official gay sauna.
It's open 24 hours but has a 12-hour time limit. Inside it includes a steam room, mirrored showers, video rooms, large gym, dark cruising areas and outdoor patio.
They also have themed nights aimed at attracting a varied crowd such as "Twinkie Tuesday" and "Bear and Cub Thursday". The Tampa Mens Club is located at 4061 West Crest Avenue.Shangri-La Bath & SaunaThe Shangri-La is a Korean inspired gay friendly mixed sauna. This is more the place to come for chilled and relaxing treatment than for hanky panky fun! It is open 24/7 and you can buy a Day Pass to spend the day relaxing in the spa.
The spa area includes cold tubs, hot tubs, a steam sauna and a dry sauna. They also offer treatments like Body Scrubs, Masks and an Oil Full Body Rub. The Shangri-La is located at 5636 East Hillsborough Avenue.

Gay Pride and Events in Tampa

When it comes to festivals, Tampa certainly packs a punch! There's a festival happening in Tampa for almost anything you can imagine. Margarita Festival? There's one in May. 
Greek Festival? That's in November… In terms of gay festivals, Pride is the main one along with a gay film festival in October. The other prominent LGBTQ related festival to watch out for is Gasparilla in January. We summarise them below:
Join our newsletter
Subscribe now to receive in-depth FREE travel guides, along with inspiring stories, savvy planning tips, and exclusive discounts on gay tours.
DON'T MISS OUT!

Gasparilla Pirate Festival in JanuaryAlthough not an official gay event, Gasparilla is often nicknamed as "Florida's gay Mardi Gras". This pirate dress-up event takes place in Tampa's GaYbor to celebrate the city's pirate heritage.
It takes place on the last weekend of January. It includes a circuit style weekend of events including "Whips and Chains" at The Castle and the super gay "El Gancho Party" at the Historic Ritz Ybor Theater, where you'll see the skimpiest (and hottest!) gay pirate outfits ever!Tampa Pride in MarchTampa Pride is the city's largest LGBTQ event attracting around 20,000 people each year It takes place in late March and includes a variety of events such as the Pride-Zoo-La at ZooTampa, the Mr & Miss Tampa Pride Pageant in February and the Tampa Pride at Night closing party.
The highlight of Tampa Pride is the colourful Diversity Parade in Ybor City, which winds its way east from the corner of Nuccio Parkway and 7th Avenue, down 7th Avenue to 20th Street.TIGLFF Queer Film Festival in OctoberThe Tampa Bay International Gay and Lesbian Film Festival started in 1990 as a modest affair and is now one of the largest film festivals 9 days in October. It includes screenings of the latest queer movies, an opening night with drink events, and a closing event where the jury panel award prizes to the best films during the festival.

Sashaying our way through Ybor City ready to hit the gay bars

Where to eat?

Tampa is a foodie haven. We had some of our best meals in Florida here. There is a range of different highly rated restaurants from Italian, Asian, French high end and fusion. We summarise some of our favourites below to inspire your Tampa culinary bucket list.Ulele restaurant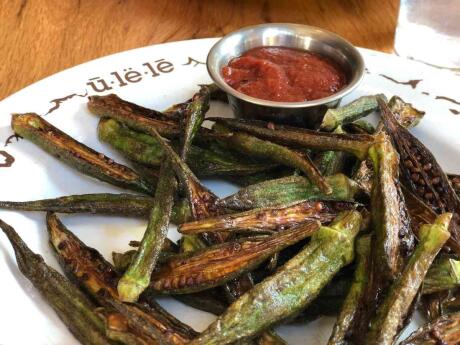 Ulele (pronounced You-lay-lee) celebrates the fusion of ingredients from Florida waters (lots of fresh fish!) and land once home to many Native Americans, including the young princess Ulele. It's also one of the most famous restaurants in Tampa located on the famous riverbank. It's always busy – and for very good reason! But you do need to book a table in advance. Their burgers are divine! And instead of fries/chips, try the okra chips.
---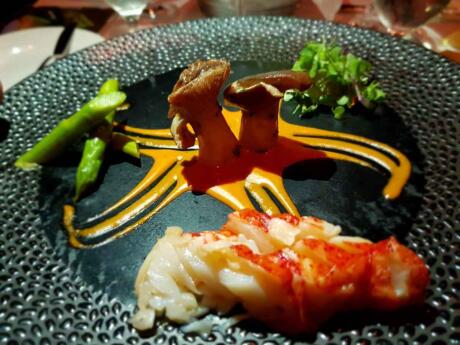 It's French for "everything in its place" in case you were wondering! This is one of the most impressive, upscale restaurants in Tampa.
The reviews are excellent and if you ask any local for a recommendation for a good restaurant, it will usually be Mise En Place! The food is excellent, especially their seafood and fresh fish. We recommend trying the Sous Vide Lobster, Seared Tuna, Pan Seared Foie Gras and the Sautéed Calamari.
---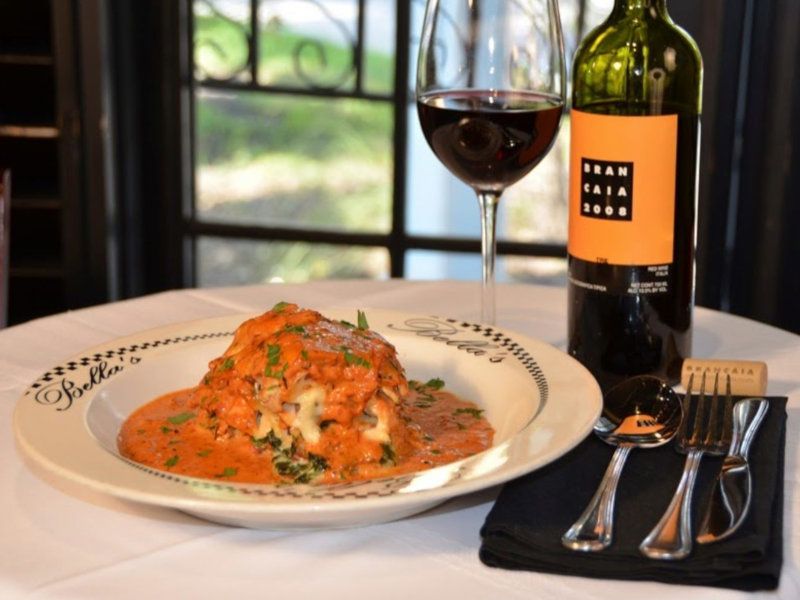 THE best restaurant in ALL of Tampa for pizza – yes, we officially called it! We rate Bella's Italian Cafe as THE best place to satisfy our carb fix.
It is located in Bayshore Gardens, a short Uber ride southwest from downtown – definitely worth the journey. The pizzas are divine as are the pasta dishes and, of course, obligatory tiramisu. Service is fantastic – kinda like what we think it would be like having an Italian Nona look after us.
---
Top things to do in Tampa

Busch Gardens will always be our #1 memory of Tampa. After Universal, it's the best theme park in Florida. Other highlights for us included exploring Ybor City and diving with sharks at the Florida Aquarium. Here's a summary of some of our favourite things to do in Tampa which we hope inspires you with your travel planning:
DON'T MISS OUT!
Join our newsletter
Subscribe now to receive in-depth FREE travel guides, along with inspiring stories, savvy planning tips, and exclusive discounts on gay tours.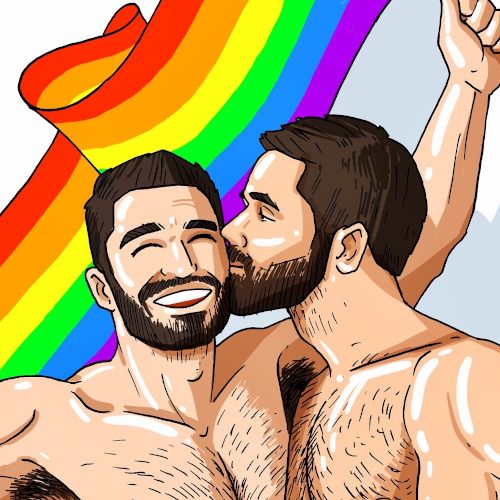 Go crazy at Busch Gardens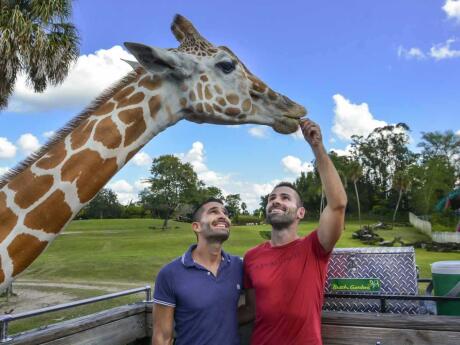 We came to Tampa after visiting Universal in Orlando and were craving a visit to another theme park. Busch Gardens is exactly that! It has some terrific rides to match those over at Universal. It also has an exotic zoo attached to it in which you can do a safari inside a truck and feed giraffes.The exotic animal theme inspires the names of the rides. Some of our favourites were SheiKra, Cheeta Hunt and Kumba. Pro tip: queues can get pretty long and it's worth your while buying your ticket online beforehand, which will allow you to skip the queue.
---
Learn about the fascinating history of Ybor city

Ybor City is the historic old city of Tampa, which was nicknamed "the Cigar Capital of the World" in the early 1900s. It is named after Mr Vincente Martinez-Ybor (1818-1896), a Spanish entrepreneur who created one of the largest cigar industries in Cuba, Key West and Tampa.
He set up Ybor City as a place to house his workers who were mostly immigrants. Today Ybor City is the touristic "old town" of Tampa, home to the gay scene (see above) and a pretty side of the city to explore on foot.
To get the most out of it, we recommend doing a guided Historic Ybor City Food Tour with a local, which includes trying six different foods and drinks.
---
Dive with sharks at the Florida aquarium
In terms of our diving experiences, this legit ranks as the most unique! Whilst it's only scuba diving in an artificial tank, no more than 3/4 metres (9-13ft) deep, you get up close up to manta ray, lots of tropical fish AND REEF SHARKS! Yes, sharks!! At one point Seby had a shark swim just a few inches from his face – it was simply spellbinding to watch… Of course, it's 100% safe, led by professional divers who also work at the aquarium and know how to interact with the animals safely. If you want to skip the queues, we recommend buying your Florida Aquarium ticket online beforehand.
---
Walk the Tampa Riverwalk

The Tampa Riverwalk is a thing in the city that every local will proudly talk about. It's a 2.4 mile path running along the river through the downtown area passing the best restaurants (like Ulele) and museums (like the Museum of Art). There's always a buzz along the riverfront. We loved doing our morning runs here or strolling here at sunset – it's west-facing, so you're in for some impressive sunset views here every evening.
---
Dolphin spotting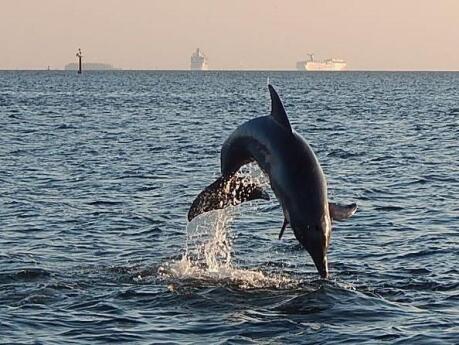 Just outside of Tampa 1.5 hours away from Tampa is the nursery for Tampa Bay's dolphin population where mothers and calves frolic the day away.
You can visit as part of a guided 90-minute cruise. It's incredible – the boats will stop within 30 feet (10 meters) of the dolphins who will then swim right up to the boat to interact, pose and play with you! As well as the bottlenose dolphins, you may also see manatees and sea turtles. We like this tour because they guarantee you will see dolphins, otherwise they will let you return for free on the next trip to try again.
---
Plan your trip to Tampa
We've put together some handy hints and tips to help you plan your own gay vacation to Tampa. Read on to find out everything the gay traveller should know before they go.
Travel insurance: Travel insurance is a must, please don't leave home without it! It's comforting knowing you'll be covered if anything goes wrong – such as stolen bag, cancelled flight or unexpected medical bills. We've been using Heymondo for years and cannot recommend them highly enough. Their coverage is very comprehensive and making a claim online is extremely user friendly.
---
How to get there: Most will either arrive here independently by flight or by car like we did during our Florida road trip. Tampa International Airport is around 8.5 miles (13.5km) Northwest from the city centre, around 15 minutes by taxi. We recommend prebooking your airport pickup online to minimise stress and ensure there is a driver waiting for you in the Arrivals Hall when you arrive..
Getting around: Most get around by car or taxi. We relied on Uber for most of our trips. Locals also use the city's Trolleys, which run every 10 minutes from 6am to 6pm Monday to Friday. There are also public buses and an old-fashioned streetcar system with overhead power lines that go between downtown and Ybor City every 30 minutes.
Accommodation: There is a range of many excellent accommodation options in Tampa. We like using Booking.com as a starting point to plan our trip as they have the best online offers. They also usually offer free cancellation for most listings, which is handy for when you want to be flexible with your travel planning
Sightseeing and adventure: For more inspiration for things to do in Tampa, we recommend checking out the tours on GetYourGuide. They always inspire new ideas for us and the booking process for their tours/experiences is super easy.
When to visit: Tampa is a destination you can visit at any time of the year. During the hurricane season that affects most of south Florida between June and November, Tampa is largely unaffected. The best time to visit Tampa is from September to December when vacant hotels offer fire-sale prices to lure you in. If you go from May to August, these are the peak months, when the attractions are at their busiest and the weather can get pretty muggy.
Gay map of Tampa
Here's our gay map of Tampa which includes all the gay bars, clubs, hotels and sightseeing highlights we've mentioned in this post. Use it to plan your own amazing gay trip to Tampa, Florida!