In a world where virtual connections have become the new reality, it has never been more important to reconnect with colleagues, clients or partners in meaningful ways.
In a response to the new working climate, Four Seasons Hotel Istanbul at the Bosphorus has improved its meetings and events services with enhanced hybrid meetings solutions. With a team of experts, the Hotel creates seamless meeting and event experiences incorporating technological solutions that ensures the safety of all attendees and the event quality for virtual guests.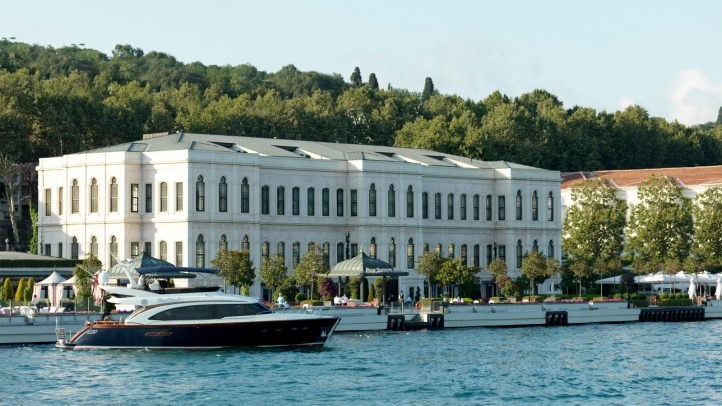 "In the hub of global innovation, we are transforming our habits to a different level to connect with our clients, colleagues and our partners all around the world.
As Four Seasons Hotel Istanbul at the Bosphorus, we have completely re-designed the meeting experience, combining event artistry, virtual technology and a commitment to the highest levels of Lead With Care program to bring virtual and physical audiences together and enrich every meeting with human connections,'' says the Hotel's Director of Catering Sales Başak Güngör.
Hybrid meetings offer the service excellence, innovation, and creativity that Four Seasons is known for, while elevating the safety and care required to bring people together in the current environment.
Hybrid meetings allow one access to a multitude of options for meetings, events, congress, conferences or networking events. The Hotel brings its professional touch to hybrid meetings with its talented conference services and catering experts to delight the attendees.
Offering a resort-style experience along the scenic Bosphorus, the 19th-century palace is one of Istanbul's most prestigious meeting settings with spacious and light-filled venues. The Hotel has 2,551 square metres (27,459 square feet) of versatile function and meeting space. In addition to two ballrooms and six meeting rooms, the Hotel's 1,000 square metre (10,764 square foot) picturesque terrace provides the mind with space to roam, and the range of meeting and event spaces offers the variety to meet individual client needs.
From the breath-taking setting of AQUA to the casual, poolside ambience of The Club, many of Hotel's on-site dining options and lush outdoor terraces can be privatised for each group.
Being the venue of choice for prestigious social and corporate events since its opening, the Hotel offers curated menus for each occasion. 
The special banquet menus created individually for each event by Executive Chef Savaş Aydemir and the Hotel's culinary experts promise an impressive experience with their flavours and presentations, making the Hotel even more attractive for destination events. 
Lead With Care
The health and safety of guests and employees remains the top priority, and therefore Four Seasons Hotel Bosphorus will continue to welcome guests with Lead With Care, the company's enhanced global health and safety program. Commonplace measures such as screening, increased sanitation, physical distancing and mandatory use of masks are in effect, while the team will continuously follow local health authorities' guidelines.
Four Seasons Mobile App and Chat also provides a convenient and contactless way for individuals, planners and groups to customise their time with Four Seasons, whether staying for leisure, or planning or attending a meeting or event.
With service available in 100+ languages, guests have the ability to make and manage reservations, request luggage pickup, airport transfers, room service, housekeeping requests, and more.
Sibel Benli
Senior Director of Public Relations and Communications
Çırağan Cad. No. 28
Istanbul, Beşiktaş 34349
Turkey