Most of us venture to a new destination to explore the location — but sometimes just the hotel alone can be a once-in-a-lifetime experience.
Today's post shares a couple of hotels that is an adventure in and of itself. From a desert palace constructed of salt to an upcycled Boeing 727, these unique lodgings will redefine how you think of hotels.
There's something for everyone here – For those that fancy a tropical getaway, consider booking a room at the Manta Resort where you can sleep underneath the ocean amidst a school of fish.
Or if forests are more your thing, I've included two insanely stunning treehouses where you can spend the day reading a good book suspended high above a rainforest canopy.
Perhaps seeing the northern lights is on your bucket list this year – make sure to check out the Kakslauttanen Arctic Resort, where you can enjoy an evening in a cozy glass igloo underneath the magical glow of the northern lights.
For those that are new to this blog… Hi, I am Joanna! I'm a little bit of a travel junkie :):) I like to share my thoughts and experiences in some of the most beautiful places on this planet.
For more travel inspiration check out my travel archives. So without further ado, here's my list of unusual hotels that I found super fascinating…
BEST SITE TO FIND CHEAP FLIGHTS 
I use Skyscanner. The website's algorithm will compare prices for flights from all of the major airlines. In the past, I would try to hunt around for the cheapest flights on a ton of different websites but would almost always end up booking through Skyscanner.
KAKSLAUTTANEN ARCTIC RESORT
The coruscating dance of the Northern lights against the night sky is a spectacle to behold. At Kakslauttanen, you can appreciate their mystical qualities all night long from the warmth of your glass cabin, shaped in the form of an igloo.
The thermal igloos feature a bedroom with a glass roof and luxury beds, free Wifi is also included.
When you tire of stargazing, venture out into the Arctic wilderness on a husky or reindeer safari, or tear through the snow on a snowmobile.
Enjoy amazing food at one of the two à la carte restaurants, which serve Laplandic specialties such as reindeer and char-grilled salmon.
The Kakslauttanen Arctic Resort is the ultimate hotel to visit if your dream is to fall asleep under the northern lights in a stunning glass igloo. Youtube Video
Where: Saariselkä, Finland
Price: From $400 with breakfast + dinner included
Click here to see room availability
Click here to find cheap flights to Finland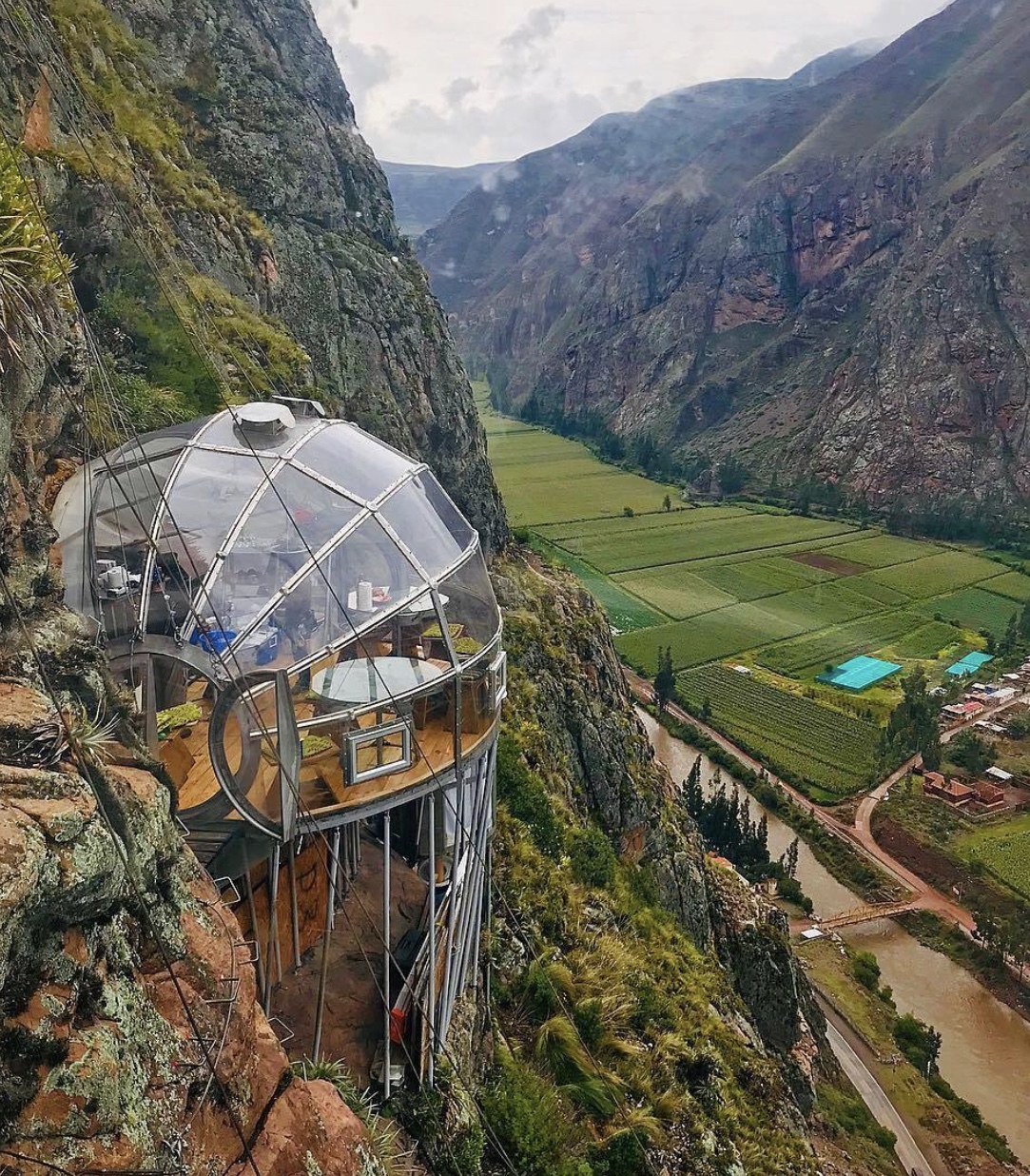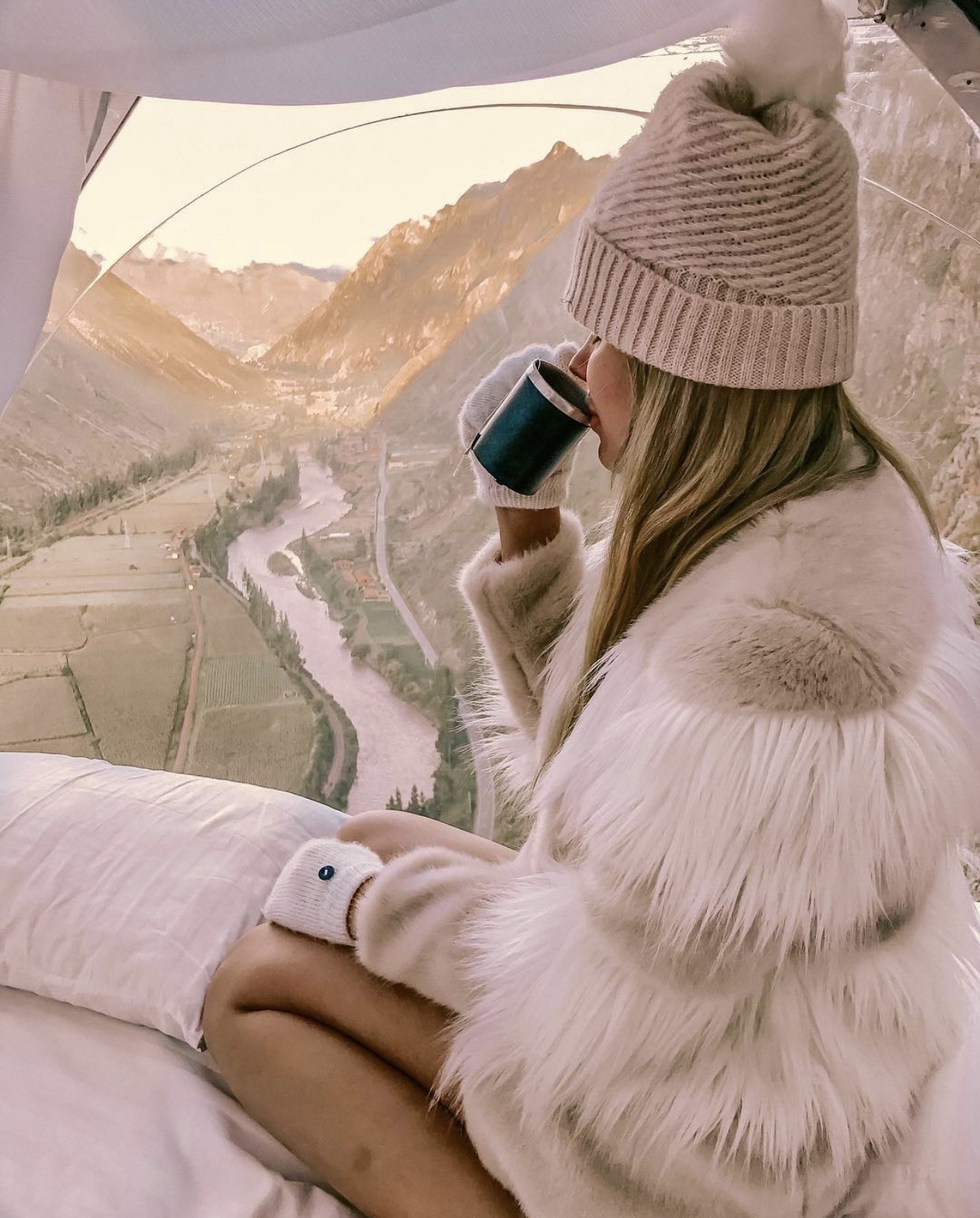 SKYLODGE ADVENTURE SUITES
Have you ever wanted to sleep in a condor's nest? Here is the next best thing! Experience next-level glamping in a luxury glass cabin that is suspended from the top of a mountain.
The cabins can be accessed by zip-line or a hike. Who's down for an adventure?
Located in the Sacred Valley of Cuzco, Peru, the exclusive Skylodge Adventure Suites offers you the chance to sleep within a completely transparent hanging bedroom, so that you can appreciate the impressive views of the mystical Peruvian valley.
The motivation behind these dramatic lodges was to offer a unique experience that reconnects guests with nature and the simple joys of life.
Where: Arubamba in Cusco, Peru
Price: From $237+ free breakfast
Click here to see room availability
Click here to find cheap flights to Peru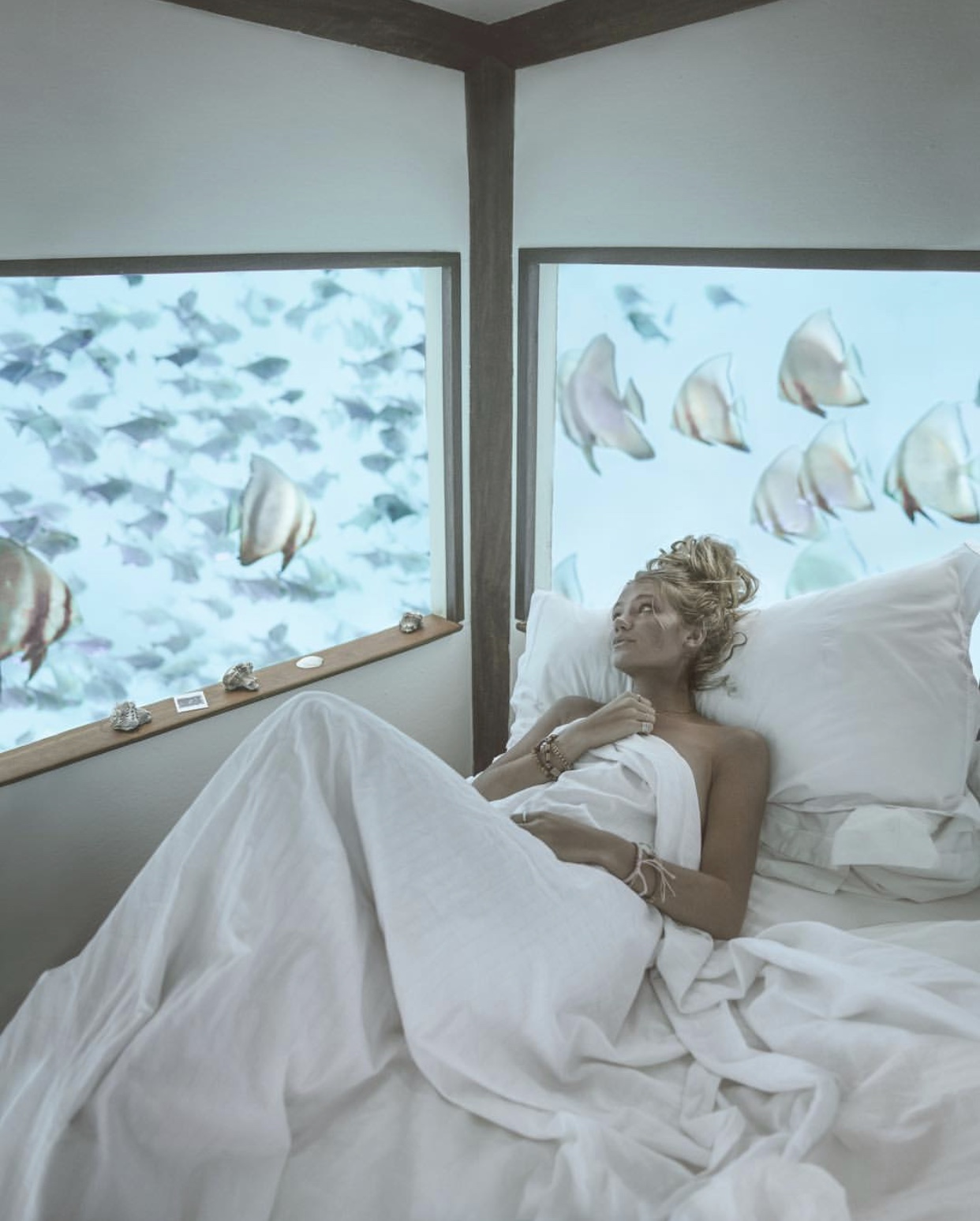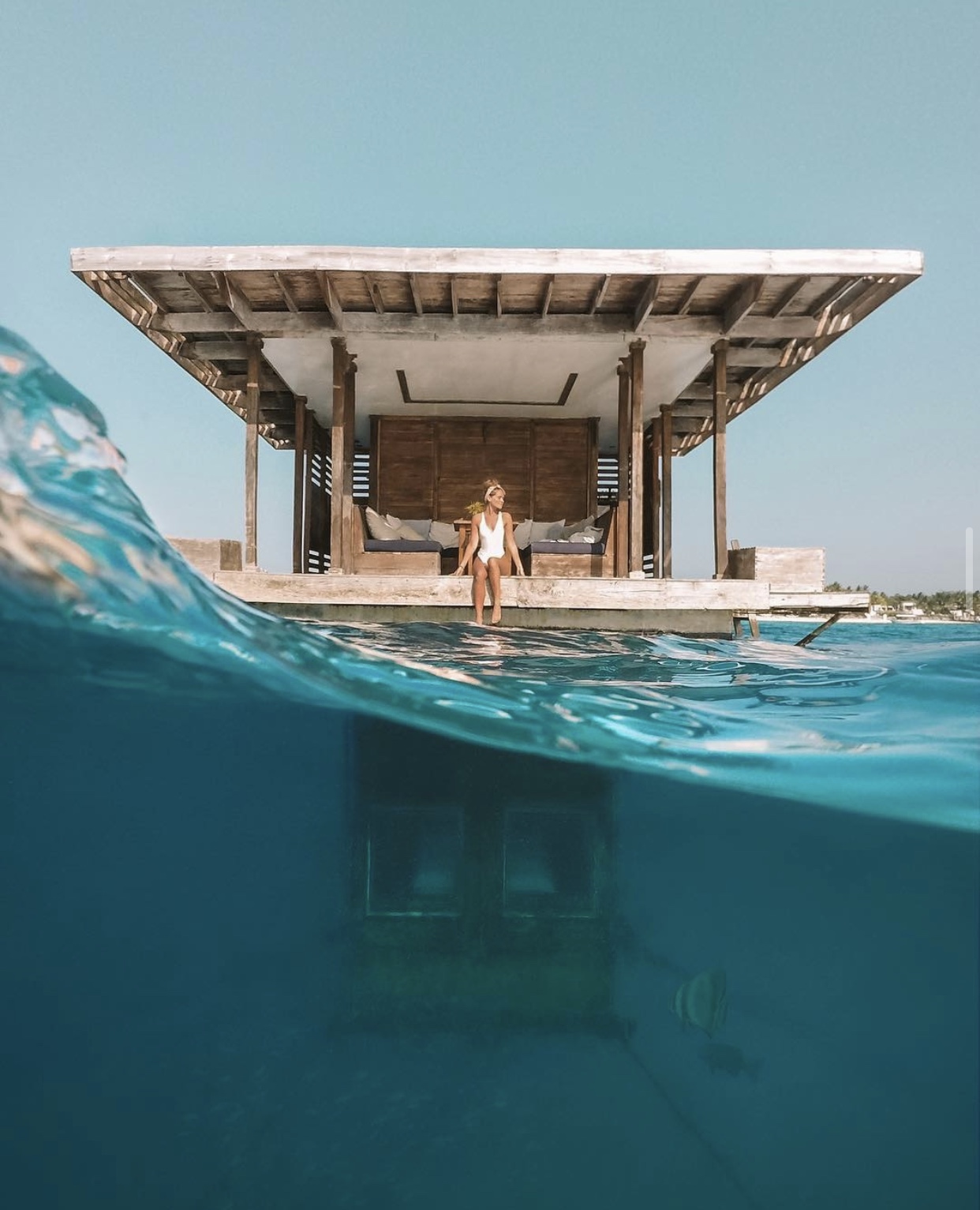 THE MANTA RESORT
The Manta Resort would be a unique stay anyway, with its beach villas on a remote island surrounded by pristine waters.
But book the Underwater Room and sleep below the surface as colorful reef fish glide past large windows surrounding your double bed.
At night, spotlights under the windows can be turned on to attract fish and octopuses.
The sea-level floor above has a simple living area and bathroom, and the rooftop patio is perfect for sunbathing or taking in the Milky Way at night.
When not enjoying your room, get a spa treatment, go scuba diving, or explore the interior of this island teeming with wildlife and culture.
Where: Pemba Island, Tanzania
Click here to see room availability
Click here to find cheap flights to Tanzania
GIRAFFE MANOR
This one is for all of the animal fanatics out there. Giraffe Manor is an exclusive boutique hotel located on 12 acres of land right by Ngong forest and even has a group of giraffes that live on the property.
The giraffes have free range of the place and can often appear next to you as you eat breakfast. The 1930s manor house has been transformed into an all-inclusive hotel with 10 refined rooms that come with free Wi-Fi balconies and terraces.
A throwback to the exploratory days of Danish adventurer and author, Karen Blixen, Giraffe Manor is located close to her former home (now turned museum) in the eponymous Karen area of Nairobi. and offers excursions to all of the local safaris
Where: Kenya, Africa
Click here to see room availability
Click here to find cheap flights to Kenya
UMAID BHAWAN PALACE
Voted the best hotel in the world by Tripadvisor in 2016, the Umaid Bhawan Palace engulfs you in regal splendor the moment that you arrive. Want to spend an evening living like royalty?
It is one of the last great Palaces of India, and has now been converted into a 5-star hotel. Built between 1928 and 1943, this grand yellow sandstone palace spreads over 26 acres of gardens, making it one of the largest private residences in the world. 
Located on palace grounds, the unique Champagne Museum Walk invites guests to admire the fine collection of Victorian and Edwardian antiques with a glass of champagne in hand.
Situated in the center of the desert capital of Jodhpur, the hotel is only minutes from a ton of different tourist attractions, plus only a 15-minute drive from Jodhpur Airport.
Need some more inspo? Make sure to check out this video
Where: Jodhpur, India
Price: from $600 per night
Click here to see room availability
Click here to find cheap flights to India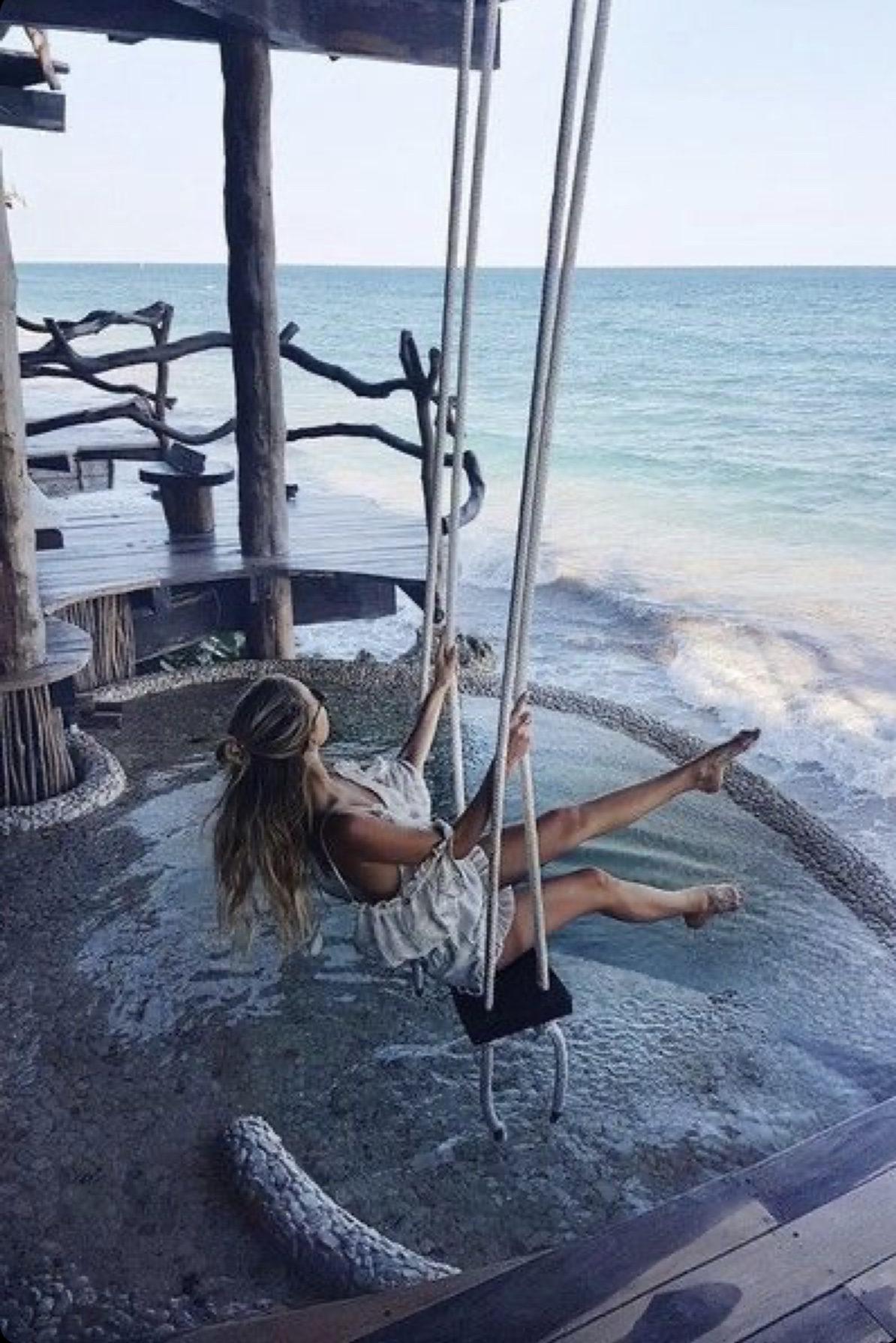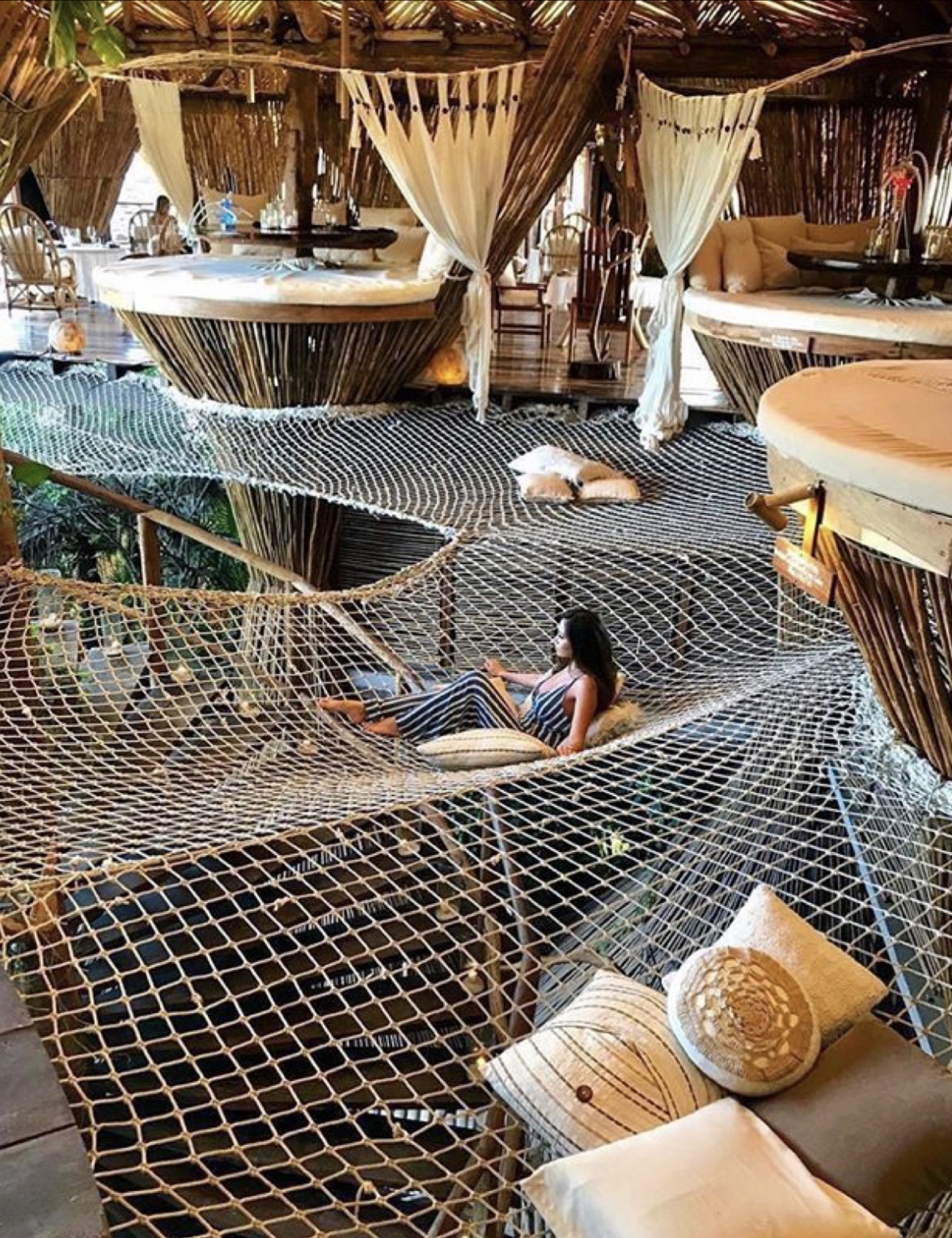 AZULIK
Located in Tulum (Mexico), Azulik Hotel & Spa is an adult-only, clothing-optional establishment.
The resort is surrounded by lush forest in the expansive biosphere reserve Sian Ka'an, a UNESCO World Heritage Site. There are 48 wooden-crafted villas perfectly submerged within the Mayan jungle next to the Caribbean Sea, allowing guests to enjoy a 360 degrees' view of the beauty that surrounds the resort.
Azulik draws mostly couples and solo travelers that are looking to disconnect from the world and be transported back in time.
Where: Tulum, Mexico
Click here to see room availability
Click here to find cheap flights to Mexico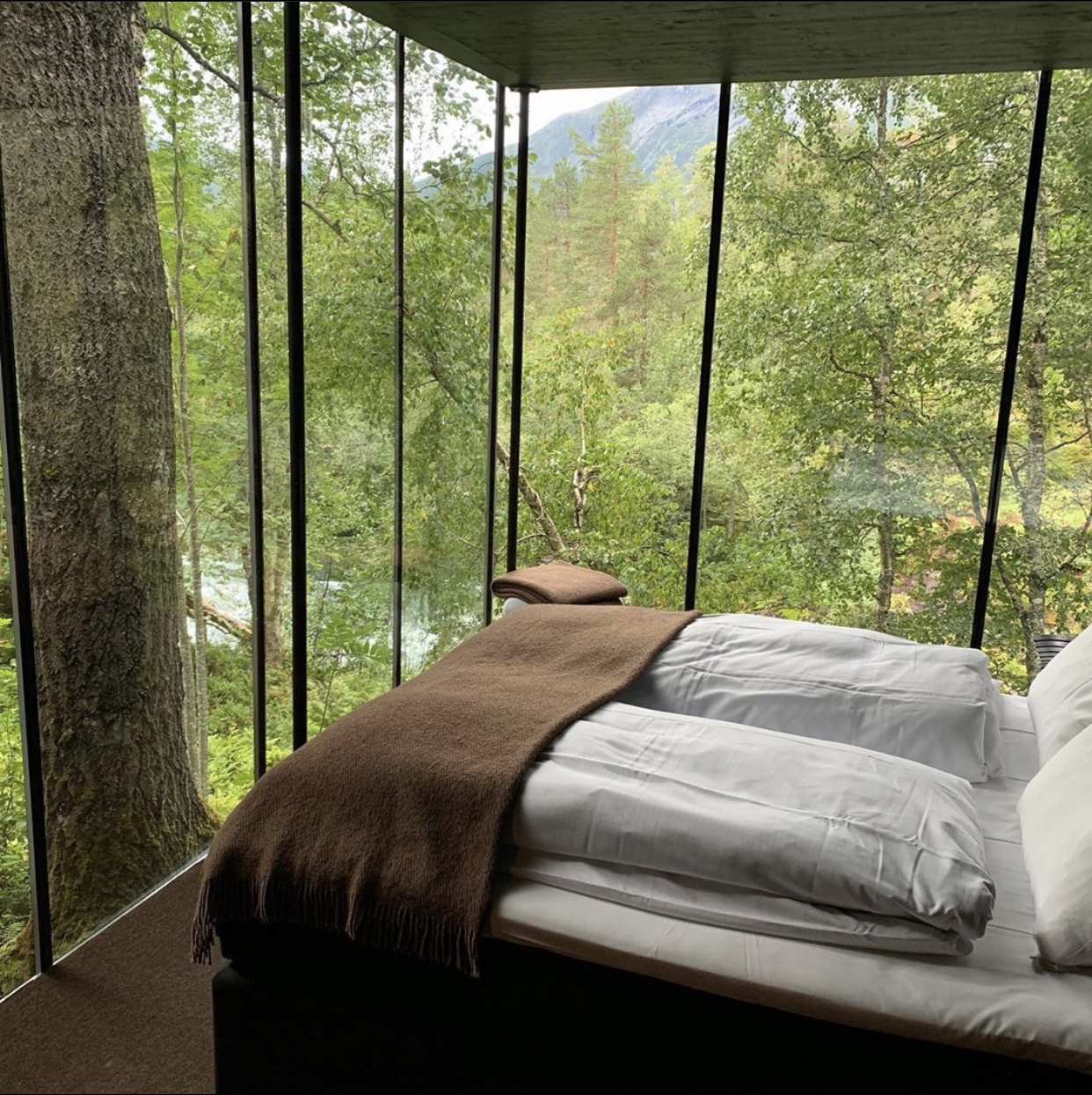 JUVET LANDSCAPE HOTEL
Juvet Landscape Hotel (landskapshotell) are a series of designer dens that sit totally submerged in nature.
Known for its minimalist design and floor-to-ceiling windows, guests can enjoy the stunning scenery while sipping a freshly brewed cup of coffee. For those movie aficionados out there, you might recognize the hotel because it was used as a filming location in the cult film, Ex-Machina.
Where: Valldal, Norway
Price: From $200 per night
Click here to see room availability
Click here to find cheap flights to Norway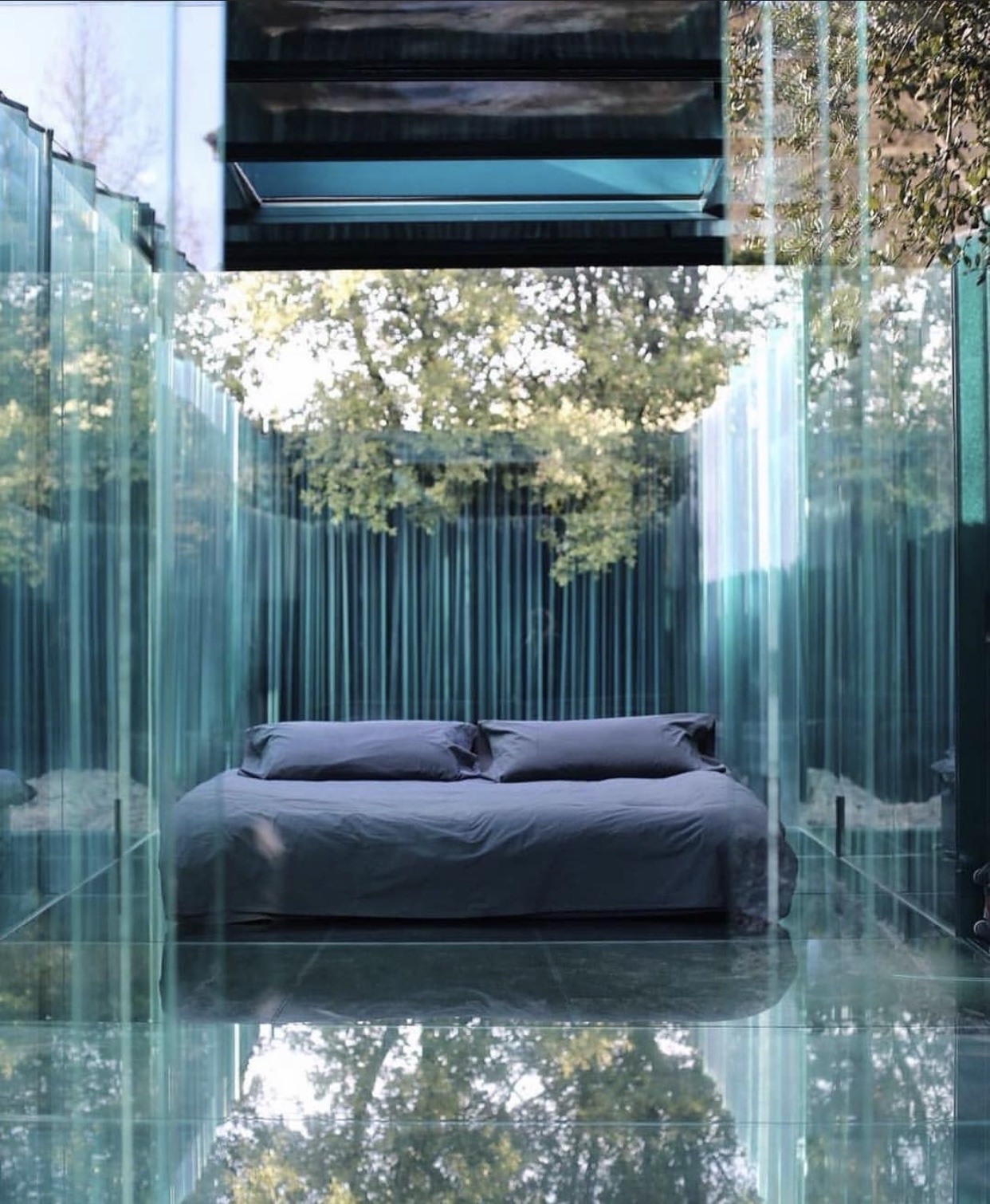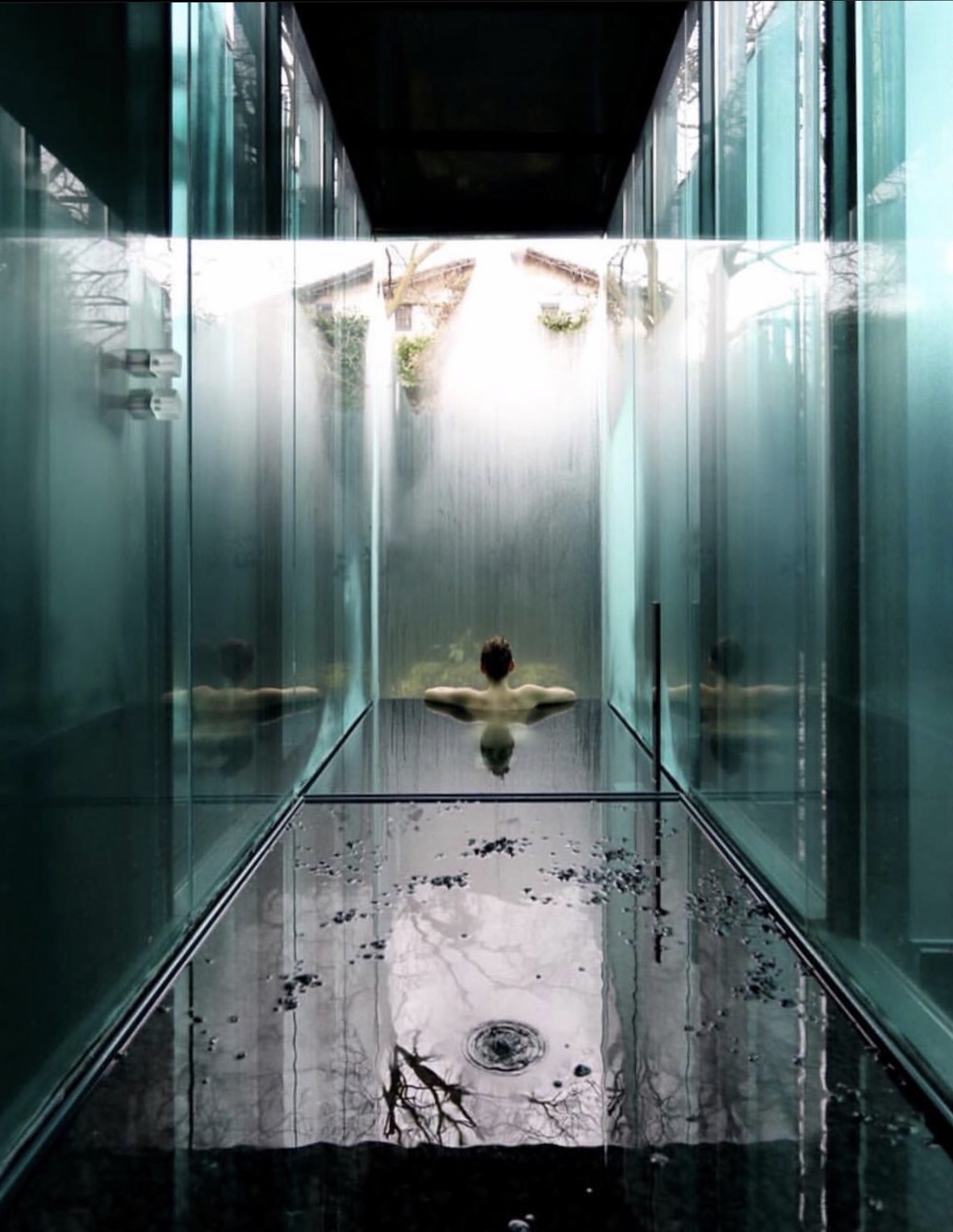 LES COLS PAVELLONS
The rooms of this hotel are entirely made of glass: walls, floors, roofs and even some of the furniture.
You might have to sacrifice your need for privacy, but the unique design is worth it. It blends the line between the outside gardens and the indoors, inviting the green surroundings inside your room.
Each room comes with a private bathroom and your own heated onsen bath (all glass of course).
Despite its small size, the hotel is also home to a 2-Michelin-starred restaurant. Les Cols, led by chef Fina Puigdevall, serves seasonal Catalan food from the Garrotxa region.
Combining the tranquility of the garden with the ultra-modern glass design by RCR-arquitectes, the restaurant is a continuous extension of the hotel experience.
Where: Olot, Spain
Click here to see room availability
Click here to find cheap flights to Spain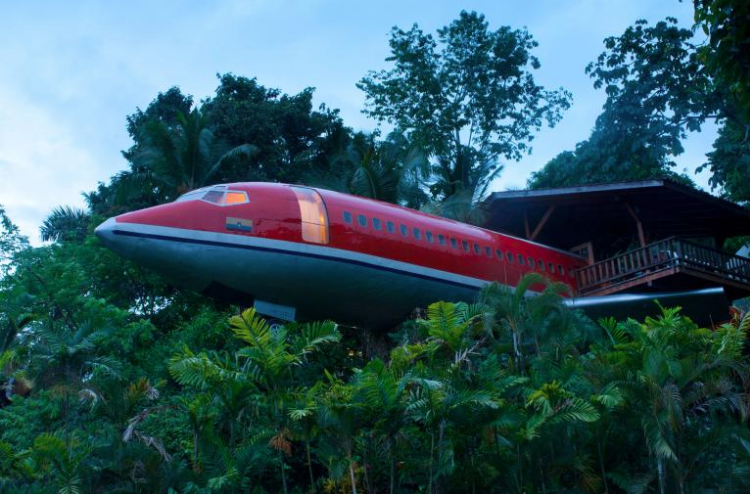 HOTEL COSTA VERDE
Costa Rica's Hotel Costa Verde's slogan is "Still More Monkeys Than People …," but its other claim to fame is that guests can spend the night in an upcycled 1965 Boeing 727 that's been turned into a two-bedroom luxury guesthouse.
While the distinctive fuselage shape is intact, the interior is completely paneled with local teak.
Windows offer jungle and ocean views throughout the plane, which rests on 50-foot-tall supports, and covered patios extend over the wings.
Have dinner in the kitchenette, or enjoy local fare and drinks at El Avión, Hotel Costa Verde's restaurant and pub housed in a C-123 Fairchild cargo plane that played a part in the Iran-Contra Affair of the 1980s.
Where: Provincia de Puntarenas, Costa Rica
Click here to see room availability
Click here to find cheap flights to Costa Rica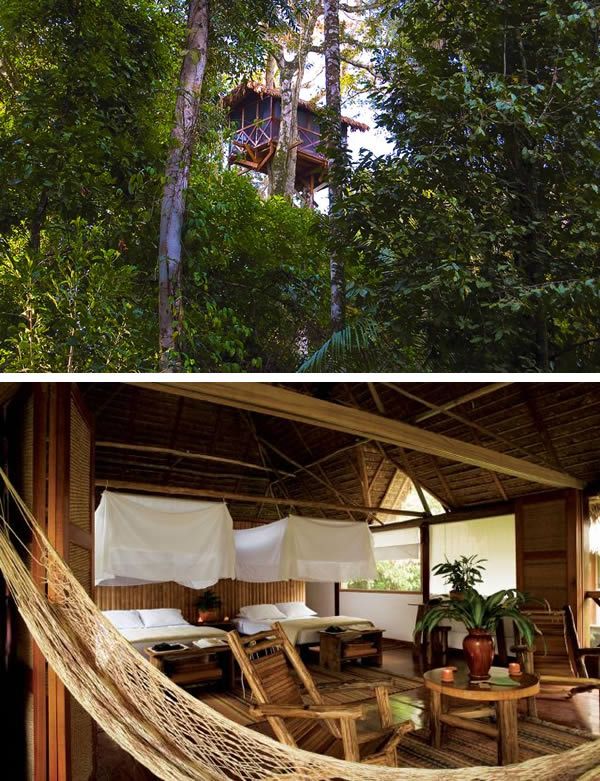 TREEHOUSE LODGE RESORT
Sleep to the sounds of the Peruvian Amazon rain forest at the headwater of the Amazon. Guests can only reach Treehouse Lodge Resort via an hour-long boat ride from Iquitos, after which they'll climb 34 to 67 feet to one of eight circular tree houses above the forest canopy.
The thatch-roof structures average 18 feet in diameter, and a railing, curtains, and optional mosquito netting are the only things separating you from the rain forest. A bathroom with a cold-water shower is located below the main floor.
Suspended walkways from each treehouse lead to a central commons treehouse, where included Peruvian-inspired gourmet meals are served.
Squirrel monkeys, macaws, sloths, and other rain forest denizens frequent the 345-acre eco-resort. Guests have a personal guide, and daily excursions include river dolphin-watching and visiting indigenous villages.
Where: Iquitos, Peru
Click here to see room availability
Click here to find cheap flights to Peru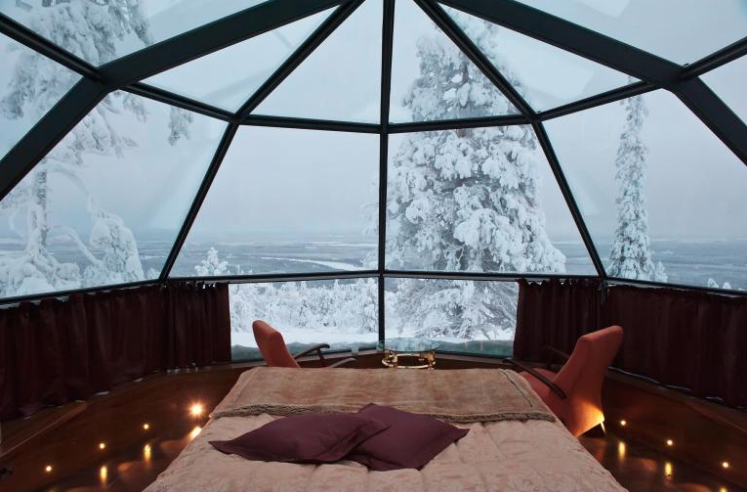 Golden Crown Levin Iglut
Located six miles from the resort town of Levi, each igloo at the Golden Crown has a kitchenette stocked with breakfast sets, a full bath, and a double bed with adjustable headrests for optimal aurora viewing.
Windows are insulated and heated to keep them from frosting, and curtains provide privacy.
Enjoy the fireplace in the small, rustic lodge, and brave freezing temperatures to take in the stars from the outdoor hot tub.
Where: Levi, Finland
Click here to see room availability
Click here to find cheap flights to Finland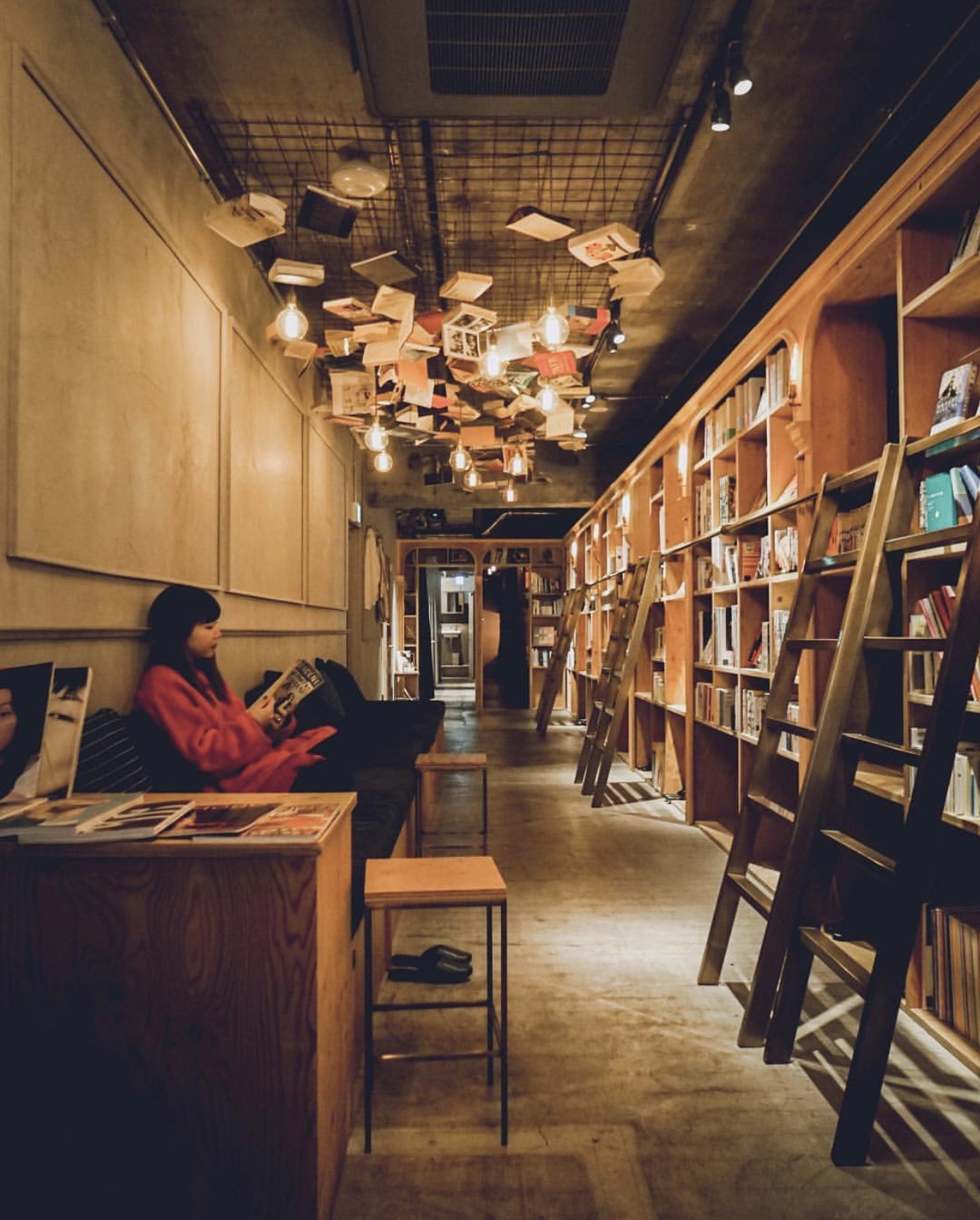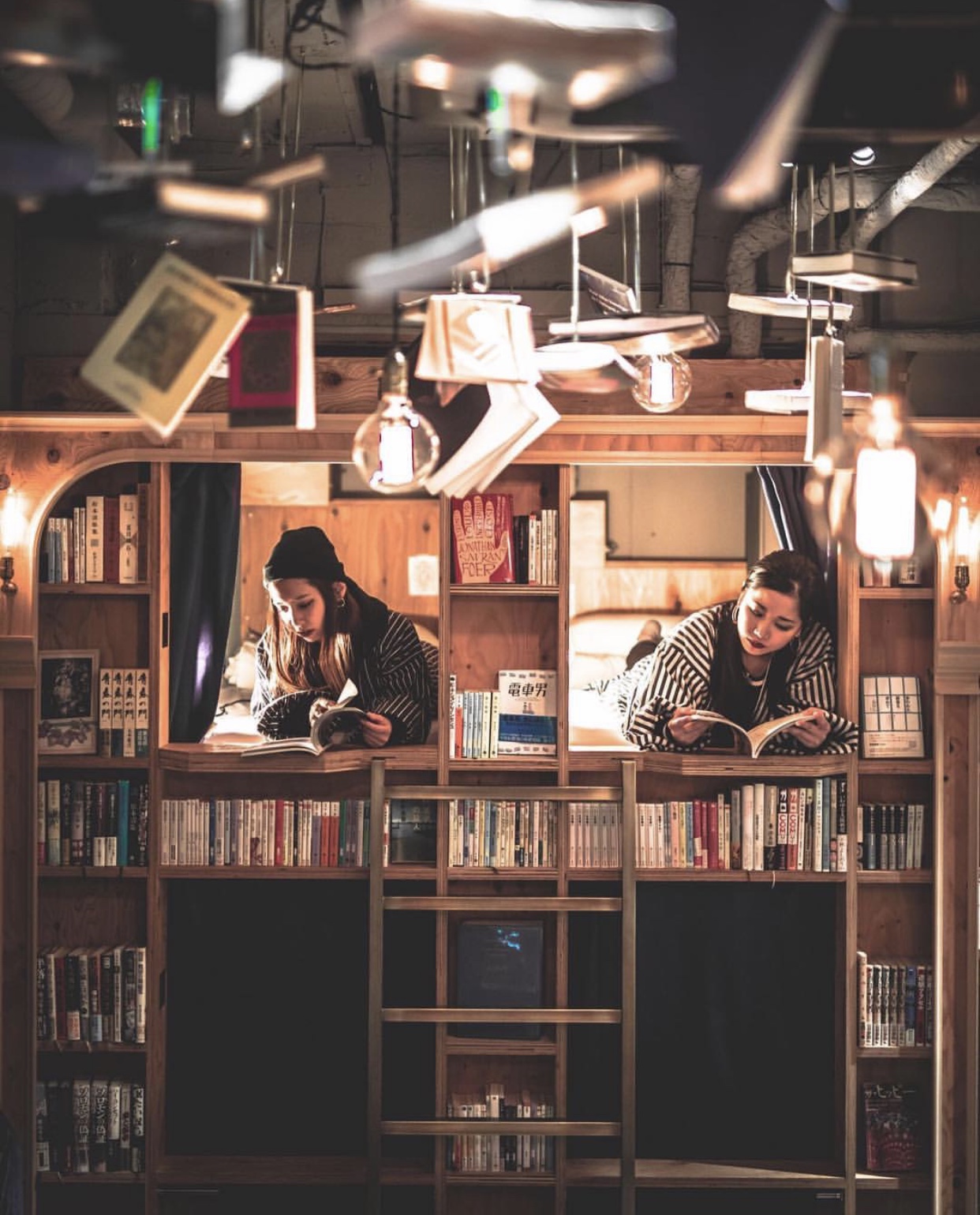 Book and Bed Tokyo
A haven for bibliophiles, Book and Bed Tokyo looks like a used bookstore until guests slide open a bookshelf and reveal a cozy nook with a simple bed, reading light, and electrical outlet.
Unabashedly bare-bones and not for the claustrophobic, 30 stacked cubbies, each big enough for one person, are available behind the shelves filled with 3,000 titles in Japanese and English.
Bathrooms are shared, and couches in the area outside of the bookshelves provide a communal reading and gathering area. It's more hostel than hotel, and at 3,500 yen (U.S. $35) guests will have plenty of cash left over for new books and exploring Tokyo.
Where: Tokyo, Japan
Click here to see room availability
Click here to find cheap flights to Tokyo
TREEHOTEL
Kids don't think twice about sleeping in a treehouse, but as adults, we forget how much fun it is.
Revive that childhood magic at Sweden's remarkable Treehotel, which consists of seven living pods suspended in tall pines up to 20 feet above the forest floor.
(You get into them via ladder, suspended bridge, or electric stairs.)
Choices include an abode that looks like a humongous bird's nest, one shaped like a UFO, and the reflective "Mirrorcube." Guests get enchanted views of the woods, the Lule River, and (at the right time of year) the aurora borealis.
From September to March, the hotel's employees give guided northern lights tours; all year long, you can eat at the on-site restaurant, which specializes in northern Swedish cuisine, and explore the 600-person village of Harads.
Where: Harads, Sweden
Click here to see room availability
Click here to find cheap flights to Sweden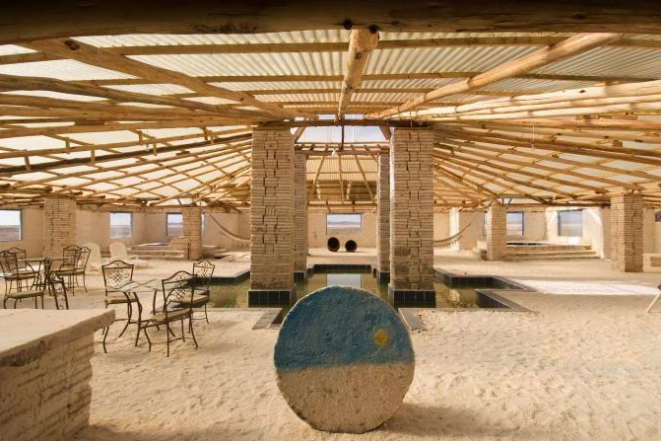 PALACIO DE SAL
You've perhaps heard of ice hotels, but Bolivia's Palacio de Sal has taken the concept one step further by using salt from the famous Salar de Uyuni salt flats to create a luxury hotel in the middle of the Bolivian desert.
Nearly everything in the 48,500-square-foot hotel is made out of salt, including the building and furniture. Each of the 30 simple but stylish rooms with wooden flooring has a private tiled bath and is climate controlled.
Bed platforms and armchairs in the common area are salt, but plush blankets and pillows make for a comfortable stay. The dining room's windows frame a panoramic view of the salt flats, and meals include locally sourced llama and lamb and the house specialty, salt chicken.
Beyond the uniqueness of this remote hotel, the draw for the area is the Zen-like expanse of the largest salt flats in the world and its star-filled sky at night.
Where: Salar de Uyuni, Bolivia
Click here to see room availability
Click here to find cheap flights to Bolivia
In no way do I claim ownership over any of the photos published in this article.
My only intent to use/share images is to educate others and provide information that can be transformative to my readers.
If you are the rightful owner of any of the pictures posted here, and you do not want it to be displayed or if you require a suitable credit, then please contact me and I will immediately do whatever is needed either for the image to be removed or provide credit where it is due.